AEW Dynamite Live Results & Updates- 27 November 2019
Welcome to ITN's Live Results and Updates Blog for the AEW Dynamite episode of 27 November 2019 (11/27/2019).
Date- 27 November 2019
Location- Sears Center, Chicago, IL, US
Time- 8 PM EST(28 November 2019 1 AM GMT/6:30 AM IST)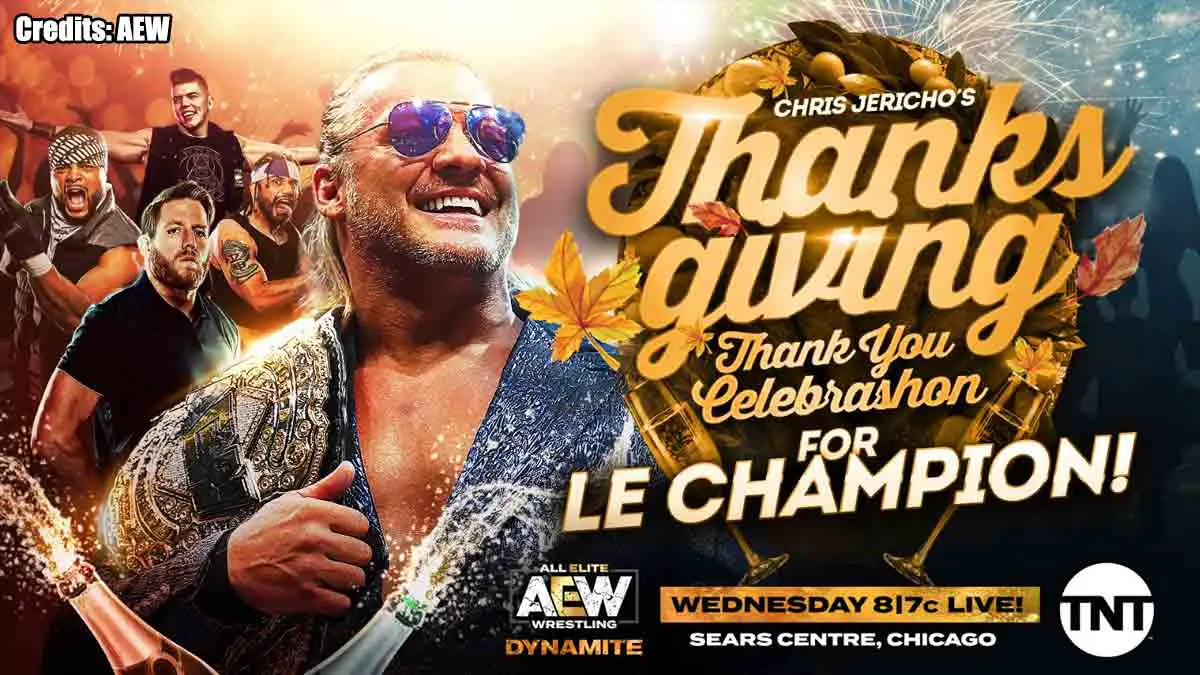 AEW Dynamite returns to Sears Center this week to thanks their fans on Thanksgiving week. This translates to AEW going big on this show. Chris Jericho will host the 'Thanksgiving Thank You Celebrashon' while also defend his title on the same night. Kenny Omega will return to Dynamite for a Sears Center rematch against PAC. Another return will be from Cody Rhodes who is announced for a match. Then, there is an AEW Dynamite Diamond Ring to be awarded to the winner of the match between Adam Page and MJF.
Thanksgiving Thank You Celebration!
"Thanksgiving Thank You Celebration" kicks off the show as Chris Jericho comes out with Soul Train Jones. The ring has a portrait of the Inner Circle, presents, and some mascots dancing outside the ring. On the ramp, there is a marching band accompanying Jericho. Crowd with a "Thank You, Jericho!" chant. Jericho tells the crowd to shut up to get those boos going. He then tells the crowd to look under their chairs for a coupon to get fifty cents off his t-shirt.
Jericho then shows off his champagne and actually has a website for it now. Jericho then brings down Santana, Ortiz, and Sammy Guevara who come out with gifts. Jericho rips on someone in the crowd as they make their way down. Sammy takes the mic but gets booed.
Jericho tells the crowd to "shut up!" Sammy thanks Jericho and then unveils a cardboard cutout of Jericho and Sammy hugging, then they actually hug. Santana and Ortiz give some gifts, including something to help him avoid the flu, flip flops, a "little bit of the 40" (crowd chants "40!"), and then they put a Puerto Rico flag bandana around his head.
Jericho wonders where Jake Hager is. Hager comes out from the back with an actual goat, "Chris Jeri-GOAT." Jericho finally asks what the giant present in the ring is. The wrapping paper is Jericho with the title. Inside is his dad, a former New York Ranger player. His dad gets on the mic and says "It's so great to be back in New York City!" Crowd boos, Jericho lets him know they are actually in Chicago, "Let's go Blackhawks" chant from the crowd. His dad says they beat them all the time and they were brutal.
His dad says the Blackhawks were and always will be wimps! He then gives out Rangers merch to the Inner Circle. Jericho then has an official statement from the higher-ups at AEW and TNT. He doesn't feel like reading and tells Justin Roberts to get in and read it. Crowd with a "You can't read!" chant.
Jericho says to Roberts, "What's your name, kid?" Roberts then reads the "thank you," about all of Jericho's contributions to AEW. Jericho says he thought it was a nice "thank you," but didn't like Roberts' tone. Jericho then slaps Roberts and the Inner Circle beat him up a bit. The "marching band" shows up and it's actually SCU, they clear out the Inner Circle and then take out Soul Train Jones.