AEW Dynamite Live Results & Updates- 27 November 2019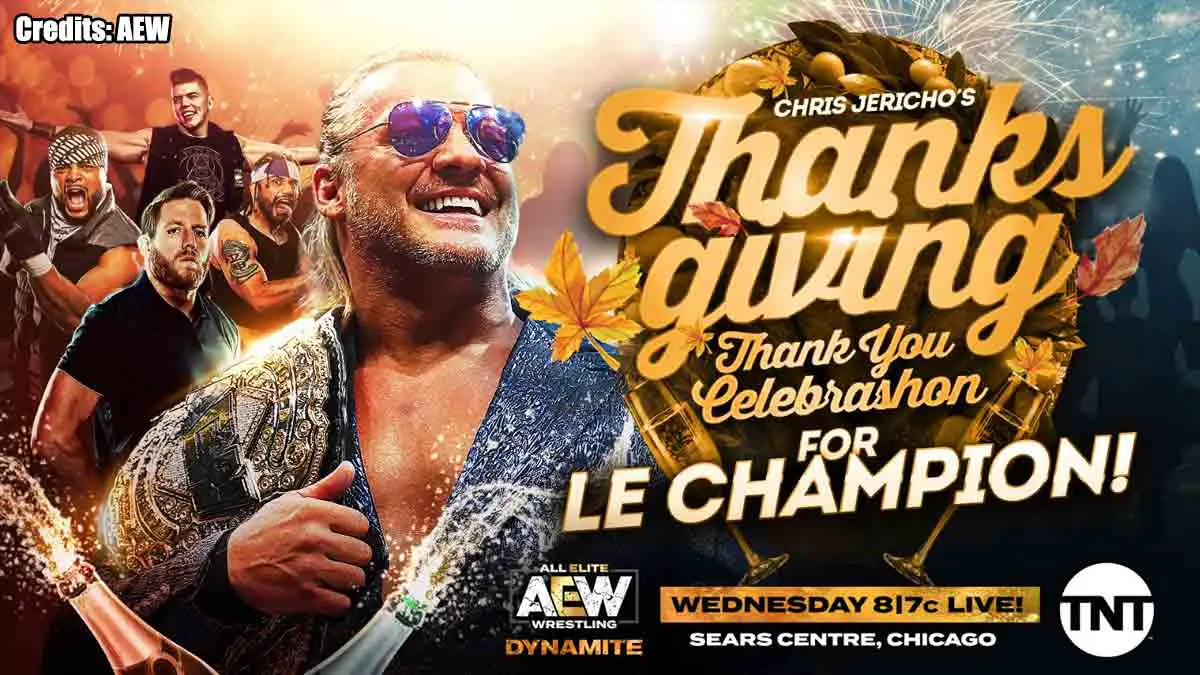 Welcome to ITN's Live Results and Updates Blog for the AEW Dynamite episode of 27 November 2019 (11/27/2019).
Date- 27 November 2019
Location- Sears Center, Chicago, IL, US
Time- 8 PM EST(28 November 2019 1 AM GMT/6:30 AM IST)
AEW Dynamite returns to Sears Center this week to thank its fans on Thanksgiving week. This translates to AEW going big on this show. Chris Jericho will host the 'Thanksgiving Thank You Celebrashon' while also defending his title on the same night. Kenny Omega will return to Dynamite for a Sears Center rematch against PAC. Another return will be from Cody Rhodes who is announced for a match. Then, there is an AEW Dynamite Diamond Ring to be awarded to the winner of the match between Adam Page and MJF.
Thanksgiving Thank You Celebration!
Inner Circle has a lots of gifts and surprises for Jericho in the ring. Chris Jericho comes out with Soul Train Jones. Jericho tells us about his champagne and tells us about the website to order little bit of bubbly. Inner Circle present Jericho with gifts. Hager presents him with a goat named as Jeri-GOAT.
Inner Circle has Jericho's dad wrapped inside a box. He is a former player for New York Rangers. He gets booed by the crowd. Jericho also had an official statement from the higher-ups at AEW and TNT to read. He tells Justin Roberts to get into the ring and read the statement. Jericho slaps Roberts as he did not like his tone as he readu the Thank You note. There was a marching band in the ring, which turned out to be SCU. They send the Inner Circle out of the ring and then beat up Soul Train Jones.
Best Friends vs Lucha Bros
Lucha Bros attack before the match starts. Trent and Taylor fight back, Cassidy goes off the top rope and clears out both guys. Match gets underway and Best Friends does their hugging bit. Pentagon and Fenix nail superkicks on Trent as we cut to a break.
Taylor nails Fenix with clotheslines and a sliced bread. Fenix later stops him from putting Penta in Boston crab. Taylor drops Fenix with an overhead suplex. Trent tags in but gets dropped by Penta. Orange Cassidy distracts Penta and Trent drops him to get the pin and the win.
Winners- Best Friends
Hikaru Shida and Kris Stadtlander vs Bea Priestley and Emi Sakura
The action spills to the floor early. Shida sets up a chair on the floor but Sakura sends her away and goes to sit on the chair to drinks some tea. Shida nails her with a knee. Priestley drops Shida and takes her to the ring. Priestley hits a boot and brings in Sakura. Sakura puts Shida in an abdominal stretch. More tags before Shida counters with a knee and tags in Statlander.
Statlander drops Sakura with some quick moves before taking a shot at Priestley at the apron. She gets a two-count with a roll-up. Sakura misses a moonsault. Stadtlander hits a kick, facebuster and scissors kick for a very close pin attempt. Sakura hits Statlander with the mic stand while the referee was distracted and gets the win with a roll-up.
Winners- Emi Sakura and Bea Priestley
Backstage, Jon Moxley says he has run through AEW roster and asks if there is somone crazy enough to take him on.
Cody vs Matt Knicks
Cody sweeps Knicks' leg before he hits a punch to Cody's injured ribs. Cody drops him with his signature springboard cutter. Cody gets a quick win with the figure-four.
Winner- Cody
Post-match, Cody calls out MJF but instead he gets The Blade and The Butcher from underneath the ring. Allie is also with them as the Bunny. BBB beat up Cody for a while.
PAC vs Kenny Omega
Kenny drops PAC multiple times to start. PAC rolls to the floor for a breather but Kenny drops him with a suicide dive. PAC comes back with a moonsault on the floor. Some back and forth action in the ring before Kenny hits a snap dragon suplex.
Kenny keeps the moves going. PAC hits a super falcon arrow from the top. PAC misses black arrow. Kenny hits v-trigger but PAC counters One winged angel. Kenny tries a few pin attempts and finally gets the pin.
Winner- Kenny Omega
MJF(w/ Wardlow) vs Adam Page – Winner Gets AEW Diamond Ring
MJF rolls to the floor as Hangman starts on the offensive. Wardlow stops Hangman from attacking MJF on the floor. Hangman still throws MJF into the barricade. Wardlow grabs his foot as Hangman looks to get back. MJF distracts the referee and Wardlow slams Hangman into the ring post. We cut to a break.
Back from break, Hangman is fighting back. Wardlow saves MJF by putting his foot on the ropes. Hangman goes to argue with Wardlow. Wardlow hits him with a punch as the referee checks on MJF. MJF hits cross rhodes to get the pin.
Winner- MJF(Wins Diamond Ring)
Diamond Dallas Page comes out to present the AEW Dynamite Diamond Ring to MJF. Page hands MJF the ring, who puts it on his finger and kisses it. DDP goes for a handshake but MJF puts his gum in DDP's hand. DDP gets in his face before Wardlow gets in his face. A brawl starts before the crews breaks it up.
Dustin Rhodes was having an interview with Jennifer Decker. Inner Circle attacks him. The Young Bucks come out to make the save.
We see the guy from last week's Dark Order video who took the flyer last week. He is attending a meeting with Dark Order with a bunch of people. Evil Uno motivates them to reach their full potential ask them if they are ready to pledge to Dark Order.
Chris Jericho (c) vs Scorpio Sky – AEW World Championship
Nobody from SCU or Inner Circle are allowed in the corner for this match. Jericho takes down Sky before taunting him for a while. Jericho drops him with shoulder blocks after a headlock. Sky fires back with a dropkick and a clotheslines. Sky with a bit boot as Jericho goes to the floor. Back and forth action continue as they return to the ring. Jericho dropkicks Sky on the apron.
Sky comes back to the ring and hits a cutter. Jericho puts on the Boston Crab but Sky reaches the ropes to break it. Some argument between the referee and Jericho. Sky hits another cutter. Jake Hager comes out but Sky drops him from the apron. The distraction gives Jericho advantage with a roll up. They take down each other with clotheslines at the same time. Kazarian and Daniels fight Hager and takes him back. Sky hits TKO on Jericho after ducking a title shot.
Sky unloads on Jericho now. Jericho runs him over with a big boot. Jericho climbs to the top and Sky drops him with headscissors for a two-count. Sky jumps into codebreaker for a near fall for Jericho. More back and forth before Jericho locks in Boston Crab for the win.
Winner- Chris Jericho(Retains AEW World Championship)
After the match, Jericho once again locks Sky in the Boston Crab. Moxley comes down from the crowd. Jericho takes his title and shouts at Moxley for a while before leaving.