AEW Dynamite Jan 12, 2022: Results, Match Card, Preview, Tickets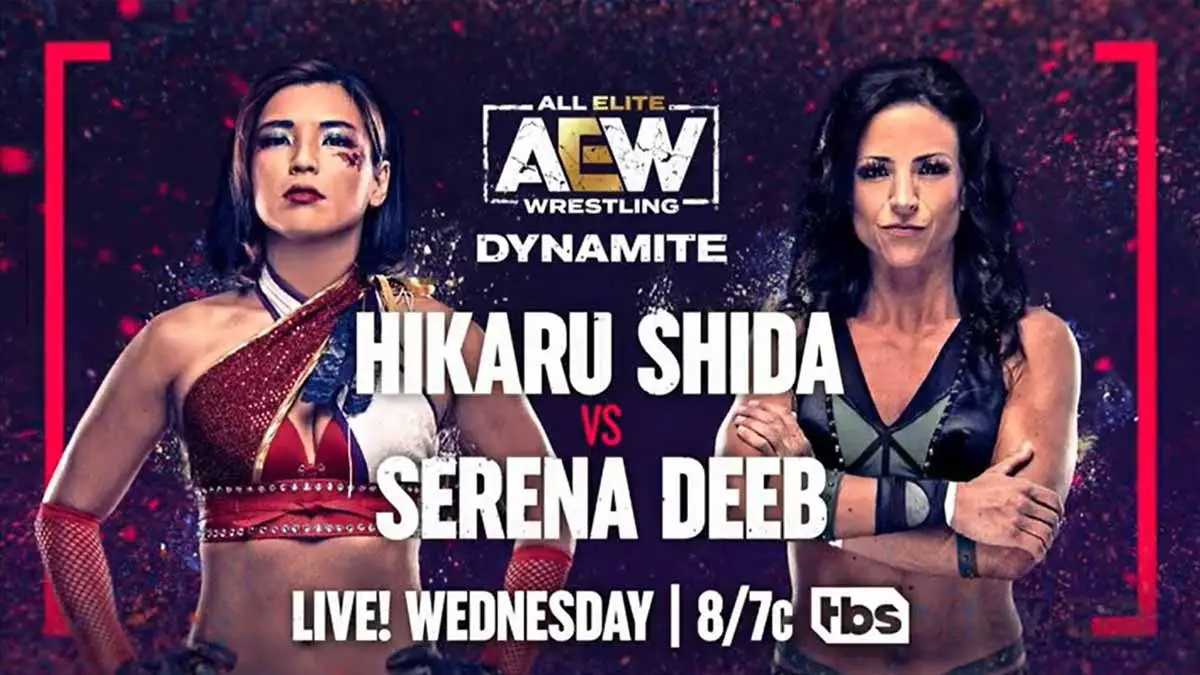 AEW will present its second Dynamite on TBS on January 12, 2022, and the match card will be stacked as usual. Stars like CM Punk, Wardlow, and Powerhouse Hobbs will be in action. The forthcoming episode will air live from the PNC Arena, Raleigh, NC. 
The next Dynamite will feature Serena Deeb vs Hikaru Shida IV, Hobbs will be in action against Dante Martin, and CM Punk will collide against Wardlow in a singles match. 
Keep on reading to check the entire details on the January 12, 2022 episode of AEW Dynamite.
Date – January 12, 2022
Location – PNC Arena, Raleigh, NC
Time – 8 PM EST (January 13 – 1 AM GMT)
Match Card & Results
CM Punk defeated Wardlow in a singles match via pinfall.
Dante Martin defeated Powerhouse Hobbs in a singles match via pinfall.
Serena Debb defeated Hikaru Shida in a singles match via referee stoppage.
Penta El Zero Meido defeated Matt Hardy in a singles match via pinfall.
The Acclaimed defeated Bear Country in a tag team match via pinfall.
Sammy Guevara(c) defeated Daniel Garcia via pinfall to retain Interim AEW TNT Championship.
Live Updates
Undisputed Superkliq & Best Friends
Adam Cole comes out with Kyle O'Reilly and Bobby Fish. Cole says that 2021 was great for all three of them and 2022 will be even better. He reminds us how he is yet to be pinned in AEW in singles match. He then talks about the trio saying the boys are back together. This is the baddest team in the God's creed. Its a new era in AEW. The Young Bucks come out to the stage and say they did not get the invite. KOR says nobody invited them to Jacksonville but they interferred anyway.
Bucks say it is their company and they were the longest reigning tag team champion. Their resolution is to win the tag titles back. Fish and KOR say it is the same resolution that they have and there is no team that could beat them. Cole says that is what they need – some friendly competition, unlike other factions like Best Friends… Orange Cassidy and other stable members come out to the ring. Cole asks Cassidy what does he have to say. Cassidy tackles him down to start a brawl between two stables.
Cassidy and Cole brawl in the ring while others fight on the floor. Cole hits a low blow on Cassidy but Kris Statlander comes out to stands in front of her. Britt Baker runs down to attack Statlander from behind. Baker hits a curbstomp on Statlander. Baker holds Cassidy as Cole hits him with a superkick and then hits last shot on him. The Young Bucks was looking to do kissing Cole bit, but Baker cuts them off and Cole and Baker kiss instead.
Wardlow vs CM Punk
MJF is in Wardlow's corner for this match. Punk slips out of the ring as the bell rings. He was looking for MJF but Wardlow gets in between them. Punk gets back to the ring and they lock up. Wardlow pushes Punk back to the corner. Punk puts on a side headlock. Wardlow hits a big shoulder tackle. Punk hits some big shots in the corner but Wardlow punches him back. Wardlow with shots to the body. Punk hits low outside kicks. Wardlow goes for the powerbomb but Punk avoids it by getting out of the ring. We cut to a break.
Wardlow is still in control as we return. Punk hits a big boot in the corner. He looks for tornado DDT but Wardlow tosses him away. Wardlow looks for the powerbomb but Punk nails him with a roundhouse kick to the face. Punk follows with punches and clotheslines but Wardlow does not go down. Punk hits a clotheslines from the top to finally bring down Wardlow. A running knee from Punk before Wardlow picks him up from the corner to hit a powerbomb.
Wardlow hits a second powerbomb. He goes to hit three more powerbombs and puts his leg on Punk for the cover. MJF stops the pin and tells Wardlow to hit more powerbombs on Punk. Wardlow is not happy but hits another powerbomb, and another one. MJF taunts the crowd before asking Wardlow for one more. Punk rolls to the corner and Wardlow comes out on the floor. MJF tells Wardlow to hit a powerbomb through the table, which he does.
Wardlow gets back into the ring and Punk barely beats the count. MJF shouts at Wardlow to hit another powerbomb. Wardlow goes for it unwillingly but Punk rolls him up in an inside cradle to get the pin.
Winner – CM Punk
After the match, Punk rolls to the floor as his music hits. MJF gets into the ring and shouts at Wardlow. Wardlow grabs his hand, but Shawn Spears runs out before things could esclate. Wardlow leaves by himself.
Dante Martin vs Powerhouse Hobbs
They start brawling on the floor. The bell rings as they get into the ring. Dante with quick dropkicks and clotheslines to send Hobbs to the floor. Hobbs catches his dive and drops him on the floor with a spinebuster. Hobbs throws Martin back to the ring. He hits a suplex. Ricky Starks is ringside and watches Hobbs hit another suplex. Hobbs hits a big clothesline.
Martin tries to fight back with kicks to the face. Hobbs drops him again. Hobbs goes for the torture rack but Martin hits him with knees to the face. Hobbs runs him over with a clothesline. He whips Dante hard to the corner and Dante ends up landing on the floor. Starks stomps on Martin as we go to a break.
Hobbs nails a big elbow strike as we return. He hits a boot as Hobbs charges at him. He avoids another torture rack and hits a dropkick and an enziguiri. Dante hits a missile dropkick to get a two-count. Dante hits a corkscrew dive on Hobbs as he goes to the floor. Dante hits another dropkick on the ropes as Hobbs was coming back. Hobbs hits a spinebuster but is too tired to cover. Jay Lethal comes out to drop Ricky Starks when he tries to attack Dante again. Martin hits a nosedive and gets the pin.
Winner – Dante Martin
Chris Jericho is backstage and talks about Inner Circle. He fires a warning to 2PointO against interferring the match between Sammy Guevara and Daniel Garcia. Eddie Kingston comes up and starts arguing with Jericho. Santana, Ortiz and Jake Hager gets tired of it and goes away. Jericho tells Eddie that if he anyone tries to intefere in the TNT title match later tonight, whether it is 2PointO or Eddie, he will beat them up.
MJF comes out ranting against CM Punk. He promises that next week, Punk gets his first L in AEW. Next week, he will give Punk the match that he wants. Next week, it will be CM Punk vs Shawn Spears.
Backstage, Adam Cole is Young Bucks, Bobby Fish and Kyle O'Reilly. He tells Best Friends how they take them down everytime. Britt Baker joins them and Cole and Baker challenge Cassidy and Kris Statlander next week in a mixed tag team match.
Page's New Challenger
Page says he spent 90 minutes against best in the world. He gave his everything in the ring for the AEW World title and it is still his. But 90 minutes is not enough. The record has reset and Hangman needs a new challenger. Dan Lambert interrupts him and starts his own promo. Page tells him that if Scorpio Sky or Ethan Page wants to challenge him, they can come and tell them to his face.
Lambert says he is here to compliment him. Lambert says he deserves it and he has everything, other than a good persona. Page says how he declined a big offer from WWE and chose to stay in AEW and has become their champion, and if that does not count as cowboy shit. Page asks him to get into the ring but Lambert is happy to exit.
Lance Archer comes out and Lambert runs back to the ring in fear. Archer gets into the ring and goes after Lambert but then ends up taking down Page with a clothesline. Archer hits a powerbomb on a steel chair.
Hikaru Shida vs Serena Deeb
Shida was making her entrance when Serena Deeb attack her from behind with a chop block. Deeb continues to attack her ringside and drops her knees into the steel steps. Deeb continues to work on the knee and hits dragon screw leg. Deeb stomps on the knee a few times. Deeb hits a single leg boston crab. Shida refuses to give up but the referee stops the match.
Winner – Serena Deeb
The referee checks on Shida. Deeb brings out a kendo stick and beat up Shida some more. More referees come out to take Deeb under control.
Penta El Zero Meido vs Matt Hardy
Penta and Hardy go back and forth with "Zero Meido" and "Delete." Penta drops Hardy as the action starts. Hardy takes control as we go to a break.
Penta comes back with a kick and slingblade. More quick moves follow from Penta. Hardy tries to counter Fear factor with Twist of Fate, but to no avail. Hardy hits a DDT before putting Penta on the top. Penta slips out of the top and kicks at Hardy's leg to put him in a tree of bow. Penta hits diving foot stomp for a two-count. They start to trade chops on the apron. Hardy hits side effect on the apron for another two-count. Penta hits an enziguiri. Hardy misses a moonsault. Penta hits Fear Factor and gets the pin.
Winner – Penta El Zero Meido
After the match, the lights go off and Malakai Black is in the ring when they turn on. Black attacks Penta and nails him with Black Mass. Varsity Blondes comes out to make the save. The lights go off once again after Black laughs at all three of them. Brody King is in the ring when they turn on. Brody and Black bring down all three and pose in the ring.
Sammy Guevara(c) vs Daniel Garcia – AEW TNT Championship Match
They start with a brawl until Garcia takes a cheap shot when the referee was trying to calm them down. Garcia hits uppercuts and and kicks to the back. Sammy hits back and clotheslines Garcia to the floor. Sammy hits a suicide dive on the floor. Back to the ring, Sammy hits open handed palm strikes and a snap suplex. Garcia comes back by catching Sammy with a backbreaker.
Sammy hits back with elbows as we return from the break. He drops Garcia with running tackles. Garcia goes to the floor to avoid a move but Sammy hits him with double springboard dive. Back to the ring, Garcia sweeps his leg on the second rope. Garcia hits a back drop suplex for a two-count.
Sammy counters with a GTH attempt but Garcia puts on the Scorpion deathlock. Sammy manages to reach the ropes. Garcia misses a dropkick in the corner. Sammy hits an inverted DDT. Garcia puts on a sleeper chole and transitions into a piledriver for a near fall. Jericho hypes up Sammy and Sammy hits an enziguiri. 2PointO attack Jericho on the floor. Sammy hits a big knee. He fights off 2PointO from the apron and hits GTH for the pin on Garcia.
Winner -Sammy Guevara
Tickets
The tickets for AEW Dynamite at Chartway Arena, Norfolk, VA can be booked via the link given below. The ticket prices start from $44 to $473 plus charges.
Preview
Interim AEW TNT Title Match: Newly crowned Interim AEW TNT Championship Sammy Guevara will defend the title against Daniel Garcia.
Dante Martin vs Powerhouse Hobbs: In the forthcoming episode, Powerhouse Hobbs from Team Taz will collide in a single match against Dante Martin. 
CM Punk vs Wardlow: On the January 5 edition of Dynamite when CM Punk was having a heated confrontation with MJF, it was announced that CM Punk would face Wardlow next week on Dynamite. Will CM Punk be able to maintain his undefeated streak in AEW or will Wardlow get the best of him?
Hikaru Shida vs Serena Deeb: On the recent episode of Dynamite, Serena Deeb challenged Hikaru Shida for another match. AEW has confirmed that their fourth match will take place on the January 12 edition of Dynamite.