AEW Blood & Guts Dynamite July 19, 2023 Results, Live Updates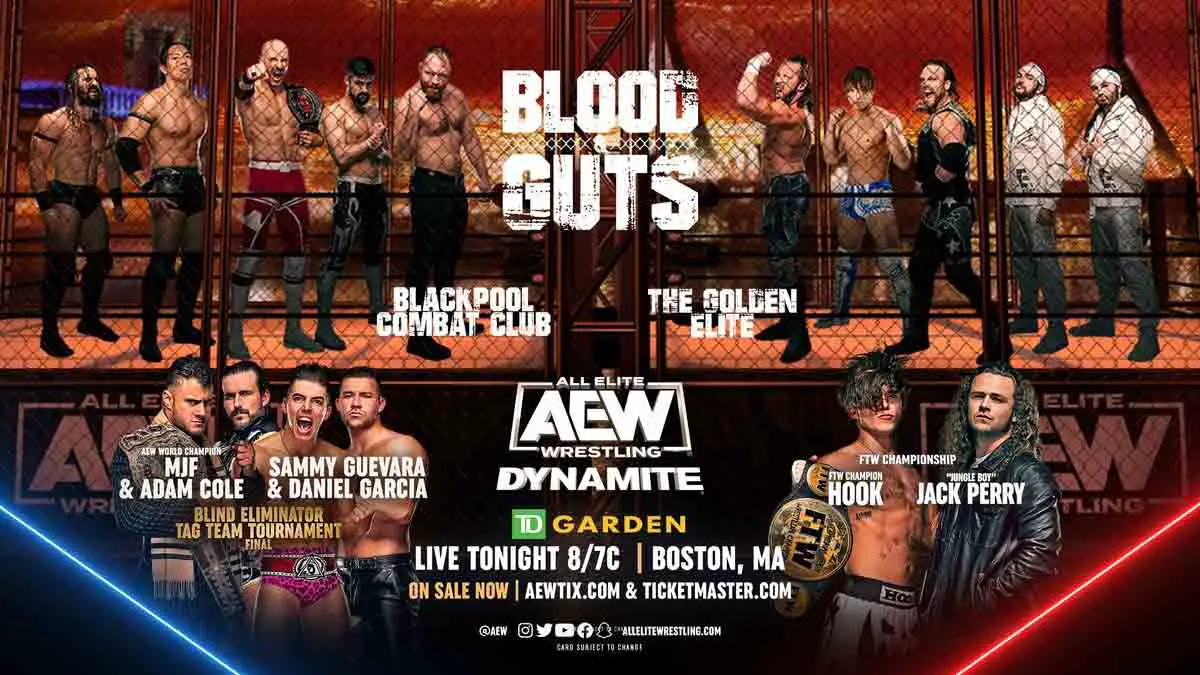 Welcome to the live results blog for AEW Blood & Guts Dynamite 2023 special on July 19, 2023, which marked AEW's debut at TD Garden Arena in Boston, MA.
The event featured a Blood & Guts match between Blackpool Combat Club and The Golden Elite. Kota Ibushi debuted in AEW for The Golden Elite. Kenny Omega, Hangman Adam Page, and The Young Bucks are the other members of The Elite in action.
Blackpool Combat Club had usual members Jon Moxley, Claudio Castagnoli and Wheeler Yuta, and will get outside help from Konsuke Takeshtia and PAC.
The final of Blind Eliminator Tag Team Tournament was also set for the show where MJF and Adam Cole clashed with Sammy Guevara and Daniel Garcia. Hook and Jack Perry took their rivalry forward in a grudge match with FTW title on the line.
Tune in below as we post results from AEW Dynamite Blood & Guts 2023 with live updates, winners and highlights.
RESULTS
Jack Perry defeated Hook(c) in a singles match via pinfall to win FTW Championship.
Britt Baker defeated Kayla Sparks in a singles match via submission.
Adam Cole & MJF defeated Sammy Guevara & Daniel Garcia in Blind Tag Team Eliminator Tournament via pinfall.
The Golden Elite(Kenny Omega, Kota Ibushi, Adam Page, Nick Jackson & Matt Jackson) defeated Blackpool Combat Club(Jon Moxley, Wheeler Yuta & Claudio Castagnoli), Konsuke Takeshita & PAC in Blood & Guts Match via submission.
LIVE UPDATES
Hook(c) vs Jack Perry – FTW Championship
Jack Perry's music hits but does not come out. We see a video package where Perry is burying his old version in the desert. He gets into a limousine and leaves the scene. Perry makes his entrance with different music amid some mixed reactions.
Perry tries to attack Hook behind his back, but Hook is playing possum and sidesteps. He unloads in the corner before Perry slips to the floor. Perry hits a kick on the floor. Hook clotheslines him over the barricade as they engage amid the crowd. Back into the ring, Perry rakes his eyes and then hits a missile dropkick. He hits some chops and poses in the corner to invite some boos. He sends Hook to the floor to take us to a break.
Hook fires body shots as we return. Perry reverses a whip to send him to the corner. Perry looks for German suplex from the apron, but Hook hangs onto the ropes. Hook hits a T-bone suplex on Perry from the apron. Hook brings Perry into the ring, but is driven into the ring post after he chases Perry ti outside again. Perry hits a DDT off the apron. Hook beats the countdown on the last second. Perry hits a German suplex, but Hook gets up quickly.
Hook hits a bridging German suplex to get a near fall. He hits another bridging German suplex for another near fall. Perry pushes the referee in the corner and hits a low-blow kick when the referee's view is obstructed. He hits a running elbow to the back of the head but Hook kicks out. The referee gets caught in the corner. Hook hits a suplex, but the referee is not there. Perry runs over Hook with the FTW title to get the pinfall.
Winner – Jack Perry
Alex Marvez takes us to a secret meeting taking place between Chris Jericho and Don Callis. Callis catches the wind of it and his security puts the camera away.
---
Adam Cole wants MJF to face his fear of spicy food. So, they go to a Chinese restaurant. MJF tells the story of him body slamming Big Bill in front of 95000 Maxamaniacs at Saskatoon Silver Dome. The food is really spicy for both of them. They find a restaurant worker like Daniel Garcia and hit him with a double clothesline.
---
Alex Marvez catches us up to Don Callis and Chris Jericho coming to the arena earlier today. They tell Marvez is an idiot.
Britt Baker vs Kayla Sparks
Baker ducks a swing, but Sparks hits a back elbow. Baker hits a sling blade and pits on her glove. She hits a hip attack in the corner and follows up with an under hook suplex. She puts on lockjaw to get the submission.
Winner – Chris Jericho
Adam Cole & MJF are backstage now. After short promos, MJF gives Cole matching trunks. Cole brings in matching jackets. MJF and Cole leave. Roderick Strong comes in after that and calls for Cole, but Cole does not listen to him.
Adam Cole & MJF vs Sammy Guevara & Daniel Garcia – Blind Tag Team Eliminator Tournament
Chris Jericho comes out after Sammy and Garcia. Jericho asks to cut his music but the crowd stil completes his theme by singing it themselves. MJF come out first. Cole comes out to a theme which is a combined version of his and MJF's music.
A dance-off between MJF and Garcia before the bell rings. MJF gets some music playing and Sammy and Garcia do a dance sequence. MJF leads the way for his team. Cole is surprised at his moves. Cole does some awkward moves and MJF has to get the music cut to stop him. JAS attack Cole and MJF to get the bell. MJF starts against Garcia. Cole distracts Garcia from the apron before they ping-pong Garcia with forearm shots. Sammy has to pull Garcia out to save him from a double clothesline. JAS gets nailed with forearm on the apron. MJF runs the ropes for show off. Cole is pulled off the ropes by Sammy while Garcia attacks MJF to take us to a break.
Sammy goes to the top as we return. MJF tries to roll to tag out and Sammy has to come down to stop him. MJF hits a DDT to drop him. Both men are down in the ring. Garcia tags in and stops MJF from tagging out. MJF ducks a double clothesline and tags in Cole. Cole drops them both with quick moves. Garcia fires back but Cole hits a superkick after Garcia shows off with dancing again. Sammy hits an elbow to Cole's back to stop The Boom.
Sammy ducks a double clothesline but MJF catches him from the top rope. Sammy blocks an inverted DDT. More quick action before both JAS men are sent to the floor. Cole asks MJF to hit a suicide dive, but can not muster the courage. Cole hits superkicks on both opponents on the floor. MJF finally hits a suicide dive to get a huge pop. Cole hits Panama Sunrise on Garcia. MJF and Cole hit double clothesline to get the pinfall.
Winners – Adam Cole & MJF
Chris Jericho comes to the ramp to console Sammy and Garcia, but they walk past him. The referee hands AEW World title to Cole who takes a look at him. MJF does not like that and snatches it from him. Cole tells him he was just looking at it, and he should trust him. MJF calms down. FTR music hits and the champs duo come out for a face-off in the ring.
---
Darby Allin is backstage with Orange Cassidy and company. Darby talks about Swerve Strickland in the Royal Rampage and wanting to win it. He also asks for AEW International title shot for AR Fox. Cassidy agrees and the match is set for next week's Dynamite.
The Elite vs Blackpool Combat Club – Blood & Guts Match
Omega and Claudio start the match. Claudio hits uppercuts in the corner. Omega fires back. He stops a suplex. Claudio hits a backbreaker on him. Omega lands on his feet on a back body drop and sends Claudio into the ring post. He hits a crossbody from the top. Omega throws Claudio into the other ring. Omega hits chops. Claudio fires back uppercuts and hits an elbow drop. Omega leapfrogs as Claudio charges to the corner. He hits a hurricanrana and double knees on Claudio before PAC enters the match.
Claudio attacks Omega from behind while Omega waits for PAC to enter. Omega fights him off but PAC hits a missile dropkick and some back heel kicks to take us to a break.
We return to see Hangman Page entering the match. Page fires shots at Claudio and PAC. He clotheslines Claudio into the other ring. PAC hits a kick to midsection. Page hits PAC with fall away slam, a springboard forearm on Claudio. He hits PAC with a powerbomb. Omega recovers and joins Page into hitting corner back splashes on PAC. BCC duo are thrown into the cage. They separate into one on one action. Claudio hits a dropkick on Omega against the cage.
Moxley enters the match with a fork and attacks Page with it. Mox hits Omega with it before biting his fingers. He hands a fork to Claudio also as they continue to attack The Elite with them. Page fights Mox in one ring and unloads with forearms. Mox hits him with a clothesline. Mox pours out some shredded glasses in the middle of the ring.
Nick Jackson enters the ring. He sends Mox into the glass pieces before quick moves on PAC and Claudio. Claudio is hit with a facebuster while PAC eats a cutter. Nick hits a hurricanrana to send Claudio into the mirror pieces. Moxley hits a suplex on Nick on top of the glass. Omega gets up but he is also dropped on top of the glasses. Wheeler Yuta enters the match and we cut to a break.
Matt Jackson is entering the match as we return. He hits clotheslines on PAC before hitting a hurricanrana on the glasses. He hits a DDT on Yuta on a chair. He ducks a double clothesline and hits sliced bread on Claudio and a spear on Moxley. The Young Bucks hit double moonsault on Moxley. Yuta and PAC work on Omega but Page quickly cuts them off. Mox sends The Young Bucks to the corner and hits clotheslines and suplexes. Claudio hits running uppercuts after he has put on Matt's jacket.
Omega hits bulldog on Yuta on the glasses. Konosuke Takeshita enters the cage with a chair. Takeshita hits Page with the chair before countering The Young Bucks and hitting a double German suplex. Omega hits a kick to midsection but Takeshita punches him with a chair. Mox brings out a bed of nails and puts it in the corner. Omega holds onto the ropes to stop being sent into the nails. Mox hits a dropkick to send his back into the nails. Mox hits a body slam on Omega on the nails. Kota Ibushi makes his AEW debut as he comes out.
Yuta meets him on the stage and gets dropped with a big punch. Kota enters the cage. Nick moves out of the cage and the door gets locked behind him. Yuta and Nick are out of the cage. Kota hits everyone with shots one by one. He hits a back flip kick on PAC and Claudio before kicking Mox to send him into the nails. Omega and Kota hit Takeshita with a jumping knee and big boot combo. Other members of BCC attack the duo to take us to another break.
Yuta and Matt are fighting on top of the cage as we return. Matt hits a trio of Northern Lights suplexes. Matt looked to throw Yuta off the top but Yuta counters with a DDT. Yuta returns to the ring after this. Omega rakes his eyes. Moxley hits a piledriver on Kota. PAC and Claudio get ready for powerbomb on Page and Nick. Matt throws down thumbtacks from the top of the cage, and the powerbombs are turned into back body drops on tacks.
Mox's figure four on Kota is broken by Page. PAC fights out of the bucklebom but Kota manages into the second attempt to send him into gamengiris from The Young Bucks. Omega hits Takeshita with a sunset flip bomb and The Young Bucks follow it up with elbow drop and splash. We cut to another break.
As we return, Mox is on second rope with Page while the same is with Claudio and Nick, Yuta with Kota and Takeshita with Omega. They all hit superplexes one by one. PAC climbs to the middle of the cage and jumps on Matt to put him through the table. Both sides get up now and collide in the middle of the ring. They engage in a brawl before they start to hit big moves one at a time. Omega goes for One Winged Angel but PAC turns it into a brutalizer. Others from BCC also put on submission moves on their respective opponents. Claudio puts Matt into a swing and puts on sharpshooter.
Kota breaks free and gets his teammates free with kicks. But, it took three body kicks on Claudio to bring him down. BCC hits moves on Omega in the corner. Omega counters on PAC to send him to the corner and sends Claudio on top of him. BCC keeps the upperhand though. PAC and Claudio start to argue. PAC shows Claudio with the middle finger, breaks gets the door open and leaves. Omega hits snap dragon suplexes on the other 4 men of BCC. Page hits Buckshot Lariat on Claudio. Page and Omega sandwich Yuta with Buckshot and V-Trigger.
Mox is handcuffed to the ropes. Don Callis asks Takeshita to come out of the cage as things start to go awry for BCC. Yuta is choked with a chain on the ropes and is forced to tap out.
Winner – The Golden Elite
The Golden Elite celebrate in the ring. Moxley is staring down as he is still handcuffed to the ropes. The show goes off the air.