UFC 289: Amanda Nunes vs Irene Aldana Live Blog, Play by Play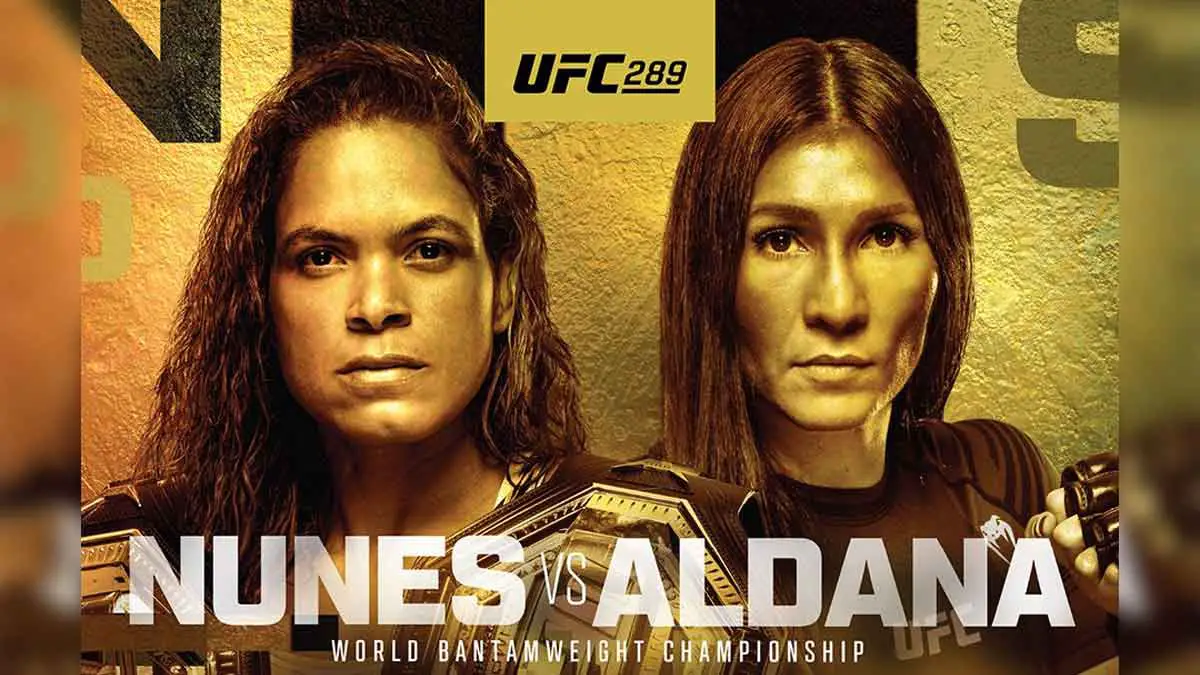 Welcome to the live blog for Amanda Nunes vs Irene Aldana at UFC 289 PPV in UFC Women's Bantamweight Championship bout.
Amanda Nunes looked to kickstart her second title reign as the champion of the 135 lbs division with her first title defense. She won this title back from Julianna Pena in August last year and would have surely wanted to make this reign on par with her first reign which saw 5 successful defenses. Was that be the case or was Aldana the next player to upset her?
Irene Aldana was the newest challenger in line to challenge Nunes' throne. Aldana was preparing to fight Raquel Pennington last month but Pena pulled out of the fight against Nunes, leading to Aldana getting a title shot a few months earlier. Aldana had lost only to Pennington and Holly Holm in the last 5 years and picked up 7 wins during this time. But, was she ready to be the champion?
The bantamweight title's on the line tomorrow!! 🏆@Amanda_Leoa defends her throne against @IreneAldana_ at #UFC289!

[ 10pmET / 7pmPT | Live on @ESPNPlus PPV ] pic.twitter.com/MkgzKYAFAh

— UFC (@ufc) June 9, 2023
Tune in below in the live blog for live play-by-play and round-by-round updates from Amanda Nunes vs Irene Aldana UFC Women's Bantamweight title main event bout at UFC 289 PPV.
Live Updates
Pre-Fight: The video package is on and Irene Aldana says she wants to bring a fourth UFC title to Mexico. Aldana walks out first. Nunes walks out for her 12th consecutive title fight. Bruce Buffer does the introductions for the main event. Dan Miragliotta is the referee.
Round 1: Both women test their range in the first minute. Both are in orthodox stance. Nunes lands a front kick with 30 seconds in the second minute. Nunes takes a single leg takedown very easily but does not follow through with any attack. Aldana has not connected half way into the round while Nunes gets some jabs going. Aldana blocks some kicks in that time. Nunes lands a spinning heel kick to the body. Aldana yet to land anything as she looks a bit frozen. Nunes reaches out and lands a jab at the body. Aldana finally lands a right to counter a series of shots. Aldana lands another big right as we enter the final minute. Nothing much happens in the final minute apart from a combo from Nunes.
Round 2: Nunes starts with a jab 30 seconds into the second round. Both women land calf kicks at the same time. Aldana blocks a single leg before landing a stiff calf kick. Nunes keeps proding with some jabs and kicks to the leading leg. Nunes fients a kick and lands a jab. Aldana hits a kick to thigh. Nunes lands a combo before a body kick. Nunes attempts another takedown but does not complete it. She lands more calf kicks on the lead leg before a combo of jabs. Aldana's calf kick is countered with a string of jabs and calf kicks. Nunes hits a front kick. Aldana lands a body jab and some calf kicks in the final minute. Nunes' punch sparks a counter from Aldana which includes a spinning back elbow but Nunes ducks it and completes a takedown. That was the final action of the round.
Round 3: Aldana blocks Nunes' initial jabs and kicks. But, Nunes follows up with more shots which connects easily. Aldana counters with a jab but Nunes is patient and is picking her spots to land her shots. Aldana lands an inside leg kick before Nunes attempts a takedown. She completes it in the second attempt. Nunes is now attempting to get control of her on the mat. Aldana is refusing to let her control. Nunes is having hard time putting Aldana's shoulder to the mat. They get up and Aldana tries for a front headlock. Nunes trips her quickly to the mat again. Nunes gets on her back this time and goes for an armbar. The situation is not that difficult for Aldana and she is able to get out of it. Aldana has Nunes in the corner but Nunes punches her way out of that situation. Aldana throws more jabs but Nunes is the one to connect to close the round.
Round 4: Aldana asks the crowd to cheer as the round starts. Nunes starts as the aggressor. Aldana attempts some calf kicks. Nunes lands a huge elbow as the first minute ends. Aldana lands a right punch simultaneosly but that was hidden behind Nunes' elbow. Aldana is cut open though. Nunes attempts a takedown but does not complete it. More jabs from Nunes as she is in complete control. Aldana lands some counter shots but they does not affect Nunes much. Nunes gets a takedown with ease in the middle of the round but goes not follow up on it again. Fourth minute sees Aldana throwing more shots but Nunes is landing even bigger shots. Nunes lands more big shots in the final minute but Aldana is not showing any sign of knockdown. Nunes hits a spinning back elbow just before the round ends.
Round 5: Aldana tries to block a takedown with a knee strike but is not able to complete it. Nunes completes the takedown easily and has pinned Aldana near the wall. She is not in complete control though but is on top position. She keeps lands her elbows and punches. Aldana keeps closing her guard but Nunes finally gets the control and keeps landing her shots all over the upper body. Aldana goes for a choke but Nunes easily gets out of it and lands more shots. Nunes fires more punches as the final minutes starts. Some punches to the ribs now. Aldana has nowhere to go. Nunes ends the round on top.
Official Decision: Amanda Nunes won via unanimous decision(50-44, 50-44, 50-43).