UFC 288 Salaries, Payouts, Bonuses, Promotional Guidline Pay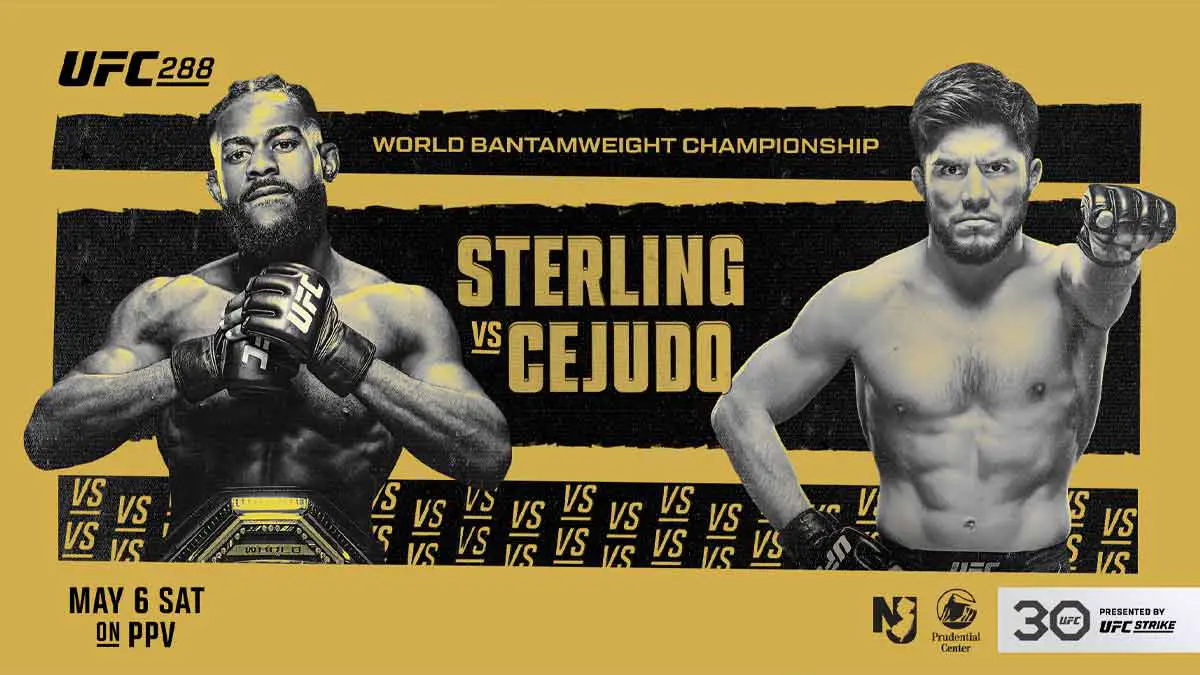 The salaries for UFC 288 PPV will see both the main eventers in Aljamain Sterling and Henry Cejudo making anthing between $700,000 to $1 million based on the PPV buy rate.
Both men are expected to make $500,000 in base salary and equal share from PPV sales. Sterling will get $42,000 in promotional guideline pay as the champion while Cejudo will get $32,000 promotional bonus as the title challenger. Co-main welterweight stars Gilbert Burns and Belal Muhammad are expected to make $400,000 in base salary in their hastily arranged co-main event.
Jéssica Andrade($321,000), Yan Xiaonan($306,000), and Devin Clark($111,000) are the other fighters expected to draw 6 figure salaries from the event. Movsar Evloev vs Deigo Lopes won the Fight of the Night event, earning $50,000 extra each. Yan Xiaonan and Matt Frevola won Performance of the Night awards. Check below for the complete list of salaries and payouts from UFC 288 PPV along with win bonus, performance bonus and promotional guidelines.(win bonuses to be added later).
Aljamain Sterling – $742,000
Base Salary – $500,000
PPV Bonus – $200,000(for approx. 400,000 PPV buys)
Promotional Pay – $42,000
Henry Cejudo – $732,000
Base Salary – $500,000
PPV Bonus – $200,000(for approx. 400,000 PPV buys)
Promotional Pay – $32,000
Belal Muhammad – $416,000
Base Salary – $400,000
Promotional Pay – $16,000
Gilbert Burns – $416,000
Base Salary – $400,000
Promotional Pay – $16,000
Jéssica Andrade – $321,000
Base Salary – $300,000
Promotional Pay – $21,000
Yan Xiaonan – $306,000
Base Salary – $150,000
Win Bonus- $100,000
Performance Bonus – $50,000(Performance of the Night)
Promotional Pay – $6,000
Movsar Evloev – $216,000
Base Salary – $80,000
Win Bonus- $80,000
Performance Bonus – $50,000(Fight of the Night)
Promotional Pay – $6,000
Diego Lopes – $66,000
Base Salary – $12,000
Performance Bonus – $50,000(Fight of the Night)
Promotional Pay – $4,000
Kron Gracie – $56,000
Base Salary – $50,000
Promotional Pay – $6,000
Charles Jourdain – $101,000
Base Salary – $50,000
win Bonus – $50,000
Promotional Pay – $11,000
Drew Dober – $66,000
Base Salary – $50,000
Promotional Pay – $16,000
Matt Frevola – $138,000
Base Salary – $36,000
Win Bonus- $36,000
Performance Bonus – $50,000(Performance of the Night)
Promotional Pay – $6,000
Kennedy Nzechukwu – $106,000
Base Salary – $50,000
Win Bonus – $50,000
Promotional Pay – $6,000
Devin Clark – $111,000
Base Salary – $100,000
Promotional Pay – $11,000
Khaos Williams – $66,000
Base Salary – $30,000
Win Bonus – $30,000
Promotional Pay – $6,000
Rolando Bedoya – $16,000
Base Salary – $12,000
Promotional Pay – $4,000
Marina Rodriguez – $86,000
Base Salary – $80,000
Promotional Pay – $6,000
Virna Jandiroba – $66,000
Base Salary – $30,000
Win Bonus – $30,000
Promotional Pay – $6,000
Braxton Smith – $16,000
Base Salary – $12,000
Promotional Pay – $4,000
Parker Porter – $66,000
Base Salary – $30,000
Win Bonus – $30,000
Promotional Pay – $6,000
Phil Hawes – $36,000
Base Salary – $30,000
Promotional Pay – $6,000
Ikram Aliskerov – $28,000
Base Salary – $12,000
Win Bonus – $12,000
Promotional Pay – $4,000
Joseph Holmes – $16,000
Base Salary – $9,600(after removing 20% fine for weight miss)
Promotional Pay – $4,000
Claudio Ribiero – $30,400
Base Salary – $14,400(including 20% fine from Holmes for missing weight)
Win Bonus – $12,000
Promotional Pay – $4,000