PFL 4: Loughnane vs Pinedo Results Live, Regular Season 2023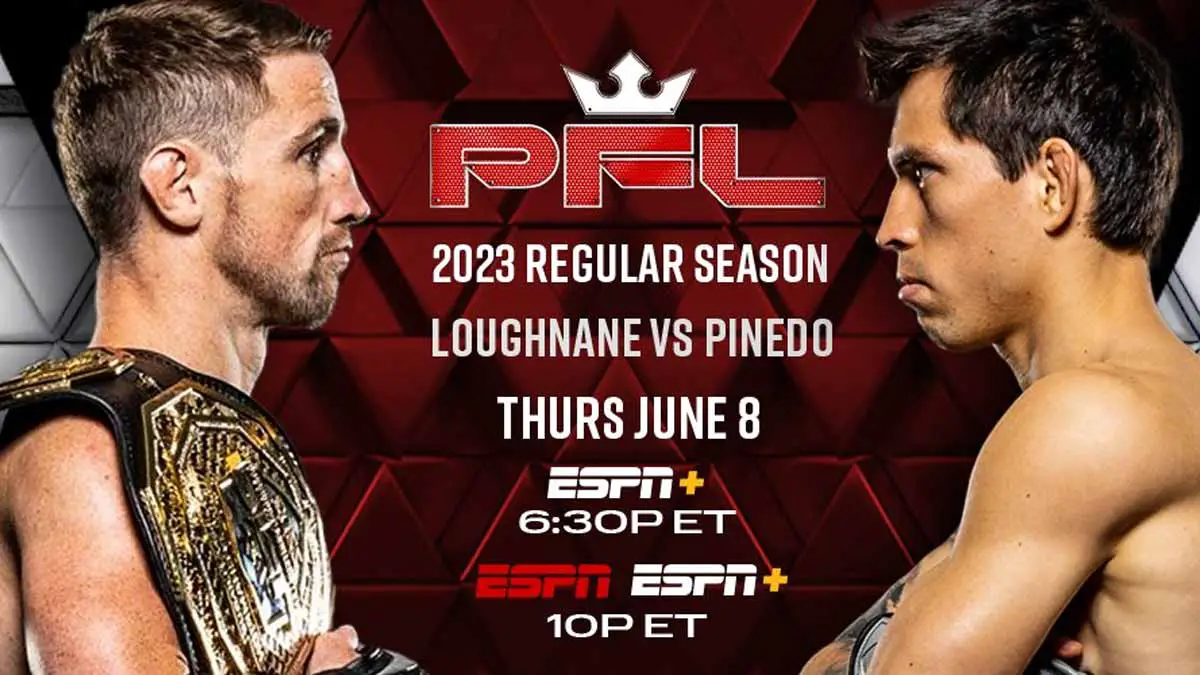 The PFL 4 event of Regular Season 2023 aired on Thursday, June 8, and featured light heavyweight and featherweight tournament bouts from the league phase.
Brendan Loughnane, 2022 PFL Featherweight World Champion, took on Jesus Pinedo in the headliner bout. Loughane was at the top of the featherweight standings with 5 points. He beat Marlon Moraes in the first round of matches via second-round KO to take his winning streak to 5 fights. Jesus Pinedo needed a first-round win if he wanted to keep his chances alive in the tournament.
From the Light Heavyweight division, joint toppers Marthin Hamlet and Josh Silveira were in action in different bouts. Hamlet took on Sam Kei while Silveira faces Delan Monte, who both lost their first bouts in this season.
Check below for complete results from PFL 4: Loughnane vs Pinedo 2023 Season with complete fight card and other details.
RESULTS
Prelims(6:30 PM ET)
Alexei Pergande def. Akeem Bashir via submission at 3:40 of round 1 – Featherweight Showcase Bout (Watch Video)
Abigail Montes def. Brandy Hester via TKO at 3:06 of round 1 – Women's Featherweight Showcase Bout (Watch Video)
Andrew Sanchez def. Taylor Johnson via split decision (29-27, 27-29, 29-27) – Light Heavyweight Tournament Bout
Impa Kasanganay def. Tim Caron via submission at 3:52 of round 2 – Light Heavyweight Tournament Bout (Watch Video)
Chris Wade def. Ryoji Kudo via submission at 4:51 of round 1 – Featherweight Tournament Bout (Watch Video)
Ty Flores def. Dan Spohn via unanimous decision (29-28, 29-28, 30-27) – Light Heavyweight Tournament Bout
Gabriel Braga def. Marlon Moraes via TKO at 3:02 of round 1 – Featherweight Tournament Bout (Watch Video)
Main Card(10 PM ET)
Josh Silveira def. Delan Monte via TKO(leg injury) at 1:30 of round 1 – Light Heavyweight Tournament Bout (Watch Video)
Bubba Jenkins def. Jo Sungbin via submission at 1:25 of round 1 – Featherweight Tournament Bout (Watch Video)
Marthin Hamlet def. Sam Kei via Unanimous Decision (29-28, 29-28, 29-28) – Light Heavyweight Tournament Bout
Movlid Khaybulaev def. Tyler Diamond via submission (arm triangle) at 4:23 of round 2 – Featherweight Tournament Bout (Watch Video)
Jesus Pinedo def. Brendan Loughnane via KO (Knee and Punches) at 1:34 of round 1 – Featherweight Tournament Bout (Watch Video)
𝙒𝘼𝙆𝙀 𝙐𝙋 ❗️IT'S FIGHT DAY ‼️

Featherweights and Light Heavyweights look to clinch their spot in the 2023 #PFLPlayoffs 𝗧𝗢𝗡𝗜𝗚𝗛𝗧

[ Thursday, June 8th | 6:30ET on ESPN+ | 10pm ET on ESPN | #PFLRegularSeason] pic.twitter.com/B1Bp1pHrzm

— PFL (@PFLMMA) June 8, 2023