UFC Kansas City: Max Holloway vs Arnold Allen Live Blog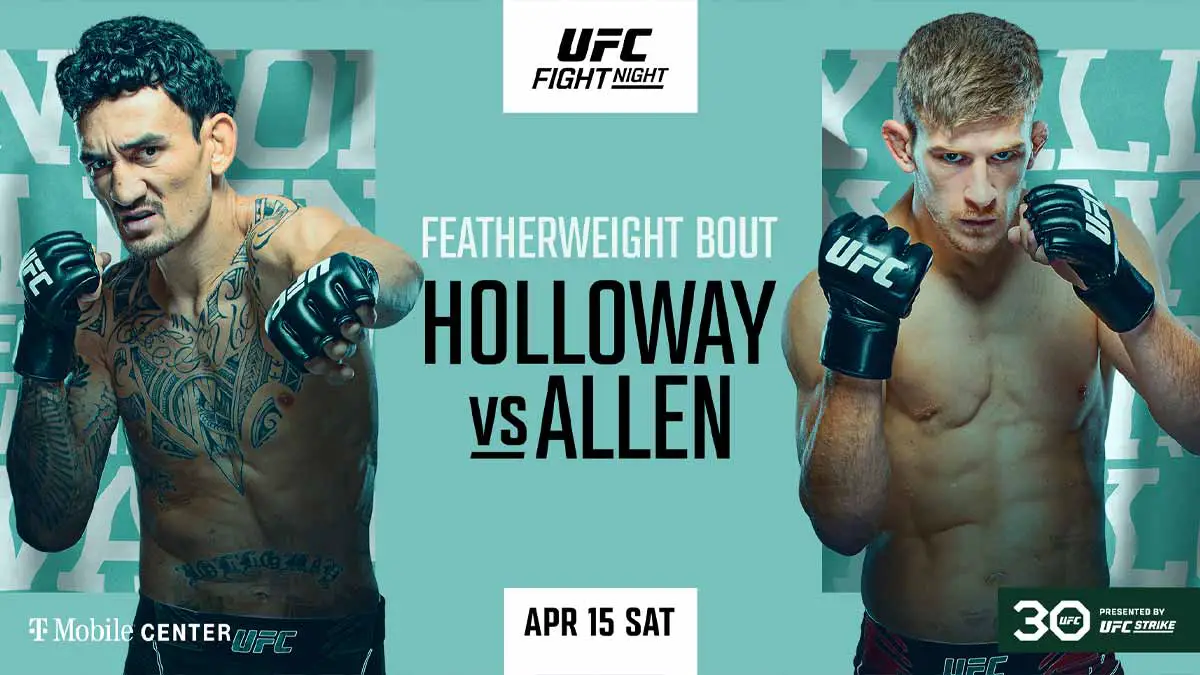 Welcome to the live blog as Max Holloway and Arnold Allen clashed in a key featherweight fight to headline UFC Kansas City Fight Night on April 15, 2023.
Former Featherweight Champion Holloway was returning to the octagon 9 months after he lost to Alexander Volkanovski for the third time in the title fight. Outside of these three fights against Volkanovski, Holloway had defeated big names in Frankie Edgar, Calvin Kattar and Yair Rodrguez. Was he be able to beat Allen also?
For Arnold Allen, a win here would have meant that he is next in line for the featherweight title shot. Allan was currently ranked at #4 in the featherweight rankings and remained unbeaten in UFC. His 12-fight unbeaten run overall included beating Dan Hooker and Calvin Kattar in his two fights in 2022. Did he have what it takes to bring down Holloway also?
To find out, tune in below for complete updates from Max Holloway vs Arnold Allen fight with live play-by-play and round-by-round updates from UFC Kansas City Fight Night.
Live Updates
We are getting the video package for this fight. Allen walks out "We will Rock You". Holloway comes out next. Bruce Buffer introduces both fighters and we are ready to go.
Allen starts in southpaw stance. He looks for an inside calf kick to start. He lands one before attempting an outside kick. He catches Max with a groin kick and referee has paused the action at 45 seconds. Holloway walks him down with combination punches but Allen defends them well. Max continues with more punches after a few seconds. Allen connects a big left before they go back to look at each other. Allen lands another calf kick and ducks a shot from Max. Max hits another set of combination jabs. Max goes for a body kick but Allen takes it on his arm. Allen goes for a jab but Max counters with kick and jabs. Allen misses a high kick. Both men are getting their moments in this round. Max goes for a spinning heel kick woth 30 seconds to go, but does not connect well. He hits more kicks in the final few seconds.
Holloway starts cautiously again. Allen trying to reach out with his punches and kicks but is unable to catch Max in the first minute. Allen manages to land a huge left before they trade an exchange. He lands another overhead left after a few seconds. Max is trying to keep his distance. Allen connects a calf kick and a left. Max hits a couple of calf kicks. He hits a few jabs. They trade high kicks in a matter of seconds. Max counters with a jab. Allen sets up a high kick by faking a jab. Max sneaks in another jab as we get into the fourth minute. He is able to duck and hit body shots on Allen. He manages to do it again after a few seconds. They both throw front kicks as the final minute starts. Max connects a body kick. Allen connects a left hook. Max attempts another spinning kick but fails to connect as the round comes to an end.
Max lands a jab after 15 seconds in round 3. Allen reaches out but misses a jab. Max pushes him back with combination jabs. Allen connects a left and a right as the second minute starts. Holloway goes high with a kick. Allen is countering jabs with shots of his own. Allen pushes Max back with attempted jabs and punches. Max has blood coming above his nose. More jabs from both sides but both their movements mean that neither is able to take upper hand. Max catches Allen with a groin strike for a few seconds pause. The pace picks up in the final minute once again. Max connects a couple of body kicks. Allen connects an elbow. Max hits a spinning back fist in the final 10 seconds.
Allen starts more aggressive than previous rounds. Max catches his leg after they both throw jabs. Allen hits a high kick at the start of second minute. Allen lands another jab. Max hits a body kick. Allen hits a body kick. Max fires back with combination of body shots. Max reaches with low kicks. Allen pushes him back with a jabs. Max is able to counter effectively. He stumbles off when going for a kick and Allen connects a high kick. Max connects a jab and goes back to distance. Allen goes for a kick but does not connect well. Allen connects a straight left. More good shots from Allen. Max stumbles again after missing a spinning heel kick. Allen lands a high kick. Max connects one as well after a few seconds. Another high kick from Max. Allen closes out the round with a right jab.
They tap their hands before they start the round. Allen is on the aggressive to start the round. He lands a series of shots. Max catches him with some counters. Max lands a knee to midsection. He is able to hit a spinning back fist. Allen pushes him back again with some shots. Allen is showing a lot of urgency. He attempts more shots with a high kick in between. Holloway is also able to land some shots in between. They get into a clinch for the first time in this round. Max lands a shot in between a flurry from Allen. Allen lands a high kick. Allen is pushing more and more pressure with quick fire shots. Max connects a knee. Allen attempts more high kicks. Allen is pushing Max back more and more. Allen is able to trip Max with a calf kick. Max loses his mouthpiece as Allen gets him in a clinch with just 30 seconds to go. The clinch breaks in the final 10 seconds. Allen throws his arm frantically. Max connects a good shot but they get to the final bell.
Max Holloway wins via unanimous decision(49-46, 49-46, 48-47).