KSW 81 Results Live, Bartosinski vs Szczepaniak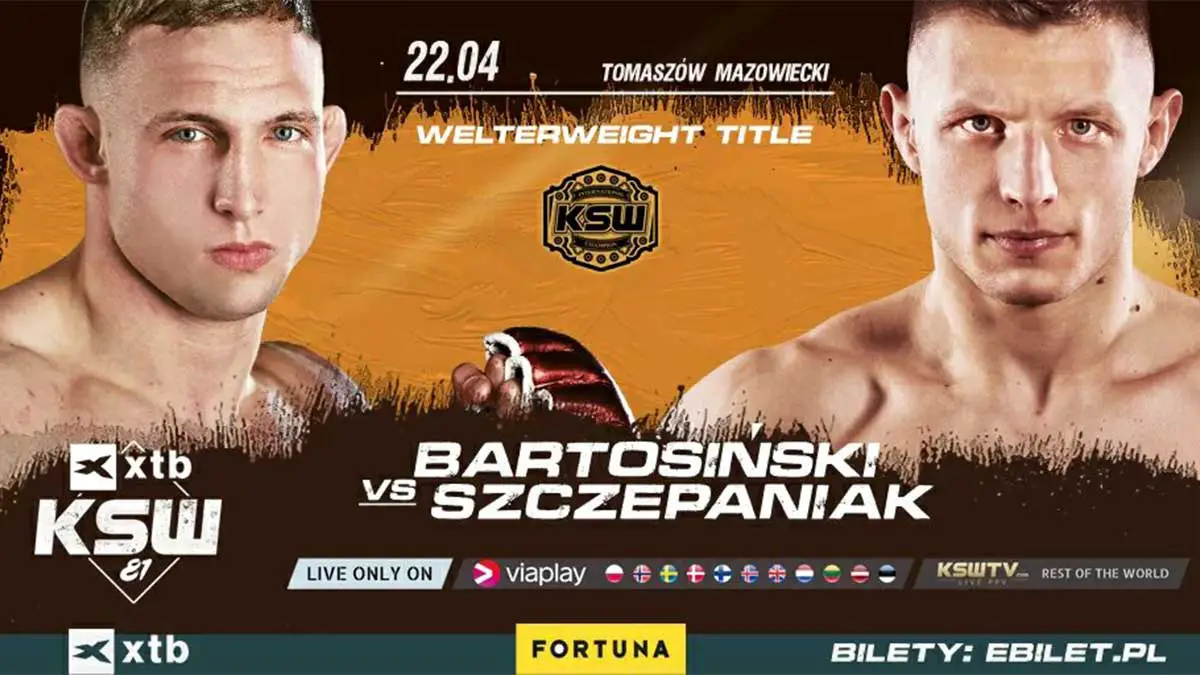 KSW 81 was live on April 22, 2023, from Arena Lodowa in Tomaszów Mazowiecki in Poland.
A bout for vacant welterweight championship headlined the show between Adrian Bartosinski and Artur Szczepaniak. Bartosinski remained undefeated before this bout with 13 wins overall and 6 wins in KSW. Szczepaniak just had two appearances in the promotion but won both bouts. Who continued his streak and became the champion?
Two kickboxers in Tomasz Sarara and Errol Zimmerman were in the co-main event. Sarara had two MMA bouts with 1 win and 1 loss. Zimmerman lost in his only MMA bout in 2008, but has several bouts in Muay Thai and Kickboxing.
Check below for results live from KSW 81 Bartosinski vs Szczepaniak event with complete fight card, and other details.
RESULTS
Prelims Card
Josef Stummer def. Jonatan Kujawa via Unanimous Decision (30-27, 30-27, 30-27) – Featherweight Bout
Filip Stawowy def. Marek Samociuk via Submission (Rear-Naked Choke) in round 2- Heavyweight Bout (Watch Video)
Maria Silva def. Sofiia Bagishvili via submission at 3:15 of round 2 – Strawweight Bout (Watch Video)
Main Card
Kamil Gawryjolek def. Olegs Jemeljanovs via TKO (punches) at 4:30 of round 1 – Heavyweight Bout (Watch Video)
Marcin Krakowiak def. Henry Fadipe via unanimous decision (29-28, 30-27, 29-28)- Welterweight Bout
Adrianna Kreft def. Karolina Owczarz via submission at 1:13 of round 1 – Flyweight Bout (Watch Video)
Werlleson Martins def. Patryk Surdyn via KO at 0:12 of round 3 – Bantamweight Bout (Watch Video)
Igor Michaliszyn def. Krystian Bielski via TKO at 3:29 of round 2 – Welterweight Bout (Watch Video)
Co-Main Event – Errol Zimmerman def. Tomasz Sarara via TKO at 3:53 of round 2 – Heavyweight Bout (Watch Video)
Main Event– Adrian Bartosinski def. Artur Szczepaniak via TKO at 1:47 of round 1- Vacant KSW Welterweight Championship Bout (Watch Video)