KSW 74 Results LIVE, De Fries vs Prasel Card, Start Time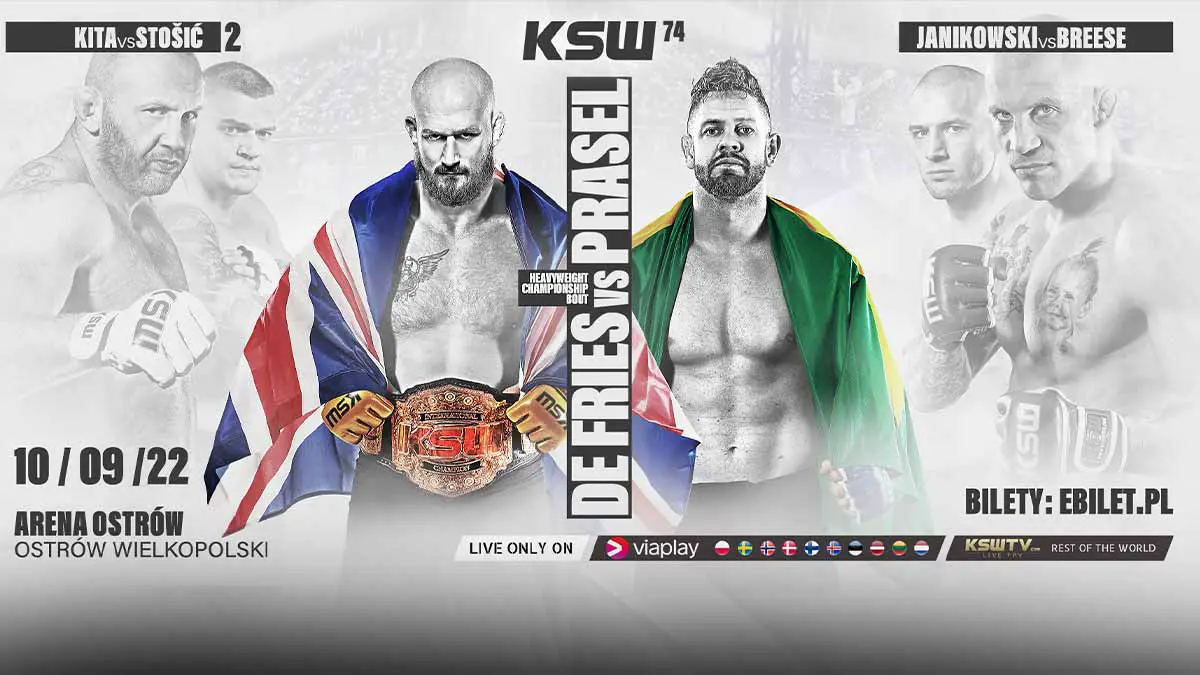 KSW MMA will present KSW 74: De Fries vs Prasel event on Septembe 10, 2022, with a heavyweight title fight in the main event.
Reigning Champion Phil De Fries is looking to defend the title for the seventh time in this reign which started back in 2018. It will be De Fries' second bout this year after his successfull defense against Darko Stošić at KSW 67 in February.
Ricardo Prasel has earned the title bout on the back of two wins in a row since joining KSW this year. He has defeated Michał Kita(KSW 68, KO) and Daniel Omielańczuk(KSW 70, Submission).
In the co-main event, former UFC and Cage Warriors figher Tom Breese makes his promotional debut agianst Damian Janikowski in a middleweight bout. Janikowski has 3 wins and 1 loss since the start of 2021 and will look to become a title contender with a win here.
The event will start from 1 PM ET on KSW TV and Via Play streaming services. We will be posting complete results from KSW 74: De Fries vs Prasel event below. Also check the complete fight card, venue and start time in the event info below.
Results & Card
| No. | Fight | Weightclass | Winner |
| --- | --- | --- | --- |
| 1 | Arkadiusz Mruk vs Borys Dzikowski | Middleweight Bout | Borys Dzikowski won via TKO at 0:40 of round 1 |
| 2 | Wojciech Kazieczko vs Eduard Demenko | Featherweight Bout | Wojciech Kazieczko won via unanimous decision (30-27, 29-28, 30-27) |
| 3 | Anita Bekus vs Sofiia Bagishvili | Strawweight Bout | Sofiia Bagishvili won via submission at 1:47 of round 1 |
| 4 | Kacper Koziorzebski vs Emil Meek | Welterweight Bout | Emil Meek won via TKO at 2:01 of round 2 |
| 5 | Werlleson Martins vs Pawel Politylo | Bantamweight Bout | Werlleson Martins won via unanimous decision (29-28, 29-28, 29-28) |
| 6 | Cezary Kesik vs Tomasz Romanowski | Middleweight Bout | Tomasz Romanowski won via TKO (Punches) in R1 |
| 7 | Darko Stosic vs Michal Kita | Heavyweight Bout | Darko Stosic won via KO at 2:54 of round 2 |
| 8 | Damian Janikowski vs Tom Breese | Middleweight Bout | Tom Breese won via submission at 1:55 of round 2 |
| 9 | Phil De Fries (c) vs Ricardo Prasel | KSW Heavyweight Championship Bout | Phil De Fries won via submission at 4:11 of round 1 |