KSW 72 Results, Romanowski vs Grzebyk Fight Card, Start Time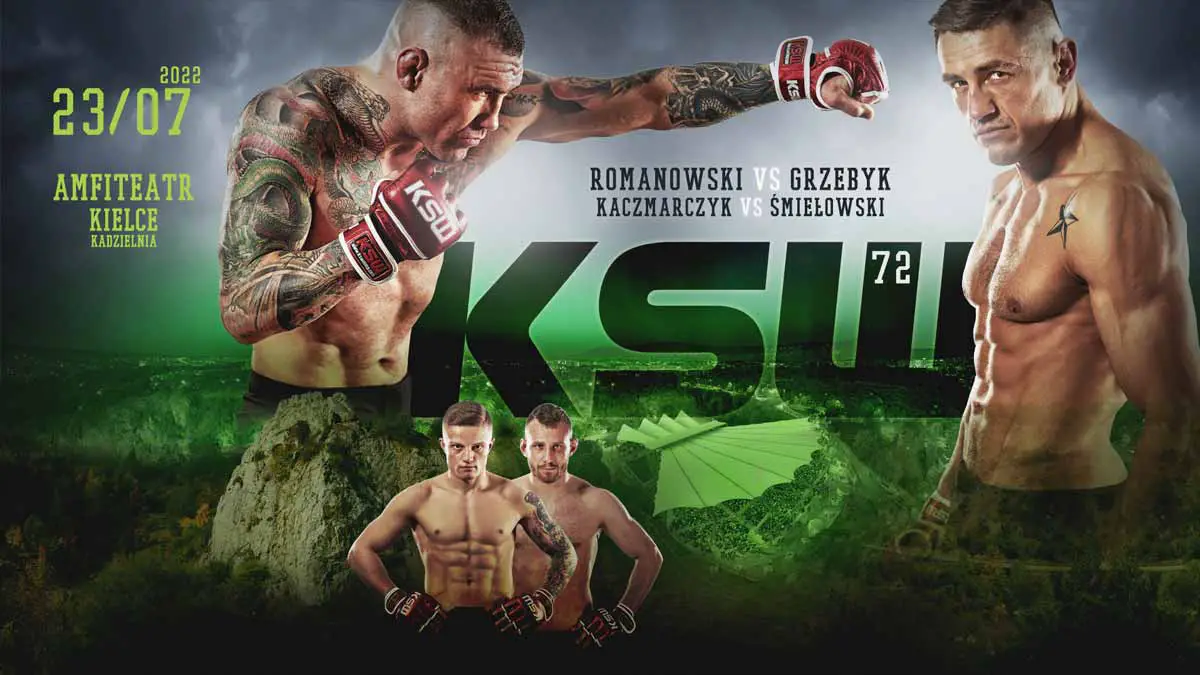 KSW 72 is another MMA event from the KSW MMA promotion.
KSW 72 airs on July 23, 2022, from Kielce, Poland, and will see a welterweight bout between Tomasz Romanowski and Andrzej Grzebyk. Romanowski is one of the three fighters on the card to miss weight by a large margin of 6 pounds, but the fight will go on.
A total of 8 bouts are scheduled for the card airing via the KSW TV streaming service worldwide starting from 1 PM ET. Check below for the complete results from KSW 72: Romanowski vs Grzebyk event with confirmed fight card, start time, and more details.
Event Info
Event: KSW 72: Romanowski vs Grzebyk
Date: July 23, 2022
Start Time: 1 PM EST
Location: Amfiteatr Kadzielnia, Kielce, Poland
Results & Card
| No. | Fight | Weightclass | Winner |
| --- | --- | --- | --- |
| 1 | Robert Maciejowski vs Arkadiusz Kaszuba | Welterweight Bout | Robert Maciejowski won via split decision (29-28, 29-28, 28-29) |
| 2 | Hubert Szymajda vs Yann Liasse | Lightweight Bout | Yann Liasse won via unanimous decision (30-26, 29-28, 29-28) |
| 3 | Patryk Surdyn vs Gustavo Oliveira | Bantamweigyt Bout | Patryk Surdyn won via unanimous decision (30-26, 30-26, 30-26) |
| 4 | Oumar Sy vs Bartłomiej Gładkowicz | Light Heavyweight Bout | Oumar Sy won via unanimous decision (30-25, 30-26, 30-27) |
| 5 | Sara Luzar-Smajic vs Emilia Czerwinska | Women's Flyweight Bout | Emilia Czerwinska won via unanimous decision |
| 6 | Michal Pietrzak vs Brian Hooi | Welterweight Bout | Brian Hooi won via TKO at 3:20 of round 1 |
| 7 | Dawid Smielowski vs Patryk Kaczmarczyk | Featherweight Bout | Dawid Smielowski won via TKO at 2:51 of round 2 |
| 8 | Tomasz Romanowski vs Andrzej Grzebyk | Welterweight Bout | Tomasz Romanowski won via TKO at 3:53 of round 1 |