Drakkar Klose vs Mark Madsen Set for UFC Vegas 63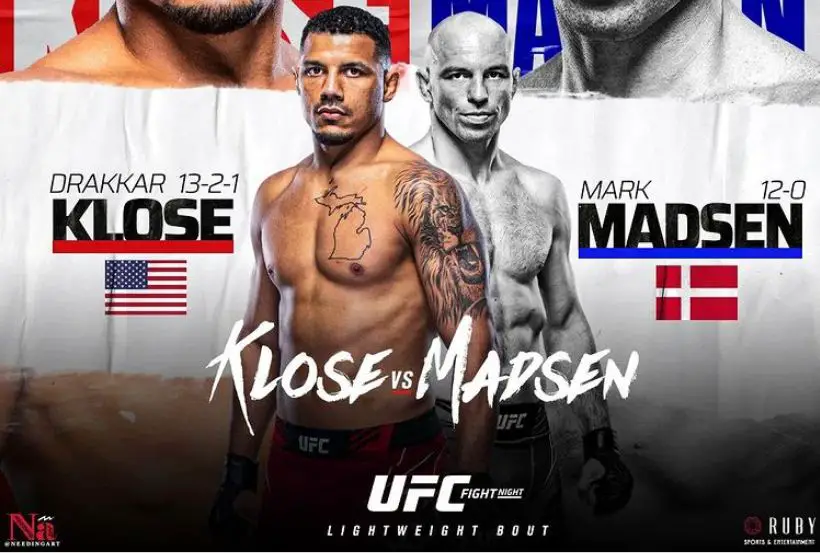 According to the latest reports, Drakkar Klose vs Mark Madsen's lightweight bout has been added to the match card of UFC Vegas 63 on Oct 29.
Vegas Insider was the first one to report the match which was later confirmed by Drakkar Klose himself. Klose shared a picture on Instagram and wrote, "I can't wait for this one. I'm gonna treat my hands as cocaine and @marktheolympianmadsen face as if it was his coaches nose."
Klose returned to the octagon earlier this year in April and defeated Brendon Jenkins via TKO. After the fight, he called out Madsen for a match. However, before getting his hands on Madsen, he had to face Rafa Garcia and he defeated him via unanimous decision. 
On the other hand, Mark Madsen has been undefeated in MMA so far. He made an impressive UFC debut by defeating Danilo Belluardo via TKO. Madsen is 4-0 in UFC and got his most recent win against Vinc Pichel. 
Now, it remains to be seen whether Drakkar Klose will be able to deliver the first loss to Mark Madsen or will he also contribute to the winning streak of the latter on October 29.