Brandon Moreno vs Alexandre Pantoja UFC 290 Live Blog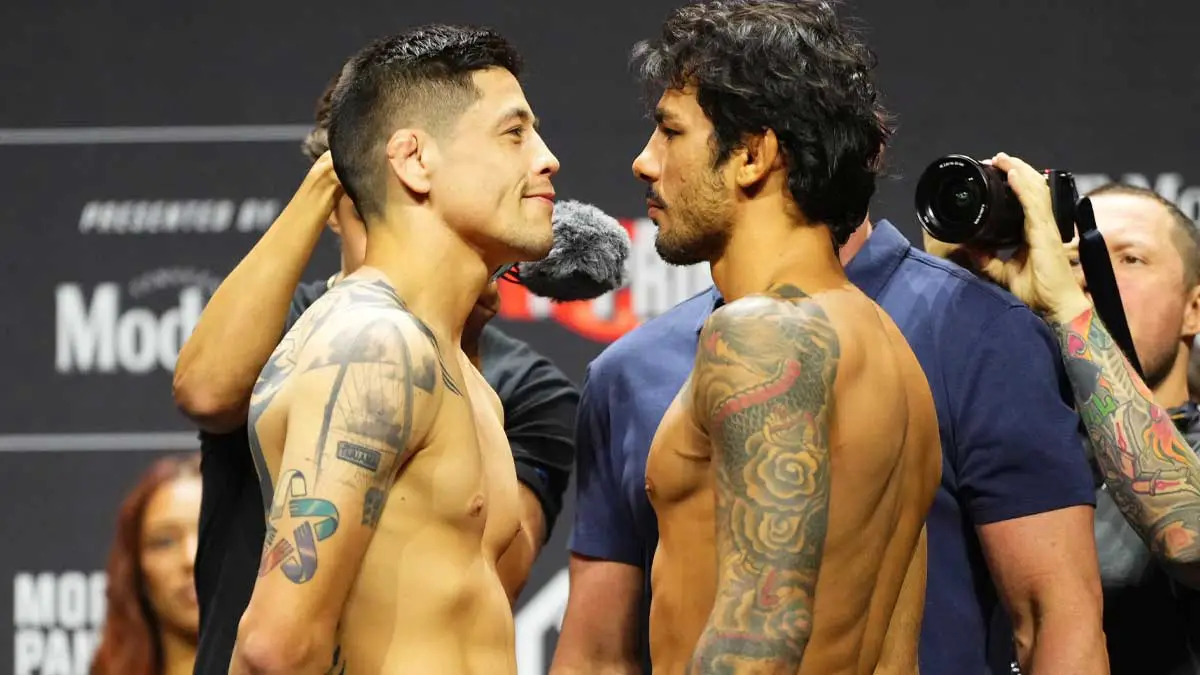 Join us in the live blog as Brandon Moreno and Alexandre Pantoja clash at UFC 290 PPV in a rematch in the co-main event flyweight title bout.
Moreno and Pantoja have previously clashed in an exhibition bout in The Ultimate Fighter in 2016 where Pantoja beat him via submission. They clashed in pro-bout in 2018 also where Pantoja was the winner once again via unanimous decision.
However, both fighters had come a long way since then. Moreno is a two-time UFC Flyweight Champion now and has lost just once in his 10 fights since. Pantoja suffered two big losses that have kept him away from the title picture so far. Did he make good on his first title shot?
They meet again, this time for the title!! 🏆@TheAssassinBaby and @PantojaMMA run it back tomorrow for the flyweight strap!

[ #UFC290 | Live on @ESPNPlus PPV: https://t.co/NRMgHzXZ9Z ] pic.twitter.com/hXkoXtl2Ul

— UFC (@ufc) July 7, 2023
Tune in below for live blog for Brandon Moreno vs Alexandre Pantoja UFC Flyweight Championship bout from UFC 290 with live play-by-play and round-by-round updates.
Live Updates
Pre-Fight: In the video package, Moreno talks about how tiring it is to think about the same guy for 2 years as he discusses fights against Figueiredo. He then moves on to discuss his previous showdowns with Pantoja and how losing to him forced him to become better. Pantoja walks out first. Huge cheers for Moreno as he walks out.
---
Round 1: Moreno goes for a body lock and pins Pantoja against the cage. Both men try to hit at each other's knees, but Moreno keeps him pinned to the cage. More knee-to-knee strikes from Moreno. Pantoja gets out of the corner with a quick counter at the end of second minute. Both men exchange strikes, and Moreno slips while getting away from Pantoja. Moreno hits a punch. Pantoja lands a jab, and Moreno slips once again while getting away from it. Pantoja is on him this time and lands elbows. Moreno is busted open on the eyebrows. Pantoja gets his shots going until Moreno gets up. Moreno lands a shot, but Pantoja fires back with a flurry. A leg kick from Pantoja. Moreno fires a jab. Jabs from Pantoja. Moreno catches his leg when he goes for a high kick, but Pantoja escapes without getting hurt and forces Moreno to backtrack.
---
Round 2: Pantoja starts with good shots. Quick hands from Pantoja does not let Moreno counter easily. Moreno catches him with a shot to the ribs. Moreno lands a left jab. Some more good jabs from Moreno slow down Pantoja's aggression. Moreno is picking and choosing his jabs now. Moreno gets behind him and jumps on him for a body lock. Moreno puts Pantoja on the mat and holds him down for around a minute. Pantoja escapes the lock, but Moreno keeps him on the ground for another 20 seconds by changing his position.
They get up and start exchanging strikes. Moreno once again picking and choosing his shots. Pantoja lands a kick to the midsection and follows up with a combo on the body. Moreno lands a jab to the body as we enter the final 30 seconds. A flurry of exchange from both sides. Pantoja lands a good hook but Moreno is able to get another takedown to end the round.
---
Round 3: Moreno ducks Pantoja's hands and they get into a clinch. Moreno is caught with a going strike and we get a pause of 20 seconds. Moreno lands an elbow as they restart. Pantoja gets on Moreno's back but Moreno is not allowing him to get control easily. Pantoja takes him down to the mat and goes for rear naked choke. Moreno is trying to make things difficult for him. Pantoja is keeping him on the mat for a minute before Moreno escapes and gets in the controlling position to land some punches. Pantoja was split open before the takedown earlier in the round and is bloodied.
Pantoja catches the body with an uppercut. Moreno fires his quick hands to set up a high kick. Inside low kick and more quick hands from Moreno. Pantoja lands on body before another high kick from Moreno. Pantoja attempts another takedown. Moreno holds him off. Pantoja gets it in the second attempt. Moreno tries to go for arm triangle. Pantoja gets his arm out. Moreno reverses the position and gets on the top to throw shots. They get up with 40 seconds left in the round. A combo of punches and calf kicks from Pantoja to end the round.
---
Round 4: Moreno lands some jabs to start. Pantoja lands a left hook. They exchange shots at random. Pantoja lands a calf kick. Body shots from Moreno before Pantoja secures another takedown. Moreno does not allow him to get in the guard though. He is up but Pantoja pushes him against the cage. Pantoja gets him down but Moreno slows him down with an ankle lock attempt. Tussle continues on the mat as we are halfway into the round. Pantoja is making Moreno carry his weight. Moreno gets up but Pantoja is still holding onto his back. Pantoja keeps Moreno pinned to the cage for a while. Pantoja gets a takedown. Moreno gets into an advantageous position quickly. They get up and Moreno fires some shots. Pantoja also fires some body shots. Moreno ends the round with a big jab.
---
Round 5: Both men are keeping their distance as this round starts. First 50 seconds goes by without any action. They start to engage in shots. Pantoja is throwing his hands quickly. Moreno connects a good jab. More quick hands from Pantoja. Moreno lands another jab. Some body shots from Moreno. Pantoja pushes him back with a combo on body and head. Another takedown from Pantoja halfway into the round. Moreno gets up but Pantoja is on his back. Moreno does not allow him to get to his chin. Pantoja is happy in that position and keeps working to land some punches before attempting for a lock once more. The last two minutes go by with Pantoja in control.
---
Official Decision: Alexandre Pantoja won via split decision(48-47, 48-47, 49-46).