UFC Flyweight Championship | List of UFC Flyweight Champions & Title History
UFC Flyweight Championship is the title for the Flyweight division which ranges from 115 to 125 lbs or 52.2 to 56.7 kgs. We will cover the complete list of UFC Flyweight Champions, current Flyweight champion, and title history in this article.
UFC Flyweight Championship History
The flyweight division was started in UFC in 2012, starting with a 4-man tournament to crown the first UFC Flyweight Champion. Joseph Benavidez defeated Yasuhiro Urushitani on 3 March 2012's UFC on FX 2 to make it to the final. On the side, Demetrious Johson and Ian McCall fought to a majority draw on the same night. Demetrious defeated McCall in the rematch at UFC on FX: Johnson vs McCall to progress to the final. Then, Demetrious Johnson defeated Benavidez at UFC 152 on 22 September 2012 to be crowned as the inaugural UFC Flyweight Champion.
Johnson held on to the title for 2142 days. In addition, Johnson successfully defended the title 11 times during this time, the UFC record for the most title defense in a single title reign. Johnson lost the title to Henry Cejudo at UFC 227 in their second title fight on 4 August 2018 via split decision.
Cejudo became the first Olympic Gold medalist to win a UFC title. Cejudo defended the title against Bantamweight Champion TJ Dillashaw via TKO in 32 seconds. Cejudo also won the Bantamweight title on 8 June 2019 at UFC 238. With this win, Cejudo became the fourth fighter to hold two UFC titles at the same time. Cejudo vacated the Flyweight title in December 2019 to focus on the Bantamweight title defense.
Deiveson Figueiredo vs Joseph Benavidez was booked for the vacant title at UFC on ESPN+ on 29 February 2020. But Figueiredo weighed 127.5 pounds, 2.5 pounds over the weight limit. Therefore, despite winning the match, Figueiredo was not awarded the title. Later, Figueiredo defeated Benavidez in their rematch at UFC Fight Night 172 on 19 July 2020 to win the title.
Figueiredo made his first title defense at UFC 255 on 21 November against Alex Perez. He won the fight in the first round via Guillotine Choke. Just 21 days later, he also defended the title against Brandon Moreno at UFC 256. This was the fastest championship turnaround in UFC history. The match ended in a majority draw after Figueiredo was penalized with one point in the third round for a low blow. Moreno defeated Figueiredo in their rematch at UFC 263 on 12 June 2021. Figueiredo won the title back in the trilogy fight at UFC 270.
Current UFC Flyweight Champion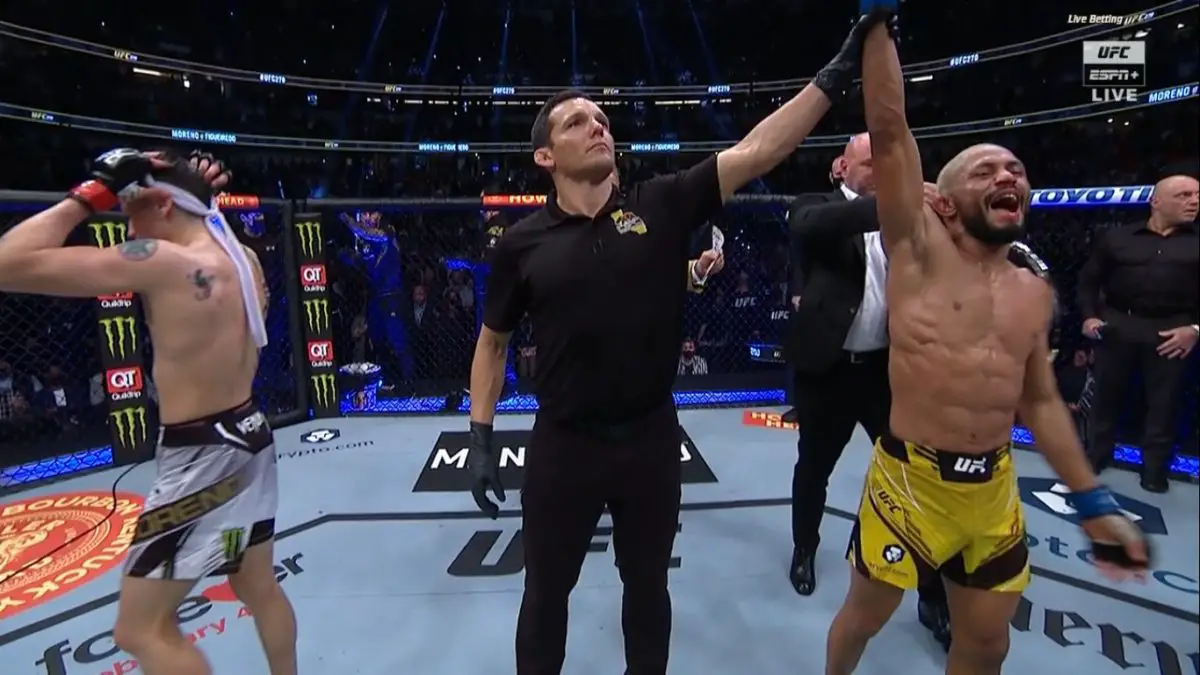 Deiveson Figueiredo is the 5th and current UFC Flyweight champion. He defeated Brandon Moreno at UFC 270 to win the title.
List of UFC Flyweight Champions
5.Deiveson Figueiredo
Title Won Date: January 22, 2022
Defenses: 0
Reigns Day: 122+ days
Event: UFC 270
Notes: Figueiredo defeated Moreno at UFC 270 & becomes new Flyweight champion
4. Brandon Moreno
Title Won Date: June 12, 2021
Defenses: 1
Reigns Day: 219+ days
Event: UFC 263
Notes: Moreno defeated Figueiredo at UFC 263 to win the title. He is the first Mexican champion in UFC.
3.Deiveson Figueiredo
Title Won Date: Jul 19, 2020
Defenses: 2
Reigns Day: 261 days
Event: UFC Fight Night: Figueiredo vs. Benavidez 2
Notes: Figueiredo won the fight for the vacant title against Joseph Benavidez but he was not eligible to win the title due to missing the weight limit at UFC Fight Night. He defeated Benavidez in their rematch on 19 July 2020 to get the title.
2.Henry Cejudo
Title Won Date: Aug 4, 2018
Defenses: 1
Reigns Day: 574 days
Event: UFC 227
Notes: Cejudo dethroned Demetrious Johnson to become only the second Flyweight Champion in UFC History. He vacated the title as he wanted to concentrate on defending the Bantamweight title.
1. Demetrious Johnson
Title Won Date: Sep 22, 2012
Defenses: 11
Reigns Day: 2142 days
Event: UFC 152
Notes: Demetrious Johnson defeated Joseph Benavidez in a 4-man tournament final to become inaugural UFC Flyweight Champion.