BKFC 50 Denver Results Live, Fight Card, Time, Highlights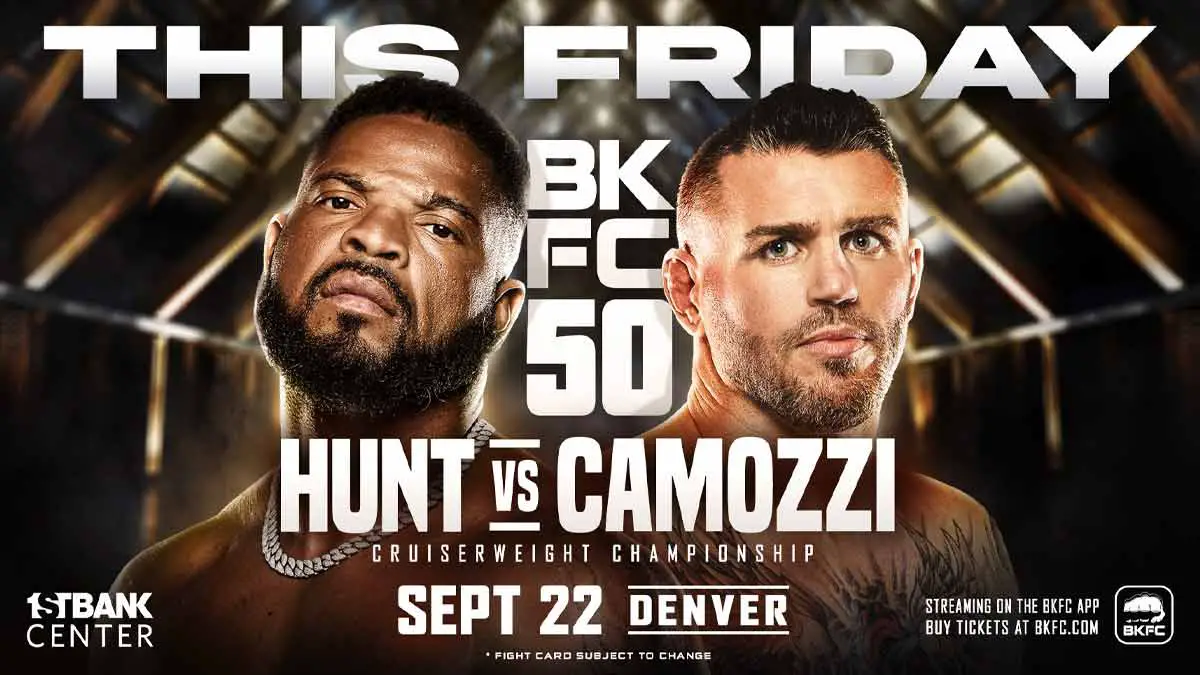 BKFC returned with BKFC 50 event from 1st Bank Center in Broomfield, CO, with a cruiserweight title bout in the main event on September 22, 2023.
Lorenzo Hunt defended the title against Chris Camozzi in the main event. This was his second title defense for Hunt after he won the vacant title at BKFC 30. He retained the title against Mike Richman at Knucklemania 3 in his last fight. Camozzi had also won his two bouts in BKFC since transitioning from kickboxing to MMA to Bare Knuckle Boxing.
A heavyweight bout was in the co-main event between Josh Copeland and Steve Herelius. Copeland had one win and one loss in the promotion so far. Herelius had won his only bout under BKFC so far. Monica Franco, Brian Maronek, Brett Hudson and Andrew Strode were debutants on the main card which started at 9 PM ET.
Jessie Stalder, Zeb Vincent, Lamont Stafford and Angelo Trujillo were the debutants on the prelims card. Check results from BKFC 50: Hunt vs Camozzi event with complete fight card, and other details.
RESULTS
Prelims Card (8 PM EST)
Zeb Vincent def. Jessie Stalder via KO at 0:59 of round 1 – Middleweight Bout (Watch Video)
Lamont Stafford def. Gabriel Mota via KO at 0:40 of round 3 – Cruiserweight Bout (Watch Video)
Dominick Carey def. Angelo Trujillo via DQ(illegal ground strike) at 0:38 of round 1 – Flyweight Bout (Watch Video)
Main Card (9 PM EST)
Andrew Strode def. Cary Caprio via KO at 0:40 of round 2 – Flyweight Bout
Monica Franco def. Khortni Kamyron split decision (46-49, 48-46, 48-47) – Women's Bantamweight Bout
Andrew Yates def. Christian Torres via unanimous decision(48-47, 48-47, 48-47) – Welterweight Bout
Tony Jenkins def. Brian Maronek via TKO at 1:18 of round 1 – Light Heavyweight Bout
Andrew Angelcor def. Brett Hudson via TKO(doctor stoppage) at 1:09 of round 1- Lightweight Bout (Watch Video)
Keegan Vandermeer def. Dillon Winemiller via KO at 1:00 of round 1 – Cruiserweight Bout (Watch Video)
Marcus Edwards def. Michael Manno via unanimous decision(50-45, 50-45, 50-45) – Middleweight Bout
Josh Copeland def. Steve Herelius via TKO at 1:43 of round 3 – Heavyweight Bout
Lorenzo Hunt def. Chris Camozzi via split decision (48-47, 47-48, 49-46) – BKFC Cruiserweight Championship Bout