Bellator 291 Results Live, Amosov vs Storley 2 from Dublin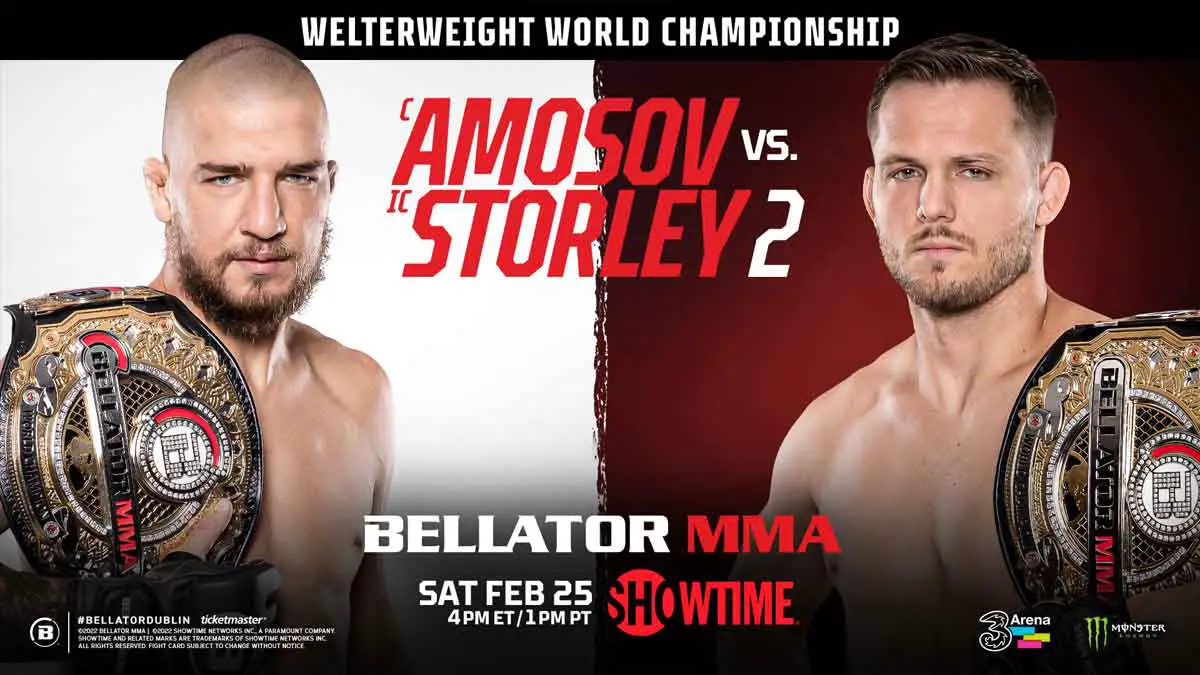 Welcome to the results page for Bellator 291 event which was be live from Dublin, Ireland.
A rematch for welterweight title unification headlined the event. The champion Yaroslav Amosov returned from the Ukraine war to defend his title. This was Amosov's first title defense since beating Douglas Lima for the title. Amosov was also defending his undefeated record in MMA.
Logan Storley had 3 wins ever since his only MMA career loss which came against Amosov in 2020. He won the interim title by beating MVP at Bellator 281 when Amosov was not available to defend the title. Was he able to avenge his previous loss to Amosov?
We had a packed card in the prelims with 13 bouts. The main card opened with Ciaran Clarke vs Leonardo Sinis catchweight bout before a women's featherweight encounter Janay Harding and Sinead Kavanagh. A lightweight clash between Bryce Logan and Peter Queally was followed by the co-main event encounter between Pedro Carvalho and Jeremy Kennedy
Tune in below as we post results from Bellator 291: Amosov vs Storley 2 event
RESULTS
Prelims
Steven Hill def. Joel Kouadja via submission (rear-naked choke) at 2:03 of round 2 – Welterweight Bout
Dmytrii Hrytsenko def. Daniele Scatizzi via unanimous decision (29-28, 30-27, 30-27)- Welterweight Bout
Kenny Mokhonoana def. Craig McIntosh via TKO 3:13 of round 1 – Featherweight Bout
Jena Bishop def. Elina Kallionidou via unanimous decision (30-27, 30-27, 30-27)- Women's Flyweight Bout
Khasan Magomedsharipov def. Rafael Hudson via TKO at 4:40 of round 1 – Featherweight Bout
Asael Adjoudj def. Liam McCracken via unanimous decision (29-28, 29-28, 29-28)- Featherweight Bout
Darragh Kelly def. Dorval Jordan via TKO at 1:58 of round 3- Featherweight Bout
Richie Smullen def. Piotr Niedzielski via split decision (29-28, 28-29, 29-28) – Featherweight Bout
Brian Moore def. Luca Iovine via unanimous decision (29-28, 29-28, 28-29)- Bantamweight Bout
Norbert Novenyi Jr. def. Andy Manzol via TKO 3:12 of round 1 – Middleweight Bout
Oleg Popov def. Gokhan Saricam via unanimous decision (29-28, 29-28, 29-28)- Heavyweight Bout
Mike Shipman def. Charlie Ward via unanimous decision (30-27, 30-27, 30-27) – Middleweight Bout
Karl Moore def. Maciej Rozanski via unanimous decision (29-28, 29-28, 29-28) – Light Heavyweight Bout
Main Card
Ciaran Clarke def. Leonardos Sinis via unanimous decision (30-26, 30-26, 30-26) – Contractweight Bout (149 lbs)
Sinead Kavanagh def. Janay Harding via unanimous decision (30-27, 29-28, 20-28) – Women's Featherweight Bout
Bryce Logan def. Peter Queally via TKO at 2:32 of round 2- Lightweight Bout
Co-Main Event: Jeremy Kennedy def. Pedro Carvalho via unanimous decision (30-27, 30-27, 30-27) – Featherweight Bout
Main Event: Yaroslav Amosov def. Logan Storley via unanimous decision (50-45, 50-45, 50-45) – Welterweight World Championship Bout