Check out the date, tickets, matches, storylines and more details regarding WWE Crown Jewel 2019 show.
Date: 31 October 2019
Location: King Fahd International Stadium, Riyadh, Saudi Arabia
Pre-Show Time- 7 PM Local/12 PM EST/4 PM GMT/9:30 PM IST
Main Show Time– 8 PM Local/1 PM EST/5 PM GMT/10:30 PM IST
WWE will return to its second event in Saudi Arabia for this year and fourth event in the last two years with Crown Jewel 2019 show. Once again, WWE has announced a star-studded line-up with all of their blockbuster stars along with Hall of Famers like Hulk Hogan and Ric Flair.
WWE Crown Jewel 2019 Tickets
The tickets for WWE Crown Jewel are on sale now and are available in the below link.
| | |
| --- | --- |
| Tickets | Area/Category |
| SR 25 | Limited Offer |
| SR 50 | Top Category |
| SR 50 | Ground 3 |
| SR 75 | Bottom Category |
| SR 150 | Ground 2 |
| SR 250 | Ground 1 |
| SR 300 | Golden |
| SR 750 | VIP Ground |
| SR 2000 | Platini |
WWE Crown Jewel 2019 Matches and Storylines
Seth Rollins(c) vs Bray Wyatt – Falls Count Anywhere Match, WWE Universal Championship
Storyline- Bray Wyatt announced that the Fiend will go for the Universal Championship at Hell in a Cell. When Seth Rollins was successful to defend the title against Braun Strowman at Clash of Champions, the Fiend attacked him and closed out the show. In the next few weeks, the Fiend would continuously attack Rollins. At Hell in a Cell, their match was ended in no result by a referee stoppage which received a lot of flak from the fans.
On SmackDown edition of WWE Draft, the Fiend would once again attack Rollins during his match against Roman Reigns. Next night on RAW, WWE announced their Falls Count Anywhere rematch at Crown Jewel 2019. On the same night, Rollins invaded Bray Wyatt's Firefly Fun House, attacking Wyatt and burned down the Fun House set. Later, WWE added the stipulation that the match will not stop for any reason, to avoid the repeat like Hell in a Cell.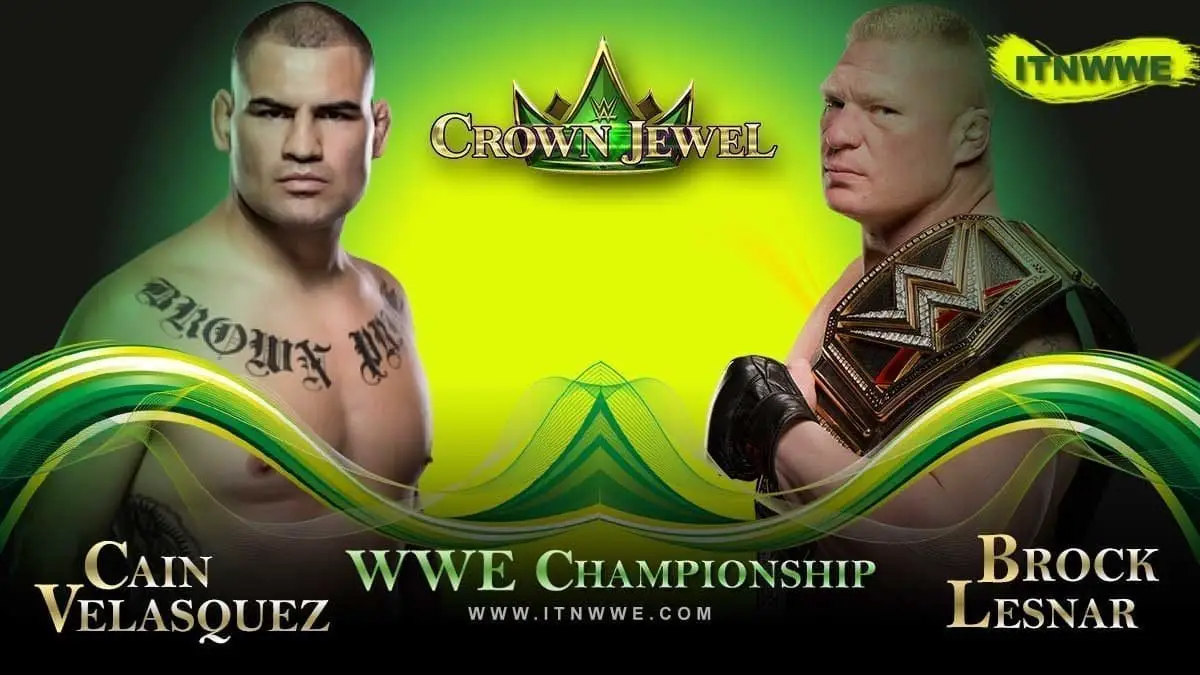 Storyline- Brock Lesnar has just defeated Kofi Kingston for the WWE Championship in a matter of seconds at SmackDown's Fox premiere. But then he was confronted by an opponent from his past, Cain Velasquez. Entering alongside Rey Mysterio, Velasquez entered the ring and tackled down Lesnar.
A few days before this incident, Brock Lesnar had actually assaulted Rey Mysterio and his son Dominic. To get his revenge on Lesnar, Mysterio turned towards his friend Cain Velasquez. Earlier, Velasquez had brutally defeated Brock Lesnar for the UFC World Heavyweight Championship in 2010 and is someone who Lesnar has never defeated. Their match for the WWE Championship was later fixed for Crown Jewel 2019 at the press conference at T-Mobile Center in Las Vegas.
On the go-home edition of SmackDown for Crown Jewel, Cain Velasquez and Rey Mysterio came out for a face to face showdown with Lesnar. But Lesnar attacked Dominic once again backstage. When Rey and Cain reached to help out Dominic, Lesnar attacked them also from behind and laid out Velasquez with an F5.