WWE SmackDown Results & Live Updates December 2, 2022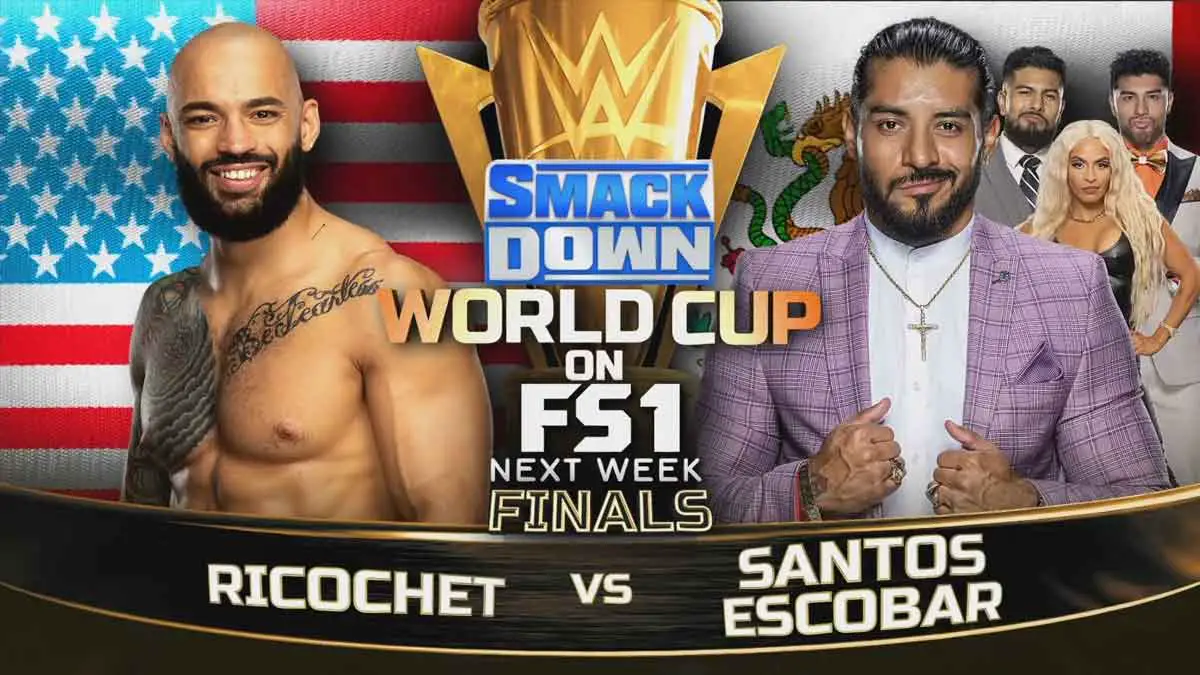 Welcome to the live results blog for WWE SmackDown episode of December 2, 2022, which will deal with fallout from Survivor Series WarGames and also feature the final of SmackDown World Cup.
Ricochet faces Santos Escobar in the final of SmackDown World Cup. Which men will become the first SmackDown World Cup winner and go ahead to face Intercontinental Champion Gunther?
Expect the next challenger for Ronda Rousey to be revealed on this show. We might also see what is next for the likes of Karrion Kross, Drew McIntyre, Sheamus, and the women's division.
Tune in below as we post results from WWE SmackDown December 2, 2022 episode with live updates, winners, highlights and videos.
RESULTS
Sami Zayn defeated Sheamus in a singles match via pinfall.
Shayna Baszler defeated Emma in a singles match via submission.
Gunther defeated Kofi Kingston in a singles match via pinfall.
Ricochet defeated Santos Escobar in SmackDown World Cup Final via pinfall.
LIVE UPDATES
Sami Uso is the MVP!
The Usos, Sami Zayn and Solo Sikoa open the show with their entrance. The Usos start to talk about the WarGames match. Sami says they had Undisputed WWE Tag Team Champions in WarGames. The Usos cut him off and say Sami Uso was the MVP of the match and he has truly proved that he is part of the family. Sami does his special handshake with both Jey and Jimmy. Sheamus interupt them as he comes out with Butch and Ridge Holland.
Sami Zayn vs Sheamus
They lock up and Sheamus pushes Sami to the corner. Sheamus hits a clothesline before whipping him to the corner. Sami hits kicks to body. They block hiptosses from each other. Sheamus hits a short lariat to drop Sami. Sami rolls to the floor and Sheamus throws him into the barricade to take us to a break.
Sheamus hits an uppercut on the floor as we return. Sheamus throws Sami back into the ring. The Usos distract Sheamus and Sami takes advantage with a knee strike. Sami tries to keep him under control for a while. Sami counters a series of punches with a dropkick. Sami puts on a choke. Sheamus slams him into the corner to break free. Sami hits a tornado DDT to get a two-count.
Sami puts Sheamus on the apron in position for 10 Beats of Beltran, but Sheamus blocks it and starts to build momentum with punches and clotheslines. He hits a body slam before putting Sami on the apron. Sami blocks 10 Beats of Beltran by dropping Shaemus' face on the ropes. Sheamus catches Sami's crossbody and slam him to the mat. Sheamus puts on a cloverleaf and Sami has to get to the ropes to break it. Sami throws Sheamus to the floor and hits a suicide dive to take us to a break.
Sheamus is hitting punches as Sami is on the top turnbuckle. Sami sends him back to the floor. Sheamus catches Sami with a knee midair to get a near fall. Sheamus picks him up and goes for White Noise from the top, but Sami counters with sunset flip powerbomb for a near fall. Sheamus counters and hits White Noise to get a near fall himself. Sheamus signals for Brogue kick but Sami tries to run away. Sheamus catches him on the apron and hits 10 Beats of Beltran.
Jey runs a distraction to stop Sheamus on the apron. Jimmy hits Sheamus with an enzuigiri and Sami capitalizes with Blue Thunderbomb for a near fall. The Brawling Brutes start a brawl with The Bloodline. Solo Sikoa drops both of Brutes with superkicks and Spinning Solo. Jimmy distracts the referee and Jey hits a superkick on Sheamus. Sami then puts him in a sito-ut pin to get the pin.
Winner – Sami Zayn
Shemaus checks on Butch and Holland while Sami runs to the floor to join the Bloodline.
---
We get a pre-recorded video promo from Santos Escobar and Legado Del Fantasma. Santos says by winning the SmackDown World Cup, he will start Legado's dominance on SmackDown.
---
Kofi Kingston announces that he will be in Royal Rumble this year. Kofi is asked about SmackDown World Cup Final. Imperiums' Giovanni Vinci and Ludwig Kaiser interrupt him and mock him. Kofi asks any one of them to step up to him for a singles match. Gunther enters and says Kofi will face him.
---
Bray Wyatt cuts a promo backstage and talks about all of us becoming soft. Wyatt says he was not the one who hurt LA Knight. Wyatt adds that if he has attacked LA Knight, there would be none of him left.
---
Madcap Moss is with Emma at the Gorilla Position and asks Emma why does she look worried. Emma says so much has changed around here. Moss gives him a
Shayna Baszler vs Emma
Shayna starts with a waist lock takedown. Emma comes back with a crucifix to get a two-count. Shanya rolls to the floor to avoid more attack from Emma. She pulls Emma into the ropes. She returns to the ring and starts to work on Emma's arm. Emma rolls her up to get a two-count. Shayna hits a short clothesline before working on the arm once again.
Emma fires back with forearm shots. She sends Baszler to the apron and hits a neckbreaker to get a two-count. Emma goes for a double underhook. She puts Shayna in a body stretch using the ropes, and has to let go until the referee count. Shayna trips her on the top when she hesitates. Shayna brings her down and puts Enna in a kirifuda clutch to get a submission.
Winner – Shayna Baszler
Shotzi runs out to save Emma from a post-match attack. Shayna takes Shotzi down and was looking for a stomp on her arm when Raquel Rodriguez runs out. Shayna leaves to the floor as Emma also recovers.
---
We get a training montage video package for Lacey Evans where she talks about going back to basics.
---
We get a video package from Ricochet for the final of SmackDown World Cup. Ricochet says he feels ready for this.
Kofi Kingston vs Gunther
Kofi mocks Imperium's pose. He starts with a series of kicks. Gunther answers with a backbreaker. He hits an uppercut next. Kofi hits a couple of uppercuts before Gunther drops him with a slap to the chest. Gunther hits a shot at kidney. Kofi fires back with shots of his own. Gunther throws him to the corner and hits a big chop to the chest. Kofi sends him to the apron with a low bridge. Kofi hits a thrust kick to send him off the ropes. Kofi was looking for a suicide dive but Vinci picks his leg. Gunther hits a big boot to drop Kofi. Gunther was going for a powerbomb when Braun Strowman's music hits. Strowman attacks Vinci and Kaiser on the floor. Kofi hits SOS on Gunther to get a close two-count. We cut to a break when Gunther goes to the floor.
Kofi is fighting back from a lock as we return. Kofi builds momentum with quick shots. Kofi hits a boom drop and gets ready for Trouble in Paradise. Gunther goes for a German suplex but Kofi lands on his feet. Kofi hits him with a crossbody off the top. Gunther catches Kofi mid-air with a chop. Kofi puts on a lock on the arm. Gunther gets to his feet and hits a dropkick before hitting a powerbomb to get a near fall. Gunther then hits The Last Symphony to get the pin.
Winner – Gunther
Sami tells The Usos that he will find them a late-night eating joint. They send Solo Sikoa with him for protection. The Usos talks about Sami lying to Jey's face last week. Jey says if the Big Uce Roman Reigns is ok with it, then he is also fine. Sheamus drops The Usos with a Shelileigh. He tells them that he and Drew McIntyre will see them next Friday if they survive Matt Riddle & Elias.
Can Damage CTRL Dominate the Division?
Damage CTRL trio come out to the ring. Bayley starts with some trash talk with the crowd before saying that they are here because SmackDown needed a rating boost. She starts to talk about WarGames match and says the crowd does not respect them even after they lasted for 40 minutes in WarGames match. Bayley says she is upset on not getting enough respect despite being one of the greatest SmackDown Women's Champion, but she is here to get take over the women's division. Liv Morgan comes out and says she will take on them.
Morgan charges to the ring. Dakota Kai and Iyo Sky meet her on the floor and she sends her into the steel steps. She gets into the ring to attack Bayley. Iyo and Kai attack Morgan as they return back to the ring. The trio beat up Morgan for a while. Tegan Nox makes her return to WWE as she runs out to the ring. Nox drops each of the trios one by one. Bayley drops her from behind and corner her. Liv Morgan then gets a kendo stick to drop Iyo and Kai. Nox hits Bayley with shiniest wizard.
---
We get a pre-recorded promo from Karrion Kross where he talks why it was necessary for him to take down Madcap Moss. His next target is Rey Mysterio.
---
We not get a video from Uncle Howdy which ends by asking to rebel for being what you are.
Santos Escobar vs Ricochet – Smackdown World Cup Final
A bit of back-and-forth action to start the match. Legado Del Fantasma run a distraction to allow Escobar to hit Ricochet with a kick. Ricochet fires back to send him to the floor to hit a suicide dive. LDF distracts Ricochet again and Escobar drops him off the top. The referee catches them and boots them from the ringside. Zelina Vega gets up from the commentary to protest to this. The referee also boots him from the ringside. We cut to a break.
Ricochet ducks a series of attack from Escobar. He sends Escobar to the corner with a headscissors and hit a dropkick. Escobar trips him on the ropes and pushes him off the apron. Escobar then hits a suicide dive to drive Ricochet into the announce table. Back to the ring, Escobar goes for a Boston Crab but Ricochet kicks him away. Escobar drops him again and goes for a Romero Special. He gets a two-count by putting Ricochet's shoulders to the mat in that move. Ricochet avoids a charge in the corner and goes to the apron. They block suplex from each other. Ricochet bring Escobar to the apron and kicks him off. Ricochet hits a senton on him on the floor to take us to another break.
They are fighting on the top. Escobar pushes Ricochet off the top. Ricochet comes back to the top and hits a superplex. They trade shots in the middle of the ring. They knock each other out at the same time with a forehead collision. Escobar rolls to the floor. Ricochet follows him out. Ricochet lands on the barricade. Escobar hits him with a hurricanrana off the baricade. He takes Ricochet back to the ring for a near fall. Escobar hits an elbow drop to kidney before putting on a crossface briefly. Ricochet fights back in the corner when Escobar hits him with chops.
Both men are on the top turnbuckle now. Escobar hits him with headscissors again but Ricochet lands on his feet. Ricochet hits a vertical suplex and a moonsault off the ropes to get a near fall. Ricochet hits a dropkick. He goes for a shooting star press but Escobar gets his knees up. Ricochet manages to kick out of the pin. Escobar hits an inverted Frankesteiner to get a near fall. Ricochet now hits a Frankesteiner from the top. Ricochet hits a series of superkicks to set up 630 splash and hits it to get the pin.
Winner – Ricochet
Ricochet goes and picks up the World Cup trophy. Pyro goes off for a while. Gunther comes out to the stage to face-off with Ricochet. The show goes off the air.