WWE SmackDown Results & Live Updates Blog December 16, 2022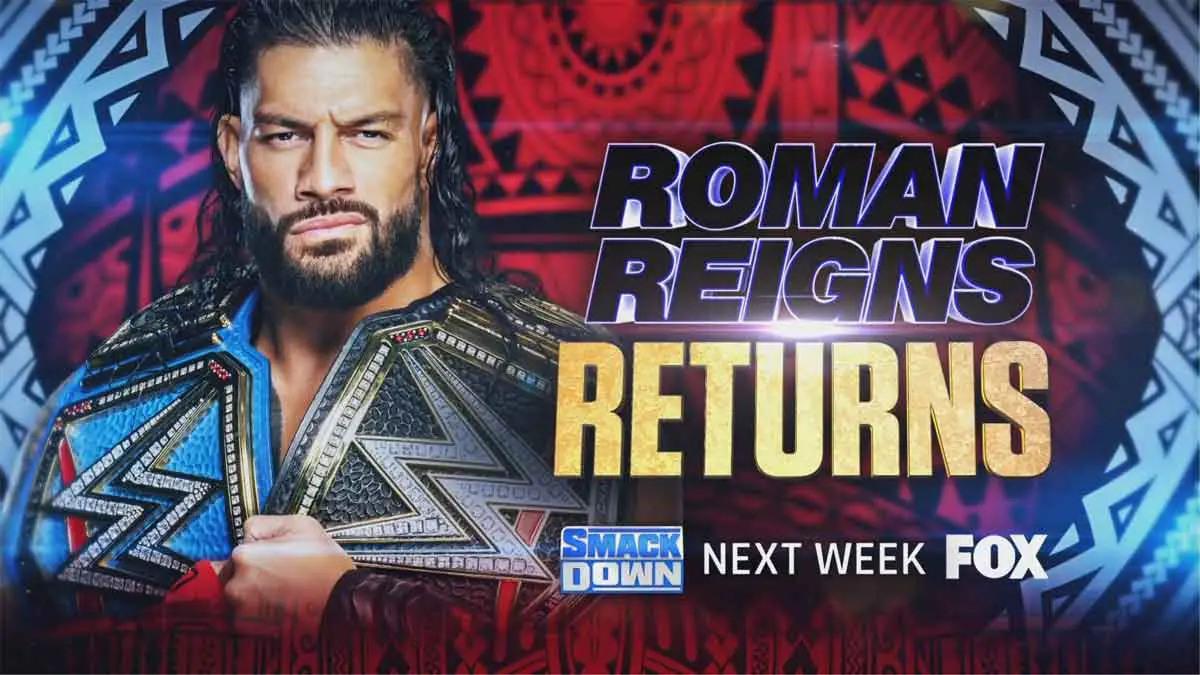 Welcome to live results blog for WWE SmackDown episode of December 16, 2022, which will feature an appearance from Undisputed Universal Champion Roman Reigns as the build-up for Royal Rumble continues.
Roman will make his first SmackDown appearance since winning WarGames match at Survivor Series. It is expected that some big segment will follow him which will also involve Sami Zayn and Kevin Owens.
3 matches are announced for the show. Ricochet challenges WWE Intercontinental Champion Gunther after winning the SmackDown World Cup. Liv Morgan and Tegan Nox challenge WWE Women's Tag Team Champions Iyo Sky and Dakota Kai. A 3-way tag team match will see Hit-Row, Legado Del Fantasma and The Viking Raiders in action.
Tune in below as we post results from WWE SmackDown December 16, 2022 episode with live updates, winners, and highlights.
RESULTS
Damage CTRL(Iyo Sky and Dakota Kai)(c) defeated Liv Morgan & Tegan Nox in a tag team match via pinfall to retain WWE Women's Tag Team Championship.
Gunther(c) defeated Ricochet in a singles match via pinfall to retain WWE Intercontinental Championship.
Hit-Row(Ashante "Thee" Adonis & Top Dolla) defeated Legado Del Fantasma(Cruz Del Toro & Juaquin Wilde) vs The Viking Raiders(Erik & Ivar) in a three-way No Disqualification Tag Team Match via pinfall to become #1 Contender for WWE Tag Team Championship.
LIVE UPDATES
The show opens with Sami Zayn and The Usos entering the arena in an SUV. Sami has a bit different look with a trimmed beard and his hair tied up in a bun.
Damage CTRL(Iyo Sky and Dakota Kai)(c) vs Liv Morgan & Tegan Nox – WWE Women's Tag Team Champions
Liv starts with a dropkick and tags in Nox. Kai hits a forearm on the ropes. Nox fires back with a shot of her own. Kai hits Scorpion kick and tags in Sky. Nox hits her with a brainbuster. Nox and Liv hit a double suplex on Sky. Liv hits a snapmare takedown on Sky. Kai distracts her and Liv hits a dropkick on Sky in anger. Kai agitates Liv and she ends up picking up a kendo stick. Nox calms down Liv. Damage CTRL duo try to take advantage. Liv and Nox are able to counter and send the champions to the floor. Morgan distracts them with a fake dive that allows Nox to hit a crossbody.
Nox is trying to tag out as we return from a break. Sky pulls her back and stomps on her. Kai hits a pump kick. Sky trips Nox followed by some quick moves in tandem with Kai. Liv gets a tag and runs hot against Kai. Morgan hits an enzuigiri, a bulldog, and a kick in the corner. Liv goes to attack Sky on the apron but Kai hits her with a running boot. Nox saves Liv from a double team move. Liv and Nox work in tandem against Sky. Liv hits a senton on Sky after jumping off Nox's back. Nox hits The Shiniest Wizard but Kai breaks the pin.
Liv takes Kai to the floor and sends her into the barricade. Sky hits Liv with a dropkick on the floor. Nox goes for the shiniest wizard on Sky but she counters with an uppercut. Nox is pulled to the floor by Bayley as the referee is distracted. Nox sends Bayley into the barricade. A hooded figure attacks Nox and kicks into his head. Sky brings Nox back to the ring and hits Over the Moonsault to get the pin.
Winner – Damage CTRL
We get a video package for Gunther vs Ricochet match as they stake their claims to win the match for the Intercontinental title tonight.
---
We now get a recap of how Matt Riddle was injured by Solo Sikoa but Kevin Owens saved Elias from the same attack. Sami Zayn is backstage with The Usos. Sami is asking The Usos about his look. He asks about Solo. Jimmy tells him that Solo is with Roman. Sami leaves and The Usos start talking. Jimmy says Roman might not make Sami an "Uce" and Jey has hyped Sami up for no reason. This could end in disappointment for Sami.
Who Kidnapped LA Knight?
We get some unseen video footage from last week after LA Knight was kidnapped by a masked man from Bray Wyatt Universe. Knight had his mouth taped up. We cut back live to the arena and we see Knight walking backstage.
After the break, we see Knight making his entrance. He says he has been blindsided, attacked and kidnapped in the last few weeks, but he is still knocking up on Bray Wyatt's door. Knight says Bray Wyatt is a former WWE Champion but he has not held up to those standards. He says Bray might says it was Uncle Howdy or someone else, but he knows it was Bray. Knight calls out Bray to come out now.
Bray makes his entrance to the stage. He says he missed Chicago but he is sick of Knight. He once again says he did not do anything to Knight, but they both know how this story ends. But before that, Bray wants to give Knight another chance to put out his message. Knight attacks Bray as he was entering the ring. Knight stomps on Bray in the corner. Uncle Howdy appears on the big screen and asks Knight if he wants to see something really scary. Knight continues to stomp on Bray in the corner. Uncle Howdy makes his entrance and stands on the stage.
Knight is confused and leaves the ring quietly. Uncle Howdy continues to laugh at Knight while Bray only watches him. We cut to a break.
---
We get a video package for Tribute to the Troops.
---
We cut to Roman Reigns backstage with Solo Sikoa and Paul Heyman.
Gunther(c) vs Ricochet – WWE Intercontinental Championship
Adam Pearce sends Ludwig Kaiser and Giovanni Vinci to backstage before the match starts. Ricochet starts with calf kicks. Gunther catches his leg and swings big but misses. Gunther puts on a Single leg Crab and Ricochet has to grab the ropes quickly. Gunther puts on an arm wrench. Ricochet counters with more calf kicks. Some quick action from Ricochet after he ducks a chop. They end up on the floor and Gunther sends him into the barricade before hitting some chops. We cut to a break.
Ricochet hits body shots before Gunther hits a big chop. Gunther fires back with body shots and more chops. Ricochet fires some punches but Gunther whips him hard into the corner. Gunther hits a body slam before putting on Boston Crab. Ricochet breaks it after a while and hits punches to Gunther's face. He hits some sidekicks to the body. Gunther hits a backbreaker and puts on Boston Crab once again. He changes to a crossface. Ricochet gets his leg on the ropes to break it.
Ricochet pushes Gunther back before Gunther slaps him on the chest. Gunther puts on a Coquina clutch next. Ricochet counters with a pin attempt before Gunther puts on a sleeper choke. Ricochet hits kicks to Gunther's head. Gunther hits a shot at kidney before hitting a suplex to get a two-count. Gunther hits chops after taking Ricochet to the corner. Ricochet ducks under a chop and hits an enzuigiri. Ricochet fires more shots before another enzuigiri, a dropkick, more kicks and another dropkick.
Gunther turns around a suplex and hits a shotgun dropkick. Ricochet counters a powerbomb with a hurricanrana to send Gunther to the floor. Ricochet hits a missile dropkick off the apron. Gunther goes for a powerslam but Ricochet counters with kicks. Ricochet hits a springboard moonsault on the floor to cut to another break.
Ricochet sends Gunther to the floor again to hit a suicide dive as we return. Ricochet goes to the top rope and Gunther hits him with a chop. Gunther goes for a German suplex off the top but Ricochet lands on his feet. Gunther hits a chop and a big clothesline but Ricochet kicks out of the pin. Ricochet gets his feet up on a splash from the top. Ricochet hits a suplex to get a two-count. He hits a Shooting Star Press but Gunther kicks out again.
Ricochet removes tapings from his hands. Ricochet fires with slaps and punches. Gunther pushes him away but Ricochet continues with a barrage. He hits a superkick. Gunther hits back with a chop and a powerbomb, but Ricochet kicks out. Gunther is frustrated now. Ricochet hits a slap. Gunther fires a slap of his own before hitting The Last Symphony to get the pin.
Winner – Gunther
Kaiser and Vinci join Gunther after the match to celebrate and pose with him. Imperium look to beat up Ricochet some more but Braun Strowman comes out to stop them.
---
Jey Uso goes to Roman Reigns and asks him whether he is gonna make Sami "Sami Uso" tonight. Roman does not answer. Jey continues and says Sami is his man and he loves him, but he loves his family more. Jey leaves the room. Roman tells Paul Heyman to bring in Adam Pearce.
After the break, Adam Pearce gets into Roman's room. Paul Heyman proposes a tag team match to Pearce. Roman Reigns and Sami Zayn vs Kevin Owens and a tag team partner. Pearce asks if Roman wants to do it tonight. Roman smirks at that. Pearce asks if it is going to be at Royal Rumble. Heyman interrupts and tells Roman that it could be the biggest match of the year if he does it on network TV. Heyman proposes the match for December 30th episode of SmackDown.
Hit-Row(Ashante "Thee" Adonis & Top Dolla) vs Legado Del Fantasma(Cruz Del Toro & Juaquin Wilde) vs The Viking Raiders(Erik & Ivar) – #1 Contender for WWE Tag Team Championship
Ivar hits a roundhouse kick to Wilde to drop him. Adonis puts on a headlock on Ivar and manages to send him to the floor. Erick gets in and clotheslines Adonis to the floor. Top Dolla tackles Erik to the floor. Top Dolla clotheslines both Del Toro and Pheonix to send them to the floor. Erik comes back to tackle Top Dolla. LDF hit a stereo dropkick on Erik. They hits a suicide dive on everyone outside on the floor.
Top Dolla gets Ivar on his shoulder. Erik saves Ivar from a move. The match breaks down as everyone starts to get involved. The Viking Raiders hit a double team move on Top Dolla but Pheonix breaks the pin with a dropkick. LDF double team on Top Dolla after getting rid to the Viking Raiders. Del Toro hits a moonsault but Top Dolla kicks out. Adonis pulls Del Toro out. Ivar hits a sitout slam on Wilde. Top Dolla sends Ivar to the floor and hits everyone with a suicide dive.
Adonis was also going for a dive but Zelina Vega hits him with a hurricanrana. B-Fab and Valhalla also get involved. All three women end up on the floor. B-Fab hits a dive on Wilde. Del Toro is back in the ring. Adonis and Top Dolla double team on him to get the pin.
Winner – Hit-Row
Raquel Rodriguez is interviewed backstage as she was icing her elbow. She says she is not 100% but will still take part in the Gauntlet match next week as Ronda Rousey and Shayna Baszler's attacks are personal. Ronda and Shayna attack Raquel once again. Ronda holds her arm and Shayna kicks into her elbow a few times.
The Bloodline Has a Problem
Roman Reigns makes his entrance with The Bloodline and Paul Heyman. Roman takes the mic and says he has not seen The Bloodline since WarGames, and in case they missed, the Bloodline dominated WarGames. He goes on to hug everyone. Roman then says they have a problem in Kevin Owens who does not leave Sami alone. And if KO is a problem for Sami, he is a problem for Roman and The Bloodline.
Roman says he has a solution for this. Roman says that he and Sami are going to team up and smash Owens and his partner. Sami take the mic and says Owens is a cancer for him and still continues to bog him down. Sami says he is KO's only friend. Sami then corrects when The Bloodline's face become tense. He says he was his only friend and he will be honoured to take out Owens with Roman Reigns.
John Cena interrupts from the big screen and says this is Holiday Season and he has a surprise for everyone. Cena says he got a text from KO pointing out that he did not have a WWE match in 2022, which would break his 20 year streak. KO has asked him to partner with him on December 30th against Roman and Sami. Cena then reveals that is down for it. Roman is just laughing in the ring while everyone else is tense. The show goes off the air.