WWE SmackDown Live Results 18 June 2021: Roman vs Rey Hell in a Cell Match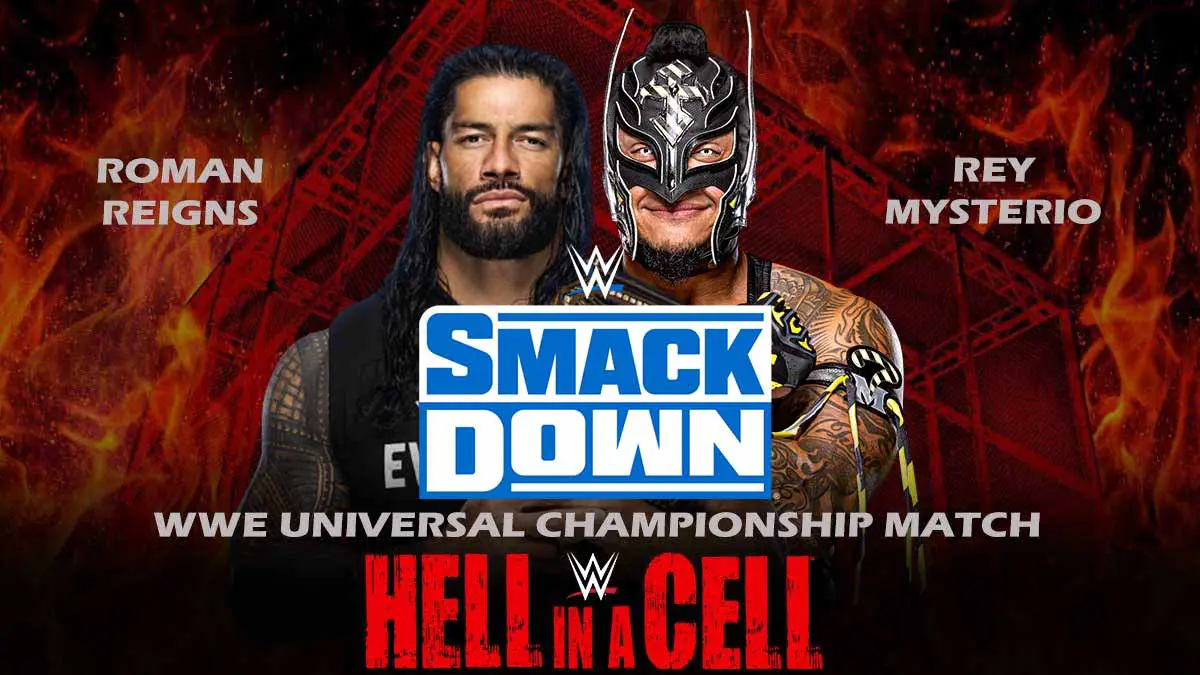 WWE SmackDown 18 June 2021 episode will feature a Hell in a Cell match for the first time in the history of SmackDown. For some reason, Roman Reigns vs Rey Mysterio Universal title match is brought forward from Hell in a Cell 2021 PPV to tonight's SmackDown episode.
3 more matches are announced for the show, which is kind of a surprise for SmackDown. Battle for the crown, a singles match between Otis and Angelo Dawkins, and Commander Azeez's in-ring debut – all are advertised. Rest assured that we are in for a different WWE episode. You can check more details for this show here in our preview.
Join us as we bring you the complete action, live results, updates, list of winners and video highlights from WWE Friday Night SmackDown episode of 18 June 2021.
Event Name – WWE Friday Night SmackDown
Date – 18 June 2021
Location – Yuengling Center, Tampa, FL, US
Time – 8 PM EST(19 June 2021 12 AM GMT/5:30 AM IST)
WWE SmackDown 18 June 2021 Quick Results
Apollo Crews & Commander Azeez defeated Big E & Kevin Owens in a tag team match via pinfall.
Shinsuke Nakamura defeated Baron Corbin in the Battle for the Crown via pinfall.
Roman Reigns(c) defeated Rey Mysterio in a Hell in a Cell Match via pinfall to retain WWE Universal Championship.
Hell in a Cell Preview
The show opens with the recap of the feud between Roman Reigns and Rey Mysterio. We cut to the arena and see the Red Hell in a Cell cage hanging above the ring. Rey Mysterio comes out to the ring now. He says he is feeling like any parent today, sad, pain and angry. Dominik is resting right now but he will never forgive Roman Reigns who tossed his son out of the ring like a gargabe bag. Rey says Roman has agreed to have their tonight but he wants to hear it from him. He wants Roman to come out here.
The Hell in a Cell cage starts to lower down now. Roman's music hits and he comes out to the stage. Roman takes the mic and says Rey does not want to hurt him and that Rey is not ready for him. Roman warns Rey that what he did to Dominik would be PG compared to what he is going to do to Rey. Rey replies that he is never been more ready than tonight. Roman says he tried to be diplomatic but it has not worked. So, now he will do things his way. Roman leaves as his music hits. Rey watches him from the ring.
Big E & Kevin Owens vs Apollo Crews & Commander Azeez
We get a small vignette to hype Commander Azeez's in-ring debut. Apollo Crews enters with Azeez for their match. Apollo and Azeez get an inset promo. Apollo is excited about Azeez's debut. They say Owens and Big E will feel his boot, his hands, etc. We cut to a break.
Big E & Kevin Owens are at Gorilla for an interview. Owens says Azeez is huge and intimidating, but he is not worried about it because Big E is the strongest person in the locker room and a 9-time tag team champion. Big E says KO is also good. KO says why he is not praising him. Big E brings up KO turning on New Day two years back. Big E then changes his tune and gets hyped for the match. Big E enters, followed by KO. They enter the ring. Sami Zayn's music hits and he joins the commentary.
Apollo misses a big boot to start. Big E starts with Belly to Belly suplex. KO tags in and Big E hits Apollo with a senton. KO gets a two-count. KO drops Apollo. Big E tags in and hits a side suplex. Apollo counters a move and tags in Azeez. Azeez hits Big E with a big right hand. He hits a big boot to Big E which sends him out of the ring. Azeez hits a body slam to Big E on the floor as we cut to the break.
Azeez has Big E in a headlock. Big E tries to fight back with punches to the ribs but Azeez hits him with a suplex. Azeez keeps control in the corner for a while before hitting another suplex. KO distracts Azeez with some words from the apron. Azeez misses an elbow drops and lands on his back. He tags in Apollo quickly. Apollo drops KO from the apron and hits an step-up enziguiri to Big E. Apollo misses a dive. Both men get back to the ring.
Big E tags in KO who hits a top rope senton. KO manages to hits a pop-up powerbomb and Azeez comes in to break the tag. Azeez drops KO and drags Apollo to their corner to tag in. Azeez clotheslines Big E on the floor. KO unloads on him on the apron. Azeez comes into the ring but KO low-bridges him out of the ring. KO follows him out but Azeez slams his head into the ring post. Azeez gets back to the ring and the referee starts to count down on KO. Sami tries to distract KO as the referee gets to four. KO scares him away and enters the ring stumbling. Azeez hits KO with the Nigerian Nail and gets the pin.
Winners – Commander Azeez & Apollo Crews
After the match, Sami is thrilled with what happened to Kevin Owens. Azeez picks up KO and hits him with another Nigerian Nail. Sami gets to Gorilla where he gets to Kayla Braxton and shows her Owens struggling to breathe after getting hit with the Nigerian Nail. Sami says there is no better visual than this.
After the break, Sonya Deville and Adam Pearce are backstage talking about Hell in a Cell main event match. Kevin Owens comes to them. Owens is still to breathe but asks them for a match against Sami Zayn.
Baron Corbin vs Shinsuke Nakamura – Battle for the Crown
We cut to the stage where Corbin's King of the Ring crown is placed. Rick Boogs is on the stage and he starts to play Nakamura's theme on his guitar. Nakamura enters to the ring. Corbin also makes his entrance now.
Corbin rolls up Nakamura for a two-count. Corbin unloads with big blows. He misses in the corner and Nakamura hits him with big kicks. Nakamura hits him with a rolling German suplex from the second rope. Boogs starts to play on his guitar and Nakamura dances to it on the floor as we cut to another commercial break.
Corbin is unloading on Nakamura and puts him in a shoulder stretch. Nakamura gets to his feet and runs the ropes, only to run into Deep Six from Corbin. Corbin mocks Boogs who is on the floor. Corbin hits big punches to Nakamura. He tries to scoop him but Nakamura slams him to the mat. Nakamura puts on a chin lock now. Corbin slams him on his back. Nakamura runs him over with another kick.
Nakamura hits a snap mare and a sliding knee to get a two-count. Corbin catches his leg and hits a suplex to get a near fall. Nakamura hits an STO for a two-count. Nakamura hits knees to Corbin's face and hypes up for Kinshasa. Corbin turns him inside out with a clothesline. Corbin puts him on the top. Nakamura fights back and elbows him and hits some kicks. Nakamura makes some momentum with kicks. Corbin catches him and but Nakamura another knee to counter the chokeslam. Nakamura hits Kinshasa and gets the win.
Winner – Shinsuke Nakamura
After the match, Boogs and Nakamura celebrate on the ramp. Nakamura goes and sits on the throne that was setup on the stage. Boogs coronates him with the crown. Corbin is crying in the ring watching all this.
Bianca & Bayley Come Face to Face
Bianca comes out and cuts a promo against Bayley. Bianca says Bayley has been bothering her for so long. She challenges her for Hell in a Cell match. Bayley comes out and they brawl for a while. Bayley ends up taking Bianca down in the ring and stands tall over Bianca in the ring with the title in the air.
A recap of recent issues between The Usos and Roman Reigns. Reigns is in his locker room suite with Paul Heyman. Jimmy Uso walks in tells Roman that he thought about what Reigns said last week, about representing the family and being their best. He might not agree with everything Reigns says or does, but they are blood and family. Reigns asks where Jey Uso is. Jimmy says he has not heard from Jey all week. He's tried to call and text, stop by his house, and nothing. Jimmy says if Reigns needs his help tonight, he'll be there. Reigns says no, he needs Jimmy to find his brother. Reigns needs Jey. Reigns says Jimmy needs Jey and their family is better when complete. Reigns tells Jimmy not to worry about tonight because it's business as usual, just do him a favor and find out where Jey is. Jimmy walks off.
Otis vs Angelo Dawkins
Gable lures Dawkins out of the ring with a cheap shot for Otis to run him over with a clothesline. Otis and Gable picks him up and throws him into the steel steps. Otis unloads some more on Dawkins at the ringside before throwing him into the ring. Gable holds Dawkins in position for a German suplex and Otis runs the ropes to hit Dawkins with a discus lariat into a German suplex from Gable. Dawkins rolls out to the floor where the referee is checking on him. Otis is brooding inside the ring as we go to the replays. The match never started. Medical teams comes to check on Angelo Dawkins.
Cesaro is with Kayla Braxton now. Cesaro says their rivalry has gone far ahead. Rollins stomped on his head. WWE is his life and Rollins tried to take it away from him. Rollins rolls up and Cesaro gets alert. Rollins tells him that they have their match on Sunday, so he does not need to attack him now.
Roman Reigns(c) vs Rey Mysterio – Hell in a Cell Match for WWE Universal Championship
Rey Mysterio goes and brings a chair just as the bell rings. Roman grabs the chair and throws it away. Rey slips out of the ring again and sprays Roman with a fire extinguisher. Rey runs him over with the fire extinguisher now. Rey runs him over with a tool box now as we cut to a break.
Back from the break, Roman is taking more punishment from Rey. Rey slams him with a chair and then gets his throat in between apron and the chair. Rey wraps the chair around Roman's neck and slams him around into the steel walls and into the ring post. Roman removes the chair and headbutts Rey. Roman charges at him in the corner but he misses Rey and runs into a table. Rey unloads on him now. Rey goes for the sunset flip powerbomb but Roman grabs the ropes. Roman grabs hold of Rey in the powerbomb position but Rey unloads on him with punches. Roman swings him into the steel walls of the cage and into the ring post. We cut to another break.
Roman is beating up Rey as we return. Roman hits the Superman punch. He gets ready for soear byt Rey catches him with a dropkick. Rey drops him on the ropes as he was going for the powerbomb. Rey goes for the 619 but runs into an uppercut from Roman. Roman misses a spear in the corner. Rey grabs a chair and unloads on Roman with it. Rey hits a splash from the top with a chair on Roman's chest. Rey is also hurt and is not able to cover Roman in time. Rey hits another splash but Roman kicks out.
Roman catches Rey and throws him into the steel walls from the ring, in the same way he threw Dominik to the floor last week. Roman brings him back to the ring and puts on the Guillotine choke to get a submission.
Winner – Roman Reigns(retains WWE Universal Championship)
After the match, Jimmy Uso comes out as Roman hoists the title in the air. Roman gets angry and pushes them back as he sees Rey Mysterio getting back to his feet. Roman goes and puts on the Guillotine choke again. Rey is tapping out again and falls down. Roman stands tall over him as the show goes off the air.