WWE SmackDown January 28, 2022: Results, Card, Preview, Tickets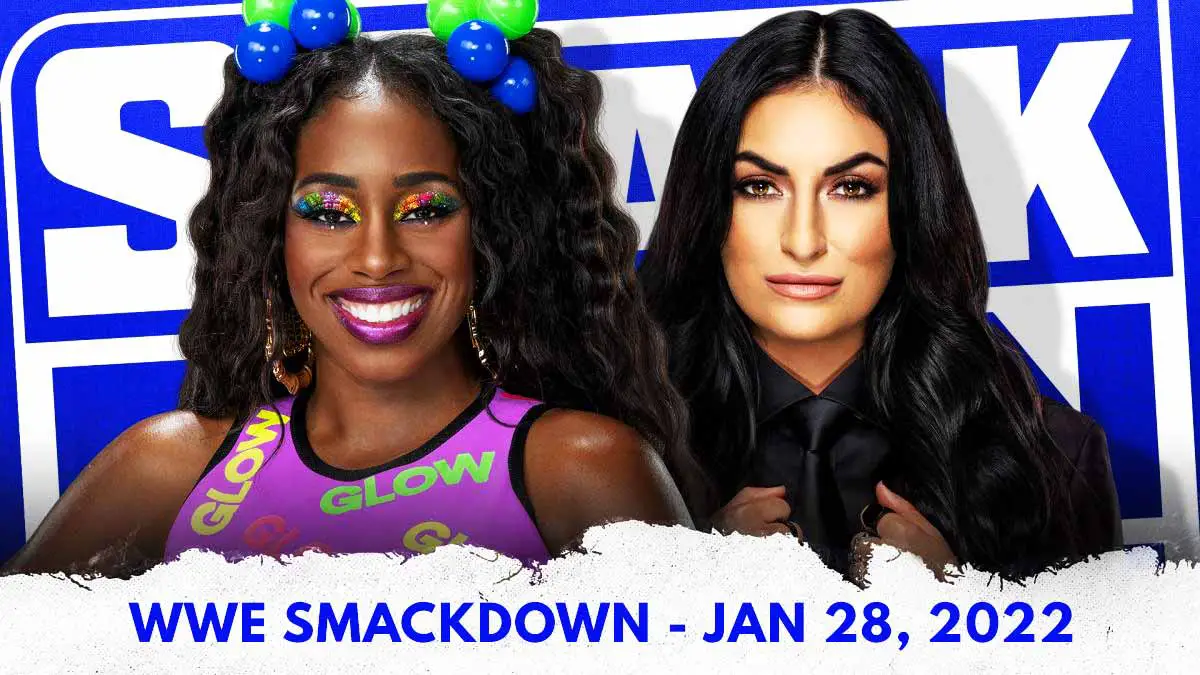 WWE SmackDown episode of January 28, 2022, will be the go-home show for Royal Rumble 2022 event. The show will see Sonya Deville vs Naomi match as well as New Day taking on Madcapp Moss & Happy Corbin.
Ricochet & Cesaro will take on Ridge Holland & Sheamus. Seth Rollins will go to SmackDown to deliver a personal message to Roman Reigns ahead of their Royal Rumble clash.
Keep reading to get complete details on WWE Friday Night SmackDown episode of January 28, 2022.
Show – WWE SmackDown
Date – January 28, 2022
Location – T-Mobile Center, Kansas City, MO
Time – 8 PM EST
Commentators – Pat Mcafee & Michael Cole
Interviewers – Kayla Braxton, Megan Morent
Ring announcer – Mike Rome
Match Card & Results
Ridge Holland & Sheamus defeated Ricochet & Cesaro in a tag team match via pinfall.
Naomi defeated Sonya Deville in a singles match via pinfall.
Shinsuke Nakamura & Rick Boogs defeated Jinder Mahal & Shanky in a tag team match via pinfall.
Kofi Kingston & Big E defeated Madcapp Moss & Happy Corbin in a tag team match via pinfall.
Live Updates
Who Wins Rumble?
Charlotte Flair opens the show for a promo. She takes the shot at the local NFL team and says she will be the first one to bring a championship to Kansas City. She claims that she will win the Royal Rumble match and will choose her challenger for WrestleMania. Flair says winning the Rumble is not easy. Flair says she does not need to enter Royal Rumble to prove herself, but she does not wait for things to happen and takes the things in her own hand.
She gets interrupted by Shayna Baszler. Baszler gives Flair pops for being an incredible competitor but warns her that she will have no problem snapping her like a twig limb by limb. She also assures that after she eliminates Flair, she will not waste any time in declaring her as the challenger. Aliyah comes out and says she has butterflies in her stomach for entering her first Royal Rumble. She brings out beating Natalya in 3.17 seconds.
Natalya comes out next and calls rude, clueless, delusional but not optimistic. Shotzi also comes out and talks about all egos colliding in the ring, and says it could create an opportunity for someone like her to sneak in and steal the spotlight.
Flair gets irritated and tells them nobody deserves to be in the ring with her and none of them will win the Royal Rumble. Sasha Banks' music hits and she makes her return to SmackDown. Sasha announces she is back and ready to rumble. A brawl starts and Flair is the last one in the ring. She turns around to find Sasha in the ring. Sasha catches her kick and hits back with a knee before dumping her over the top rope. Sasha celebrates while Flair gets her title and shoes before leaving.
Backstage, Ridge Holland and Sheamus get interviewed at Gorilla position. Holland says he still remembers how his bone crunched at Day 1. Sheamus hands him a face protector before they go out.
Sheamus & Ridge Holland vs Cesaro & Ricochet
Cesaro and Sheamus start the match. Sheamus with side headlock takedowns. Cesaro goes to fire back but Sheamus gets to the floor to irritate him. Cesaro takes him with side headlock. Sheamus hits a knee and a shoulder tackle. Cesaro avoids a running tackle, stops a hip toss and hits a clothesline. Ricochet tags in, and Sheamus also tags in Holland quickly. Ricochet avoids attack with his quick movement. He sends Holland to the apron, kicks him to the floor and hits a suicide dive.
Richochet and Sheamus are fighting as we come back from a break. Sheamus hits a backbreaker and brings in Holland. Holland slams Richochet in both corners before hitting a Northern Light suplex. Holland works on Richochet's nose for a while before hitting body slam. He puts on a torture rack. Richochet hits back with elbows and hits a springboard elbow. Cesaro and Sheamus comes in. Cesaro with quick moves, clotheslines, uppercut and a corkscrew uppercut before throwing Sheamus to the floor. He slams Sheamus into the barricade.
Back to the ring, Cesaro hits crossbody from the top. Holland and Ricochet gets into the ring. Richochet hits a missile dropkick on Holland and Sheamus hits a big knee to Richochet. Cesaro hits a body slam for a two-count. Holland gets the blind tag. Cesaro tries to go for a swing on Sheamus but Holland comes in and hits him with a headbutt with the face protector on.
Winner – Ridge Holland & Sheamus
A video package on storyline between WWE Universal Champion Roman Reigns and Seth Rollins.
We get a Royal Rumble by the number video package.
Naomi enters for the match. We see Sonya Deville trying to influence the referee, but he tells her that he will call it down the middle. We cut to a break.
Naomi vs Sonya Deville
Sonya enters for the match and the referee reiterates that he will call it down the middle. They lock up but Sonya moves to the ropes quickly to avoid any attack. Sonya hits a kick to the gut and slams Naomi's face to the mat. She puts on a chinlock. Naomi gets up and throws Sonya over. She hits a dropkick.
Sonya kicks at her gut but Naomi starts to mount her offense patiently. A dropkick sends Sonya to the floor. Naomi slams her into the apron on the floor. Sonya cuts off a basement slide and brings Naomi down on the floor.
Sonya slams Noami down as we return from the break for a two-count. Sonya puts on a chinlock before slamming her to the mat again. Naomi kips up and hits a sidekick. Naomi hits an enziguiri and a springboard stunner. Naomi hits a big kick in the corner before driving her face to the turnbuckle. Naomi hits a crossbody from the top for a two-count. Naomi hits a leg drop for another two-count. Sonya counters as Naomi tries to send her into the corner.
Sonya hits an inverted suplex kind of move to get a near fall. Naomi brings her down with a full-nelson for another two-count. Sonya distracts the referee by pulling the apron. She then rakes Naomi's eyes and holds on the tights for the pin attempt but could only get a two-count. Naomi hits rearview and split-legged moonsault from the top to get the pin.
Winner – Naomi
Naomi celebrates her win. Sonya gets out and move to the stage. Naomi gets the mic and is elated. She talks about being excited for Royal Rumble tomorrow. Sonya leaves to the back in disgust, but comes back with her corporate suit. Sonya says she can't let Naomi get to the Rumble without a surprise. Sonya announces her entry to the women's Royal Rumble match.
We are in the ring with Sami Zayn for In-Zayn segment. He has Jinder Mahal and Shanky as his guests. Sami says he has decided to turn the show into a live podcast. He asks Jinder a question and Jinder starts answering cuts him off and says this should have been the format from the start, and he is glad to change format away from stunts and how he never wants to hear the name Johnny Knoxville again.
The crowd boos Sami. He asks Jinder about his match. Jinder says he is going to embarrass Shinsuke Nakamura again. Zayn cuts him off again and apologizes to Shanky for having to deal with Johnny Knoxville. Shanky says he loves the bungie port-a-potty. Mahal clarifies that says Jackass is huge in India. Sami yells at the crowd for booing him.
Rick Boogs makes his entrance and plays Shinsuke Nakamura theme to get him out. They get in the ring. Nakamura kicks at Sami to drop him. The commentators takes us to WWE 2K22 trailer and to a break.
Shinsuke Nakamura & Rick Boogs vs Jinder Mahal & Shanky
Boogs hits a powerslam on Mahal as we return to see match already started. Shanky tags in and cuts off Boogs' attack. Boogs tries to put on a bear hug but Shanky changes it into a front facelock. Boogs hits a suplex on Shanky. Sami goes and trips Nakamura from the apron as Boogs was looking to tag out.
Mahal slams Boogs into the corner a few times and Boogs starts to hulk up. Boogs fights back as Shanky and Jinder try to double team. Boogs hits a clothesline on Mahal. He has to hit running double ax handle three times to bring Shanky to the mat. Boogs hits Boogs Cruise on Shanky to get the pin.
Winner – Shinsuke Nakamura & Rick Boogs
Kofi Kingston & Big E vs Madcapp Moss & Happy Corbin
Moss starts with a big running tackle. Big E replies with a back elbow. Kofi tags in and hits a dropkick. Corbin tags in and sends Kofi to the corner for a splash. Corbin stomps on him near the ropes. Kofi hits a big boot on Corbin from the corner. Moss tags in and eats a dropkick from Kofi. Kofi goes for a dive on both opponents on the floor, but they catch him and slam him into the ring post to take us to a break.
Kofi rallies as we return from the break. Kofi hits kick to Moss and skips past Corbin to tag in Big E. Big E hits belly to belly suplex on Corbin. Corbin stops the third suplex but Big E hits Moss with Urinage. Big E hits the third suplex on Corbin. He hits a running splash on Corbin next. Kofi tags in but Corbin counters a double team move by sending Big E to the corner and slamming Kofi to the mat.
Moss tags in and hits a running tackle in the corner. Corbin hits deep six and Moss covers Kofi for a two-count. Big E drives Corbin to the steel steps on the floor. Kofi fights back against Moss and tags in Big E. New Day hits Up Up Down Down on Moss to get the pin and the win.
Winner – Kofi Kingston & Big E
Rollins & Reigns Face to Face
Roman asks the fans to acknowledge him. Rollins says he played around Roman last week like a fiddle when he forced him to hit him in the face and cause a DQ to get Usos barred so that they can have a clean one-on-one match. Reigns says it was a simple decision to punch Rollins and cause a DQ then get the family embarrassment to the family by letting Rollins pin Usos.
Rollins retorts if getting pinned by him is embarrassing, then he did so a few times already. Roman replies that it was past and its 202 and he is in God mode now. Rollins brings up how he took WWE championship underneath him when he cashed in the MITB breifcase at WrestleMania 31 and how he came back from a knee injury to beat Roman to win the WWE title. Roman says its all water under the bridge. Rollins then brings up how he hit with a steel chair on his back to break the Shield, and how it has shot Roman up to stardom.
Rollins says Roman has done everything expect beating him when it matter the most. He wants Roman to know it's not personal and he will always love him like a brother. Rollins says, "I Love You, Brother," as he credits himself for all the success that Roman has had. Roman takes a bit of time to reply and looks almost in tears. Roman tells Rollins that he will never forgive him for breaking the Shield.
Rollins starts laughing hysterically and tells Roman that he, his title and his whole family is a joke. Roman shoves him and looks to get out of the ring. Roman tries to attack Rollins from behind but Rollins just ducks him and gets to the floor. Rollins exits to close the show.
---
Tickets
The tickets price of Friday Night SmackDown on January 28, 2022 ranges from $36 to $331. You can check the tickets below.
Preview
Naomi vs Sonya: Sonya Deville has been unfairly unfair towards Naomi for the last few months now. This might come to haunt her as she will face Naomi one-on-one in the ring. Will Naomi be able to get her revenge on Sonya? Or will Sonya come out triumphant?
New Day vs Moss & Corbin: Kofi Kingston got one back against Madcapp Moss last week as Big E joined him at ringside. Kofi & Big E will team up this week against their rivals.
What happens before Royal Rumble?: What will happen on the go-home show for Royal Rumble? WWE would certainly try to pull out some explosives to hype the first big event of the year.