List Of Every WWE Royal Rumble Winners (Men's & Women's)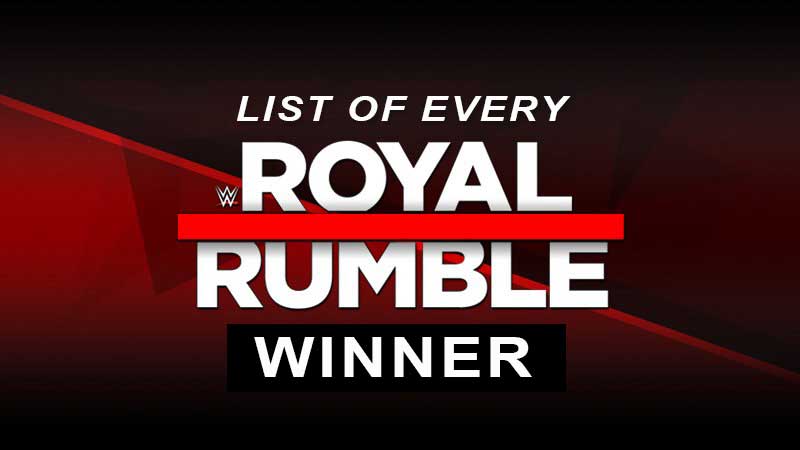 Royal Rumble is arguably the second most important event in WWE after WrestleMania. This is simply due to the fact that WrestleMania main event title contender is decided at Royal Rumble.
Royal Rumble match is an over-the-top-rope battle royal where participants enter after 90 seconds. WWE treats this event as the first step on the road to WrestleMania. The Royal Rumble winner gets the world title match at WrestleMania.
The first event in the series took place in 1988. WWE used to hold only the men's royal rumble matches till 2017. However, the Women's Royal Rumble match was added to the event from 2018.
Check out the complete list of winners from both men and women matches below.
| Event | Winner | Entry No. | Date | Location | Results | Match Time |
| --- | --- | --- | --- | --- | --- | --- |
| Women's Royal Rumble 2024 | – | – | January 27 | Tropicana Field, St. Petersburg, Florida | – | – |
| Men's Royal Rumble 2024 | – | | January 27 | Tropicana Field, St. Petersburg, Florida | – | – |
| Men's Royal Rumble 2023 | Cody Rhodes | 30 | January 28 | Alamodome, San Antonio, TX, US | Via eliminating Gunther | 1:11:42 |
| Women's Royal Rumble 2023 | Rhea Ripley | 1 | January 28 | Alamodome, San Antonio, TX, US | Via eliminating Liv Morgan | 1:01:03 |
| Men's Royal Rumble 2022 | Brock Lesnar | 30 | January 29 | The Dome at America's Center St. Louis, MS | Via eliminating Drew McIntyre | 51:10 |
| Women's Royal Rumble 2022 | Ronda Rousey | 28 | January 29 | The Dome at America's Center St. Louis, MS | Via eliminating Charlotte Flair | 59:40 |
| Women's Royal Rumble 2021 | Bianca Belair | 3 | January 31 | Tropicana Field, St. Petersburg, Florida | Via eliminating Rhea Ripley | 58:50 |
| Men's Royal Rumble 2021 | Edge | 1 | January 31 | Tropicana Field, St. Petersburg, Florida | Via eliminating Randy Orton | 58:30 |
| Women's Royal Rumble 2020 | Charlotte Flair | 17 | January 26 | Minute Maid Park, Houston, Texas | Via eliminating Shayna Baszler | 54:20 |
| Men's Royal Rumble 2020 | Drew McIntyre | 16 | January 26 | Minute Maid Park, Houston, Texas | Via eliminating Roman Reigns | 1:00:50 |
| Men's Royal Rumble 2019 | Seth Rollins | 10 | January 27 | Chase Field, Phoenix, Arizona | Via eliminating Braun Strowman | 57:35 |
| Women's Royal Rumble 2019 | Becky Lynch | 28 | January 27 | Chase Field, Phoenix, Arizona | Via eliminating Charlotte Flair | 1:12:00 |
| Men's Royal Rumble 2018 | Shinsuke Nakamura | 14 | January 28 | Wells Fargo Center, Philadelphia, Pennsylvania | Via eliminating Roman Reigns | 1:05:27 |
| Women's Royal Rumble 2018 | Asuka | 25 | January 28 | Wells Fargo Center, Philadelphia, Pennsylvania | Via eliminating Nikki Bella | 58:57 |
| Royal Rumble 2017 | Randy Orton | 23 | January 29 | Alamodome, San Antonio, Texas | Via eliminating Roman Reigns | 1:02:06 |
| Royal Rumble 2016 | Triple H | 30 | January 24 | Amway Center, Orlando, Florida | Via eliminating Dean Ambrose | 1:01:42 |
| Royal Rumble 2015 | Roman Reigns | 19 | January 25 | Wells Fargo Center, Philadelphia, Pennsylvania | Via eliminating Rusev | 59:31 |
| Royal Rumble 2014 | Batista | 28 | January 26 | Consol Energy Center, Pittsburgh, Pennsylvania | Via eliminating Roman Reigns | 55:07 |
| Royal Rumble 2013 | John Cena | 19 | January 27 | US Airways Center, Phoenix, Arizona | Via eliminating Ryback | 55:05 |
| Royal Rumble 2012 | Sheamus | 22 | January 29 | Scottrade Center, St. Louis, Missouri | Via eliminating Chris Jericho | 54:00 |
| Royal Rumble 2012 | Sheamus | 22 | January 29 | Scottrade Center, St. Louis, Missouri | Via eliminating Chris Jericho | 54:00 |
| Royal Rumble 2011 | Alberto Del Rio | 38 | January 30 | TD Garden, Boston, Massachusetts | Via eliminating Santino Marella | 1:09:51 |
| Royal Rumble 2010 | Edge | 29 | January 31 | Philips Arena, Atlanta, Georgia | Via eliminating John Cena | 49:26 |
| Royal Rumble 2009 | Randy Orton | 8 | January 25 | Joe Louis Arena, Detroit, Michigan | Via eliminating Triple H | 58:40 |
| Royal Rumble 2008 | John Cena | 30 | January 27 | Madison Square Garden, New York City, New York | Via eliminating Triple H | 51:26 |
| Royal Rumble 2007 | The Undertaker | 20 | January 28 | AT&T Center, San Antonio, Texas | Via eliminating Shawn Michaels | 56:18 |
| Royal Rumble 2006 | Rey Mysterio | 2 | January 29 | American Airlines Arena, Miami, Florida | Via eliminating Randy Orton | 1:02:12 |
| Royal Rumble 2005 | Batista | 28 | January 30 | Save Mart Center, Fresno, California | Via eliminating John Cena | 51:07 |
| Royal Rumble 2004 | Chris Benoit | 1 | January 25 | Wachovia Center, Philadelphia, Pennsylvania | Via eliminating Big Show | 1:01:30 |
| Royal Rumble 2003 | Brock Lesnar | 29 | January 19 | FleetCenter, Boston, Massachusetts | Via eliminating The Undertaker | 53:41 |
| Royal Rumble 2002 | Triple H | 22 | January 20 | Philips Arena, Atlanta, Georgia | Via eliminating Kurt Angle | 1:09:22 |
| Royal Rumble 2001 | Stone Cold Steve Austin | 27 | January 21 | New Orleans Arena, New Orleans, Louisiana | Via eliminating Kane | 1:01:55 |
| Royal Rumble 2000 | The Rock | 24 | January 23 | Madison Square Garden, New York City, New York | Via eliminating Big Show | 51:54 |
| Royal Rumble 1999 | Mr. McMahon | 2 | January 24 | Arrowhead Pond, Anaheim, California | Via eliminating Stone Cold Steve Austin | 56:38 |
| Royal Rumble 1998 | Stone Cold Steve Austin | 24 | January 18 | San Jose Arena, San Jose, California | Via eliminating The Rock | 55:25 |
| Royal Rumble 1997 | Stone Cold Steve Austin | 5 | January 19 | Alamodome, San Antonio, Texas | Via eliminating Bret Hart | 50:29 |
| Royal Rumble 1996 | Shawn Michaels | 18 | January 21 | Selland Arena, Fresno, California | Via eliminating Diesel | 58:49 |
| Royal Rumble 1995 | Shawn Michaels | 1 | January 22 | USF Sun Dome, Tampa, Florida | Via eliminating The British Bulldog | 38:41 |
| Royal Rumble 1994 | Bret Hart and Lex Luger | 27 | January 23 | Providence Civic Center, Providence, Rhode Island | Bret Hart & Lex Luger both won the Royal Rumble | 55:04 |
| Royal Rumble 1993 | Yokozuna | 27 | January 24 | ARCO Arena, Sacramento, California | Via eliminating Randy Savage | 1:06:35 |
| Royal Rumble 1992 | Ric Flair | 3 | January 19 | Knickerbocker Arena, Albany, New York | Via eliminating Sid Justice | 1:02:02 |
| Royal Rumble 1991 | Hulk Hogan | 24 | January 19 | Miami Arena, Miami, Florida | Via eliminating Earthquake | 1:05:17 |
| Royal Rumble 1990 | Hulk Hogan | 25 | January 21 | Orlando Arena, Orlando, Florida | Via eliminating Mr. Perfect | 58:46 |
| Royal Rumble 1989 | Big John Studd | 27 | January 15 | The Summit, Houston, Texas | Via eliminating Ted DiBiase | 1:04:53 |
| Royal Rumble 1988 | Jim Duggan | 13 | January 24 | Copps Coliseum, Hamilton, Ontario | Via eliminating One Man Gang | 33:00 |
READ MORE: List of every Elimination Chamber Winners