List of Every Elimination Chamber Match, Winners & Participants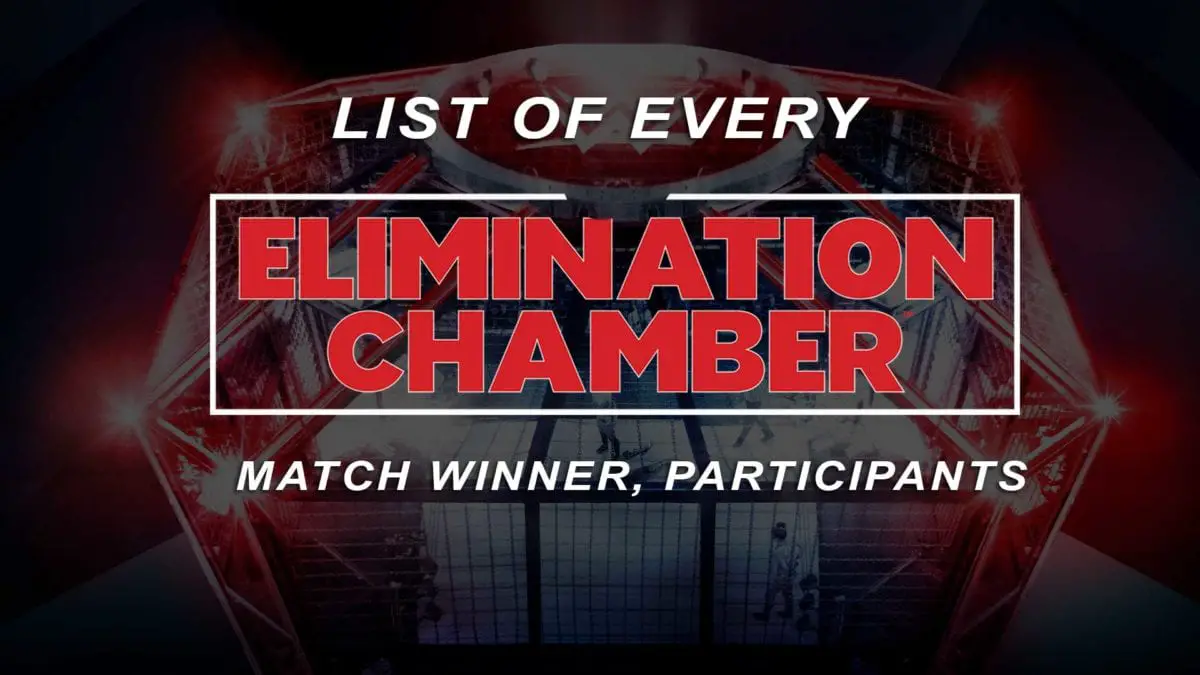 Check out the list of every WWE Elimination Chamber match, list of participants and winners, match duration and more details.
Elimination Chamber match is a special cage match that was formulated by Triple H in 2002 and was introduced on-screen by Eric Bischoff. The cage is made of large steel fences supported by girders and is platformed over the ringside area around the ring which elevates and levels it with the ring mat. The cage also consists of 4 plexiglass-covered pods near each ring post, in which wrestlers are caged.
The match generally has 6(or more) participants. Two wrestlers will start the match while the other 4 are caged inside the pods. One wrestler enters the match every 5 minutes intervals. Participants eliminate each other and the last person remaining is adjudged the winner.
Usually, a championship is defended inside the Elimination Chamber. In recent years, these matches have also been used to decide the #1 contenders on the Road to WrestleMania. Here is the list of all the Elimination Chamber matches that took place over the years in WWE.
1. World Heavyweight Championship (Survivor Series 2002)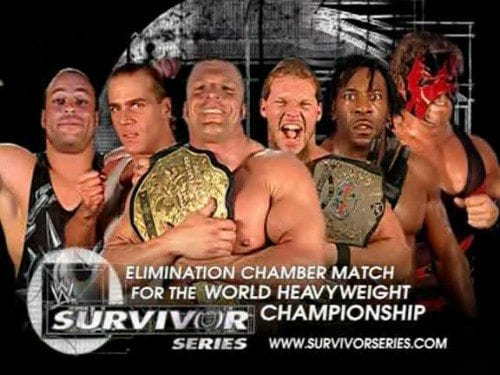 Date: November 17, 2002
Participants: Triple H (c), Shawn Michaels, Chris Jericho, Kane, Booker T, and Rob Van Dam
Winner: Shawn Michaels
Match Length: 39:20
2. World Heavyweight Championship(SummerSlam 2003)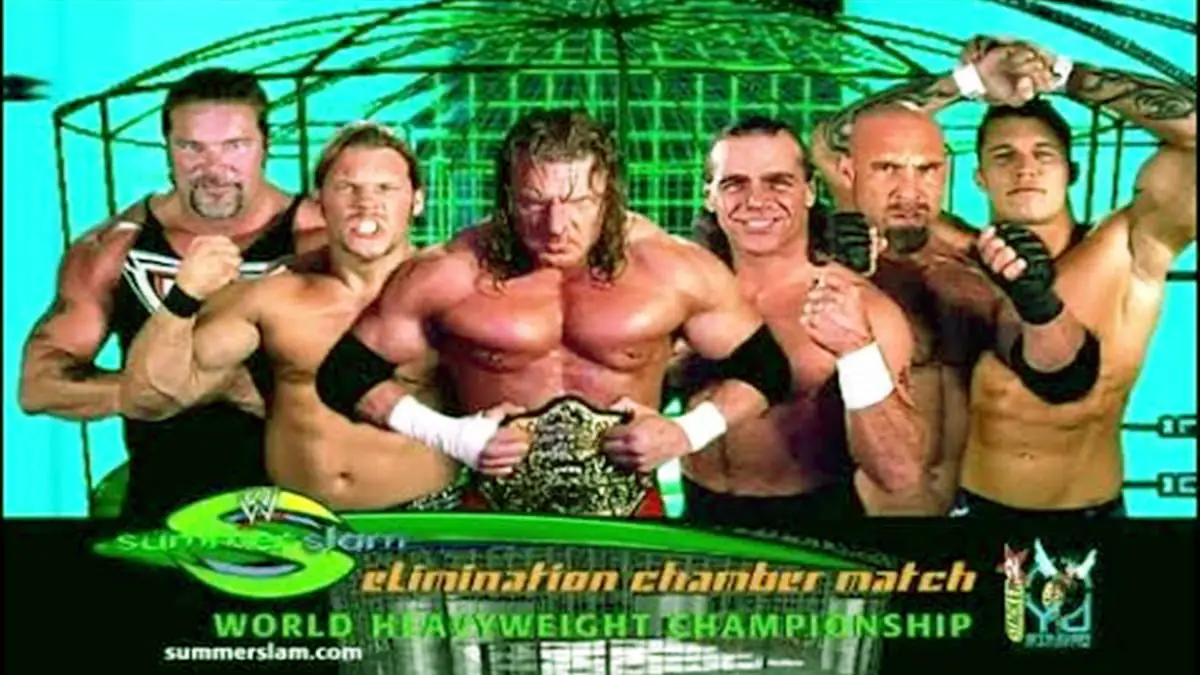 Date: August 24, 2003
Participants: Triple H (c), Goldberg, Chris Jericho, Shawn Michaels, Randy Orton, and Kevin Nash
Winner: Triple H
Match Length: 19.12
3. World Heavyweight Championship(New Year's Revolution 2005)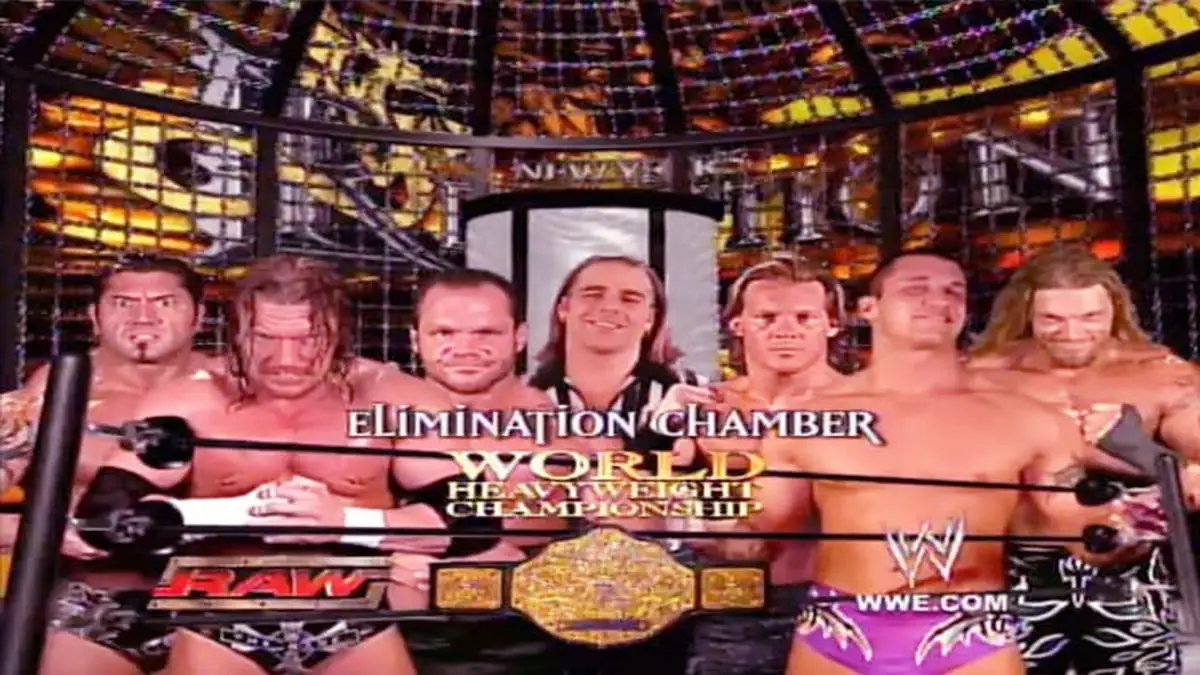 Date: January 9, 2005
Participants: Triple H (c), Randy Orton, Batista, Chris Jericho, Chris Benoit and Edge
Winner: Triple H
Match Length: 35.02
4. WWE Championship(New Year's Revolution 2006)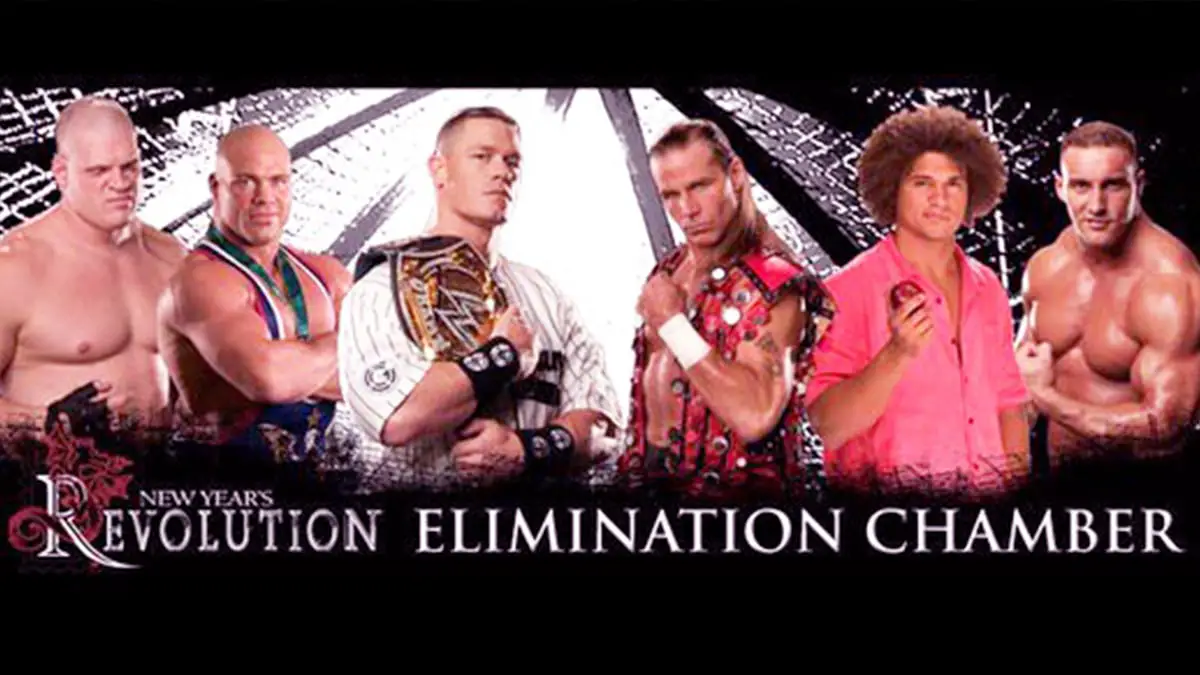 Date: January 8, 2006
Participants: John Cena (c), Carlito, Chris Masters, Shawn Michaels, Kane and Kurt Angle
Winner: John Cena
Match Length: 28.25
5. ECW World Championship(December to Dismember 2006)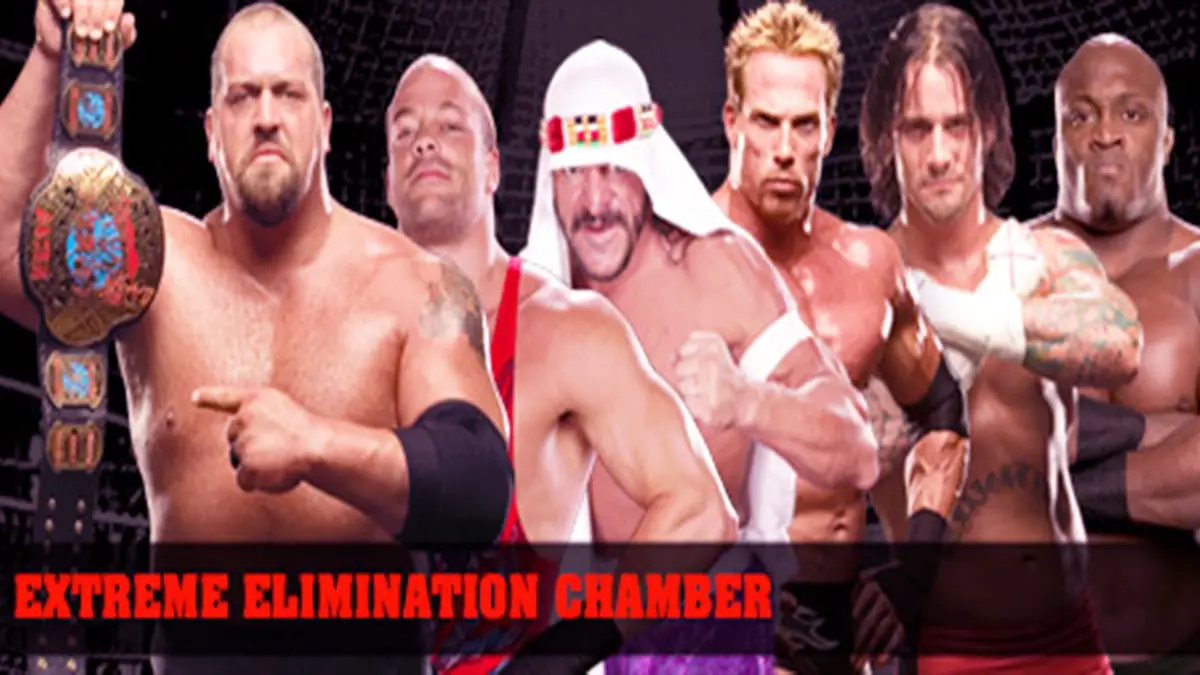 Date: December 3, 2006
Participants: Bobby Lashley, Big Show (c), Test, Rob Van Dam, Hardcore Holly and CM Punk
Winner: Bobby Lashley
Match Length: 35.02
6. No. 1 Contender match for World Heavyweight Championship(No Way Out 2008)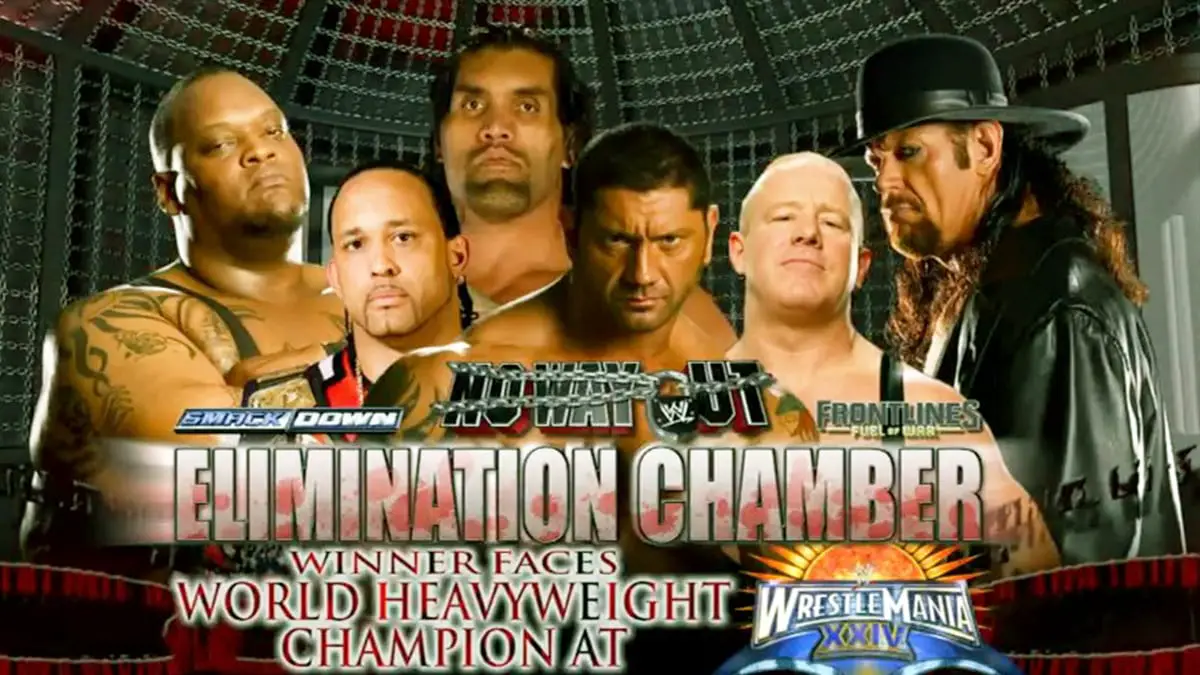 Date: February 17, 2008
Participants: The Undertaker, Batista, Finlay, Montel Vontavious Porter, The Great Khali and Big Daddy V
Winner: The Undertaker
Match Length: 29:28
7. No 1 Contender match for WWE Championship (No Way Out 2008)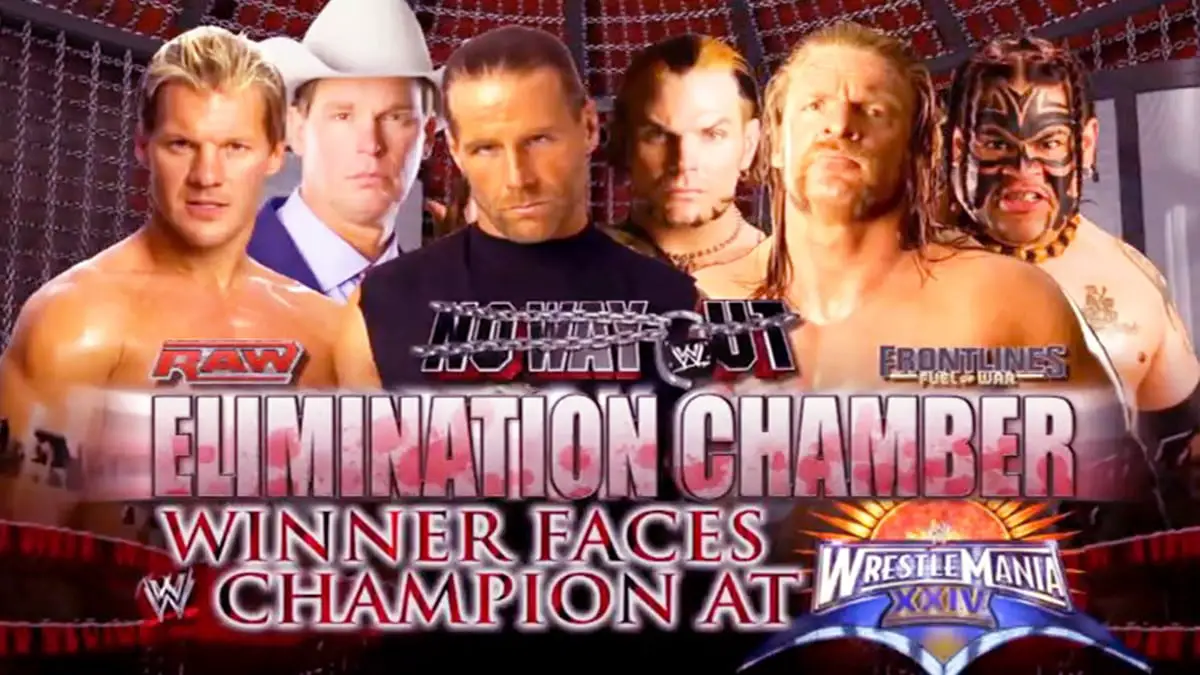 Date: February 17, 2008
Participants: Triple H, Jeff Hardy, Shawn Michaels, Chris Jericho, Umaga and John Layfield
Winner: Triple H
Match Length: 23:54
8. WWE Championship(No Way Out 2009)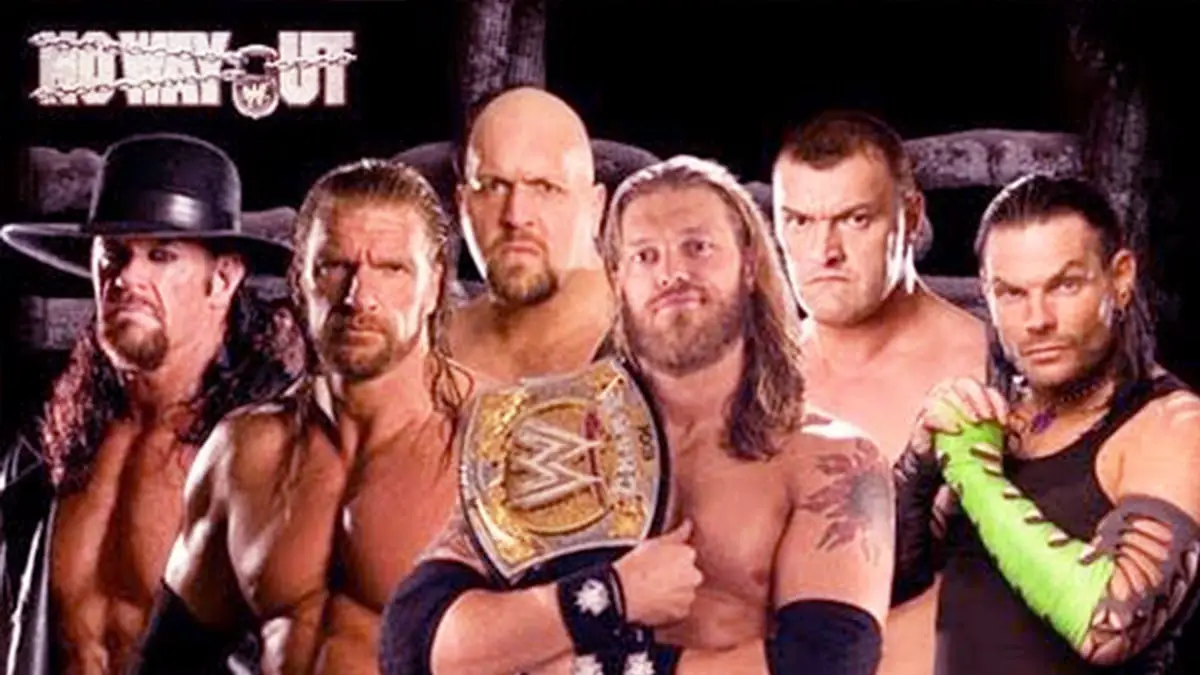 Date: February 15, 2009
Participants: Triple H, Edge (c), The Undertaker, Jeff Hardy, Big Show and Vladimir Kozlov
Winner: Triple H
Match Length: 35:55
9. World Heavyweight Championship(No Way Out 2009)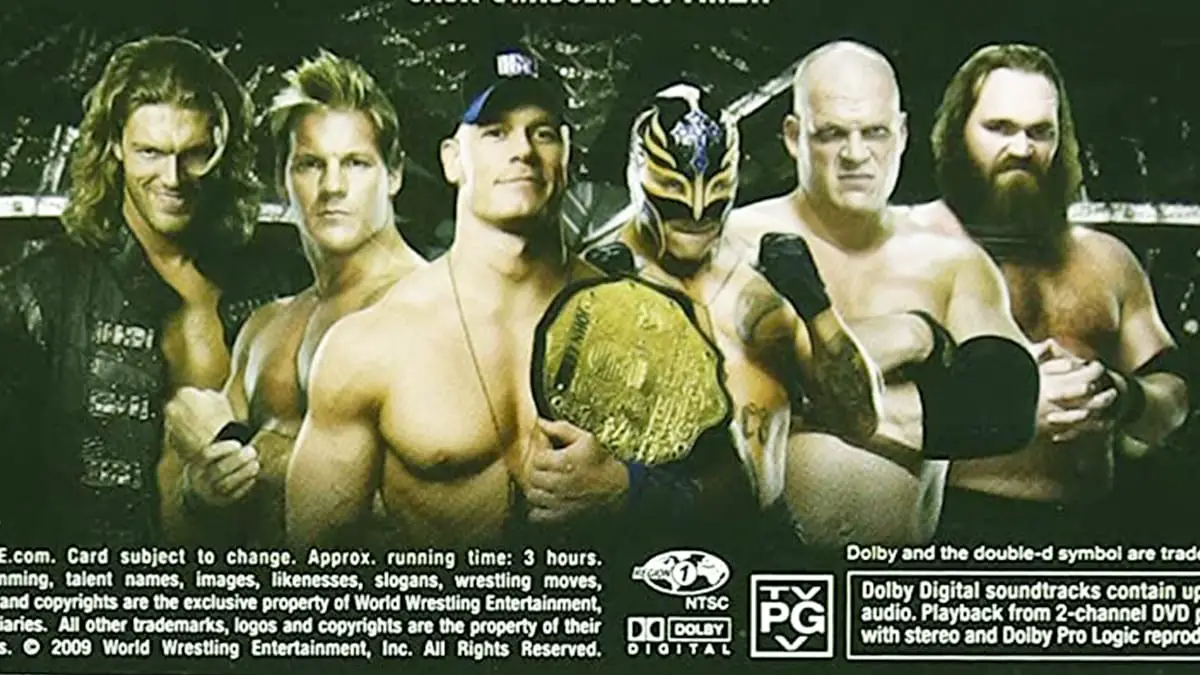 Date: February 15, 2009
Participants: Edge, John Cena (c), Rey Mysterio, Chris Jericho, Mike Knox and Kane
Winner: Edge
Match Length: 35.02
10. WWE Championship(Elimination Chamber 2010)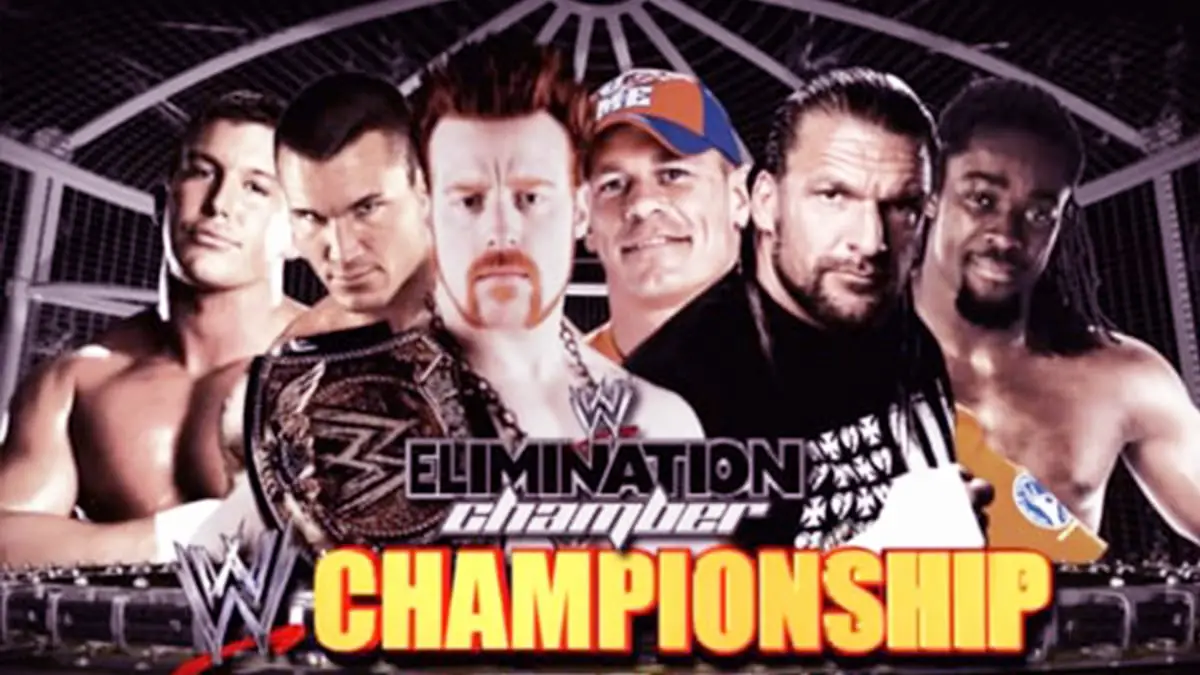 Date: February 21, 2010
Participants: John Cena, Sheamus (c), Triple H, Kofi Kingston, Ted DiBiase and Randy Orton
Winner: John Cena
Match Length: 30:10
11. World Heavyweight Championship(Elimination Chamber 2010)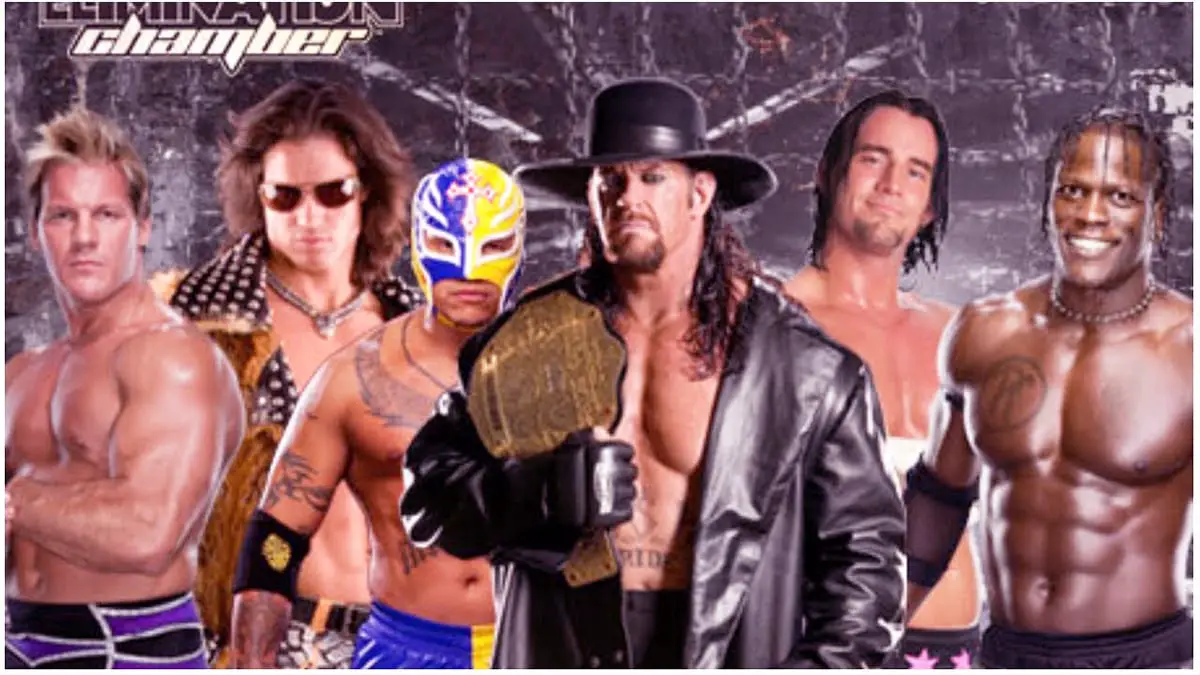 Date: February 21, 2010
Participants: Chris Jericho, The Undertaker (c), John Morrison, Rey Mysterio, CM Punk and R-Truth
Winner: Chris Jericho
Match Length: 35.40
12. World Heavyweight Championship(Elimination Chamber 2011)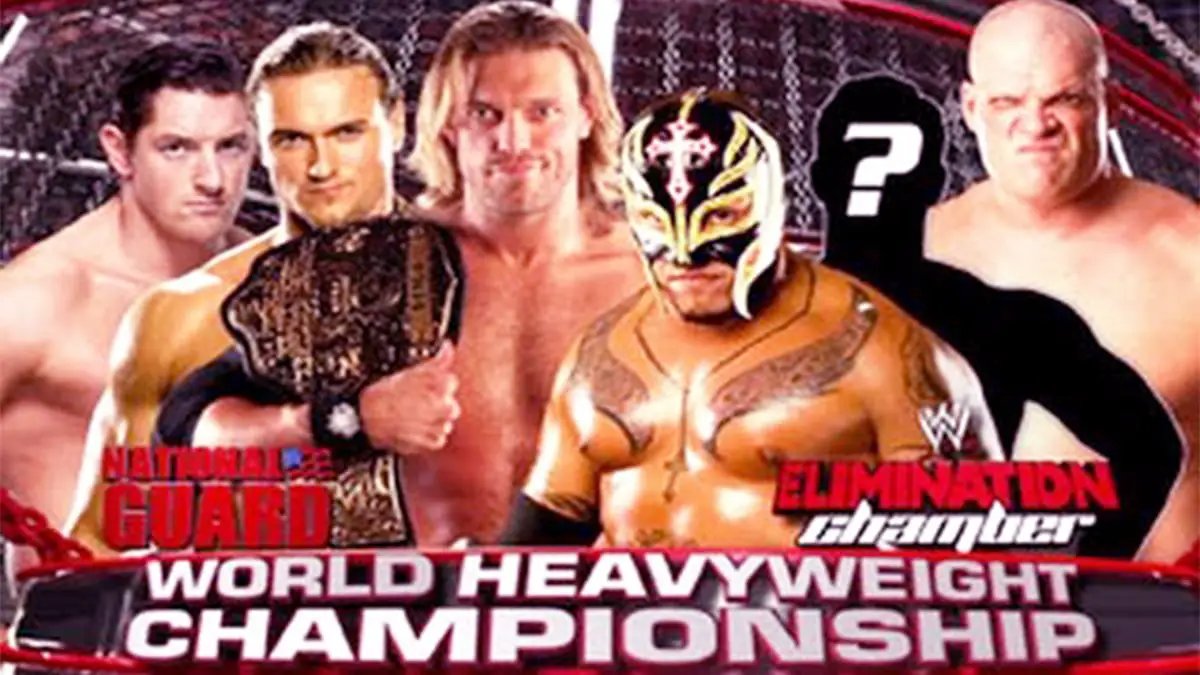 Date: February 20, 2011
Participants: Edge (c) defeated Rey Mysterio, Kane, Drew McIntyre, Big Show and Wade Barrett
Winner: Edge
Match Length: 31.30
13. No 1 Contender match for WWE Championship(Elimination Chamber 2011)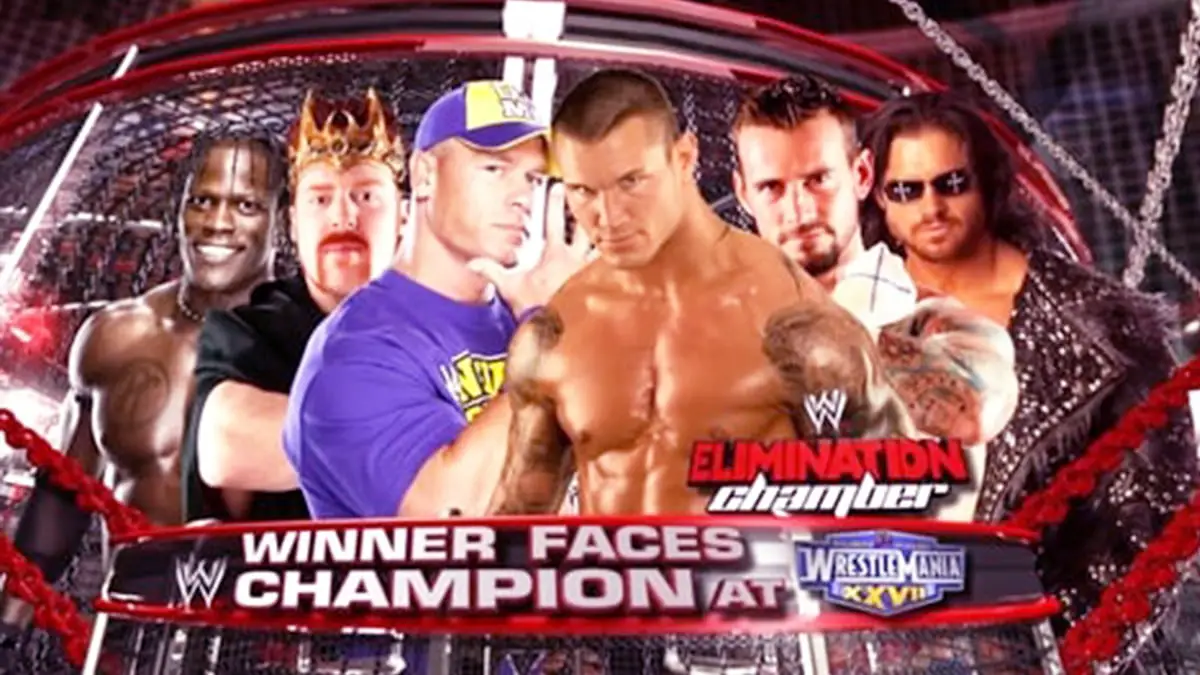 Date: February 20, 2011
Participants: John Cena, CM Punk, John Morrison, Sheamus, Randy Orton, and R-Truth
Winner: John Cena
Match Length: 33:12
14. WWE Championship(Elimination Chamber 2012)
Date: February 19, 2012
Participants: CM Punk (c), The Miz, Chris Jericho, Kofi Kingston, Dolph Ziggler and R-Truth
Winner: CM Punk
Match Length: 32.39
15. World Heavyweight Championship(Elimination Chamber 2012)
Date: February 19, 2012
Participants: Daniel Bryan (c), Santino Marella, Wade Barrett, Cody Rhodes, Big Show and The Great Khali
Winner: Daniel Bryan
Match Length: 34:04
16. No 1 Contender match for World Heavyweight Championship(Elimination Chamber 2013)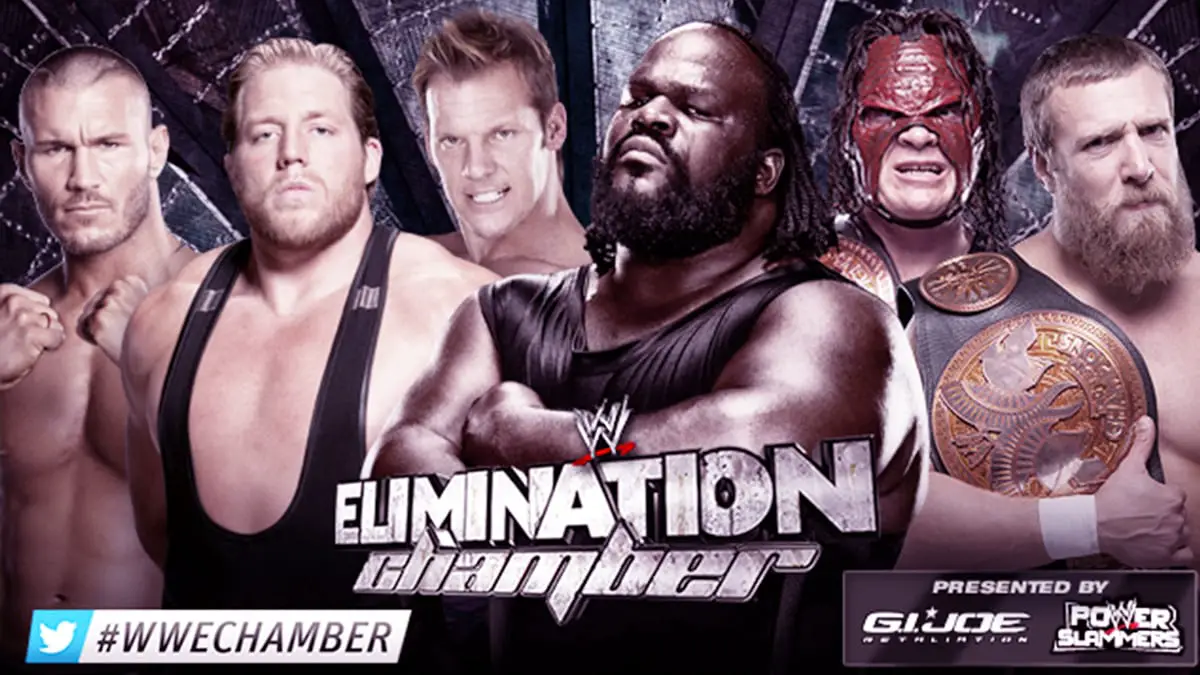 Date: February 17, 2013
Participants: Jack Swagger, Randy Orton, Chris Jericho, Mark Henry, Kane and Daniel Bryan
Winner: Daniel Bryan
Match Length: 31:18
17. World Heavyweight Championship(Elimination Chamber 2014)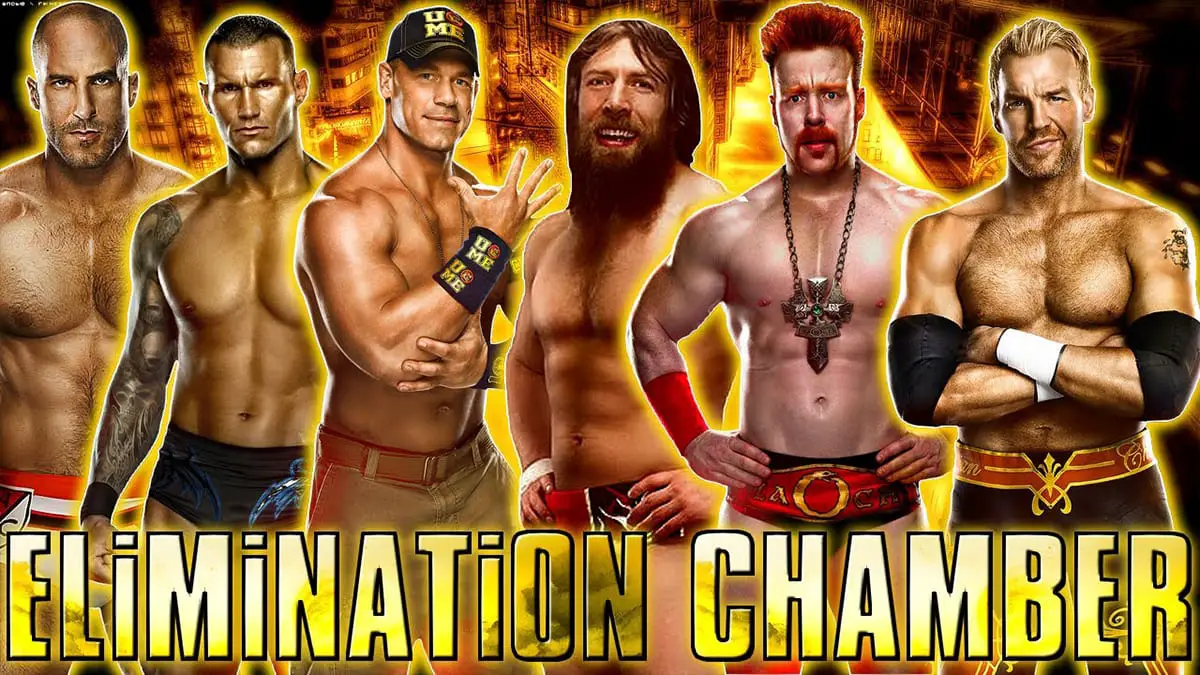 Date: February 23, 2014
Participants: Randy Orton (c), Daniel Bryan, John Cena, Cesaro, Christian and Sheamus
Winner: Randy Orton
Match Length: 37.30
18. WWE Tag Team Championship(Elimination Chamber 2015)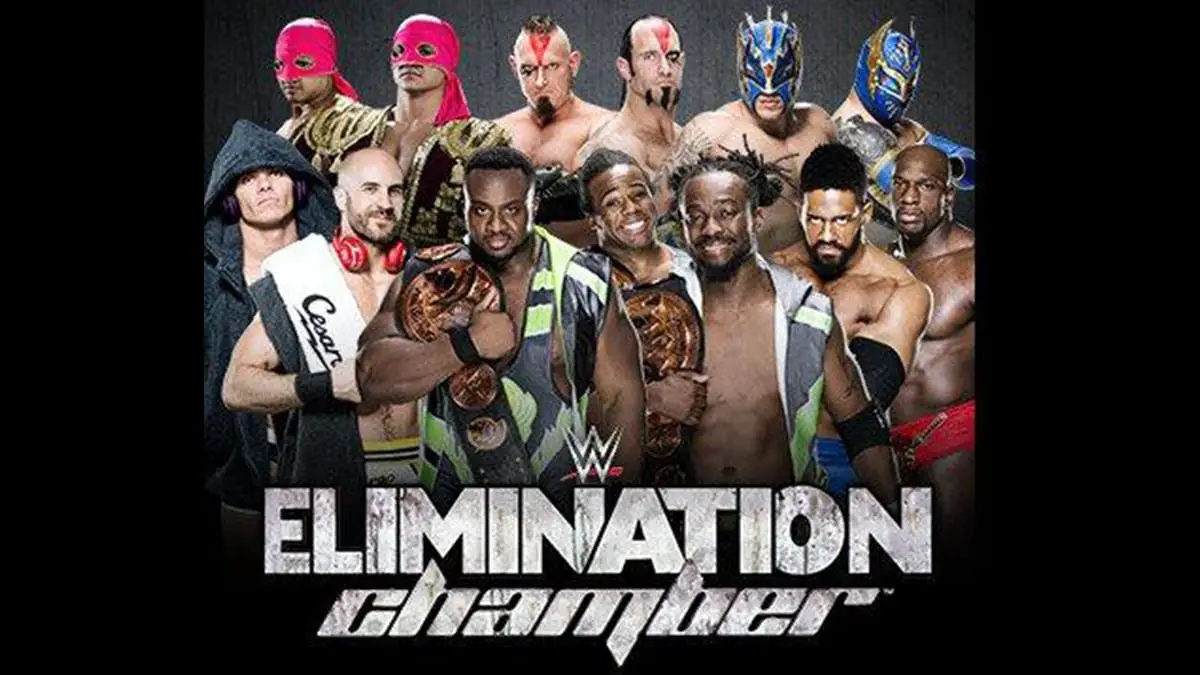 Date: May 31, 2015
Participants: The New Day (Big E, Kofi Kingston, and Xavier Woods) (c), The Prime Time Players (Darren Young and Titus O'Neil), Tyson Kidd and Cesaro, The Ascension (Konnor and Viktor), The Lucha Dragons (Kalisto and Sin Cara) and Los Matadores (Diego and Fernando)
Winner: The New Day (Big E, Kofi Kingston, and Xavier Woods)
Match Length: 23.40
19. WWE Intercontinental Championship(Elimination Chamber 2015)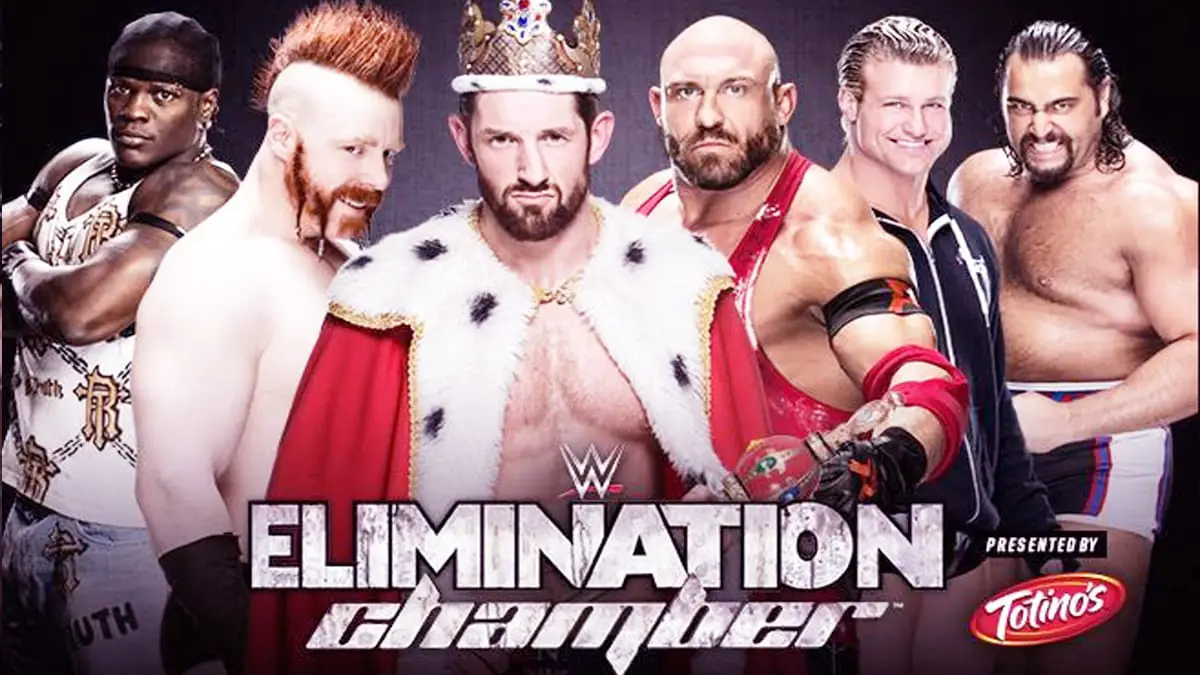 Date: May 31, 2015
Participants: Ryback, Sheamus, Dolph Ziggler, Mark Henry, R-Truth and King Barrett
Winner: Ryback
Match Length: 25:12
20. WWE Championship(Elimination Chamber 2017)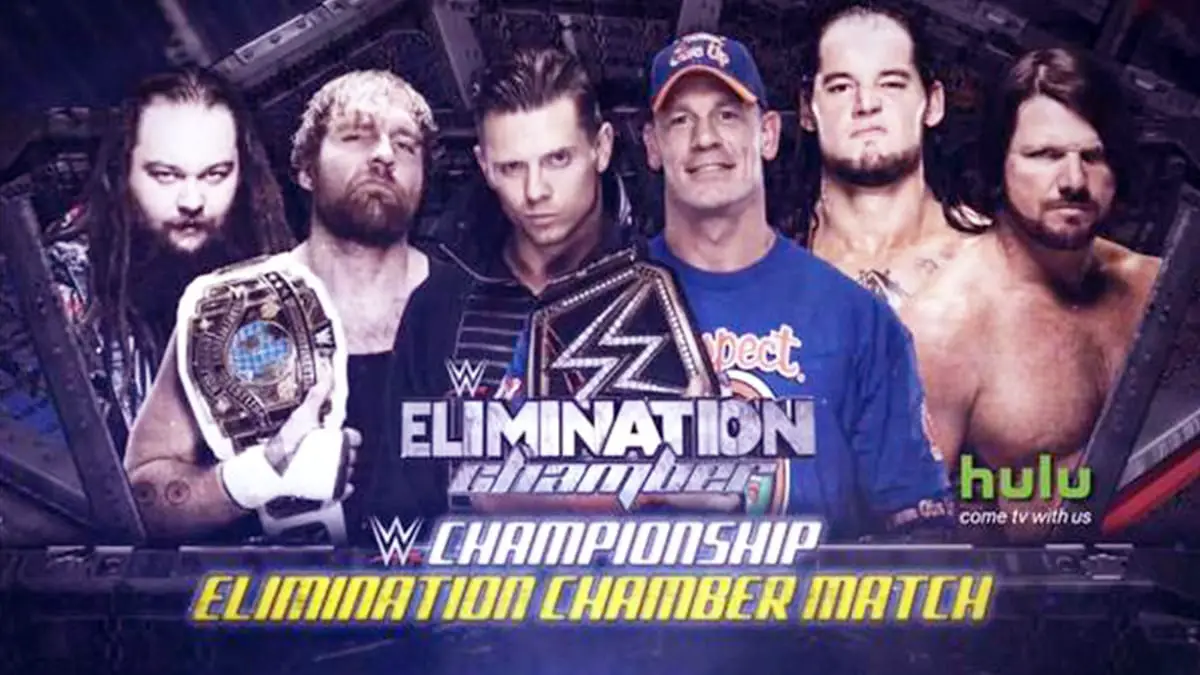 Date: February 12, 2017
Participants: Bray Wyatt, John Cena (c), AJ Styles, The Miz, Dean Ambrose and Baron Corbin
Winner: Bray Wyatt
Match Length: 34:20
21. WWE Raw Women's Championship(Elimination Chamber 2018)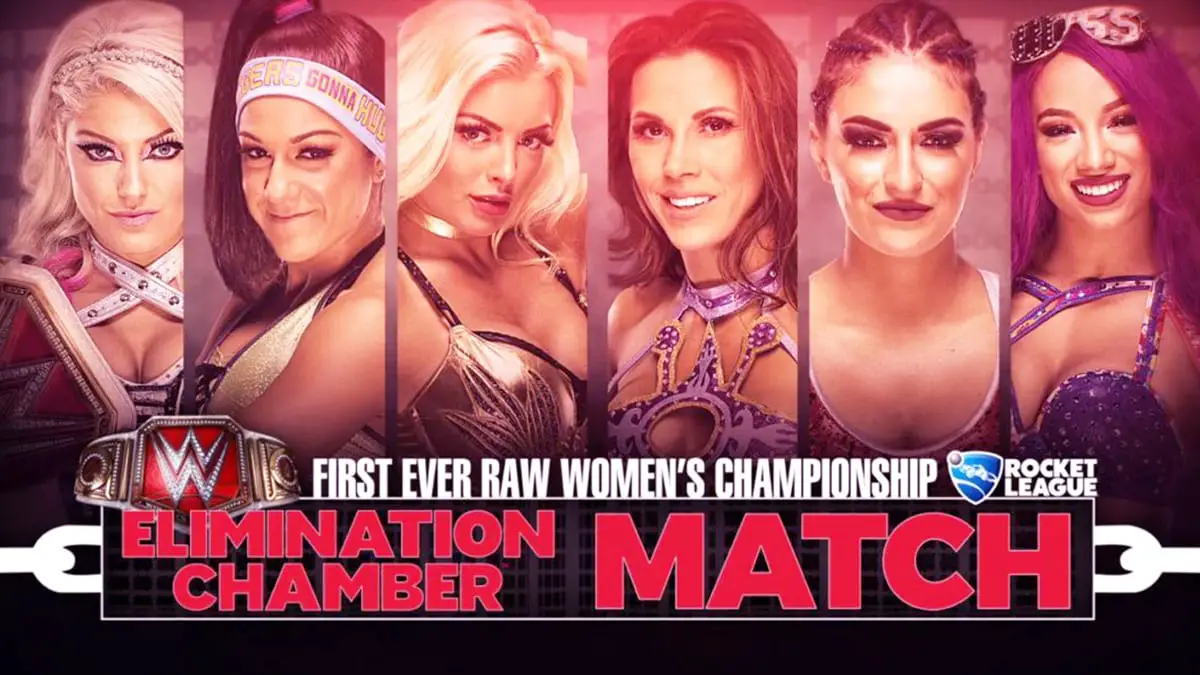 Date: February 25, 2018
Participants: Alexa Bliss (c), Sasha Banks, Bayley, Mickie James, Sonya Deville and Mandy Rose
Winner: Alexa Bliss
Match Length: 29:35
22. No 1 Contender match for WWE Universal Championship(Elimination Chamber 2018)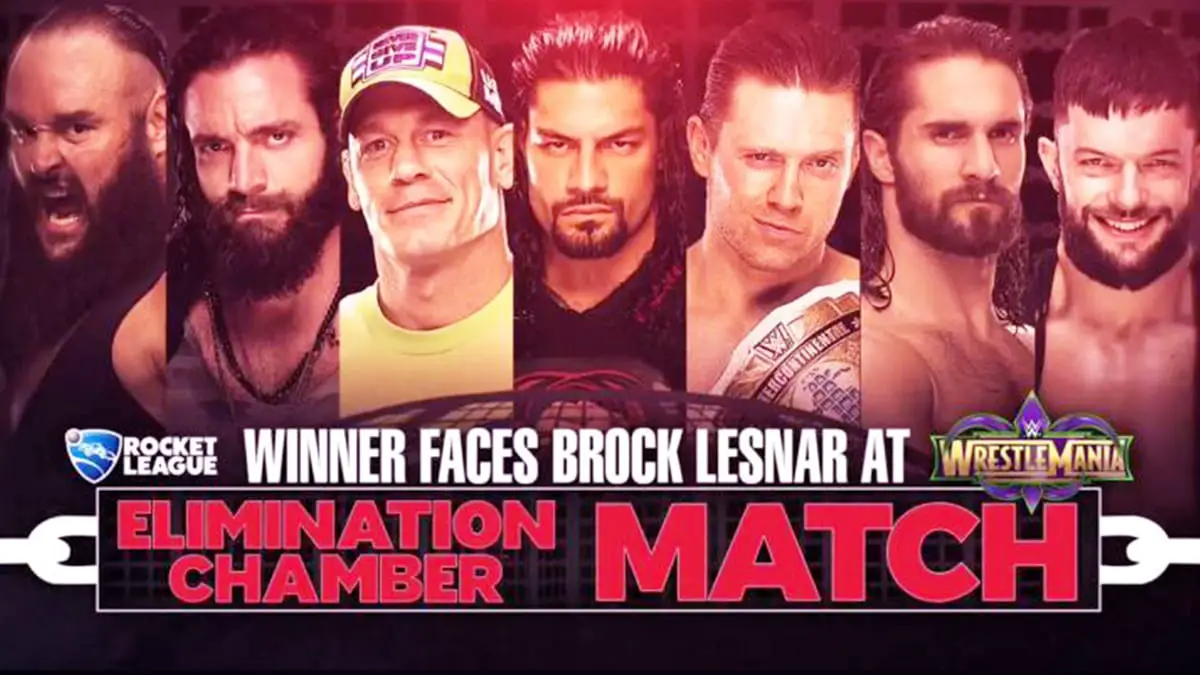 Date: February 25, 2018
Participants: Roman Reigns, Braun Strowman, Seth Rollins, Finn Bálor, John Cena, Elias and The Miz
Winner: Roman Reigns
Match Length: 40:15
23. WWE Women's Tag Team Championship(Elimination Chamber 2019)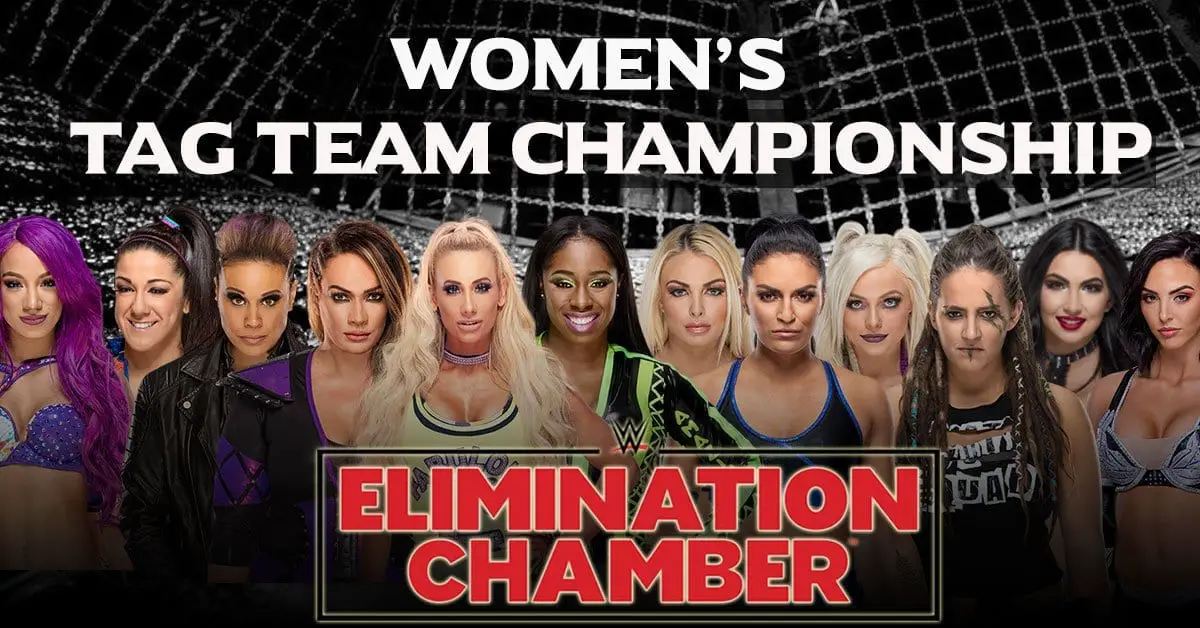 Date: February 17, 2019
Participants: Bayley and Sasha Banks, Mandy Rose and Sonya Deville, Nia Jax and Tamina, The Riott Squad (Liv Morgan and Sarah Logan), The IIconics (Billie Kay and Peyton Royce), and Naomi and Carmella
Winner: Bayley and Sasha Banks
Match Length: 33.00
24. WWE Championship(Elimination Chamber 2019)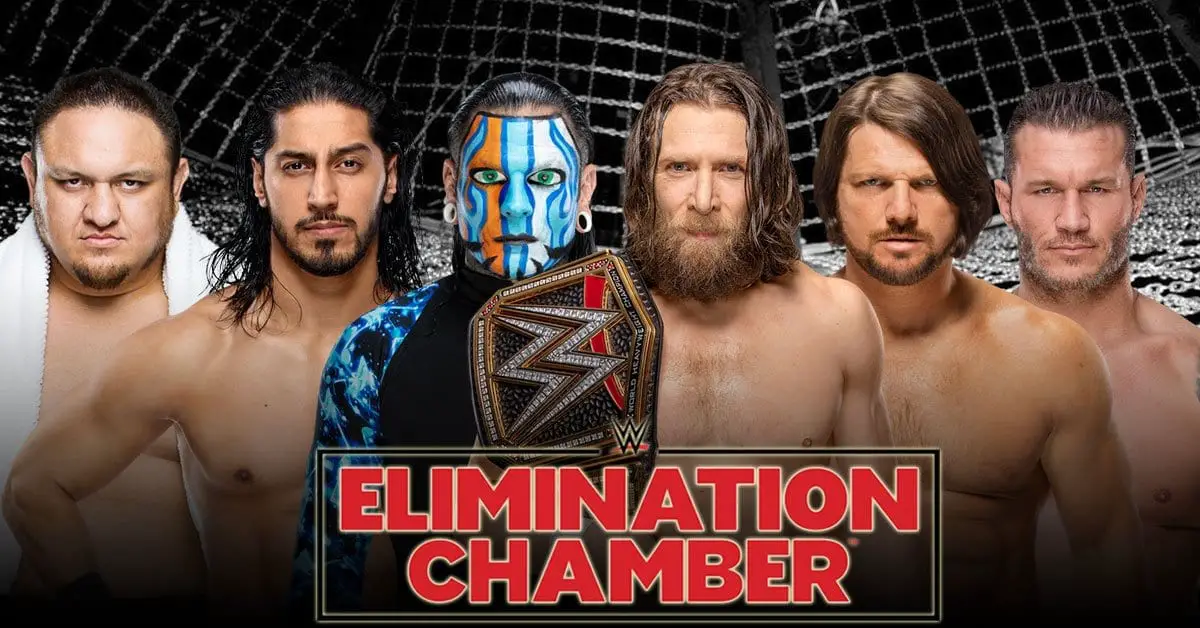 Date: February 17, 2019
Participants: Daniel Bryan(c), Kofi Kingston, Randy Orton, AJ Styles, Jeff Hardy, and Samoa Joe
Winner: Daniel Bryan
Match Length: 36:40
25. WWE SmackDown Tag Team Championship(Elimination Chamber 2020)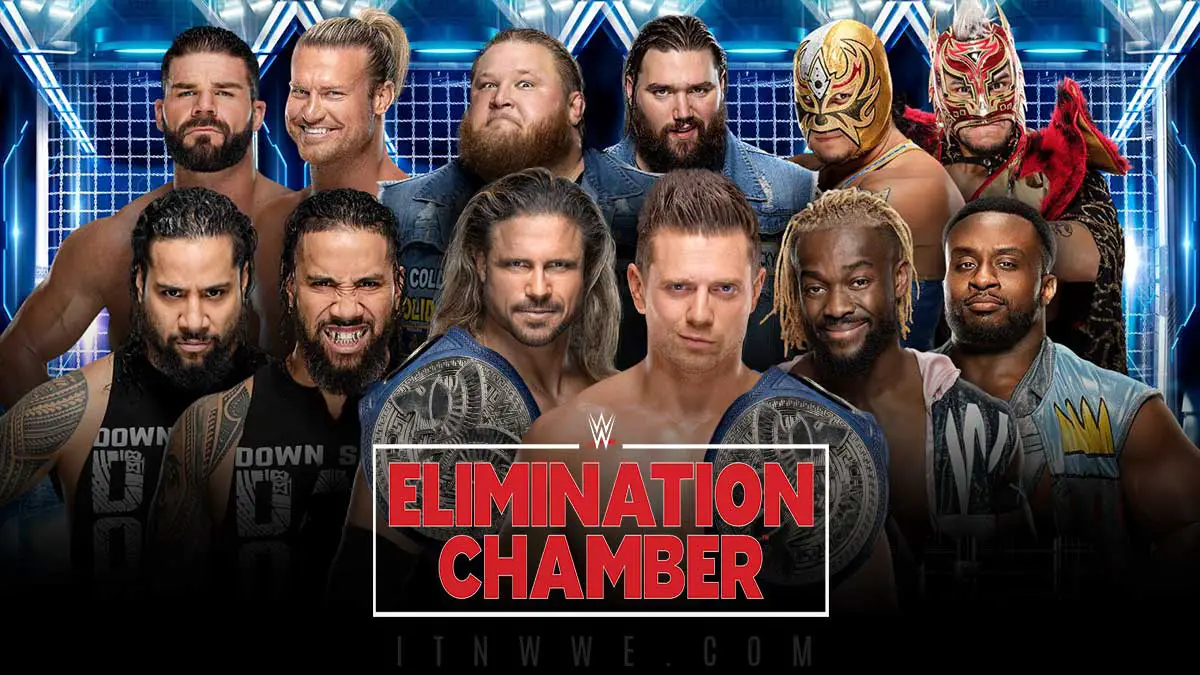 Date: March 8, 2020
Participants: The Miz and John Morrison (c), The New Day (Big E and Kofi Kingston), The Usos (Jey Uso and Jimmy Uso), Heavy Machinery (Otis and Tucker), Lucha House Party (Lince Dorado and Gran Metalik) and Dolph Ziggler and Robert Roode
Winner: The Miz and John Morrison
Match Length: 32:55
26. No 1 Contender match for WWE Raw Women's Championship(Elimination Chamber 2020)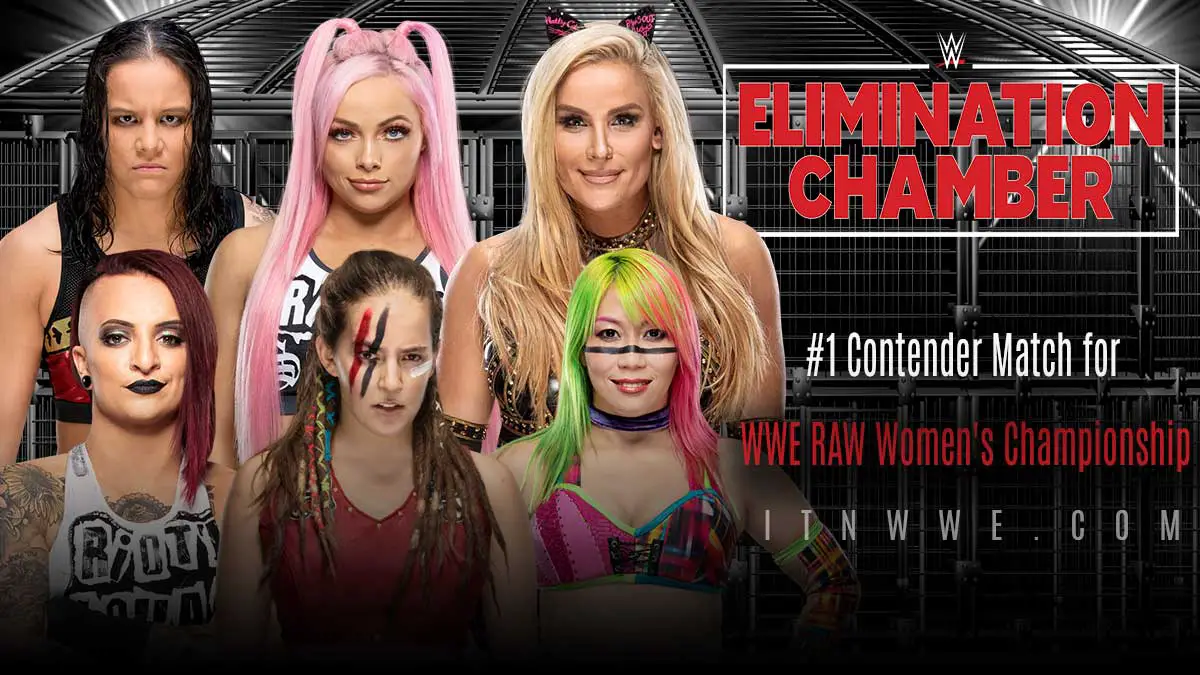 Date: March 8, 2020
Participants: Shayna Baszler, Natalya, Liv Morgan, Asuka, Ruby Riott, and Sarah Logan
Winner: Shayna Baszler
Match Length: 21:00
27. WWE Championship(Elimination Chamber 2021)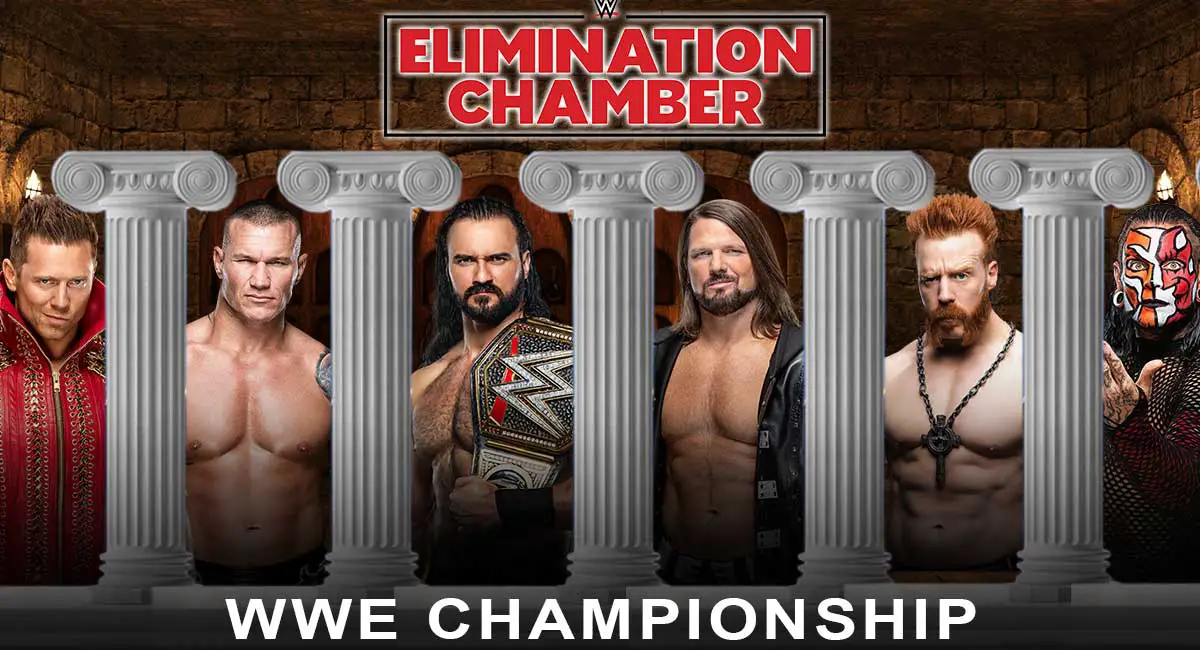 Date: February 21, 2021
Participants: Drew McIntyre (c) vs. AJ Styles vs. Randy Orton vs. Jeff Hardy vs. Sheamus vs. The Miz
Winner: Drew Mcintyre
Match Lenght: 31:10
28. No 1 contender match for WWE Universal Championship(Elimination Chamber 2021)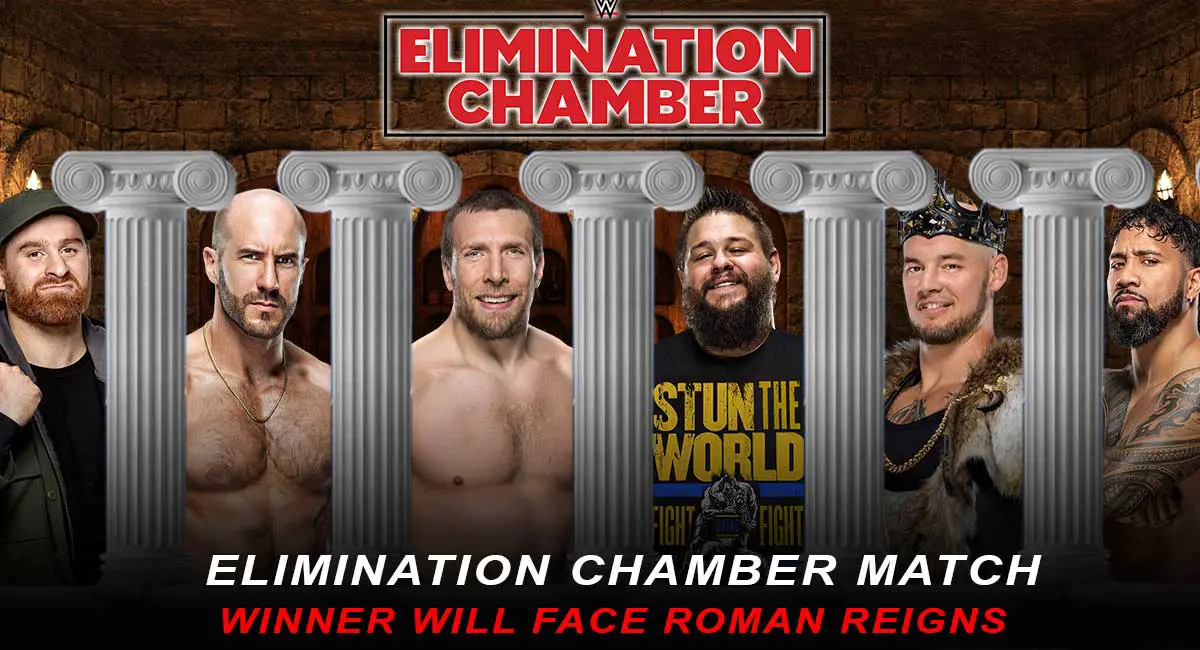 Date: February 21, 2021
Participants: Jey Uso vs. Kevin Owens vs. King Corbin vs. Sami Zayn vs. Cesaro vs. Daniel Bryan
Winner: Daniel Bryan
Match Length: 34:20
29. WWE Championship(Elimination Chamber 2022)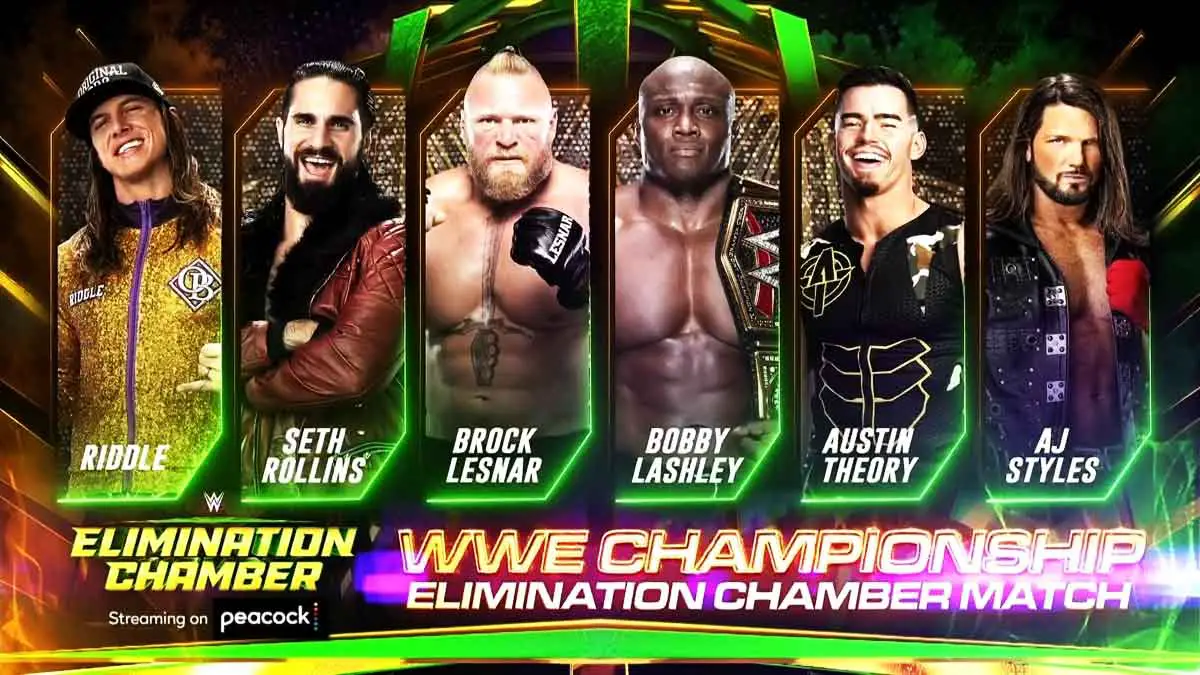 Date: February 19, 2022
Participants: -Bobby Lashley(c), Brock Lesnar, Aj Styles, Seth Rollins, Austin Theory, Riddle
Winner: – Brock Lesnar
Match Length: – 15:10
30. No 1 contender match for Raw Women's Championship (Elimination Chamber 2022)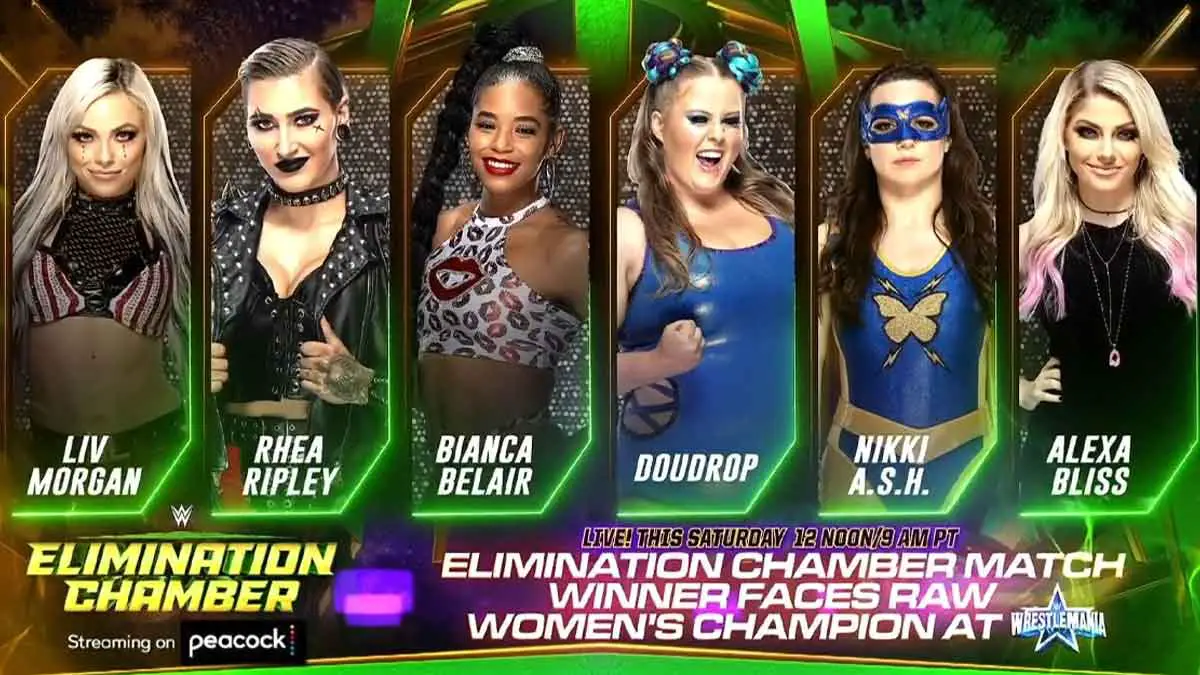 Date: February 19, 2022
Participants: Nikki ASH vs Bianca Belair vs Rhea Ripley vs Doudrop vs Liv Morgan vs Alexa Bliss
Winner: Bianca Belair
Match Length: – 15:45
Read More: List of every Royal Rumble winners