WWE RAW Results & Live Updates February 13, 2023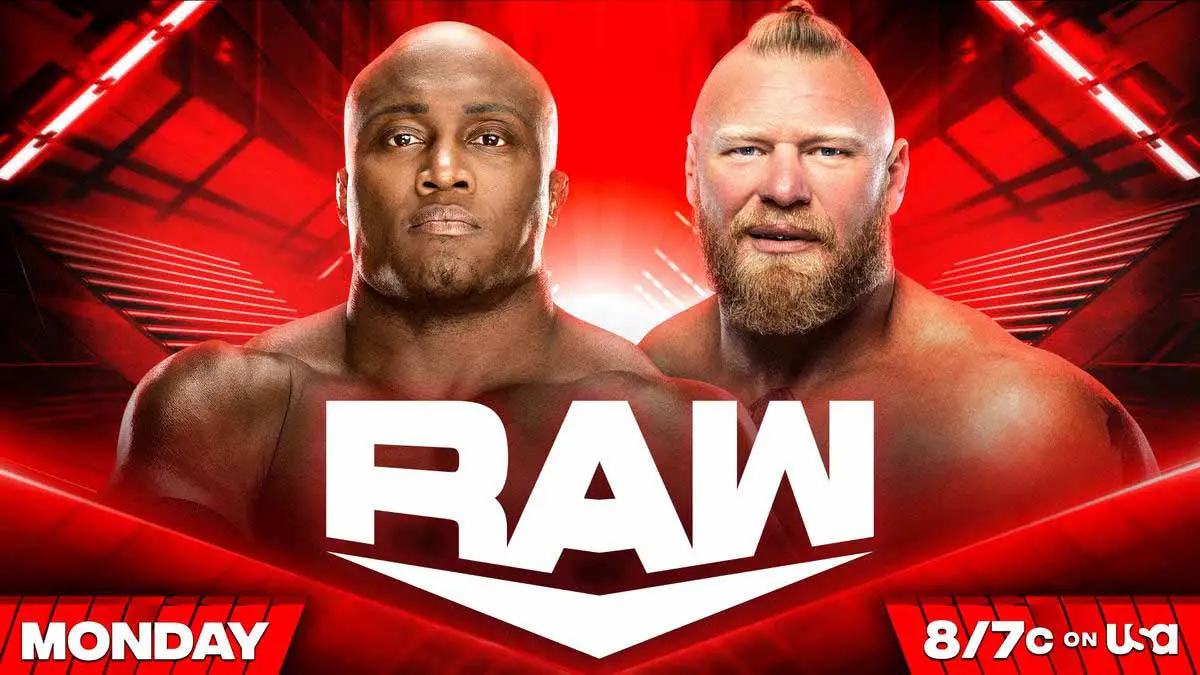 Welcome to the live results blog for WWE RAW for February 13, 2023 episode which was the go-home RAW show for Elimination Chamber 2023 event from Barclays Center in Brooklyn, New York.
Brock Lesnar and Bobby Lashley were set to face off in a contract signing segment for their match at Elimination Chamber. Seth Rollins was set to appear on The Miz TV. Miz also faced Rick Boogs in a singles rematch.
RAW's Asuka, Carmella & Nikki Cross took on SmackDown's Liv Morgan, Raquel Rodriguez and Natalya as the participants from RAW Women's Championship Contender Elimination Chamber match. Bronson Reed were be in action as he faced Mustafa Ali in a singles match.
Tune in below as we post results from WWE Monday Night RAW February 13, 2023 episode with live updates, winners and highlights.
RESULTS
Judgment Day(Finn Balor & Damian Priest) defeated The Street Profits(Angelo Dawkins & Montez Ford) in a tag team match via pinfall.
Piper Niven defeated Michin' in a singles match via pinfall.
Cody Rhodes defeated Baron Corbin in a singles match via pinfall.
Asuka, Nikki Cross & Carmella defeated Natalya, Raquel Rodriguez & Liv Morgan in a tag team match via submission.
Bronson Reed defeated Mustafa Ali in a singles match via pinfall.
Rick Boogs defeated The Miz in a singles match via pinfall.
Bianca Belair defeated Bayley & Becky Lynch in a triple threat match via pinfall.
LIVE UPDATES
Becky or Bayley in Elimination Chamber?
Becky Lynch makes her entrance as she joins Adam Pearce in the ring. Becky says while she defeated Bayley last week with Lita's help, she lost her sight on WrestleMania. She asks Adam Pearce to book her qualifier to get into Elimination Chamber match for RAW Women's Championship contender. Before Pearce could reply, Bayley's music hits and she comes out.
Bayley starts to argue and says Lita was the cause of her loss and wants that loss to be expunged from the records. Becky replies that Lita just took care of Bayley's teammates so that she could care of Bayley. Bayley says Becky lost the RAW Women's Title to Bianca last year. Becky retorts by saying she has main-evented wrestlemania.
The bickering continues until RAW Women's Champion Bianca Belair comes out. Bianca says she is hearing a lot of talk about her title but no one is asking her. Bianca proposes a three-way match tonight. If either Becky or Bayley wins that match, they will be added to Elimination Chamber match, but if she wins, neither will.
---
Byron Saxton gets to Judgment Day backstage to interview them. Damian Priest says no one is ready to be in the cage with him. Dominik Mysterio claims that Priest will win the match and Rhea Ripley is also excited for Elimination Chamber as she is for Valentine's Day.
Judgment Day(Finn Balor & Damian Priest) vs The Street Profits(Angelo Dawkins & Montez Ford)
Priest takes Ford to the corner and tackles him. Balor jumps on Ford with a stomp after taking a tag. Ford hits back with an enzuigiri. Dawkins tags in and they double team on Balor to send him to the floor. They hit Priest with a back body drop before clotheslining him to the floor. We cut to a break.
Ford counters on the top and takes down Priest with a crossbody. Dawkins gets the hot tag against Balor and hits quick moves. He knocks off Priest from the apron before hitting a twisting slam on Balor. Ford tags in for a double team spinebuster but Priest breaks the pin. Priest is thrown out again before The Street Profits hit Mega Blockbuster on Balor for a near fall.
Ford hits a suicide dive on Priest on the floor. Dawkins pulls in Dominik when he comes to the apron and clotheslines him to the floor. Balor hits Dawkins with a slingblade and shotgun dropkick. Balor hits Coupe de Grace on Dawkins to get the pinfall.
Winner – Judgment Day
After the match, Priest starts to beat up Ford as he was checking on Dawkins. Edge and Beth Pheonix run out to make the save. Edge brawls Balor and Priest to the floor. Beth was about to hit Dominik with Glam Slam but Rhea appears behind her. Rhea hits Beth with Riptide. Edge runs into the ring and Judgment Day leave to the floor.
Contract Signing
Brock Lesnar makes his entrance. Adam Pearce is already in the ring. Lesnar throws a chair out of the ring first. He picks up the contract and signs it. He calls out Lashley to come out and sign it now. Some security men come out as Lashley's music hits. They stand at the ramp before Lashley comes out to the stage. A separate table is set up for Lashley on the stage.
Lashley says every time they have come face to face either he stood tall, was knocked unconscious inside Elimination Chamber or eliminated Lesnar from Royal Rumble. So, the contract will be signed on his terms. Lashley says his manager, lawyers, representatives and even his kids looked at the contract. Pearce says then Lashley should get into the ring and sign it. Lashley says he will not.
The crowd starts to chant "Bobby Scared". Lesnar says if Lashley does not come in and sign, he will get down, beat him up and sign it for him. Lashley says Brock does not have guts to do so. Lesnar picks up the contract and leaves the ring. He starts to fight security, dropping them with clotheslines. Lashley suddenly hits him with a suplex on the ramp. Lashley picks up the contract, signs it and pushes it on Lesnar's chest before leaving.
Michin' vs Piper Niven
Niven starts with a shoulder tackle which sends Michin flying. Michin hits a high kick but can not pick up Niven who changes a suplex into a crossbody. Michin hits a DDT next. She unloads in the corner before hitting Urinage. Niven hits a senton to get a two-count. Niven starts to work on Michin and keeps a slow pace. She nails a slap to chest in the corner. Michin hits back with another high kick. She looks for Eat Defeat but Niven pushes her away. Michin runs into a Lockness Slam from Niven to get the pinfall.
Winner – Piper Niven
We get a recap of how Jey Uso arrived at the last minute on SmackDown to defend SmackDown Tag Team titles with his brother. We also see Jey saying he does not know whether he is in or out of the Bloodline, and later meeting Sami Zayn.
---
Cathey Kelly is backstage to interview Baron Corbin. As he starts to talk, Kelly cuts him off as something is happening in the ring.
Sami & Cody
Sami Zayn is in the ring as the camera cuts back. Sami says he does not want to hold the show hostage but he wants to talk to Cody. He calls Cody to come out. Cody Rhodes makes his entrance. Huge cheers as both men stand face-to-face in the ring. Sami brings up Cody having a verbal fight with Paul Heyman but something stuck in his mind. Cody said last week that it is looking more and more that it might be Cody Rhodes vs Sami Zayn at WrestleMania.
Sami asks Cody if he really mean that statement or it was just a lip service. Cody tells him that he really meant it. "This is Awesome" chants before Cody says he does not think it is about what Cody believes. He asks Sami if Sami believes he can defeat Roman Reigns. Sami replies that he does not know.
Sami says he was in trenches with The Bloodline and was with them for 9 months, planning and plotting and that God Mode is not a catchphrase. Sami talks how Roman is able to defeat bigger and better men than him. Sami says what should make him believe that Sami could be the one to defeat Roman after 900 days. Sami says if he asks him, he has to believe that he can beat Roman Reigns and then main event WrestleMania and has to believe that with every fiber of his body. But, in reality, he does not know.
Cody says he has not seen Roman as close as Sami, but he has seen Roman since he has become a champion. He says there are holes in armor, divisions in Bloodline because of Sami. Cody gives an impassionate speech to Sami to hype him up. Cody says he won the Royal Rumble and intends to finish his story, and Sami needs to finish his own story. Cody then adds that he does not want to see him at RAW next Monday, because he would rather see Sami at WrestleMania. Sami nods, leaves the ring and gets into the crowd.
---
Carmella is stretching when Nikki Cross comes in. Carmella asks her where she was. Nikki replies she was playing hide and seek with her new friend. Asuka appears behind Carmella. Carmella gets creeped out and goes away. Candice LeRae comes in and asks Nikki why she was following her last week, and she pushed the limit by following her to airport today. Nikki is just watching Candice like she is mesmerized before she leaves.
---
Baron Corbin is getting interviewed again now. Corbin has bad words for JBL and says JBL kept him limited. But more importantly, Corbin can not believe that his interview was cut out earlier because of Sami Zayn. He then goes to rant about Cody Rhodes getting a 8 month break, and then directly getting a number 30 entry in Royal Rumble match. Cody has appeared behind Corbin at this point. He calls Cody stupid before also calling his brother and dad stupid.
Cody attacks Corbin from behind. He beats Corbin up and gets through the Gorilla Position. He asks for a referee to come with him as he brawls with Corbin through to the stage. Cody slams Corbin's head into the LED screen on the stage. The brawling continues until they reach the stage.
Cody Rhodes vs Baron Corbin
Cody hits a suicide dive on Corbin on the floor and removes his shirt and vest. Cody throws Corbin over the barricade. Corbin pulls Cody into the barricade. He was looking to put him through the table but Cody hits back. They return to the ring and Cody nails his signature uppercut. He hits Cody Cutter and a Cross-Rhodes to get the pinfall.
Winner – Cody Rhodes
We cut to Liv Morgan, Natalya and Raquel Rodriguez at the Gorilla Position now. Natalya says Bayley and Becky are trying to weasel into the Elimination Chamber match. Liv says they are just another competitor for her on the Road to WrestleMania. Natalya starts to argue if she does not think her as a threat. Raquel calls for peace as we cut to a break.
Asuka, Nikki Cross & Carmella vs Natalya, Raquel Rodriguez & Liv Morgan
Nikki Cross runs past Carmella during her entrance. Raquel starts against Nikki. Nikki ducks her and jumps on Raquel's back. Raquel throws her away and slams her to the mat. Carmella tags in but says she wants Nattie in the match. Natalya tags in and puts Carmella into the sharpshooter. Nikki breaks the submission. A brawl starts and team SmackDown throws team RAW to the floor as we cut to a break.
Carmella is in control against Natalya as we return. Natalya hits a DDT and tags in Liv. Nikki comes in from the other side and hits quick punches and kicks. Liv hits running knee in the corner before a missile dropkick. Asuka tags in and hits rapid-fire kicks before a knee strike. Natalya breaks the pin and is sent into the turnbuckle. Raquel comes in and gets mobbed by Nikki and Carmella to allow Asuka to nails her with a kick.
Asuka then kicks her partners – Nikki and Carmella, and hits them with German suplexes. Asuka puts Liv in the Asuka lock and forces her to tap out.
Winner – Asuka, Nikki Cross & Carmella
Otis is eating a hotdog backstage as Chad Gable starts to talk about how they were the RAW Tag Team Champions last year this time. Gable rants on Otis eating hotdog and throws it away. It lands on Mansoor, who has Maxxine Dupri and Mace with him. Dupri says she is looking to add a new face into Maximum Male Models. Gable says he has done modelling work in past but Dupri cuts him off and says she was talking to Otis. She hands Otis her card before leaving.
Bronson Reed vs Mustafa Ali
Ali sidesteps and goes to punch Reed. Reed no-sells the punch hits Reed with a Thesz press. Ali hits a dropkick and another low dropkick. Reed sends Ali to the floor with a back body drop. Reed hits a shoulder tackle on Ali on the floor. Ali hits an upkick as Reed was on the apron. He tackles Reed off the apron.
Reed catches Ali's crossbody and throws Ali onto the chairs in timekeeper's area. Reed takes Ali back to the ring. Ali blocks a powerbomb and hits a Tornado DDT for a two-count. Reed hits a clothesline before hitting Tsunami splash to get the pinfall.
Winner – Bronson Reed
Edge and Beth Pheonix are backstage and agree that Judgment Day pulled one on them tonight but they will show them why they are called the Grit Couple at Elimination Chamber.
Seth Rollins on The Miz TV
Miz starts by asking why he is not in Elimination Chamber. Miz then says he will hold up talking about himself and will talk about his guest. Miz wonders where Rollins' head is before Elimination Chamber and what does he feel about Logan Paul. Miz calls out Seth Rollins. Rollins makes his entrance as the crowd sings his song.
Miz is visibly excited with the atmosphere. Miz asks Rollins about his shoes. Rollins says is style and Miz wouldn't know. Miz asks Rollins if Elimination Chamber has his undivided attention or does Logan Paul is lingering in his mind. Rollins says people do not want to listen about Logan and instead sing his song. Miz says Logan called Rollins a clown and Rollins has proved him right by wearing those shoes.
Miz says Logan eliminated Rollins from Royal Rumble match and Rollins has talked about him everywhere expect in WWE. Miz asks Rollins why is that the case. Rollins gets enraged and shouts at Miz to shut up. Rollins says the reason is WrestleMania. Rollins says everyone in WWE works is to have their moment at WrestleMania, and he has done so much to deserve it.
But Logan is not the one who deserves it and he does not deserve to be talked about in WWE ring. Miz says it seems Rollins is jealous. Rollins tells the crowd to confirm if Miz is stupid. The crowd agrees. Miz gets angry and says he is not stupid but the only one in this ring to main event WrestleMania. Rollins attacks Miz and beats him up.
Austin Theory pulls Rollins out of the ring but Rollins manages to throw him into the announce table. Miz hits Rollins with a basement slide. Back to the ring, Rollins drops Miz with a slingblade and hits the stomp. Theory comes in and hits Rollins with ATL. Theory stands on top of Rollins to end that segment.
---
We see Rick Boogs warming up backstage. Elias walks in to praise his physique and points out how they both are similar. Elias says he does not want Boogs to feel pressured as he is new to RAW. He also says they may team up later if he beats Miz tonight. Boogs is pumped as the segment ends. We see The Miz still down in the ring as we cut to a break.
Rick Boogs vs The Miz
Boogs makes his entrance as The Miz is still down in the ring. Miz takes the mic and says there is no way this match is happening. The bell rings anyway and Boogs hits him with a suplex. Boogs does a set of dumbell press with Miz. He hits a powerslam to get a pinfall.
Winner – Rick Boogs
Chelsea Green is in Adam Pearce's office once again and complains about how she was treated last week. She says she was not ready for Asuka last week and demands a redo. Green demands to be put in to the triple threat main event tonight. Pearce says there is no way that is happening. Green says she is not leaving the office until that happens. Pearce leaves the room instead.
---
Back and forth start between the three of them. Becky attempts a pin on Bianca, but Bayley breaks it. Bayley throws Becky into the barricade. She returns to the ring start working on Bianca now. Bianca kicks of the pin attempts multiple times. She fights back and starts to nail punches. Bayley hits her with a belly to back suplex. Becky returns to the ring but Bayley sends her out again. Bayley puts on a kneebar on Bianca. Becky breaks it with a leg drop from the top. Becky covers Bayley but Bianca breaks it at two. Bayley and Becky trade punches in the ring. Becky drops Bayley. She hits a double DDT to take us to a break.
Becky Lynch vs Bianca Belair vs Bayley
Back and forth start between the three of them. Becky attempts a pin on Bianca, but Bayley breaks it. Bayley throws Becky into the barricade. She returns to the ring start working on Bianca now. Bianca kicks of the pin attempts multiple times. She fights back and starts to nail punches. Bayley hits her with a belly to back suplex.
Becky returns to the ring but Bayley sends her out again. Bayley puts on a kneebar on Bianca. Becky breaks it with a leg drop from the top. Becky covers Bayley but Bianca breaks it at two. Bayley and Becky trade punches in the ring. Becky drops Bayley. She hits a double DDT to take us to a break.
Bianca drops Bayley face into the turnbuckle to get a two-count. Becky counters a Glam Slam with a sunset flip to send Bianca into the turnbuckle. Becky goes to the top. Bianca joins her and attempts a superplex. Bayley comes in and completes the Tower of Doom to drop both of them. Bayley goes for an elbow drop. Bianca avoids it and Bayley lands on Becky. Bianca breaks Bayley's pin attempt on Becky.
Bianca hits ax handles and a dropkick on Bayley. She nails Becky with countdown punches in the corner. She avoids Bayley's charge and drops her with a suplex. Bayley gets her knees up on a handspring moonsault. Bayley tries to use the ropes for a pin but Becky removes her legs. Biance hits a big boot on Bayley. Becky hits Diamond Dust on Bianca while simultaneously dropping on Bayley.
Becky hits a manhandle slam on Bayley but Iyo Sky pulls her out and sends her into the ring post. Bianca's KOD is stopped by Dakota Kai. Bianca drops Bayley's face on the ropes. Dakota pulls Bianca and Iyo hits her with a dropkick. Bayley rolls Bianca for a near fall. Women from Elimination chamber attack Iyo Sky and Dakota Kai now. Bianca hits a spinebuster on Bayley in the ring for a near fall.
Iyo climbs to the top but Bianca hits her with military press, throwing her on the other women on the floor. Bayley nails her with a shot from behind. Becky does the same to Bayley. Becky nails punches and kicks on both opponents. Becky hits another Manhandle slam on Bayley. Bianca hits KOD on Becky, dropping her on Bayley. Bianca covers Bayley for the pinfall.
Winner – Bianca Belair
The commentary team goes through the match card for Elimination Chamber. The show goes off the air with Bianca standing tall in the ring.