WWE RAW June 19, 2023 Results & Live Updates- Rollins in Action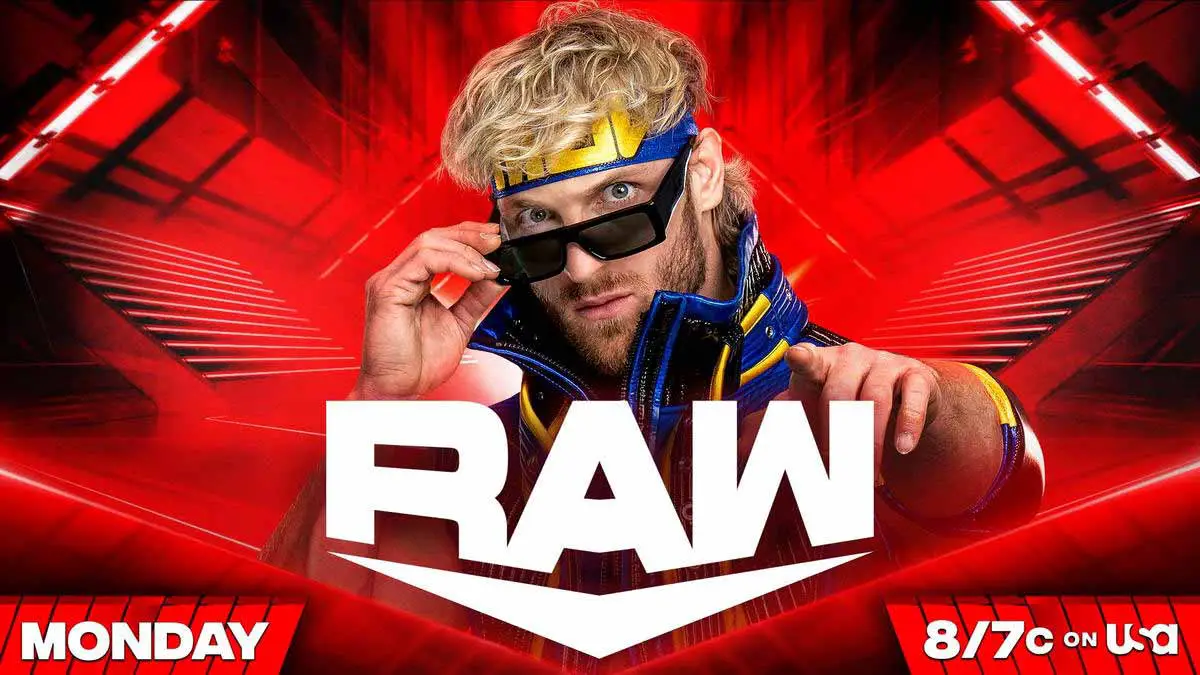 Welcome to the live results blog for WWE RAW June 19, 2023 episode on the road to Money in the Bank 2023 live from Cleveland, OH.
Seth Rollins had announced to defend World Heavyweight Championship in an open challenge. The match was expected to the show tonight. Logan Paul returned to RAW on June 19 for the first time since WrestleMania 39. The last spot in Women's Money in the Bank Ladder match was filled via a qualifier between Trish Stratus and Raquel Rodriguez.
Bronson Reed took on Shinsuke Nakamura in a singles match. Women's World Champion Rhea Ripley clashed against Natalya in a non-title match. Matt Riddle faced Imperium's Ludwig Kaiser in another singles match.
Check below as we post results live from WWE Monday Night RAW June 19, 2023 episode with live updates, winners, highlights and complete action.
Quick Results
Tommaso Ciampa defeated The Miz in a singles match via pinfall.
Katana Chance & Kayden Carter defeated Sonya Deville & Chelsea Green in a ladder match via pinfall.
Indus Sher(Veer & Sanga) defeated Shelton Benjamin & Cedric Alexander in a tag team match via pinfall.
Matt Riddle defeated Ludwig Kaiser in a singles match via pinfall.
The Viking Raiders(Erik & Ivar) defeated Alpha Academy(Chad Gable & Otis) in a tag team match via pinfall.
Trish Stratus defeated Raquel Rodriguez in Women's Money in the Bank Qualifier via disqualification.
Bronson Reed defeated Shinsuke Nakamura in a singles match via pinfall.
Cody Rhodes, Kevin Owens & Sami Zayn defeated Judgment Day(Dominik Mysterio, Finn Balor & Damian Priest) in a tag team match via pinfall.
Live Results
Seth Rollins Open Challenge!
Seth Rollins comes out to open the show. He stands in the middle of the ring and embraces the crowd serenading him. Soon, Finn Balor attacks him from behind. He takes Rollins to the floor. Rollins pulls him out with a double leg but Balor gets the upper hand in the brawl and manages to send Seth face-first into the ringpost. Crew members run out and pull Balor apart. Balor jumps off the steel steps to hit Coupe De Grace. He is taken away now but runs to the announce table and hits another Coupe De Grace. Balor manages to hit another Coupe De Grace despite all the crew members surrounding both men. Adam Pearce is furious now and the crew finally takes Balor away. Rollins is clutching his ribs as we cut to a break.
After the break, Seth Rollins is backstage with some crew members. Balor attacks him one again and sends him into the production crates.
Miz Open Challenge!
The Miz is in the ring and screams that Seth Rollins announced an open challenge but he did not deliver. He wanted to answer that challenge and become the champion among his own people. So, he now wants to put out his own open challenge and show everyone what a winner looks in the middle of losers. Tommaso Ciampa's music hits and he makes his appearance in WWE for the first time this year.
The Miz vs Tommaso Ciampa
Ciampa hits a kick to midsection and sends Miz into the corner. He asks the referee to ring the bell and the match starts. Miz runs to the floor but Ciampa catches up him and slams his face into the announce table. He sets up table cover slanted on the floor and breaks it by dropping Miz on it. Ciampa says he did not receive a single text from Miz during his injury. Back to the ring, Ciampa hits a couple of corner clotheslines before ducking one from Miz and hits a knee strike. Miz hits a DDT to take over control. He hits some punches on the mat.
Miz hits a big boot as they run off the ropes. Miz hits some kicks before taking him to the corner to hit some punches. Ciampa fires back but Miz whips him to the corner and hits a corner clothesline. Ciampa counters with double knees as Miz jumps off the second rope. Ciampa hits Fairytale Ending to get the pinfall.
Winner – Tommaso Ciampa
Judgment Day to Rule RAW!
Judgment Day come out to the stage before the break. We return to see them at the stage. Finn Balor takes the mic and says he attacked Seth Rollins because he is the only one taking the World title away from Seth. And for the ones who to love to sing, they will be singing at Seth's funeral. The crowd starts singing Seth's theme. Rhea Ripley calls them to shut up and respect Judgment Day. He says they will take over WWE at Money in the Bank. She claims Balor wins World title at MITB while she already has women's division on lockdown.
Rhea says Damian Priest will win men's MITB while Dominik will beat Cody Rhodes. Priest takes the mic and hypes himself to win MITB match. He also says Dominik will make sure Cody will never fight anyone again. Dominik takes the mic but boos take over and they are not allowing Dominik to talk at all. Dominik gets frustrated a bit. Rhea screams at the crowd. Dominik screams that he will show Cody a preview for MITB tonight if Cody manages to find a couple of partners for a trios match against Judgment Day.
---
We get a recap of The Bloodline segment last week which ended with Jey Uso turning on Roman Reigns and coming out of The Bloodline.
---
Bryan Saxton brings in Kevin Owens and Sami Zayn and asks the about The Bloodline Civil War. Owens gets frustrated about being asked about The Bloodline again. Sami says he has had enough and did not want to do it in front of everyone. Owens encourages him to talk right away. Sami says Owens is a rageholic, and has an anger problem. Owens denies it but Sami promises him that he will leave this topic if Owens does not burst.
---
Green and Sonya make their entrance before the break. After the break, we see someone rolling through Instagram Reels and finding a bunch of videos of Chelsea Green going full Karen.
Sonya Deville & Chelsea Green vs Katana Chance & Kayden Carter
Chance starts against Sonya. Green runs a distraction and Sonya hits pump kick. Green tags in and kicks at Chance. She knocks Carter off the apron. Green sends Chance to the corner. Carter uses Chance as a springboard and runs past Green to hit Sonya. Chance drops Green before Carter tags in. Carter hits some quick moves to corner both opponents. Carter jumps off Green's back to hit a dropkick on Sonya. Carter and Chance hit a double springboard splash on Sonya. Green is sent to the floor. Carter and Chance hit their "After Party" finisher to get the pinfall.
Winners – Katana Chance & Kayden Carter
Cathy Kelley is on the stage and brings out Cody Rhodes. She asks Cody about Dominik's challenge for a tag match tonight. Cody puts over Judgment Day before saying two men should not be hard to find. So, he accepts the challenge.
Shelton Benjamin & Cedric Alexander vs Indus Sher(Veer & Sanga)
Shelton hits a jumping knee on Sanga on the apron. Cedric jumps on Veer from behind who is the legal man. Cedric and Shelton double-team on Veer to keep on his knees. Cedric knocks Sanga off the apron but Sanga catches his dive. Shelton jumps on both of them to drop Sanga. Shelton gets back into the ring only to run into a clothesline from Veer. Veer runs over Shelton. Sanga hits a suplex on Cedric on the floor. Sanga tags in and manhandle Shelton some more before Indus Sher hit backbreaker/elbow drop combo to get the pinfall. Jinder Mahal was in Indus Sher's corner during the match.
Winners – Indus Sher
Kevin Owens and Sami Zayn are walking backstage when someone spills cold water on Owens. Owens manages to keep his calm though as he promised Sami. They walk ahead and see Matt Riddle. Riddle asks Owens if he has seen movies like Honey I Shrunk the Kids. Owens screams but changes tone and says Riddle is right. Owens goes away. Sami tells Riddle that he is going through some things. Riddle replies he can feel it.
Logan Paul Targets MITB!
Logan Paul is announced and he is sitting on top of a ladder in the ring. He talks about the stars from Cleveland. He talks about his favourite moments and says leaving Cleveland was his favorite. He takes shots at the city and says he was the best it has. He adds that Cleveland people can't stop losing. Jake Paul lost his boxing match, Logan lost to Rollins at WrestleMania and Miz lost tonight. Logan says that will stop soon as he called the WWE management and he is put into the men's MITB match via special invitation.
Ricochet comes out to interrupt him and claims that he will win the match despite Logan being in the match. Shinsuke Nakamura comes out next to stake his claim. LA Knight comes out next to a huge pop and gives out a map where Logan can put his Prime drink in his a##. LWO's Santos Escobar is out next. Butch comes out and punches Logan to start a brawl. Escobar and Knight are brawling while Ricochet and Nakamura are the other pair brawling. Logan manages to catch Butch with a punch on the apron. He hits a suicide dive on Escobar and Knight on the floor. Logan poses in the middle on the ladder to close the segment.
Matt Riddle vs Ludwig Kaiser
Gunther is at ringside for the match. Riddle sends Kaiser to the corner and hits body kicks. Kaiser catches his leg but Riddle hits a dragon screw leg. Kaiser turns it around in the corner and hits some shots before hanging Riddle upside down on the ropes to hit a dropkick. They trade some shots before an elbow to the back of the neck from Kaiser. Riddle hits a gut wrench suplex and broton before a penalty kick from the apron when Kaiser gets to the floor. Gunther distracts Riddle which allows Kaiser to trip him on the apron. We cut to a break.
Riddle hits an avalanche fisherman's suplex as we return from the break. They get up and trade overhead chops before Riddle hits a flurry of shots. Riddle hits a Pele kick, forearm shots in the corner, misses moonsault a couple of times but then manages to hit a back splash. Kaiser is sent to the floor and is hit with a floating bro. Back to the ring, Riddle hits Fisherman Buster to get a close two-count.
Kaiser slips off Riddle's shoulder and hits a knee and an enzuigiri. Riddle hits back with a kick before Kaiser counters a springboard move into a rolling senton to get a two-count. Riddle hits a kick before Kaiser counters with a slam. Kaiser jumps off the top and Riddle turns it into a German suplex. Riddle hits Bro-Derek to get the pinfall.
Winner – Matt Riddle
Gunther gets into the ring after the match and Riddle hits him with kicks. Gunther catches his kick and trips him with a low kick on the other leg. Kaiser holds Riddle down and Gunther stomps on his leg for a while.
After the break, we see Matt Riddle being helped to walk.
---
Sami Zayn discusses his anger issues with Kevin Owens when Imperium walks in to argue with them. Sami gets a text and shows it to Owens. Sami and Owens say they have something else to deal and will see Imperium later.
Alpha Academy(Chad Gable & Otis) vs The Viking Raiders(Erik & Ivar)
Gable and Erik start the match. Gable hits a suplex. Erik tags out to Ivar. So, Gable also tags to Otis. Otis cuts off Ivar's running forearm with a running tackle himself. Otis hits a corner splash. He looks for a caterpillar but Erik distracts him and Ivar hits a spinning heel kick to drop him. Erik and Ivar keep Otis in their corner. Otis tries to push Ivar to his corner but Ivar hits a blow to his back. Otis counters a suplex and tags in Gable.
Gable hits quick kicks before a rolling neckbreaker. He fails to hit a suplex on Ivar though, but manages to hit a clothesline to send Ivar to the floor. He also sends Erik to the floor and hits a moonsault on The Viking Raiders. Gable hits a diving headbutt to get a near fall. Valhalla tries to distract Gable but Maxinne Dupri hits her with a suplex. Otis celebrates the moment with Maxinne. Erik catches Gable with an inverted GTS to get the pinfall.
Winners – The Viking Raiders
Judgment Day are at Gorilla Position and they inform us that Kevin Owens & Sami Zayn will team up with Cody in the main event against them. Rhea questions if they all are on the same page indicating the problems between Finn Balor and Damian Priest. Balor assures that they are good. Rhea makes her entrance for her match.
Rhea Ripley vs Natalya
Natalya gets a short interview at the Gorilla Position before coming out. Rhea attacks her on the apron and throws her at ringside. Rhea sends Natalya into the barricade a few times before returning to the ring and hitting a Riptide. Some referees get into the ring to intervene. Rhea makes her way back.
---
Raquel Rodriguez was watching this backstage. She condemns Rhea's actions. Rhea gets to her and talk to her. Raquel tells her she is coming for her if she wins women's MITB match.
---
Cody Rhodes is warming up backstage when Akira Tozawa comes in and offers to be his tag team partner tonight. Cody tells him that he will take it into consideration. Tozawa goes away and Sami Zayn & Kevin Owens come in. Sami says they remember Cody's help on the Road to WrestleMania and if Cody got problems with Judgment Day, they have got problems with Judgment Day. Cody says Tozawa was just offering to be his tag team partner. Owens snaps in anger and says he wanted to punch someone all night. Cody calms him down and tells him that he did not agree to Tozawa and would love for tag team champions to be his partners.
Trish Stratus vs Raquel Rodriguez – Women's Money in the Bank Qualifier
Trish starts with a kick to midsection and some quick shots. Raquel no-sells them after a while and gets Trish in a bear hug before shaking her down. Raquel slams her to the mat. Trish tries to catch her with a shot but Raquel tackles into the corner. Raquel misses her when Trish side-steps from a corner tackle. Trish keeps control with some shots. She slams Raquel's face into the mat as she continues to manhandle her. Raquel slams her back into the corner but she misses a tackle in the corner once again.
Trish tries to use her hair to hurt her more in the corner. Raquel gets her up in electric chair but Trish counters a buckle bomb with a hurricanrana. Trish nails a big punch before putting a "Trish Hook". Raquel breaks free using her power. Raquel sends her into the corner and tackles her. Raquel drops Trish face-first into the turnbuckle before a big lariat. A fallaway slam sends Trish to the floor. Raquel throws her back into the ring. Trish distracts the referee and Zoey trips Raquel on the apron. Trish sends Raquel into the ring post. Trish kicks out of the pin. Becky Lynch runs out and attacks Zoey. Trish comes out to help out Zoey but Becky sends her into the barricade. The referee calls for a disqualification.
Winner – The Viking Raiders
Raquel and Becky argue after Becky realizes her mistake.
---
Bron Breakker is interviewed backstage. He is certain that Seth Rollins won't use his injury as an excuse not to show up and face him tomorrow at NXT Gold Rush. He claims that if we think what Finn Balor did tonight was bad, we haven't seen anything yet. He is gonna hurt Rollins and we should get used to seeing Breakker on Monday nights as he will win the title.
Byron Saxton interviews Becky Lycnh backstage. Becky says she has screwed herself, or has she? Because now she gets Trish Stratus in a match with ladders. She has enemies in Damage CTRL, Trish Stratus, Zoey Stark, and is also not friends with Zelina Vega either.
Bronson Reed vs Shinsuke Nakamura
Nakamura hits a single-leg dropkick to start the match. Nakamura hits more shots in the corner before a snapmare and shots to the back. Reed hits a Thesz press before dropping his hips on Nakamura. Reed hits a big chop to drops Nakamura to the mat once again. Nakamura hits an overhead kick and an enzuigiri. He sets up and hits a sliding German suplex. Ricochet has come out to ringside and argues with Nakamura. We cut to a break.
Nakamura hits a knee from the second rope. He puts on an arm triangle now.
Reed counters it and hits a powerbomb. Reed tackles Nakamura to the floor before hitting a shoudler tackle off the apron. Reed throws Nakamura toward Ricochet. Ricochet kicks his chair to send it into Nakamura and Reed. Nakamura and Reed argue a bit. Reed tackles Nakamura and throws him into the ring. Reed also sends Ricochet into the steel steps. Nakamura connects with a spinning heel kick when Reed returns to the ring. Reed ducks a Kinshasa from Nakamura which lands on Ricochet on the apron. Reed hits Nakamura with a suplex and hits Tsunami to get the pinfall.
Winner – Bronson Reed
Seth Rollins appears on the show from the hospital. He says they took an x-ray on his ribs but he doesn't stop and he doesn't make excuses. He confirms that he will be at NXT tomorrow to defend the title against Bron Breakker. He says Money in the Bank can not come soon enough so that he can beat Finn Balor who beat him seven years ago.
Judgment Day(Dominik Mysterio, Finn Balor & Damian Priest) vs Cody Rhodes, Kevin Owens & Sami Zayn
Dominik teases to start against Cody but tags in Balor. A quick back-and-forth start with Balor seems to be getting an upper hand. Dominik tags in. Cody tries to deal with Balor and Priest on the outside and this allows Dominik to hit a chop on his back. Cody tags out to Zayn. Sami knocks Dominik off with a big boot. Sami hits a suplex on Dominik. Dominik distracts the referee and Rhea runs over Sami with a clothesline from the apron. We cut to a break.
Judgment Day is in complete control over Sami with quick tags. Priest decks Owens in the corner to enrage him. Priest misses a corner splash but Sami's tag is cut off by Dominik who also knocks Cody off the apron. Balor comes in and Sami counters a whip and hits a clothesline. Owens gets a tag against Dominik and unloads on him. Dominik runs to the ramp while Owens deals with Balor. Owens brings Dominik back and nails him with a superkick before a cannonball.
Balor gets a blind tag before Dominik blocks a pop up powerbomb. Balor hits a slingblade and an inverted DDT. Owens hits a clothesline and tags in Cody. Priest alsp comes in and Cody hits quick shots before hitting a disaster kick to get a two-count. Rhea gets to the apron to distract Cody. Priest hits Cody with South of Heaven but Sami breaks the pin. Dominik beats up Sami before Sami dumps him to the floor. Rhea catches Dominik in her arms. Rhea and Sami argue before Sami hits a suicide dive on Dominik by jumping over Rhea.
Cody hits Cody Cutter on Priest for a two-count. Priest rolls up Cody for a two-count. Cody hits another cutter but Dominik breaks the pin. Owens is also sent to the floor. Dominik goes for 619 on Cody but Sami cuts him off. Sami hits Helluva kick and Owens hits Stunner on Dominik. Cody hits Crossrhodes on Priest to get the pinfall.
Winners – Cody Rhodes, Kevin Owens & Sami Zayn
The babyfaces celebrate their win to close the show.