WWE Raw January 17, 2022: Results, Card, Preview, Tickets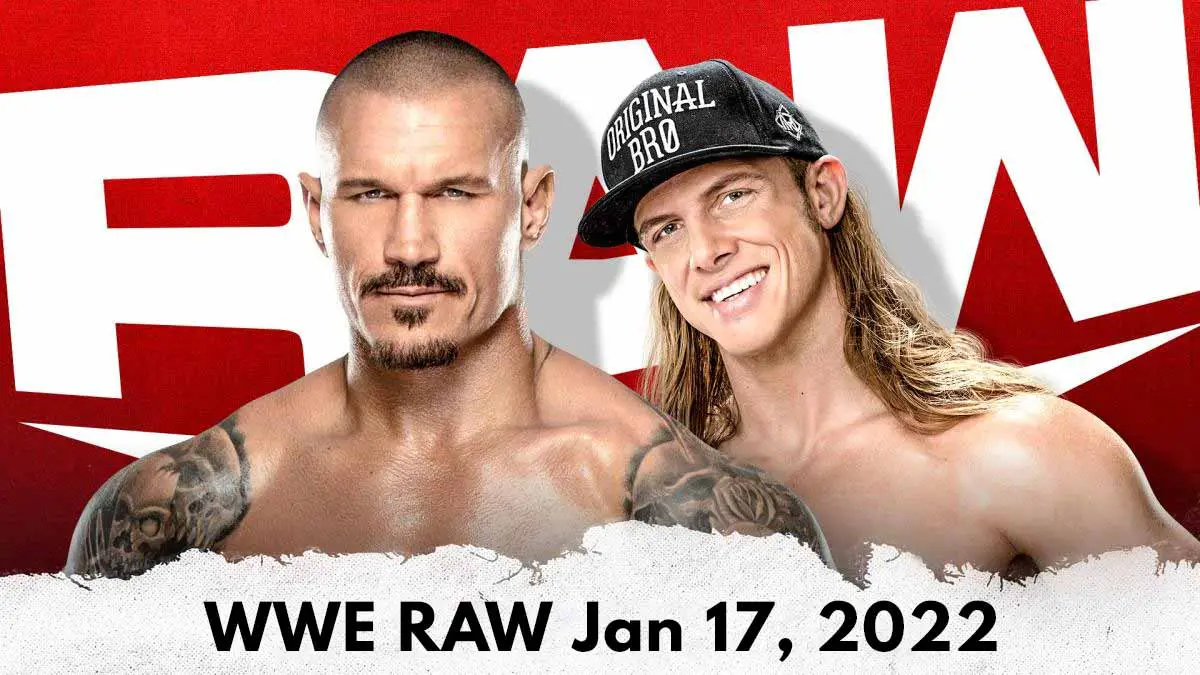 WWE RAW episode of January 17, 2022, will air from BOK Center in Tulsa, OK, and will continue the build-up for Royal Rumble 2022 event.
Becky Lynch and Bobby Lashley's segment are announced. Additionally, Lashley vs Seth Rollins is announced. Becky Lynch & Doudrop vs Bianca Beliar & Liv Morgan is also booked.
Keep on reading to get the complete information on the WWE Monday Night RAW episode of January 17, 2022.
Show – WWE RAW
Date – January 17, 2022
Location – BOK Center Tulsa, OK
Time – 8 PM EST
Commentators – Corey Graves, Byron Saxton, jimmy smith
Interviewers – Sarah Schreiber, Kevin Patrick
Ring announcer – Mike Rome
Match Card & Results
Becky Lynch & Doudrop defeated Bianca Belair & Liv Morgan in a tag team match via pinfall.
Kevin Owens defeated Damian Priest in a singles match via pinfall.
Austin Theory defated Finn Balor in a singles match via pinfall.
Omos defeated Reggie in a singles match via pinfall.
Rey Mysterio, Dominik, Montez Ford & Angelo Dawkins defeated Dolph Ziggler, Robert Roode, Apollo Crews & Commander Azeez in a tag team match via pinfall.
Bobby Lashley defeated Seth Rollins in a singles match via disqualification.
Live Updates
Live Updates
Becky Address Royal Rumble
Becky Lynch comes out to open the show. She takes the mic and starts to talk about Royal Rumble and how many legends would be vying to face her at WrestleMania. This is because she made stars. Becky starts to talk about Doudrop and how Becky has earned her a title shot. Becky says no one named Doudrop will be a champion until she is in this industry.
Doudrop comes out to the ring and is pretty angry. Doudrop says Becky did not earn her anything, and that Becky choosing her over Bianca will prove to be a big mistake. Becky replied that she earned her a win last week, and will also get her to win this week if she follows her lead.
Bianca Belair comes out and tells Doudrop that she won last week due to Becky. Bianca announces her entry to Royal Rumble match and claims she will once again main event WrestleMania. Liv Morgan comes out and also announces her entry for Royal Rumble.
Becky Lynch & Doudrop vs Bianca Belair & Liv Morgan
Bianca starts with a dropkick. She tries to suplex Doudrop but she proved to be too big. Doudrop hits her with a sholder tackle. Becky takes the blind tag and tells Doudrop to follow her lead. Liv tags in from the other side. She drops Doudrop from the apron with a dropkick. Liv hits quick moves to take down Becky.
Doudrop breaks the pin attempt. Bianca comes in and starts brawling with Doudrop and clotheslines her to the floor. Becky counters in the ring with Manhandle slam. Doudrop breaks the pin with a splash as she wants to pin Liv. She covers but the referee tells her that she is not legal. Doudrop drags Becky to the corner and tags in. She hits a running splash on Liv and gets the pin.
Winner – Doudrop & Becky Lynch
Edge and Beth Pheonix are with Dana Brooke and Reggie. Pheonix gives Brooke pops for working hard. US Champion Damian Priest comes up to talk to Edge and asks for tips for Royal Rumble match. Edge tells him to keep doing what he has been doing. Beth gets a note from Maryse to meet her in the ring alone. Edge says he will be around as they do not believe Miz and Maryse.
KO comes up to Preist and informs that they have a match later tonight. He says he wants to have a clean match. Priest tells him that his other side will not come out unless the match is clean.
The Kevin Owens Show w/ Seth Rollins
Kevin Owens is in the ring and brings out his best friend Seth Rollins. Owens gives Seth props for his costume. He also praises Rollins for walking into the lion's den and tell Roman that he set up the table for him. Rollins says Roman is rattled and The Usos could not get the job done. He adds that Roman is playing checkers while he is playing Chess. Rollins claims that he will win the Universal title and bring it to RAW.
Owens says the best champion will be at RAW then and we will not need Brock Lesnar or Bobby Lashley. Rollins says he might get rid of Lashley later tonight. Owens then announces himself for Royal Rumble match. Owens adds that once he wins the Royal Rumble match, they will have the best WrestleMania main event match.
Rollins tells him to go back otherwise KO will beat him up. Priest replies that no one believes that Rollins will beat Roman and no one believes KO also. Priest warns KO and Seth to not bring out the hidden Damian Priest inside him. His match with KO will start right away.
Kevin Owens vs Damian Priest
Owens goes for a waistlock. Damian turns it around. Owens tries to hit a shoulder tackle but Damian no-sells it. Damian hits a big tackle himself. He then rocks Owens with a big roundhouse kick. Owens brings him down on the ropes and puts on a chinlock. Owens hits big chops and Damian starts to hulk up.
Owens reminds him that this has been a clean match. Priest hits back with a chop and then hits a spinning heel kick. Owens rolls out to the floor and catches Priest with a superkick as he charges at him. Owens hits a splash on the floor from the apron. We cut to the break.
Priest is fighting back with big strikes as we come back. He slams KO face first into the mat before a flying back elbow. Owens hits back with a forearm but Priest runs him over with a clothesline. Priest hits broken arrow for a two-count. Priest takes Owens to the top and looks for the superplex. Owens fights back with headbutts and drops Priest to the floor to hit a senton from the top rope.
Priest avoids the Stunner but Owens counters to hit a pop-up powerbomb. Priest kicks out of a near fall. Priest hits a roundhouse kick and a chokeslam for a near fall of his own. Owens is selling an injury to his left leg to play possum. Owens catches Priest with a stunner to get the pin and the win.
Winner – Kevin Owens
Nikki ASH gets interviewed backstage. She says its Rhea Ripley's fault that their tag team is broken up. She also asks fans to appreciate her.
Alpha Academy Graduation Ceremony
Alpha Academy are on the ring for the Graduation Ceremony. Chad Gable talks about his actual graduation for a while, and he would like to continue to talk about himself. But, tonight is about his prize pupil Otis. Gable says wining the tag team championship was Otis' final exam and presents him with a diploma.
Matt Riddle enters at the ramp and he is also wearing a robe and a hat. Riddle says he knew he had to give a big speech when he was invited to the graduation ceremony. Gable cuts him off and tells he is not invited, and asks him if he is here for rematch. Gable tells Riddle that he will give them a rematch if they pass Alpha Academy Mental Challenge.
Riddle blabbers for a while and Otis goes out to attack him. Randy Orton hits Gable with an RKO on the floor. Otis runs back towards the ring but Riddle runs him over from behind. Orton and Riddle wear the robes and Randy says they accept the challenge.
We get the replay from last Finn Balor vs Austin Theory match last month. Vince McMahon is watching that replay in his office. Austin Theory walks in and tells Vince that he beat up Balor after that loss and it is almost like a half victory. Vince berates him by saying that there is no such thing as half win and if he does not win tonight, he will drag Austin to his office and beat him up, and then, he will hurt his face and take a selfie with his phone.
Back from the break, we get a video package on Martin Luther King.
Finn Balor vs Austin Theory
They lock up to start. Balor catches Austin's kick and hits a calf kick. Austin hits a running forearm to bring Balor down. They get to the floor where Balor reverses a whip to send Austin into the barricade. Balor hits a slingblade on the floor to take us to the break.
A series of reversals from both men as we return. Balor hits a dumball drop for a two-count. Balor hits a dropkick before Austin hits a clothesline and drops Balor on the floor. Balor hits back with a gamengiri. He misses Coupe de Grace. Austin hits a dropkick and hits ATL for the pin.
Winner – Austin Theory
After the match, Theory takes a selfie with Balor before beating him some more. Theory hits another ATL before leaving.
Rhea Ripley is backstage for an interview. She says Nikki is delusional to think that she is the villain here.
Nikki ASH vs Rhea Ripley
Nikki ASH makes her entrance for the match. Both women are in the ring now and are ready to start. Queen Zelina and Carmella come out to the stage and start cutting a promo. They rile up things a bit more between Rhea and Nikki. They say it was them who have helped Rhea to shake off Nikki. This leads to Nikki attacking Rhea and beating her up for a while. The bell never rang and the match never started.
We are backstage where Dana Brooke is telling Reggie to focus on Omos' lower body and keep moving. R-Truth, Akira Tozawa and Tamina are watching them from behind with a referee.
Omos vs Reggie
Reggie is afraid to start the match. Omos roars big. Dana Brooke realizes that others are behind 24/7 title. Omos tackles Tozawa and R-Truth. Dana runs off and Tamina chases her. The bell rings and Reggie tries to hit a crossbody. Omos catches him and hits a chokeslam to get the pin.
Winner – Omos
Maryse & Beth Phenoix
Maryse made her entrance before the break and is in the ring. Edge and Beth Pheonix come out and stand on the ramp. Maryse says her husband is a loud mouth and their mixed tag team match should not take place. The crowd boos her and Maryse argues with them for a while. Maryse then says it is due to the work from Beth and herself that women of today are in the main event. They are from the same generation and should be best friends, and their girls should be having playdates.
Beth calls bulls**t on Maryse and says their match is on. She does not want to leave a chance to team up with Edge for the first time ever. And she wants to give the audience a preview of the Glam Slam that she would hit on Maryse at Royal Rumble. Beth gets into the ring but Miz attacks Edge on the floor. Edge fights back against Miz. Maryse runs over Beth with her purse.
Maryse runs off as Edge gets into the ring to check on Beth. Miz and Maryse are on the ramp and Maryse shows off a brick in her purse with which she ran down Beth.
The Street Profits are at Gorilla Position and are hyped for Royal Rumble. Dominik and Rey Mysterio come in and talk their excitement for teaming up with them tonight. They also talk about winning Royal Rumble.
Rey Mysterio, Dominik, Montez Ford & Angelo Dawkins vs Dolph Ziggler, Robert Roode, Apollo Crews & Commander Azeez
Ziggler and Dominik start the match. Dominik hits a dropkick before Ziggler runs him over with a clothesline. Roode comes in and Dominik avoids his attack to tag in Rey. Rey drops him with hurricanrana a couple of times. Rey goes to the top but soon the match runs into chaos.
We return to see Dirty Dawgs working together on Rey. They drop other opponents from the apron. Apollo tags in and hits a standing moonsault on Rey. Apollo goes for a bench press slam but Rey counters with a DDT. Rey tags in Dawkins and Dawkins comes in hot with big moves on opponents except for Azeez.
Dawkins hits Apollo with a swinging neckbreaker. Azeez breaks the pin. Ford hits him with enziguiri. The Mysterios hit Dirty Dawgs with stereo 619s. Dawkings gets a two-count on Apollo Crews. Ford tags in and hits a top rope splash to get the pin on Crews.
Winner – Rey Mysterio, Dominik, Montez Ford & Angelo Dawkins
The winning team is celebrating after the match. The Mysterios throws Street Profits over the ropes for a preview of Royal Rumble match. Rey then throws Dominik over the top rope.
Bobby Lashley vs Seth Rollins
Lashley hits a big tackle after they run the ropes. Seth hits back with a slingblade. Lashley counters Pedigree with a back body drop. Rollins manage to low bridge Lashley to send him to the floor. Rollins hits a suicide dive but Lashley does not do down. Rollins goes for another one and Lashley catches him this time and drops him Rollins with a belly-to-belly suplex.
Rollins works on Lashley's leg as we return. He slams the leg on the ringpost and then hits a dropkick on the knee. He puts on a leg lock. Lashley fires back with punches but Rollins takes him down with a dragon screw leg. Rollins puts on a Single Leg Boston Crab.
Lashley kicks Rollins out of the ring. He hits him with STO after Rollins misses the stomp. Lashley hits Belly to Belly suplexes and a big shoulder tackle in the corner. Lashley follows with a neckbreaker. Rollins counters a vertical suplex but Lashley manages to hit dominator for a two-count.
Lashley gets ready for the spear but Rollins cuts him off with a knee. Back and forth action between them before Rollins hits Pedigree for a two-count. Rollins gets to the top and Lashley joins him. Lashley tosses Rollins across the ring with a belly-to-belly suplex from the top. Lashley gets ready for the spear but Shelton Benjamin and Cedric Alexander attacks him. The referee calls for a DQ.
Winner – Bobby Lashley
After the bell, Cedric and Shelton continue to beat up Lashley. Rollins is all confused what is happenin.g Lashley counters a suplex and drop both of them on the floor. Lashley spears Benjamin through the barricade. The Usos enter the ring as Rollins was focused on Lashley. The Usos hit a double superkick on Rollins to close the show.
Tickets
The tickets price of Monday Night Raw on January 17, 2022 ranges from $32 to $558. You can check the tickets below.
Preview
How will Lashley Respond to Lesnar?: Last week, Brock Lesnar insulted Lashley by calling him Lesnar wanna be. Lashley was clearly enraged and beat up Cedric Alexander and Shelton Benjamin when they attacked him. How will he respond to Lesnar this week on RAW?
Becky Lynch Address Doudrop: Doudrop became the new #1 contender for WWE RAW Women's title. Becky tried to attack her just after the match, but it proved futile as Doudrop proved too big for her. Becky will cut a promo on her this week.
Who will Join Royal Rumble Match?– Until now, only 14 names are announced for the men's Royal Rumble match. We can expect a few more names to be announced in this episode.
What's Next for RK-Bro?- Randy Orton and Riddle lost the RAW Tag Team Championship to Alpha Academy last week. There are clear signs that Randy Orton is not happy with Riddle's behavior ever since the start of their partnership. Will this be the start of a feud between them?
Is Miz Telling Lies?: As the rivalry of IT Pair vs Grit Pair continued, Miz claimed last week that Maryse would beat up Beth Pheonix. However, Maryse bailed on him from behind and left the venue after that. Does Miz have something to back up his claims?