WWE NXT July 25, 2023 Results, Live Updates, Winners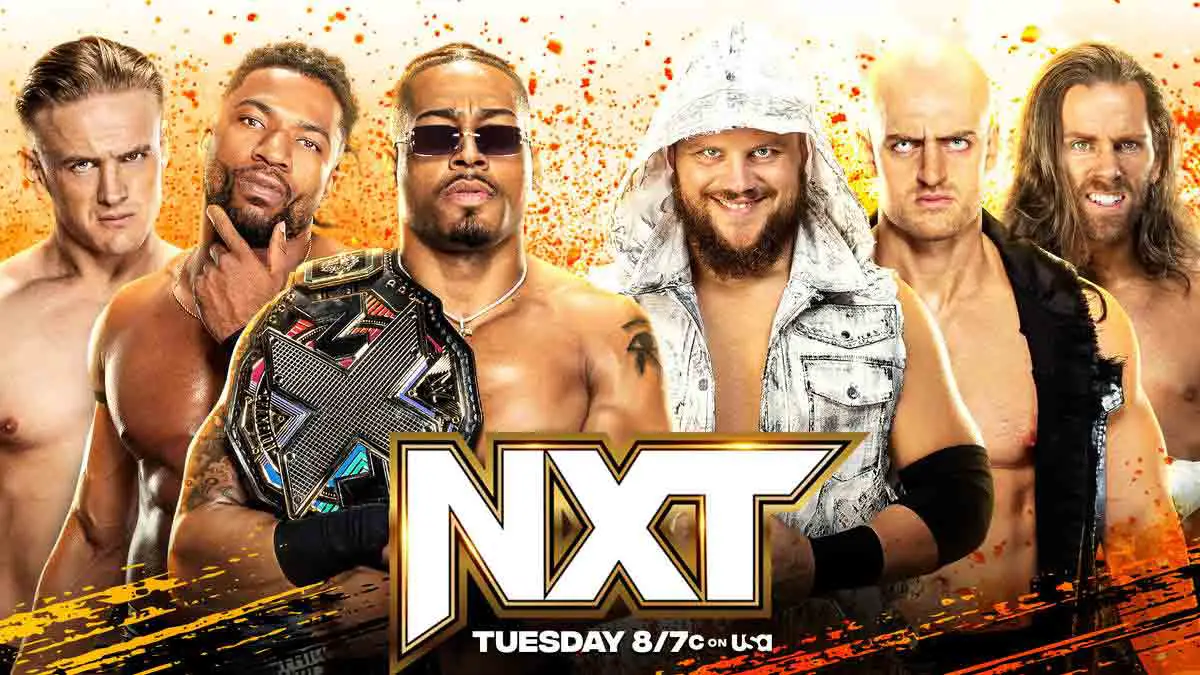 Welcome to the live results blog for WWE NXT July 25, 2023 episode which was the go-home episode for the Great American Bash 2023.
New NXT North American Champion Dominik Mysterio kicked off the show with Rhea Ripley. Rhea also faced Lyra Valkyrie in a singles match. Apart from this, NXT Champion Carmelo Hayes, his title challenger Ilja Dragunov and Trick Williams faced The Schism in a trios match.
Cora Jade and Dana Brooke clashed in a kendo stick match. Gable Steveson was set to announce his future whether he would return to amateur wrestling or remain in WWE. Other storylines for Great American Bash also continued further.
Tune in below as we post results from WWE NXT July 25, 2023 episode with live updates, winners, highlights and complete action.
RESULTS
Carmelo Hayes, Trick Williams & Ilja Dragunov defeated The Schism(Joe Gacy, Rip Fowler & Jagger Reid) in a tag team match via pinfall.
Von Wagner defeated Javier Bernal in a singles match via pinfall.
Dana Brooke defeated Cora Jade in a Kendo Stick match via pinfall.
Tony D'Angelo & Stacks defeated Lucien Price & Bronco Lima in a singles match via pinnfall.
Rhea Ripley defeated Lyra Valkyrie in a singles match via pinfall.
LIVE UPDATES
Dom Dom & North American Title!
Dominik Mysterio and Rhea Ripley make their entrance. Heavy boos from the crowd. Rhea starts to talk about Dominik's title win but she gets interrrupted by Wes Lee. Lee says he hates seeing his North American title with Dominik. That title made him a better competitor. He need his rematch for the title.
Mustafa Ali comes out and says Dominik has stolen his title shot after stealing catchphrases, his daddy's 619 and other daddy's frog splash. He wants his title shot. Dominik says he has no problem defending his title against either of them or both of them. He takes more shots at them. Ali goes to hit him but Dominik ducks and Ali catches Lee with it. Lee tackles him to start a brawl. Dominik and Rhea leave to the floor and smile at them.
---
Tony D'Angelo and Stacks are interviewed backstage and gets interrupted by Lucien Price and Bronco Lima. Tony challenges them for a tag team match so that he can dust off ring rust.
---
We see how Lyra Valkyrie confronted Rhea Ripley last night at RAW and challenged him for a singles match. Lyra is interviewed backstage and Rhea is the measuring stick of women's division and tonight is about her showing the world who she is.
Carmelo Hayes, Trick Williams & Ilja Dragunov vs The Schism(Joe Gacy, Rip Fowler & Jagger Reid)
Gacy and Hayes start the match. Hayes hits an armdrag. Gacy takes him down after a tackle off the ropes. Williams tags in and hits a dropkick. Fowler comes in and Williams hits him with a body slam. He hits a pop-up uppercut next. Dragunov tags in next and chops Fowler. He hits a knee drop from the second rope. Fowler takes him to his corner and tags in Reid. Dragunov ducks a clothesline and hits a couple of German suplexes before a big lariat. Williams tags back in and Reid hits a back elbow and a clothesline. Fowler comes in without the tag. Hayes comes in and saves Williams from a double suplex. Williams and Hayes drop The Dyad. We cut to a break.
Hayes fights off The Dyad and tags in Williams. Williams knocks others off before starting to unload on Gacy. He hits a dropkick and a clothesline to take Williams to the floor. Dragunov takes a blind tag. He clears Dyad off the apron. Dragunov takes a running start around the ring and hits running tackle but Gacy steps aside and Dragunov tackles Williams into the steel steps.
Gacy takes Dragunov to the ring and takes over control. Reid beats him up with quick punches before a clothesline. Fowler comes in and Dragunov hits them with chops. Fowler holds him down while Reid hits him with an enzuigiri. Gacy tags in and goes to the top. The Dyad is swept off the apron by a couple of smiley masked man. Gacy misses Dragunov on the splash from the top. Hayes tags in and hits a leg drop from the top to get the pinfall.
Winners – Carmelo Hayes, Trick Williams & Ilja Dragunov
We get a video package from NXT Women's Champion Tiffany Stratton who says one is born a star and does not need classes for it. She says it will be a disaster if Thea Hail becomes a champion.
Von Wagner vs Javier Bernal
Bernal starts with punches and chops but Wagner turns it around and fires back at Bernal with big shots. Wagner unloads on the mat some more. He hits an Urinage to get the pinfall.
Winner – Von Wagner
After the match, Wagner sends Bernal through the announce table. Bron Breakker hits a spear on Wagner. He brings out a steel chair, but Wagner moves away from the chair shot. The referee and other crew members stop Breakker from more shots.
Ilja Dragunov is backstage when Carmelo Hayes comes in. Hayes says this is as far as they go together. Dragunov says he is coming for the title. Trick Williams is angry about Dragunov hitting him. Dragunov says he likes Trick, but if he comes at him he will break him. Dragunov leaves. Williams says he is gonna call him out. Hayes tries to talk him out of it, but to no avail.
Gable Steveson' Decision
Gable Steveson comes out to the ring. He talks about having a choice of going to Olympics or back to college for NCAA championship, or staying here in NXT. Baron Corbin interrupts him. He advises Steveson to go back to college and win another championship or to Olympics to try to become a 2-time gold medalist. Because if he does not, he will make him fail for the first time. Corbin says this ring makes it so hard for one. This is a different game and he should be away from here.
Steveson says Corbin just made his decision easier. He challenges Corbin for a match at Great American Bash for his first singles match. Steveson hits Corbin with a German suplex. Corbin falls to the floor and the crew members surround him to stop any more action.
Cora Jade vs Dana Brooke
Dana meets Cora on the floor and ducks a kendo shot to start unloading. They get into the ring and the bell rings. Dana tackles Cora to the floor. She sends Cora into the steel steps before throwing her over the announce table. She finally picks up a kendo stick and gets on top of the announce table but Cora trips her on the announce table. Cora hits a big kendo shots on Dana. She slams Dana's face into the apron before another kendo shot.
Back to the ring, Cora brings in several kendo sticks into the ring and unloads with a shot to Dana's back before hitting a body slam on top of the sticks. Cora puts on a chin lock with the stick. Dana fights out of it but Cora tackles her to the corner and hits a big kendo shot. She hits a jumping knee next. Dana fights out of a DDT with a tackle into the corner. Dana starts to fight back and hits a couple of clotheslines. She hits a handspring back elbow.
Cora hits a pump kick and a DDT, but Dana kicks out of the pinfall. Cora brings in a steel chair and sets up Dana on it. Kelani Jordan distracts Cora and this allows Dana to hit a drop toe hold. Dana hits Cora with chair shots. Jordan hands Dana a pink taped kendo stick. Dana unloads on Cora with vicious shots. Dana sets up a chair across the ring. She hits a Swanton bomb on top of the chair to get the pinfall.
Winner – Dana Brooke
Hayes goes to Dragunov and tells him back off of Trick William's challenge if he comes calling. Dragunov says he will reply to Williams if he gets called out.
Tony D'Angelo & Stacks vs Lucien Price & Bronco Lima
Scrypts is on the commentary table. Nima starts against Stacks and corner him. Stacks fires back with shots but Nima runs him over with a back elbow. Price tags in for some double team. Stacks fights back against Price with punches and a back elbow. Tony tags in and tackles Price to the mat. Nima distracts Tony which allows Nima to drop him. Nima comes in and hits an inverted curb stomp.
Tony fights back quickly. Stacks and Price also come in. Price is sent to the other corner. Tony hits armdrags to send Stacks into the opponents set up in opposite corners. Price and Nima take over Stacks with a double team backbreaker. Price kicks Stacks on the apron. Axiom attacks Scrypts on the commentary table. Scrypts runs into the ring and Stacks kicks him out. Axiom hits a suicide dive on Scrypts.
Stacks ducks Price in the corner and tags in Tony. Tony hits clothesline and belly to belly suplexes before a spinebuster. Nima breaks a pin on Price. Price is sent to the floor. Stacks and Tony hits a double team flapjack to get the pinfall.
Winner – Tony D'Angelo & Stacks
We see a footage of Roxanne Perez interrupting Blair Davenport's Instagram live at a super market and attacks her. They brawl inside the store and Roxanne finally stands tall.
Supernova Session with Noam Dar
Meta Four are in the ring for Supernova Sessions where Noam Dar is still playing Weekend at Bernie's. Meta-Four tries to cheer him up but Dar does not react to his stablemates. They start to discuss how Nathan Frazer won NXT Heritage Cup by beating Oro Mensah. So, they have found a way to recover Heritage Cup. They unviel a Heritage Cup replica and Dar comes to life seeing it. He gets up and celebrates with the cup.
Nathan Frazer and Dragon Lee come out and calls Dar too delusional. The back and forth leads to a challenge being issued. Yulisa Leon and Valentina Feroz attack Lash Legends and Jakara Jackson while Frazer and Lee attack the men.
We see Thea Hail's training montage with comments from Andre Chase and Duke Hudson.
Rhea Ripley vs Lyra Valkyrie
Rhea corners Lyra after they lock up. Lyra puts on a headlock but she fails to bring Rhea down to the mat. Rhea hits a back elbow and then a shoulder tackle. Lyra hits a low crossbody to trip Rhea. Rhea gets angry as Lyra steps over her. Lyra rolls her through to get a two-count. Rhea hits a kick to midsection before getting her to the corner to hit some tackles ad chops. Lyra uses a leap frog and dropdown to avoid Rhea's attack but she comes back with a German suplex and a dropkick. Lyra falls to the floor as we cut to a break.
Rhea hits big blows to the back as we return. Lyra blocks a double underhook. Rhea blocks a bulldog and hits shots to midsection before slamming her to the mat. Lyra gets on her back and puts on a sleeper. Rhea backs her in the corner. Lyra comes back and sends Rhea to the floor. Lyra ends up hitting a dropkick on Dominik. She hits a diving hurricanrana on Rhea. Back to the ring, Rhea catches her crossbody. Lyra counters a body slam into a DDT. Lyra hits a frog splash from the top but Rhea kicks out. Lyra hits an enzuigiri and some question mark kicks. Rhea catches her with an uppercut as she springboards. Rhea hits Riptide to get the pinfall.
Winner – Rhea Ripley
Williams Call Out Dragunov
Williams attacks Dragunov on the floor and sends him into the barricade. Williams unloads with several punches before throwing him into the steel steps. Dragunov comes back with a dropkick as Williams jumps on him. Dragunov hits a trio of German suplexes. Dragunov hits several chops by taking Williams to the the ring. Dragunov goes to leave byt Williams grabs his foot. Dragunov hits a big shot to put William to sleep. Dragunov sets up Williams in the corner for torpedo but Hayes gets in between and takes the move on himself. Dragunov takes the mic and says Hayes is a man of honor, but that will be all left with him as he will take NXT Championship from him. Dragunov poses with the title as the show goes off the air.