WWE NXT Great American Bash 2023 Results & Live Updates, Winners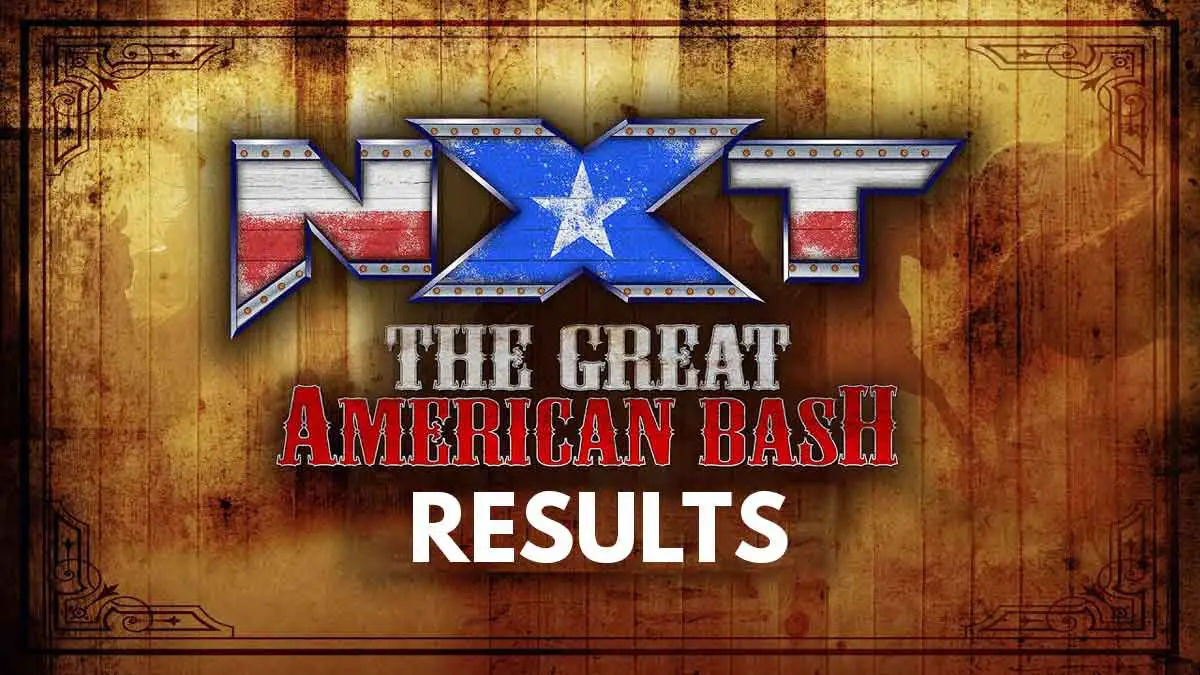 Welcome to the live results blog for WWE NXT The Great American Bash 2023 PLE, which aired from Cedar Park, TX.
7 matches were set for the card with 4 titles on the line. NXT Champion Carmelo Hayes took on Ilja Dragunov in the main event match of the night. Women's Championship was contested in a submission match where Tiffany Stratton defended it against Thea Hail.
Dominik Mysterio defended NXT North American Championship against Wes Lee and Mustafa Ali. Gallus took on The Family's Tony D'Angelo and Stacks for NXT Tag Team Championship. Olympic Gold medalist Gable Steveson made his in-ring debut as he faced Baron Corbin in a singles match.
The singles match between Blair Davenport and Roxanne Perez was turned into Weapons Wild match. Meta Four were in action on the pre-show as they faced Nathan Frazer, Dragon Lee, Yulisa Leon and Valentina Feroz in a mixed tag team match.
Check below as we post results from WWE NXT The Great American Bash 2023 with live updates, winners and highlights.
RESULTS
Nathan Frazer, Dragon Lee, Yulisa Leon & Valentina Feroz defeated Meta-Four(Noam Dar, Oro Mensah, Jakara Jackson & Lash Legends) in a Mixed Tag Team Match via pinfall.
D'Angelo Family(Tony D'Angelo & Stacks) defeated Gallus(Mark Coffey & Wolfgang)(c) in a tag team match via pinfall to win NXT Tag Team Championship.
Roxanne Perez defeated Blair Davenport in a Weapons Wild Match via pinfall.
Gable Steveson vs Baron Corbin ended in a double count-out.
Dominik Mysterio(c) defeated Wes Lee & Mustafa Ali in a triple threat match via pinfall to retain NXT North American Championship.
Tiffany Straton(c) defeated Thea Hail in a Submission Match via technical submission(corner stoppage) to retain NXT Women's Championship.
Carmelo Hayes(c) defeated Ilja Dragunov in a singles match via pinfall to retain NXT Championship.
LIVE UPDATES
Pre-show is live with Megan Morant, Matt Camp and Sam Roberts. The panel start discussing the matches for tonight. McKenzie Mitchell is backstage trying to get an interview with Dominik Mysterio, but it is Rhea Ripley who comes out. Rhea says Dominik is very calm and collected and Judgment Day has a plan for him to retain the title. We see Blair Davenport interrupting Roxanne Perez at DreamCon convention yesterday and getting involved in a brief brawl. Baron Corbin is being interviewed backstage. He says Steveson represents everything he stands against, which is to walk into NXT and believe that they know everything about the business.
Meta-Four(Noam Dar, Oro Mensah, Jakara Jackson & Lash Legends) vs Nathan Frazer, Dragon Lee, Yulisa Leon & Valentina Feroz – Mixed Tag Team Match
Frazer and Dar start the match. Dar drops Frazer three times in quick succession. Frazer comes off the ropes a couple of times before hitting a dropkick. Lash tags in. Feroz hits her with a crossbody. Leon gets an assist from Feroz to hits a splash. Lash overpowers her to throw her with a bulldog. She hits a handspring headbutt. Jakara tags in to hit a slingblade. Feroz tags in after a counter from Leon and hits chops. Mensah tags in off Jakara and Lee comes in from the other side to hit quick moves. He hits a dropkick to face against the turnbuckle.
Mensah turns it around after a distraction from Jakara. Quick tags from Meta-Four to beat up Lee in the corner. Mensah tags back to hit a chop. Lee stops a pump kick and takes down Mensah to hit a back heel kick. Frazer and Dar get in. Frazer runs the ropes to hit a single leg dropkick, sending Dar to the floor. Feroz hits Lash with a crossbody when she blocks Frazer. Jakara and Mensah are sent to the floor and hit with dives. Lash runs over Frazer and then hits a double clothesline on both women on the opposite side. Lash and Feroz tag in. Lash overpowers Feroz for a while. Feroz hits a DDT but Dar breaks the pin.
Feroz unloads on Dar. Lee tags in and hits a dragon lee with dragon screw. He hits a superkick before a blind tag from Mensah to hit a flatliner for a near fall. Lee stops his move with a superkick. Frazer tags and Dar hits a cheap elbow on him but he kicks out of the pin. Frazer hits a Spanish Fly on Mensah off the ropes, tags in Lee and hits a shooting star press on Dar on the floor. Lee hits his finisher to get the pinfall.
Winners – Nathan Frazer, Dragon Lee, Yulisa Leon & Valentina Feroz
The panel wraps off the pre-show.
---
Cody Rhodes narrates the opening package of the show.
Gallus(Mark Coffey & Wolfgang)(c) vs The D'Angelo Family(Tony D'Angelo & Stacks) – NXT Tag Team Championship
Tony starts against Mark and corners him. Stacks comes in and Tony armdrags him into Mark. Joe distracts Stacks and Mark attacks him from behind. Joe baits Tony into an attack from Wolfgang on the floor. Wolfgang tags in and drops Stacks into the ropes with a back body drop. Quick tags between Gallus. Stacks is dropped on the ropes and Joe takes a cheap shot. Gallus keep pressure on for a while.
Stacks tries to tag in but is cornered once again. Stacks nails Wolfgang with an elbow. He ducks Mark and sends him to the corner. Tony gets a hot tag and clotheslines Wolfgang to the floor. He hits belly-to-belly suplexes on Mark before brainbuster to get a two-count. Wolfgang tries to catch him with a senton but lands on Mark. Stacks tags in and beats up Wolfgang with Tony. A superplex from Tony on Mark before Stacks hits a splash off the top. Wolfgang breaks the pin. Wolfgang gets a blind tag and hits a spinebuster. Mark knocks Tony off the apron. Stacks kicks out of a pin from Wolfgang.
Joe hands a stick to Wolfgang but the referee takes it away. Gallus hit double team finsiher on Stacks but Tony breaks the pin. Tony tags in to send Wolfgang and Mark to the floor. Joe tries to interfere but gets knocked off the apron by Tony. Stacks hits a suicide dive on Gallus duo on the floor. The Family hit a double team finisher to get the pinfall.
Winners – The D'Angelo Family
Blair Davenport vs Roxanne Perez – Weapons Wild Match
Blair attacks Perez from the crowd. The bell rings as they brawl on the floor. Perez hits an uppercut, a back elbow and a crossbody off the barricade. Blair takes her to the ring. Perez knocks her off the apron and hits a suicid dive. She clotheslines Blair to the floor once again. Blair cuts her off this time with a trash can. Blair nails her with chairs next before slamming her face into the steel steps. Blair stacks in chairs in the ring while hitting her with some chair shots in between. She puts a trash can on top of Perez and hits her with a stick.
Blair sets up a chair in the corners. Roxanne counters to send her into a chair in one corner. More chair shots forces Blair to get to the floor. Blair uses a chair to hit her back. She whips Roxanne into the barricade using the chain. She talks trash to Roxanne's family in the front row. Roxanne hits her wit hthe bullrope bell before shots from a leather belt. Roxanne also whips her into the barricade a few times.
Roxanne sets up a table on the floor. Blair hits her back with a belt. Roxanne drives her into the apron. Blair knocks her off the top. Perez takes advantage of time wasting from Blair but she blocks Pop Rox and slams her on a trash can. Blair counters Pop Rox once before she hits a crub stomp for a two-count. Blair blocks Perez's attempt to put her though the table. They fight to the floor and Perez hits a running knee against the steel steps. Perez sets up Blair on the table and hits a splash to put her through it. Back to the ring, Perez hits Pop Rox on some chairs to get the pinfall.
Winner – Roxanne Perez
Gable Steveson vs Baron Corbin
Gable picks Corbin's leg to start. He gets on a waistlock, but Corbin nails him with a back elbow. Gable hits a punch. Corbin distracts him with some argument to rush Gable with punches. Gable leapfrogs in the corner and nails Corbin back with some punches. Corbin moves to the floor to regroup. Gable puts him in an ankle lock as he returns. Corbin gets to the ropes quickly. Steveson hits a German suplex on the floor. Corbin drives him into the ring post and barricade. Back to the ring, Corbin sends Gable into the turnbuckle before unloading with more punches.
Corbin chokes him on the ropes until the referee's counts. Gable fires back with punches before Corbin picks him up to hit a Death Valley Driver. He slams Gable's face into the rope before an uppercut to get a two-count. Gable also slams his face into the turnbuckle but Corbin keeps the upper hand. Corbin enrages him with more punches. Gable fires back with punches before hitting a series of suplexes. A clothesline sends Corbin to the floor. Gable brings him back, only to clothesline him to the floor again.
Corbin drives him into the apron. The referee is counting down. Gable turns it around and sends Corbin over the announce table. Gable starts to come back to the ring but Corbin jumps on him from behind. The referee counts to 10 for a double count-out.
Result – Double Count-Out
They continue to fight after the bell. They get into the ring where Gable takes down Corbin with a double leg. Some referees and security try to separate them, but to no avail. They continue to fight. Corbin charges at Gable on the floor where Gable counters with belly to belly suplex to send him into the barricade. Gable stands tall to close the segment.
---
We see a recap of Lyra Valkyrie vs Rhea Ripley match from NXT earlier this week. Lyra is interviewed backstage when Jacy Jayne attacks her. They brawl but the security comes in quickly.
Dominik Mysterio(c) vs Mustafa Ali vs Wes Lee – NXT North American Championship
Rhea Ripley is out with Dominik's corner. Lee and Ali are about to start working together on Dominik after the bell but he slips to the floor. Rhea gets the title and stands in front of Dominik. Lee and Ali surround him and Dominik has to run back to the ring. Ali and Lee beat him up, argue over who will beat him up, take turns to hit chops and punches, and finally kick him to the floor. Ali hits a hip toss on Lee as they start to fight each other. Some quick action follows.
They trade punches before Ali sends Lee to the apron. They get to the top rope and Dominik pushes them off into the barricade. Dominik takes Ali to the ring to get a two-count. Dominik goes for three amigos but Ali blocks the third suplex. Dominik pushes Ali into Lee. He goes for the three amigos on Lee now. Ali comes in and joins Lee to hit double three amigos on Dominik. Both men break each other's pins. Lee nails a superkick on Dominik before a superkick on Lee. Lee hits a series of kicks before a Meteora. Ali breaks the pin.
Dominik is thrown to the floor before Ali throws Lee into a corner. Ali hits him with a dropkick on the apron to keep Dominik outside. Ali hits kick on Lee and goes for the cover. Dominik jumps on Lee to break the pinfall. Ali puts on Camel Clutch on Dominik and Boston Crab on Lee at the same time. Dominik bites Ali to break free. Dominik sets up Lee for 619. Ali cuts him off with a superkick. Ali goes for a 450-senton on them on the apron but they both get away. Ali crashes to the floor.
Dominik rolls Lee over for a two-count. Lee hits a suicide dive on the floor. Rhea blocks Lee from hitting another suicide dive. Lee just jumps over Rhea to hit the suicide dive. Rhea hits Lee with Riptide on the announce table. She throws Lee into the ring. Dominik covers him but Lee kicks out of the pin. The referee stops Dominik from using the title belt but Dominik hits him with Rhea's title behind his back. Lee still kicks out of the pin. Dominik goes to the top. Ali blocks him with a dropkick. Ali hits 450 senton on Lee. Rhea pulls him out of the ring. Dominik hits a frog splash on Lee to get the pinfall.
Winner – Dominik Mysterio
Tiffany Straton(c) vs Thea Hail – Submission Match for NXT Women's Championship
Thea starts by working the arm. Stratton comes back with a tackle. She drops Thea with a back body drop after picking her up with her legs. Stratton puts on the inverted cloverleaf. Thea breaks free and goes for an armbar. Stratton gets to the ropes. They run the ropes for some quick action, leading to Thea hitting a dropkick to send Thea to the floor. Thea goes for a suicide dive but Tiffany catches her and slams her into the post. She arches Thea around the ringpost. She arches her back once again when they get into the ring.
Thea break free but Tiffany hits a backbreaker. She hits handspring splash in the corner. Tiffany puts on an arch once again and traps Thea's arm. Thea is able to break free. Thea hits flying shoulder tackles before a corner splash, a suplex and standing moonsault. Tiffany counters a springboard moonsault with a bear hug using her legs. Thea gets to the ropes after a while. Thea hits a dropkick to send Tiffany to the floor. She hits a suicide dive before driving Tiffany into the ring post. She hits goes for a crossbody in the ring but Tiffany catches her. Tiffany goes for a fallaway slam but Thea puts on a kimura lock.
Tiffany breaks free but throwing her into the barricade. Tiffany gets to the top but Thea hits an avalanche exploder from the top. She puts on the kimura lock finally. Tiffany uses the ropes to break free. Tiffany hits the Prettiest Moonsault ever. She puts on a Boston Crab. She puts on more pressure as Thea refuses to give up. Tiffany loses her grip and has to reposition to put on the Boston Crab once again. She switches to a deep Boston crab. Thea still refuses to tap out. Andre Chase throws in the towel. The referee stops the match.
Winner – Tiffany Stratton
Carmelo Hayes(c) vs Ilja Dragunov – NXT Championship
Hayes starts strong. He keeps control and gets going for a couple of minutes without any reply from Dragunov. Dragunov hits back with an enzuigiri. Dragunov gets an extended stretch of control as he batters Hayes with big shots. Dragunov hits an uppercut. Hayes fires back a punch before Dragunov hits more punches and chops. Dragunov hits discuss lariat to drop Hayes. Dragunov hits big forearm shots at the back. Dragunov puts on body scissors. Hayes rolls over to break free. Dragunov puts it on again but Hayes turns it into a pin attempt.
Dragunov hits a big kick and follows up with a few short arm clotheslines. Hayes blocks a clothesline and hits kicks at his face. Hayes' knee strike is stopped, and Dragunov hits an enzuigiri. Hayes takes the momentum to hit back with a bulldog. Hayes fires shots in the corner before he slams a punch into the corner. Hayes hits a knee strike to midsection. Dragunov hits chops. Hayes brings him down with a clothesline. Dragunov hits hammer elbow strikes. Hayes fires back with some shots of his own before hitting a springboard DDT to get a near fall. Hayes gets to the top. Dragunov hits him with an enzuigiri on the top rope. Dragunov hits a senton from the top rope to get a nearfall.
Dragunov goes for coast-to-coast but Hayes counters it with Codebreaker. Hayes jumps off the top but Dragunov counters it with a powerbomb. Dragunov hits a jumping punch, but Hayes kicks out again. Dragunov hits blows to the back as he takes Hayes to the top. Dragunov goes for a superplex but Hayes turns it into a cutter. Dragunov kicks out of the pin though. Trick Williams takes the title and shows it to Hayes to motivate him. They trade more shots before Hayes hits some kicks. They trade chops, forearms and kicks.
They drop each other with a big boot at the same time. Hayes lands near Williams who motivates him some more. Dragunov jumps with torpedo but Hayes sidesteps and Dragunov ends up taking out Williams instead. Dragunov's head strikes the NXT title also during that move. Hayes takes him to the ring and hits a leg drop from the top to get the pinfall.
Winner – Carmelo Hayes