WWE NXT August 15, 2023 Results, Live Updates, Highlights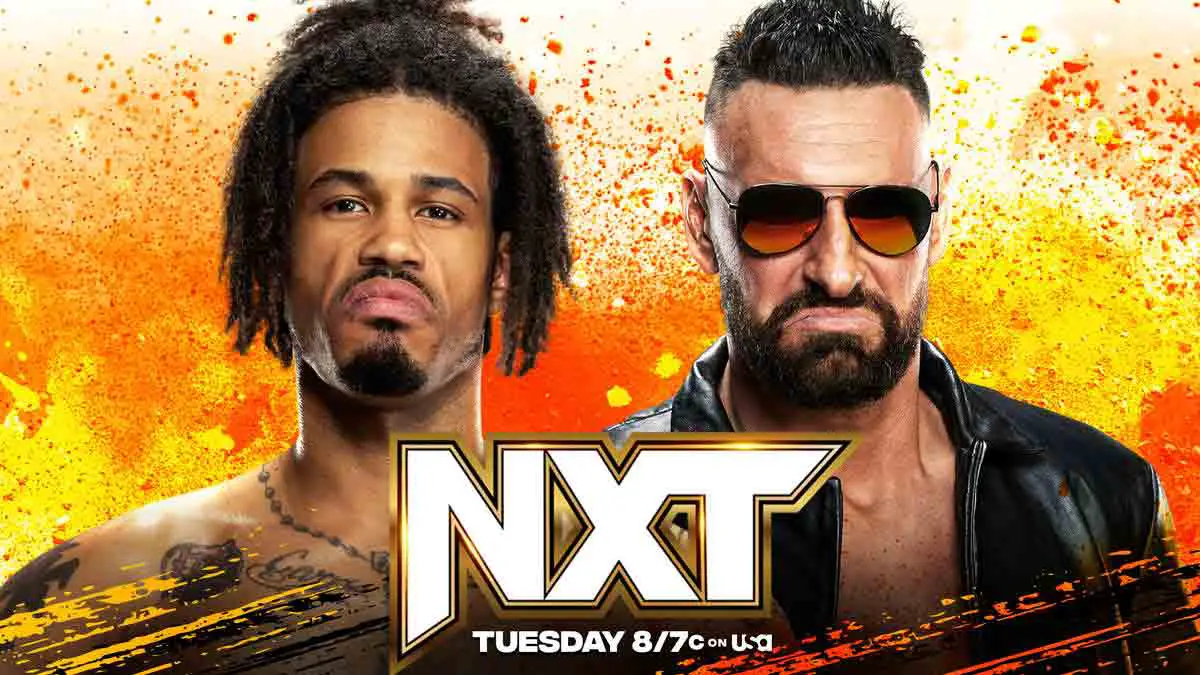 Welcome to the live results from WWE NXT August 15, 2023 episode, which was the last NXT episode before NXT Heatwave 2023.
Wes Lee and Dijak were set for a clash in a #1 contender's match for NXT Championship. The winner were set to face Carmelo Hayes at Heatwave next week. Trick Williams took on Drew Gulak just one week before he faced Ilja Dragunov.
Tony D'Angelo and Stacks defended NXT Tag Team Championship against The Dyad, who were also searching for the Creed Brothers vehemently. Dana Brooke challenged Blair Davenport for a singles match. Tune in below as we post results from WWE NXT August 15, 2023, with live updates, winners, highlights and complete action.
RESULTS
The Family(Tony D'Angelo & Channing "Stacks" Lorenzo)(c) defeated The Dyad(Jagger Reid & Rip Fowler) in a tag team match via pinfall to retain NXT Tag Team Championship.
Blair Davenport defeated Dana Brooke in a singles match via pinfall.
Trick Williams defeated Drew Gulak in a singles match via pinfall.
Wes Lee defeated Dijak in the #1 Contender match for NXT Championship via pinfall.
Tyler Bate defeated Joe Coffey in a singles match via disqualification.
Jacy Jayne defeated Thea Hail in a singles match via pinfall.
LIVE UPDATES
The Family(Tony D'Angelo & Channing "Stacks" Lorenzo)(c) vs The Dyad(Jagger Reid & Rip Fowler) – NXT Tag Team Championship
Tony fires big punches on Reid before sending him to the apron and dropping him with a clothesline. The Schism's followers force him to get back into the ring. He hits a body slam on Fowler before double-team with Stacks. Stacks hits a dropkick next. Fowler backs Tony to the corner for double-team work. Tony turns around a DDT against Reid. Stacks gets a double leg tag down before a double leg drop. Fowler gets a blind tag but Stacks takes him down with a hip toss. Tony helps him in a 2-on-1 takedown before they clothesline The Dyad to the floor and him them with suicide dives. Stacks hits a flying shoulder tackle from the top rope. Ava distracts him to allow Fowler to take control. They tackle him off the apron into the announce table. We cut to a break.
The Dyad are in control against Stacks. Reid drops him with a clothesline. He puts on a chinlock. Stacks fires punches but Reid hits a knee to midsection. Reid engages Tony, and the referee tries to stop Tony from coming in. Stacks gets Reid in an inside cradle but Fowler breaks the pin. Fowler clotheslines Stacks next. Stacks lands on his feet on a suplex. He hits an enzuigiri next. Reid gets a tag and tries to stop Stacks but he gets kicked away. Tony hits clotheslines after the tag. He stomps on The Dyad before setting them up in the corner for more clotheslines. A spinebuster on Fowler and a suplex on Reid for a two-count from Tony.
Fowler pulls Tony out to the floor and Reid hits him with a suicide dive. Ivy Nile comes out and engages all the followers of Schism. Two masked followers come from the crowd to drops Fowler on the floor. Tony hits a back suplex in the ring on Fowler to get the pinfall.
Winner – The Family
We get another video package for Eddy Thorpe talking about Hoka-Hey and unleashing his fighting spirit using dance. Dijak will be his target again.
---
Wes Lee interrupts Carmelo Hayes' autograph signing backstage and asks why he was not responding to him during the week.
---
Andre Chase is discussing with Duke Hudson that he has got a match for Thea Hail so that she could get back to winning side and process her emotions. Thea comes in and is not happy about the match, and takes a dig at Chase for knowing what's good for her. Duke changes sides to Thea in the discussion. After Thea leaves, Chase asks him why he did that.
Dana Brooke vs Blair Davenport
Dana hits a hurricanrana, a dropkick and a clothesline before sending her to the floor. Davenport turns it around on the floor. She hits a double stomp on Dana's back when they return to the ring. A couple of quick moves from Davenport before Dana gets a takedown. She misses a handspring move in the corner. Dana manages to get Davenport up from the second rope to hit a powerbomb for a two-count. Davenport pushes her into the steel steps. Dana comes back quickly in the ring but gets frustrated when she is unable to get the pinfall. She tries to use the timekeeper's bell. Kelani Jordan stops her. Dana unloads on Davenport in the corner. The referee separates her which allows Davenport to hit a big punch. Davenport hits two ripcord knee strikes back-to-back to get the pinfall.
Winner – Blair Davenport
We get a brief video package from Dabba Kato where he asks us to wonder how can work under someone like Apollo Crews.
---
Dijak interrupts Carmelo Hayes' autograph signing session now. Hayes tells him to focus on match instead.
Trick Williams vs Drew Gulak
Gulak puts on a chinlock which is followed by both men running the ropes. Trick hits a clothesline. Damon Kemp takes a cheap shot at Trick but he hits Gulak with a dropkick. Trick hits a big uppercut to send Gulak to the floor. Kemp tackles Trick on the floor. Gulak keeps control of the match after this. He puts on a single leg crab. Trick fights out of it and starts throwing punches. A flatliner and a neckbreaker follows. An Urinagi keeps the momentum going. Charlie Dempsey and Damon Kemp are hit on the floor. Josh Briggs and Brooks Jensen run out to attack Dempsey and Kemp. Trick hits Gulak with roundhouse kick to get the pinfall.
Winner – Trick Williams
Wagner Talks!
Baron Corbin gets cut off on his way to the ring. Corbin says he will talk in the ring only. We cut to a break. After the break, Corbin is in the ring and says he can say anything without reppurcusions. He takes shots at everyone in the NXT locker room. Von Wagner and Mr. Stone interrupt him and take offense on Corbin's trash talk. Mr. Stone says Corbin might have qualification to talk but Wagner is standing in his way. Corbin tells Stone to give Wagner the mic. Stone hands Wagner the mic. Corbin tries to motivate Wagner about being good on the mic, and gave an example of him going toe to toe with The Rock on the mic.
Wagner tells Corbin that he talks too much and everyone is tired of it. He says it does not matter which one of his 10 gimmicks Corbin is gonna bring next week, but he will get tabled anyway. He challenges Corbin for a match next week for Heatwave. Corbin tries to take a shot but Wagner blocks it and clotheslines him to the floor. He slams Corbin's face into the announce table and clear it. The security gets involved quickly.
---
Rhea Ripley and Dominik Mysterio are talking backstage. Rhea talks about Lyra Valkyrie not being satisfied with her compliment and instead taking a shot at her. She proposes a mixed tag team match against Lyra and Dragon Lee.
---
We get a politian's speech like video package from Mustafa Ali where he addresses the citizens of North America. He says questionable people have held the NXT North American title in recent time, and it is time for a new champion. He asks the fans to believe in him – In Ali, you can trust.
Wes Lee vs Dijak – #1 Contender Match for NXT Championship
Lee ducks Dijak a few times and hits some calf kicks. He keeps escaping Dijak's attacks and continues to target Dijak's knee with kicks and leg twist. Dijak kicks him away before hitting a low kick to trip him. Dijak moves to the floor for a breather. Lee pulls his hair from the ring and this allows Dijak to drop his hand on the ropes. Dijak hits big blows to the back before putting on an arm wringer. He sends Lee's shouler into the ring post. He puts on an arm and shoulder lock before Lee hits back elbow. He sends Dijak to the floor. Lee goes for a suicide dive but Dijak cuts him off and sends him into the ringpost. We cut to a break.
Dijak has put on the shoulder lock again. Lee turns it around with a DDT. Lee trips him into the turnbuckle before a dropkick. Lee hits a one-handed powerbomb, a kick to the face and a Meteora to get a two-count. Dijak hits a big boot. He goes for a Death Valley Driver but Lee lands on his feet. Dijak manage to hit a chokeslam but Lee kicks out of the pin. Dijak rolls to the floor and slingshots Lee into the steel steps. He throws Lee over the barricade. Eddy Thorpe is out to the ringside. Dijak tries to engage with him. Lee hits him with a diving DDT to take advantage. Back to the ring, Lee hits a Kardiak kick and a corkscrew senton to get the pinfall.
Winner – Wes Lee
Lyra Valkyrie and Dragon Lee meet backstage and come to the conclusion that they need to work together to beat Rhea and Dominik.
---
Tyler Bate is backstage for an interview where we were showed how NXT Anonymous has posted a video of his altercation with Joe Coffey and Gallus. Bate says he will not let Coffey's anger to become his own.
Joe Coffey vs Tyler Bate
Coffey starts with an arm wringer. Bate turns it around before Coffey takes him down with side headlock takedown. Bate turns it around and takes Coffey to the mat. Bate boots Coffey at the same time. Bate hits a dropkick after Coffey no-sells a punch. Coffey hits back at Bate before hitting a back breaker. Coffey keeps control breifly before Bate unloads with punches. He hits flying tackle before a flying tackle from the ropes. Bate drops him after an airplane spin. Coffey hits a bridging German suplex to get a two-count. They trade headbutts. Coffey blocks Tiger Driver 97 but Bate sends him to the floor and hits a suicide dive. Dabba Kato boots Bate to cause a DQ. He continues to attack Lee and Corbin.
Winner – Tyler Bate
Kato continues to attack Bate after the match. Gallus take Coffey away.
---
Bron Breakker tells Baron Corbin in the parking lot that he is not finished with Von Wagner. Corbin tells him that Breakker intimidates everyone in NXT, but he is not everyone.
---
We get a Hard Hitting Truth video from Nathan Frazer. He talks about his rivalry with Noam Dar. Supernova 11 Sessions take over the episode. They argue over who is the real champion and Frazer shows us the footage from last week where Dar accepted that he was not the real champion.
Jacy Jayne vs Thea Hail
Jacy starts with a knee to midsection. Thea shows off her athleticism and comes back with armdrags, hurricanrana, and suicide dive. Thea gets into an argument with Andre Chase on the floor to take us to a break.
Jayne is in control as we return. Thea hits a back elbow in the corner. She gets a two-count with a roll up. Jacy pushes her into the ropes and tackles her. Thea slams Jacy's arm into the match before some quick tackles. She hits a suplex before a springboard back splash to get a two-count. Jacy hits a knee strike. Thea ducks a clothesline and puts on Kimura lock. Jacy quickly gets to the ropes and hits a clothesline to drop Thea. She hits a spinebuster to get a two-count. Jacy exposes a turnbuckle before hitting some boots. Chase puts the turnbuckle back in place leading to an argument with Thea. Jacy gets her in an inside cradle to get the pinfall.
Winner – Jacy Jayne
Thea Hail is angry at Chase for the loss and leaves without him.
---
Wes Lee interrupts the autograph signing session of Carmelo Hayes once again. Lee tells him to meet in the ring for contract signing. Hayes hands the contract back to him and tells him that he will see him next week. Lee throws away all the headshots on the table and takes it away, telling Hayes that he will meet him in the ring.