Top 5 Worst Matches Involving Top WWE Stars Since 2000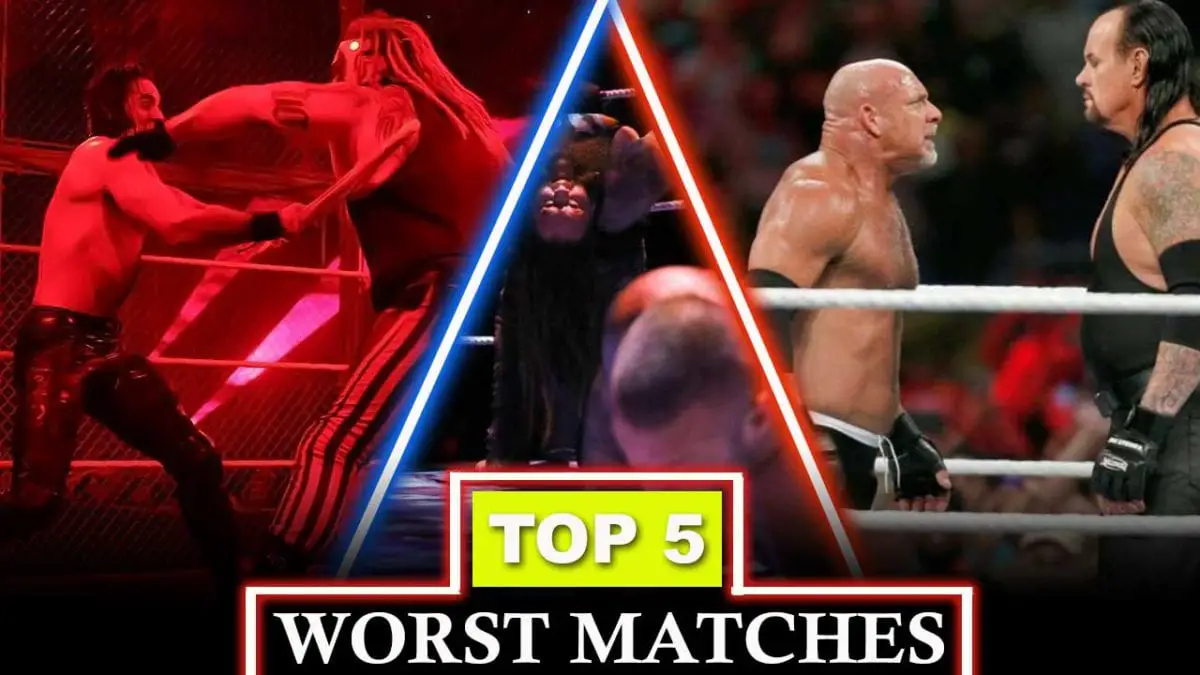 It does not always happen that a wrestling match can be categorized as being horrible or bad. A single bad match will be there on almost every PPV, but if you consider the main event matches or the matches involving the top stars, you will not say it is a horrible match. But bad matches do take place, either due to botches or injuries or poor work rate or simply due to lack of chemistry between the pair. Here is the list of top 5 worst matches from major WWE Superstars after the year 2000.
Seth Rollins vs Bray Wyatt – Hell in a Cell 2019
With The Fiend gimmick getting immensely over with the fans, WWE put themselves in the corner by putting him in the Universal Championship match so early. Especially when Vince McMahon had not wanted Seth Rollins to lose the title.
As the match started, the screen turned all red which left a bad taste to some fans. Match started normally but soon Wyatt started no selling most of the moves by Rollins. a few minutes into the match, Rollins hit a frog splash through the table and the crowd started booing, thinking that the Fiend is gonna lose the match. Everyone got their breath back when the Fiend kicked out after two.
But then started the real shit. Rollins hit back to back stomps then a ladder, a chair, and a toolbox. But the Fiend kept kicking out of the pin even before one count. Finally, Rollins hit him with the hammer at which point The referee called for the stoppage of the match citing the safety of Wyatt.
The crowd thought that the referee had called for disqualification and started booing. The angry fans started chants lie restart the match, refund and then for AEW. The online community was also not much behind to criticize Vince McMahon's booking decision.
Brock Lesnar vs Goldberg – WrestleMania 2004
The build-up to this match was really fine. At Royal Rumble 2004, Lesnar came from the outside to eliminate Goldberg. Goldberg in return cost Lesnar, his WWE Championship against Eddie Guerrero. WWE had lined up their three of their most explosive faces in a single match by announcing Steve Austin as the special guest referee. For more info on this match, please check here.
Nobody was expecting a wrestling classic from them. But what transpired was actually far worse. As WrestleMania 20 inched closer, the news spread that both Goldberg and Lesnar would actually leave WWE after this match. Fans were delirious and greeted both of them with a chorus of boos as they entered.
Goldberg and Lesnar could not do anything to change the atmosphere. And whatever they did in the ring, only aggravated the issue. After wasting the starting few minutes by staring towards each other, they brought out their big moves. But everything was moving so slowly that their 13 minutes match seemed a lot longer.
Randy Orton vs Bray Wyatt – WrestleMania 2017
Bray Wyatt's gimmick game has always been strong but at times, when it is overdone and does not fit with the in-ring scenario, the result turns out to be really bad. On top of that, he has never had prolific in-ring abilities. Both these factors joined in to make his match against Randy Orton at WrestleMania 33, a pretty dull affair.
When Randy Orton turned on Bray Wyatt, he was portrayed as a face, which in itself was hard to believe at the time. The match at WrestleMania started in quick fashion with Orton controlling the first two minutes. Then came the creepy worms, that were projected on the ring from top to scare off Orton as part of Wyatt's gimmick.
Wyatt took control of the match and started working on Orton. As soon as another set of worms were projected on the ring, the crowd lost interest. Wyatt was also working the match very slowly which made it boring. When Orton became a 13 time champion on the 11-minute mark, it was already feeling like 25 minutes have passed.
Triple H vs Scott Steiner – Royal Rumble 2003
Just like the match between Bray Wyatt and Randy Orton, the World Heavyweight Championship match between Triple H and Scott Steiner suffered due to improper build and slow work from the wrestlers. Scott Steiner signed with WWE in late 2002 and was granted a title as per his contract with RAW General Manager Eric Bischoff.
Scott Steiner has always been a muscle man but Triple H has also gained more muscle mass than normal since his return from injury in 2002. In the build-up to their match at Royal Rumble 2003, Triple H and Steiner would battle in different strength conditioning activities.
During the match, the extra muscle resulted in both men moving tardily around the ring. Steiner was actually suffering from a drop foot syndrome(his left foot was almost paralyzed). Triple H also suffered due to Steiner's slowness and his own extra muscles.
And when a short and intense match should have taken between the two powerhouses, we got a spread out bout. The match itself was without any memorable spot but with botches and ended in a disqualification when Triple H used his sledgehammer on Steiner, leaving the fans without any a pay-off from such a bad match.
The Undertaker vs Goldberg – Super ShowDown 2019
WWE's mega-deal with the Saudi Government meant that they need to bring some big names from the past to every show in the country. And one name on that list turned out to be Goldberg. After being inactive for almost two years, Goldberg was announced to be facing the Undertaker at Super Showdown 2019. Both men were and are the biggest of the superstars. However, by the time they came face to face, they were well past their prime. A stellar match was never expected, but what followed was a disaster.
As Goldberg made his entrance, some traces of blood were already seen on his forehead due to a headbutt on the locker room door. The match started in explosive fashion with Goldberg taking down Undertaker with a spear. However, moments later, Goldberg would crash into the ring post and get a concussion. Despite that, he continued the match, albeit in a dangerous state and was hardly able to stand up.
The Undertaker was also returning in the ring after 8 months and looked wore out. The heat and humidity at the stadium also did not help. Goldberg tried a jackhammer but botched it in a big way, almost injuring the Undertaker as well. When things looked going sideways, the Undertaker had to finish off with a weak-looking Chokeslam. The match ended and what followed was a stinging criticism for both the superstars.
This is our list for the worst matches from WWE Superstars in the last 20 years. If you have any other match that should be on this list, please tell us in the comments.