The Usos vs Sami Zayn & Kevin Owens Set for WWE WrestleMania 39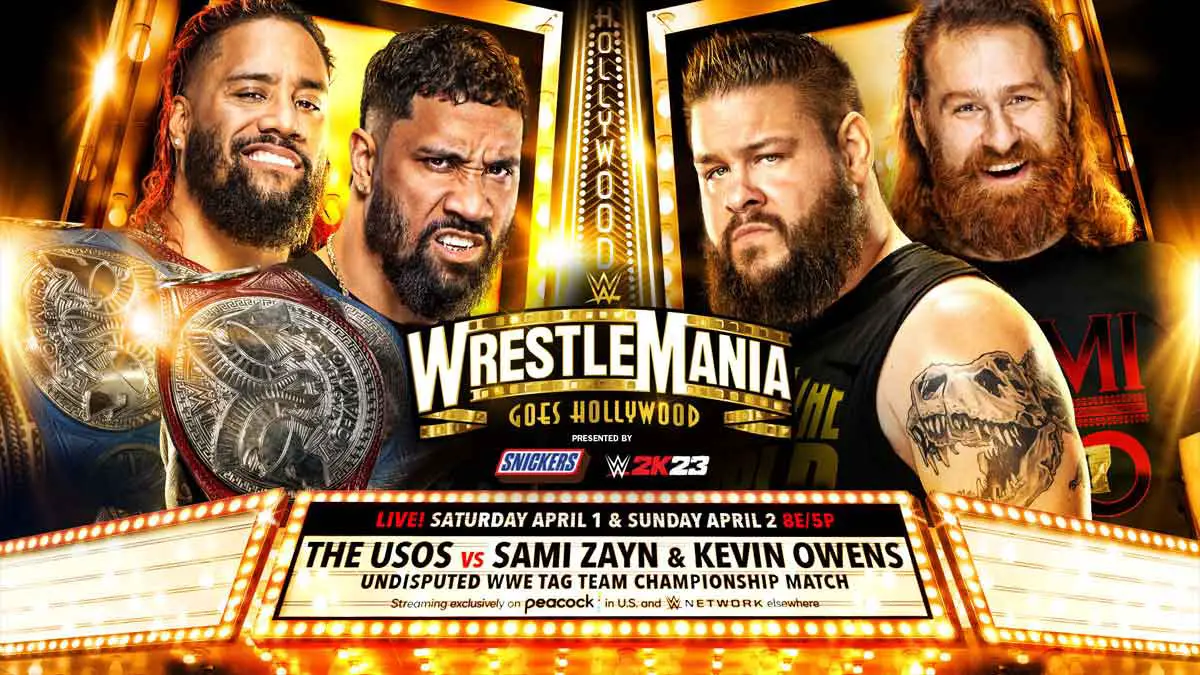 The Usos will try to end Sami Zayn and Kevin Owens Problem at once at WWE WrestleMania 39.
Jimmy and Jey Uso will defend Undisputed Tag Team Championship at WrestleMania 39 against Sami Zayn and Kevin Owens. The match was agreed in the opening segment of this week's RAW episode.
Sami Zayn and Kevin Owens reunited last week at SmackDown where Cody Rhodes tried to play peacemaker. But it was not until Sami told Owens that they are not friends but brothers that Owens' mind changed about reuniting to take on the Bloodline. Later in the show, Owens saved Sami from an attack from the Usos and hugged him.
The duo opened RAW this week and Sami talked about how it clicked to him that he and Owens were not just friends but brothers. The Usos interrupted them soon and Jey accused Sami of being a backstabber. Sami replied that it is actually Jey Uso's dream to backstab Roman Reigns.
Owens then challenged The Usos to defend the Undisputed Tag Team Championship against him and his brother Sami at WrestleMania 39. Jimmy replied that they were a team for just 3 minutes and do not deserve a title shot. Jey then cut in and pointed out that they could get rid of Sami and KO problem simultaneously with this match. The Usos then accepted the challenge.
The feud between Sami Zayn, Kevin Owens and the Usos is part of a storyline of Sami and The Bloodline. The Usos are hold the Undisputed Tag Team titles since June 10, 2022 episode SmackDown when they won RAW Tag Team titles from Matt Riddle and Randy Orton. They win SmackDown Tag Team titles from the Mysterios at Money in the Bank 2021.
Their title reign with SmackDown Tag Team Championship, 610 days and counting, is longest for any tag team titles in the company . Will that come to an end at WrestleMania? The match is expected to headline night 1 of WrestleMania 39 on April 1, 2023. Keep tuned in for the latest updates.