WWE Survivor Series 2022: AJ Styles vs Finn Balor Result LIVE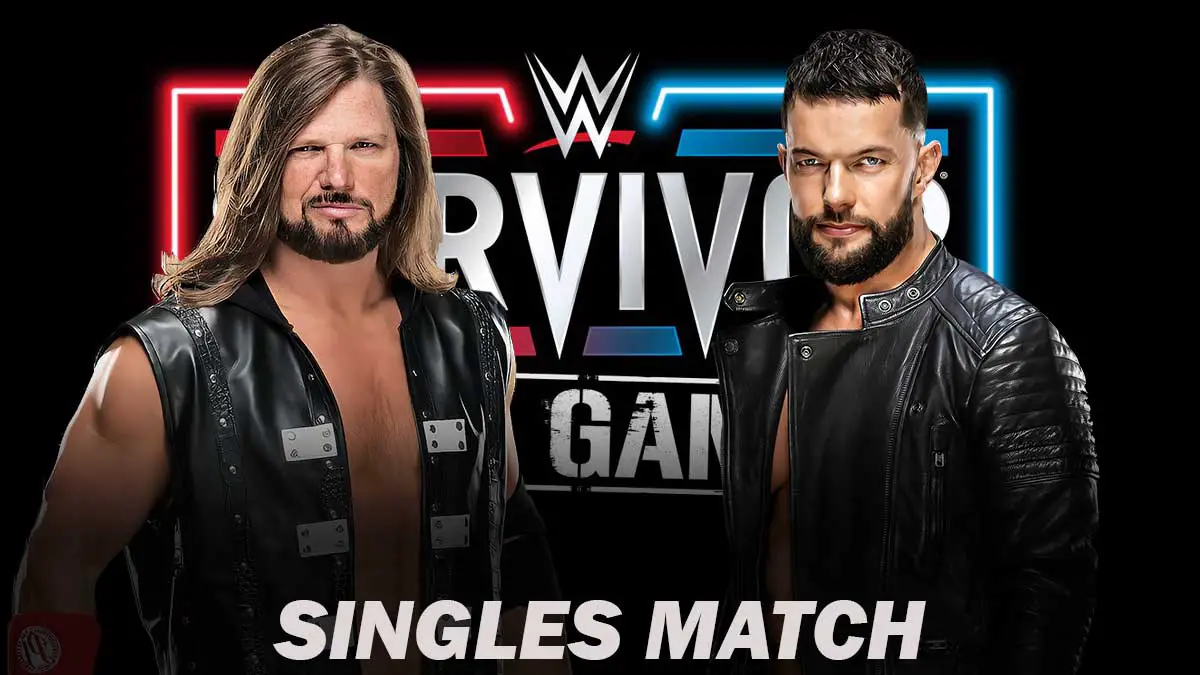 AJ Styles and Finn Balor are set to clash at WWE Survivor Series 2022 event which stemmed from Styles' rivalry with Judgment Day.
Finn Balor was trying to recruit AJ Styles to his faction when he took over Judgment Day from Edge. However, the Phenomenal One refused to join the camp. As a result, Balor started to attack his old friend on a weekly basis. Soon, AJ Styles got reunited with Karl Anderson and Luke Gallows to reform the OC so that he can face Judgment Day.
However, this wasn't enough Rhea Ripley cost them the match against Judgment Day at Crown Jewel. Hence, the OC recruited Mia Yim to counter Rhea Ripley. AJ Styles became tired of this rivalry and then finally challenged Finn Balor for a single match to end this once and for all. What will happen when the two former Bullet Club leaders collide at Survivor Series?
Live Updates
The leader of the Judgment Day Finn Balor is the first one to make his entrance. He is accompanied by Dominik Mysterio and Damian Priest. AJ Styles, the leader of the OC enters the ring second, and he is accompanied by Luke Gallows and Karl Anderson. 
AJ Styles and Finn Balor start things off with wristlocks. AJ locks it and then Balor grabs the rope. Balor pushed Styles and then they are back at it again. Styles drives Balor to the corner and then kicked Balor's leg. AJ Styles starts working Balor's leg and attacked him several times targeting the leg. 
Balor rolls up Styles and starts raiding down knee strikes. Finn Balor finds himself in control and hits Styles with the backbreaker on his knees and then covers AJ for the two-count after hitting the side slam. Styles then tries to hit the sunset flip but Balor also counters it using a dropkick for another two-count. 
AJ fights back and then hits Balor with the sliding running forearm. Styles wants to hit the Styles Clash but Balor counters it, but his knee isn't good. AJ then attempts for the phenomenal forearm but Damian Priest gets on the apron, and then Dominik Mysterio attacked Styles. The remaining members of the Judgment Day and the OC begin to fight outside the ring, and then through the crowd. AJ throws Dominik into the crowd. 
The fight gets back in the ring as AJ and Balor traded some pin attempts. Balor hits Styles with the slingblade, but after that he gets caught and hit by the enzuigiri. It is followed by a suplex which results in two-count. Styles then goes for the calf crusher but Balor counters it with a double stomp. AJ comes up with several strikes but then he is stopped by a dumbbell drop. 
Balor then tries to hit Styles with the Styles Clash, but the latter counters it with an attempt to lock in the calf crusher. AJ hits pele kick to Balor, and the latter replies with the same. After some back and forth, Balor hit brainbuster to AJ. Styles rebounded with a counter to 1916 DDT followed by the dumbbell drop. 
Finn Balor counters a senton and then hits a shotgun dropkick. Balor goes for the Coup de Grace, but Styles avoids it and locks in the calf crusher. Balor gets outs out of it by slamming AJ's face into the mat. Balor and Styles trade punches they both enzuigiri to each other. Styles hits forearms and then he finally hits Finn Balor with the Phenomenal Forearm to get the win.