WWE SmackDown Live Results and Updates- 26 February 2019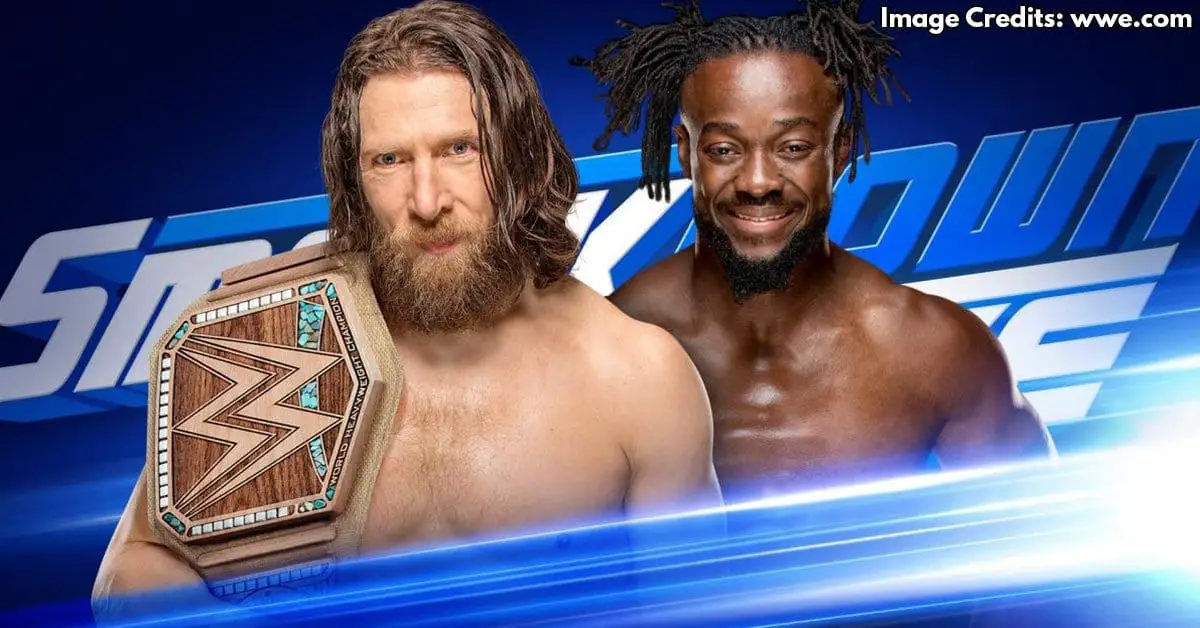 After a RAW episode full of drama, we will now shift to SmackDown which will be live from Spectrum Center, Charlotte. Advertised for today is the contract signing for the WWE Championship match at Fastlane and matches for the promoted NXT superstars. You can check out our preview here.
Please keep refreshing the page for the latest updates.
1. Contract Signing!
Steph and Shane welcome us to the show with Daniel Bryan in the middle of the ring sitting on the table and Rowan standing alongside him. Shane leads us to the highlights of Kofi Kingston's career his Royal Rumble escapades, Intercontinental and US titles and the amazing last 3 weeks before announcing the New Day. New Day entered and have a run around the ring acknowledging fans before Kofi took the mic to thank his New Day partners and fans. He then says, "at Fastlane, he will do what everybody wants him to do, he will beat Bryan to become the champion." Shane asks Bryan to sign the contract and his signs.
He then asks Kofi to sign but Vince McMahon interrupts and announces that he is replacing Kofi with a man more deserving and more qualifying than him, Kevin Owens. Owens enters with limited pop. He enters the ring and sits on the chair that Kofi was sitting earlier and proceeds to sign the contract himself while the New Day keep protesting. The Crowd has started booing the McMahons before starting a Kofi chant. New Day members leave frustrated and cursing Vince McMahon.
2. The Bar vs the Hardy Brothers
Jeff starts with an arm twist on Cesaro and tags in Matt. Cesaro hits him in the midsection and tags in Sheamus. After another kick in the midsection, Matt takes over the control and tags in Jeff to hit multiple double team moves before Jeff hits a moonsault on the Bar on the outside.
Sheamus has Jeff in a chin lock. Jeff tries to tag Matt but Sheamus tags in Cesaro to hit a double clothesline. Jeff fights back at the turnbuckle and hits the Whisper of the wind and tags in Matt and he takes control. As Matt was getting ready for his finisher, Cesaro pushes him and Sheamus hits a cheapshot. Jeff Hardy comes in to hit the Twist of fate on Cesaro. Matt hits a twist of fate of his own on Sheamus and tags in Jeff to hit the Swanton Bomb to win the match.
Winner- The Hardy Brothers with a pinfall
Backstage, Lana tells Ricochet and Aleister Black that he is ordinary. Ricochet says he loves when people like Lana try to put him down, especially when he sees their face as he proves them wrong. Aleister Black says Rusev and Nakamura will fade to black.
R Truth makes his way to the ring with Carmella.
3. R Truth's open challenge
R Truth in the ring, says that ever since he was little kid, he wanted to follow his idol John Cena and he is going to continue the United States Championship open challenge. R-Truth isn't sure when the open challenge begins and Carmella says RIGHT after the 7-second dance break. Andrade wastes no time in answering the challenge. Rey Mysterio comes out and attacks Andrade and runs to the ring. R-Truth says that he asks himself in such times "What would John Cena do?". Carmella says he would face both. So, Truth agrees to make John Cena proud in a triple threat match.
4. R Truth(c) vs Andrade vs Rey Mysterio – United States Championship Match
Andrade and Rey Mysterio take on each other and Mysterio getting the better of the exchange. Truth hits a Lie Detector for a two count before Andrade hits him with a powerbomb at ringside. He kicks Mysterio out of midair.
Truth put Andrade on his shoulders so Rey can hit a springboard hurricanrana. Truth hits Mysterio with a few strikes before they collide when both men attempt a crossbody. Truth kicks Andrade a few times before planting him in the middle of the ring. He goes for the Five Knuckle Shuffle just like John Cena. Vega tries to interfere and Carmella takes her down. Truth gets sent into the ring post while Rey sets up Andrade for the 619. He misses and Andrade drills him with a back elbow for a close two count. Rey hits it on the second try, but then Truth rolls him up right away for the pin to retain his title.
Winner- R-Truth with a pinfall
The main event for tonight will be- Kofi Kingston and Kevin Owens vs Daniel Bryan and Rowan.
5. Ronda and Becky fears Charlotte?
Charlotte says Vince was right in bringing back Kevin Owens, just like how he was right in getting her to replace Becky Lynch in the main event of WrestleMania. She then says that Ronda laid down the title that she carried with great pride. Both Ronda and Becky are doing such irrational things since they both fear her. She calls Rousey a hypocrite and shows a clip of her talking in November about being a true champion. Charlotte says she fears no one and that the difference between her Rousey is that she'll never quit nor will she ever lay down the title because she is the true champion. She finally announced that she will appear on RAW next week so that Vince McMahon could give her the title.
6. Aleister Black and Ricochet vs Rusev and Shinsuke Nakamura
Black and Nakamura start as both try to lock the other one. Black dodges two side kick from Naka to take him down with an arm drag. He tags in Ricochet to put Naka in the arm twist. Naka comes out of it to tag in Rusev. Rusev hits some kicks and a huge punch. He tags in Nakamura as they keep control over Ricochet. Rusev comes in to hit a vertical suplex. Ricochet counters Rusev with a big boot and both him and Rusev tags in their partners. Aleister Black soon tags in and he gets the better of Nakamura before Rusev interferes and gives his team the control.
Rusev is keeping control over Black when we return from the break. He puts Black in a bearhug. Black finally turns it around to tag in Ricochet who hits some high flying moves to get a two count. Ricochet goes for the crossbody but Rusev counters to plant him in the ring with a slam. Rusev tags in Nakamura after a punch. Ricochet low bridges Rusev to take him out of the ring and tags in Black before taking Rusev out with a suicide dive.
Nakamura hits a reverse exploder but Black connects Black Mass on him to win the match.
Winner- Aleister Black and Ricochet with a pinfall
AJ Styles is being interviewed and says that he's happy to hear about Roman Reigns. Kayla Braxton asks him about the slump he's currently on. He says that he's his harshest critic and that he was partially responsible for the rise of the new Daniel Bryan. He says that people forget that it took him 15 years to reach WWE and that nothing was handed for him. He wants to still be able to claim that it's still the house that AJ Styles built. Randy Orton comes up and takes offense to Styles saying SD is the house he built. AJ Styles-Randy Orton WrestleMania match storyline has started here.
Lacy Evans comes out for her now customary ramp walk before heading back. (If WWE is thinking this will catch up as a gimmick, they are very very wrong!!)
Next is the highlights from Roman Reigns' return last night and his Good Morning America appearance.
After Kofi enters for his match, another highlight from last night as Bautista returned to spoil Ric Flair's Birthday celebration.
7. Kevin Owens and Kofi Kingston vs Daniel Bryan and Rowan
Kofi and Bryan start but Bryan tags in Rowan. Rowan pushes Kofi int eh corner before planting him with a body slam. Kofi hits a few kicks but Rowan hits a shoulder block. Owens tags in too and hits some punches, forearms, and chops but Rowan regains control with another shoulder block. Bryan is tagged in. Owens counters him off the rope and tags in Kofi who hits a kick on Bryan's face. Kofi backdrops Bryan out of the ring and tags in Owens who hits Bryan with a suicide dive over the rope.
Rowan is keeping Kofi in a chin lock when we come back. Kofi tries to fight out but Rowan hits a backbreaker on him. Bryan is tagged in and stomps on Kofi's face. Kofi tries to fight out with punches in the midsection but Bryan hits a huge uppercut. He sends Kofi in the ring post before hitting the baseball slide at the apron. Rowan tags in to hit a body slam outside of the ring. He brings back Kofi in the ring and plants him into the turnbuckle. Bryan tags in to hit a vertical suplex off the top turnbuckle. Bryan puts Kofi in the arm twist but Kofi fights back with punches. Kofi tries to roll up Bryan but he puts Kofi in the Lebell lock. Bryan hits a couple of dropkicks in the corner before Kofi counters with a high double knee. Owens gets the hot tag and hits Bryan with some forearms and then a back body drop. He hits a missile dropkick and a senton and fights off Rowan at the apron. Rowan comes in but Owens low bridges him and hits a superkick at the apron. Owens hits the pop up powerbomb only to be taken out by Rowan. Kofi sends Rowan into the ring post before taking him out with a trust fall off the top turnbuckle. Kevin avoids the running knee from Bryan and hits a Stone Cold Stunner to win the match.
Winner- Kevin Owens and Kofi Kingston with a pinfall
SmackDown Results Chronology