WWE SmackDown Live Results & Updates- 9 October 2020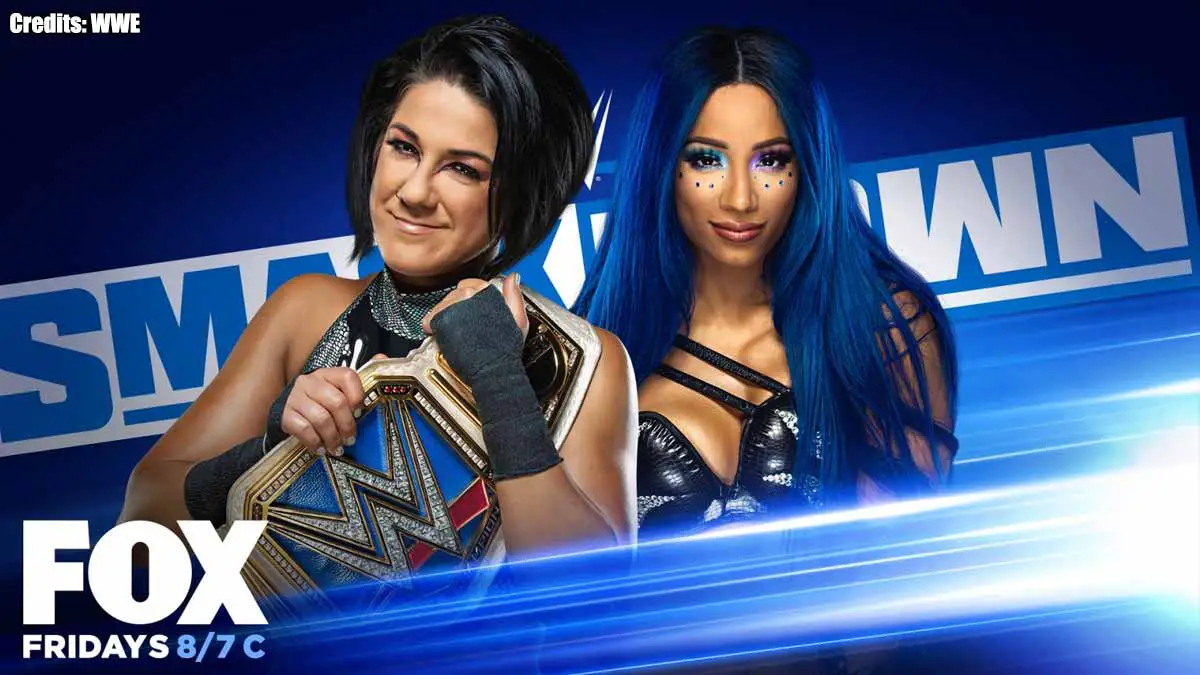 Welcome to ITN's Live Result & Updates for WWE Friday Night SmackDown episode of 9 October 2020(10/9/2020) featuring the night 1 of WWE Draft 2020, The Fiend's First Match on the brand, SmackDown Women's Title match, a court case, and more buildup for Hell in a Cell 2020. You can also check preview for this show.
Draft Round 1
The commentary team goes through the lineup for tonight before we cut to Stephaine McMahon on the ramp. She goes on to announce picks for the first round. Drew McIntyre is retained by RAW while Roman Reigns will stay put on SmackDown. Asuka will remain at RAW. Seth Rollins gets drafted to SmackDown. Hurt Business is number 5, will remain with RAW.
Kayla Braxton is backstage with Seth Rollins. He says he is thrilled about coming somewhere new. He's a little heartbroken and upset that he won't be on RAW to see The Mysterio Family implode but lucky for him, he won't have to see their disgusting faces again.
Big E vs Sheamus – Falls Count Anywhere Match
The match starts and they go to the floor soon. Sheamus kicks Big E to get a quick two count on the floor. He then tangles Big E's hands in the ropes and goes to punish him with kendo stick. This continues until E falls on the floor. Sheamus goes under the floor to search for something. Big E takes advantage by taping Sheamus' legs together and rains with kendo stick. We cut to a break.
E is still raining sticks on Sheamus as we return. Sheamus turns it around to send E through the table in the catering area. E gets another kendo stick before hurting him with a trash can. They reach the parking area now where Sheamus gets his hands on a iron bar. He hits the White Noise on a car's windshield but E kicks out at two.
Sheamus goes to put Big E in a car truck and tries to hurt his arm. But Big E counters and hits a powerbomb on the windshield. E goes to hit the Big Ending through a table and gets the pin.
Winner – Big E
After the break, Big E is with Kayla Braxton when a secutiry guard arrives. It is Kofi Kingston making his return to SmackDown. Xavier Woods also returns and they do their 'New Day Rocks' chants and also say they will go after tag team titles.
Jey Uso vs Roman Reigns Stipulation
Jey Uso is in the ring and he calls out Roman Reigns to reveal the stipulation for Hell in a Cell match. Paul Heyman comes on the screen and takes us to the replay from Clash of Champions. As we return, Roman Reigns is also there with Heyman on the screen. He tells Jey Uso that he gave him the chance to acknowledge Roman as the Tribal Chief. But since he did not, their Hell in a Cell match will be an "I Quit" match this time around.
Draft Round 2
The announcers tell us that Stephaine McMahon is announced as the world's most influential Female CMO by Forbes. Stephaine comes to the stage and announces that New Day will get a title match against SmackDown tag team champions- Cesaro and Shinsuke Nakamura. She goes to announce the picks for round 2.
AJ Styles moved to RAW
Sasha Banks stays at SmackDown
Naomi moved to RAW
Bianca Beliar moved to SmackDown
Nia Jax & Shayna Baszler stay at RAW
We get a recorded promo from AJ Styles and he rants against SmackDown saying he should have been the first pick after all he has done for the brand. But he is also glad that he will no longer be on the same brand as 'cheater' Jeff Hardy.
Jeff Hardy & Matt Riddle vs The Miz & John Morrison
Hardy and Riddle go for double team with Jeff getting an assist for Poetry In Motion to Miz. They send Morrison to the floor and Riddle takes them both down with a sucidie dive as we go to the break.
Back from the break, Miz and Morrison controls Hardy now. Morrison blocks a Twist of Fate before Riddle and Miz get the tag. Riddle gets the upperhand with some quick moves. Riddle hits the Bro-ton and a German suplex and Morrison had to breaks the pin. Hardy hits a Twist of Fate on Morrison. Riddle hits a big knee to Miz and then the Bro Derek for the win.
Winners – Matt Riddle and Jeff Hardy
Lars Sullivan makes his return and attacks Riddle and Hardy in the ring. He goes on and hit Rock Bottom to both of them.
Draft Round 3
Ricochet stays at RAW
Jey Uso stays at SmackDown
Mandy Rose moved to RAW
Rey Mysterio and Dominik Mysterio moved to SmackDown
The Miz and John Morrison moved to RAW
Bayley(c) vs Sasha Banks – WWE SmackDown Women's Championship Match
Sasha unloads Bayley from the word go and forces her to go out. Bayley decides to walk away but Sasha goes and brings her back to the ring. Sasha goes for the Bank statement early but Bayley turns it around for a pin attempt. Bayley punches on Sasha's injured neck before Sasha counters in the corner for another pin attempt.
Sasha goes for the Bank statement again but Bayley gets her legs on the ropes. Bayley moves out again and this time gets a steel chair to strike Sasha and get disqualified.
Winner – Sasha Banks via DQ(Bayley retains the SmackDown Women's Title)
Bayley tries to use steel chair in her post match attack but Sasha ends up turning it around. Sasha goes for the elbow drop on the chair but Bayley manages to run away.
We get the replay of Kevin Owens vs The Fiend storyline so far. Kevin Owens is getting ready backstage when Alexa Bliss walks up to him and says, "Let… him… in." We go to break.
Cesaro & Shinsuke Nakamura(c) vs New Day – WWE SmackDown Tag Team Championship
Cesaro and Woods start the match with some back and fort action. Woods gets tghe upperhand before Cesaro hits a clothesline. Nakamura decks Woods off the apron. Woods works double team with Kofi for a move from the top and Nakamura had to break the pin up. Woods is sent to the floor as we go to the break.
After the break, Cesaro is in control against Kofi. Kofi comes back with a kick. Nakamura and Woods get the tags. Woods takes control with quick moves. Woods hits the Honor Roll and dropkick through the ropes on Cesaro. Woods then hits a tornado DDT. Nakamura takes back control by sending woods into the corner. Woods counter Cesaro to tag in Kofi. Cesaro catches Kofi mid-air with an uppercut.
Nakamura tags in for the double team Cesaro Swing into the Kinshasa but Woods grabs Nakamura's leg to save Kofi. Kofi nails Trouble In Paradise to Cesaro after he gets distracted by Woods. Kofi counters a reverse Exploder and hits Trouble In Paradise. Woods hits the elbow drop on Nakamura for the pin to win the titles.
Winners- Kofi Kingston & Xavier Woods(new SmackDown Tag Team Champions)
Draft Round 4
Kofi Kingston & Xavier Woods moved to RAW
Big E stays at SmackDown
Dana Brooke moved to RAW
Otis stays at SmackDown
Angel Garza stays at RAW
The New Day were in the ring when their split was announced. They looked miffed with the development.
The Fiend Bray Wyatt vs Kevin Owens
Owens takes The Fiend to the corner right away and hits a couple of cannonballs. Fiend gets up immediately and goes on to hit the running headbutt. Fiend hits a clothesline on the floor to a devastating effect. Fiend punishes Owens with few strikes. Owens avoids him in the corner but ends up getting slammed face-first into the mat.
Owens comes back with a clothesline before the action moves to the outside. Fiend hits Urinagi on the announce table as we go to the break.
Fiend continues to beat up Owens as we return from the break. Fiend hits another Uranage before trying to snap Owens' neck now. He goes for Sister Abigail but Owens fights back with some superkicks him. Fiend stays up and Owens had to hit another superkick to bring him down in the corner. Owens delivers a couple of cannonballs before a DDT on the floor. Owens hits a splash from the apron while Fiend is on the floor.
Fiend quickly gets up again and Owens had to hit hit him with a Pop-Up Powerbomb on top of the announce table. Fiend beats the count and gets into the ring. Fiend goes for the Mandible Claw. Owens hits a Stunner but the Claw is still on. Fiend slams Owens with another Uranagi while the Mandible is still applied. Fiend holds Owens down with the Claw for the pin.
Winner – The Fiend
After the match, the arena goes dark. When the lights come back, Fiend is at the ramp with Alexa Bliss staring into his eyes. The show off the air with the commentators promoting next week's matches.
SmackDown Results Chronology