WWE SmackDown Live Results & Updates- 16 October 2020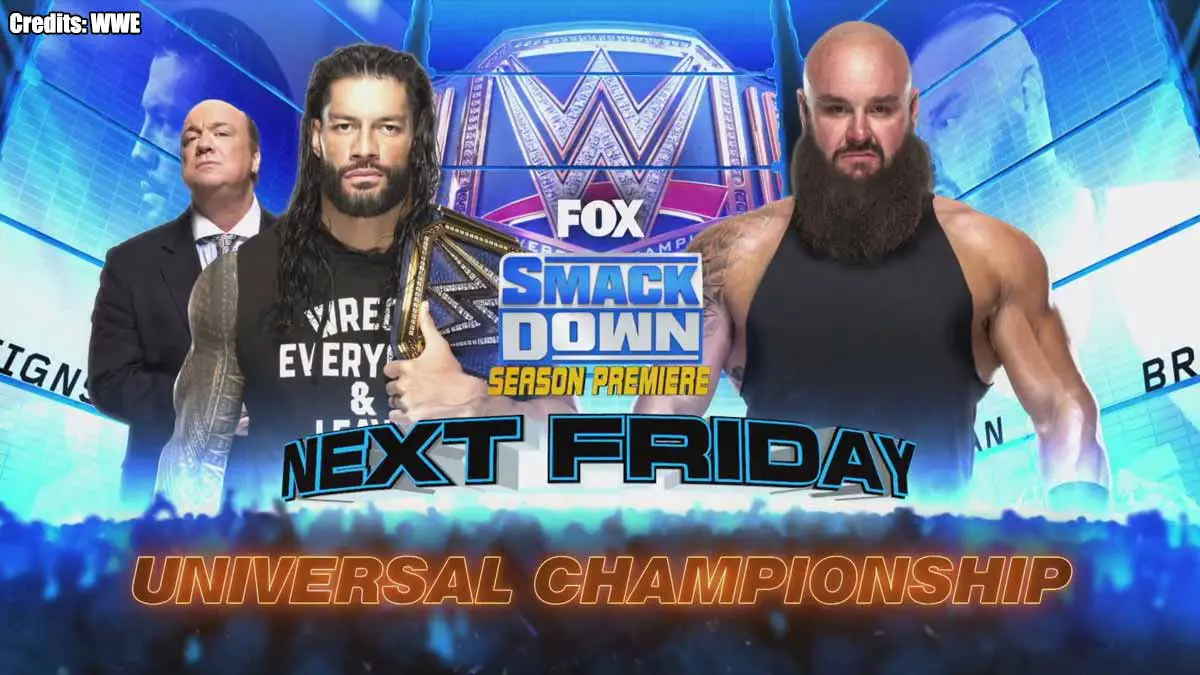 Welcome to ITN's Live Results & Updates Blog for WWE Friday Night SmackDown season opener episode of 16 October 2020(10/16/2020) featuring Universal & Tag Team Title matches, New Day's Farewell, Lars Sullivan vs Jeff Hardy & more buildup for Hell in a Cell 2020.
The show opens with Triple H and Stephaine McMahon in the ring and SmackDown roster out on the stage. They hype tonight's lineup before welcoming the new additions. They welcome back Daniel Bryan before naming a few others. The Street Profits are jumped by Dolph Ziggler & Robert Roode.
This starts a big brawl among the roster. Owens takes out a few guys with a dive before Montez Ford follows. Lars Sullivan enters and starts taking out the likes of Kalisto, Short G, Apollo Crews until Jeff Hardy attacks him from behind. Sullivan blocks Twist of Fate but still gets sent to the outside.
Lars Sullivan defeated Jeff Hardy by a pin fall after Freak Accident in the middle of the ring.
New Day is in the ring and they talk about their history and camaradarie and how WWE draft has managed to split them up. Sheamus, Shinsuke Nakamura & Cesaro are backstage talking to Kayla Braxton and claim that they will give New Day a proper send-off.
New Day defeated Sheamus, Shinsuke Nakamura & Cesaro in their farewell match at SmackDown. The finish came after Kofi Kingston sidestepped Sheamus in the corner and Woods & Big E hit him with the midnight hour for the pin.
Otis is with Kayla Braxton who asks him about the lawsuit from The Miz. Sami Zayn comes up and mocks him about losing Tucker and Mandy Rose to RAW and will lose the lawsuit also. Otis takes down Zayn.
Daniel Bryan comes out to the ring for the first time in Thunderdome. He is excited about Thunderdome and to face new SmackDown additions. Seth Rollins comes out. They do back and forth promo with Rollins asking him to join his side for the Greater Good. Rollins finally attacks Bryan.
Bryan turns it around quickly and Rollins runs out to the ramp. Dominik & Rey Mysterio come out and force Rollins back to the ring. Rollins asks Bryan to help him out but Bryan leaves the ring. Murphy also comes out and attacks Rollins right away. After Rollins runs away, Murphy offers his hand. Both Dominik and Rey leave the ring without shaking hands.
The Street Profits vs Dolph Ziggler & Robert Roode match ends in disqualification after Roode & Ziggler break double team rules. They continue to attack Angelo Dawkins until Montez Ford makes the save.
WWE SmackDown Women's Champion Bayley and Sasha Banks come out for the contract signing for their match at Hell in a Cell. Bayley accuses Sasha that she was just looking to turn on Bayley. Sasha replies that she was the one who offered Bayley to be a tag team. Sasha claims she would win the title at Hell in a Cell and signs the contract. Bayley refuses to sign and leaves the ring while Sasha keeps on shouting at her.
Roman Reigns defeated Braun Strowman to retain WWE Universal Championship via referee stoppage. Roman started the match on the front foot but Strowman gained upper hand outside the ring going into the break. After the break, Strowman hits a chokeslam but Roman hits a low blow while he kicked out of the pin. Roman got the submission after putting Strowman in the headlock/body scissors combo.
After the match, Jey Uso comes out and Roman demonstrates how he can destroy him by hittting Strowman with steel chair and more. Jey Uso comes into the ring as Roman asks him to join him and beat up Strowman. Jey attacks Roman instead and WWE staff runs in to break the brawl. Roman gets free and hits Jey with a spear to close the show.
SmackDown Results Chronology