WWE SmackDown 29 January 2021: Live Results, Highlights, Winners, Grades
Welcome to ITN's Live blog for WWE Friday Night SmackDown episode of 29 January 2021(1/29/2021) as we bring you the Live Results, Updates, Highlights, Winners and Grades from the go-home for Royal Rumble 2021.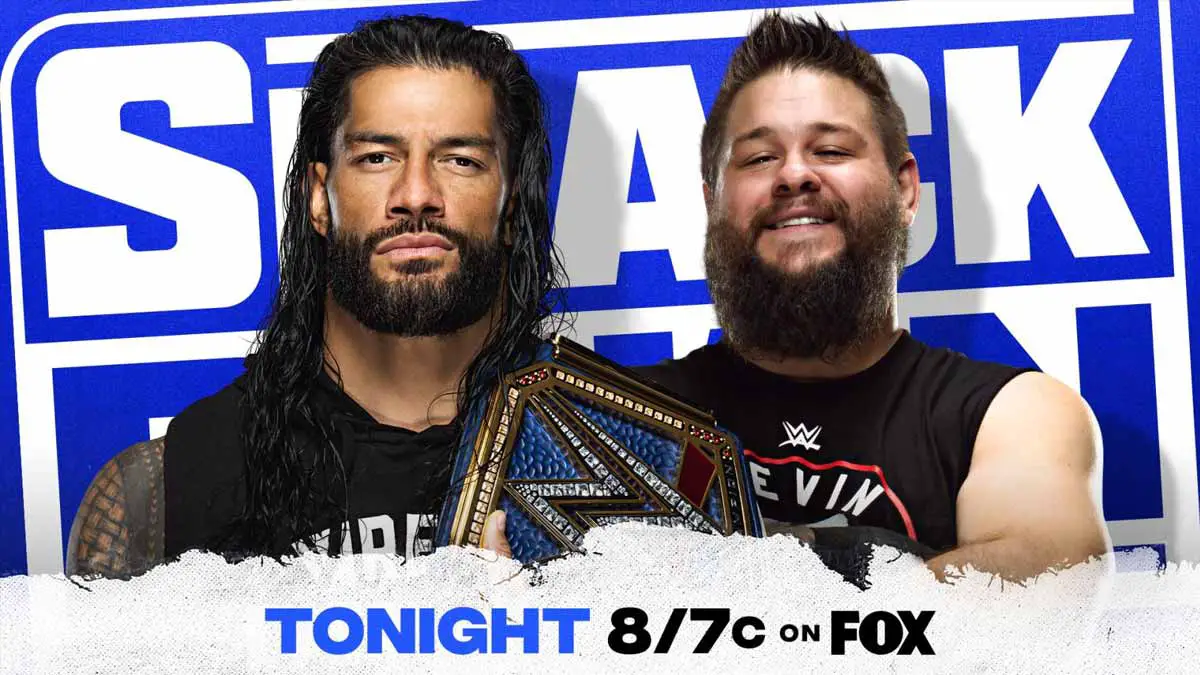 You can check the preview for this show here.
Daniel Bryan & AJ Styles
Daniel Bryan comes out and talks about being excited for the Royal Rumble Match. He's accomplished a lot in his career, but he's never won the Men's Rumble. says his days in the ring might be numbered and he wants to main event WrestleMania one more time. Bryan says thanks to Chad Gable and Otis, he's ready for Sunday. Music interrupts him.
AJ Styles is on SmackDown with Omus. Bryan asks him how he can be here. Styles says he was invited with Brand to Brand invitational. Styles says he is acting as a Gatekeeper on RAW for Royal Rumble entries and no one has been able to defeat him till now. Bryan ends up challenging Styles for a match and asks AJ to leave Omus at backstage. AJ ends up pushing Bryan to the ground. Bryan gets back up but Omus gets in between him and Styles.
Grade- B. Good promos from both the stars but nothing other than the regular stuff.
Bianca Beliar vs Bayley
We see replay of last week's Obstacle course where Bianca Beliar beat Bayley and Bayley attacking her afterward. Bayley is backstage for an interview. She points out that Beliar had an injured shoulder after her attack. Beliar enters before we go to break.
They lock and Beliar takes Bayley to the corner. Bayley comes back with a kick and twists the arm to put pressure on the shoulder. Stalemate and they go at it again. Bayley goes after the shoulder again. Beliar takes her down and Bayley moves to the ramp to avoid more attack. Bayley with punches on the back of the neck and follows with a clothesline. Beliar is selling her shoulder.
Bayley plays with Beliar's hair and Beliar goes mad at her in reply. Beliar with more attack after whipping Bayley into the corner. Beliar with a dropkick and a moonsault. Bayley gets her foot on the bottom rope to break the pin. We got to the break.
Back from the break and Belair catches Bayley in mid-air, driving her into the corner. Belair goes for a powerbomb but drops Bayley back on her face for another 2 count. Belair with a running thrust in the corner and more thrusts. Belair runs into knees in the corner. Bayley drops Belair by her arm from the second rope for a 2 count.
Belair counters with a roll-up but Bayley drives a knee to the jaw for a close 2 count. Bayley keeps Belair down and works on the arm some more. More back and forth between the two for a few minutes.. Belair gets the pin to win with the KOD.
Winner- Bianca Belair
After the match, Belair celebrates as her music hits. We go to replays. Belair joins Kayla on the ramp for an interview as Bayley recovers in the ring. Belair talks about proving herself and beating Bayley after everything that has happened. Bayley seethes in the ring. Belair calls this the biggest win of her career as the crowd pops. Belair says the only thing that will top Bayley is her winning the Women's Rumble Match and then challenging for the title at WrestleMania 37. The music starts back up as Belair celebrates.
Grade- B. A big win for Beliar here. She keeps selling the shoulder consistently throughout the match which was good to see from storyline's perspective. Other in-ring action was also good, and the promo afterward to denounce Bayley and hype herself for Royal Rumble was also good.
King Corbin vs Dominik Mysterio
King Corbin enters and Dominik attacks him on the ramp and beat him down at the ringside. We go to the break.
They go at each other in the corner. Dominik goes to the floor and lures Corbin into a splash from the top. Corbin fights back on the floor. Corbin with a side suplex and taunts Rey Mysterio who is on the commentary. Corbin keeps Dominik down for while. Dominik with a big in the corner. Corbin counters with a splash in the corner. Corbin gets send into the ringpost as Dominik sidesteps.
Dominik hits with a missile dropkick and a springboard senton. He ends up dropping Corbin into position for the 619. Corbin catches Dominik before 619 but Dominik counters. They go back and forth for a while. Dominik turns a tilt-a-whirl sideslam into a DDT. Dominik jumos from the second rope but Corbin moves. Corbin hits End of Days for the pin to win.
Winner- King Corbin
After the match, Corbin goes to taunts Rey. Rey goes to enter the ring but Corbin grabs him off the apron. Rey counters and drives Corbin face-first into the ring post. Rey with a senton off the apron. Rey checks on Dominik while Corbin lays flat at the ringside.
Grade- C. A better performance than last week from Dominik. But he still gets beaten in a short match.
Big E is backstage asking Sonya Deville about his Royal Rumble number. The Miz and John Morrison from RAW interrupt them and ask about Adam Pearce. Deville says Pearce has gota night off after what happened with Paul Heyman last week. Big E starts to argue with Miz & Morrison now, telling Miz that he has no chance at winning the Rumble. Morrison attacks Big E to start a brawl. Officials come and try to break it up.
SmackDown Women's Champion Sasha Banks is backstage. Reginald appears and gives her a bottle of wine, and says this is from Carmella, who asked him to pick the best bottle of wine for Banks. Banks starts flirting with Reginald, complimenting him on his French accent. She asks what's the best bottle of wine she can get for Carmella that she can sip with a broken jaw. She gives the bottle back to Reginald and tells him to keep it because it looks like he could use a drink.
Shinsuke Nakamura is walking backstage when Sami Zayn comes over with his film crew. Sami recalls how he was once the liberator for Nakamura but now it's time for Nakamura to return the favor. Sami wants Nakamura to help him get the WWE Intercontinental Title back. He goes on ranting about how everyone is against him and how this will also benefit Nakamura. Sami says it looks like Cesaro is off on his own. Nakamura tells Sami to go to hell and walks off.
Roman Reigns & Kevin Owens
Michael Cole welcomes WWE Universal Champion Roman Reigns and Kevin Owens as join him on a split screen. Owens claims nothing will stop him from winning at Royal Rumble. Paul Heyman tells Owens that he will not address The Tribal Chief that way again. Owens asks Reigns if he is going to let Heyman rehash the same crap he has used for other people in the past.
Reigns takes over the promo and says Owens keeps making excuses to talk about his family. Reigns asks what kind of man Owens' father was. Owens warns him against talking about his father. Reigns asks Owens doesn't see his own limitations, and it has to be because Owens' dad didn't teach him. Reigns says he is the king on this board, everything revolves around him. Reigns goes on and calls Owens and his family fools, his father and grandfather.
Owens warns Roman to think again about what he is going to say next because they are not going to be in separate rooms on Sunday. Roman continues to make comments about Owens' family. Owens gets angrier and says his father and grandfather would agree that Roman is a delusional jackass and an insecure bully. Owens starts shouting loudly and Roman's screen goes black. Owens gets so mad he can't finish his promo but says he will become the Universal Champion on Sunday. Owens walks off.
Daniel Bryan vs AJ Styles
Bryan takes down Styles in a headlock. Styles turns it on him. Bryan takes AJ in an arm bar but he reaches the ropes quikcly. AJ counters with a big boot but Bryan trips him with a drop toe-hold. Bryan is working on AJ's arm. AJ with a sholder tackle but runs into a knee after running the ropes. Bryan chops in the corner. Styles with a knee to the gut. Bryan reverses a suplex. Bryan was going to the top when Sami Zayn enters. AJ pushes Bryan to the floor and whips him into the steel steps.
Styles is in control as we return from the break. Bryan counters the suplex, sidesteps from the corner, chops him and hits a clothesline. A running dropkick, sidekicks and a heascissors from the top turnbuckle on Styles. Styles catches a kick and hits the dragon screw leg. AJ unloads in the corner and works on Bryan's knee. Styles puts on the calf crusher. Bryan struggles but reaches the ropes. Sami barks at the referee from the floor. Bryan hits a sidekick and sends AJ to the apron. Bryan counters the Phenomenal Forearm and counters with a butterfly suplex, turns it into LaBell lock. Styles reaches the ropes as Big E enters.
Big E runs over Sami with a clothesline and sends him over the announce table into Cesaro. Cesaro blasts Big E's head into the table. AJ is sent out but he moves away from Bryan's suicide dive, which takes out Cesaro and Sami instead. AJ and Bryan go back to the ring and Sami attacks Bryan to cause a DQ.
Winner- Daniel Bryan(via DQ)
Cesaro also takes Big E to the ring and attack him in another corner. Shinsuke Nakamura hits the ring and takes out Sami and AJ. Nakamura and Cesaro have a face-off but they do not engage. Sami comes in but Nakamura takes care of him. Bryan sends Cesaro out as we go to the break.
Shinsuke Nakamura, Big E and Daniel Bryan vs Cesaro, Sami Zayn and AJ Styles
Cesaro and Shinsuke Nakamura are going at it. Nakamura misses a shot and Cesaro rocks him. Back and forth now. Nakamura takes Cesaro to the corner and works him over. Nakamura with the snap German suplex under the bottom rope for a 2 count. WWE Intercontinental Champion Big E tags in and takes over on Cesaro.
Cesaro turns it around with a big uppercut. Cesaro beats Big E down and tags in Sami Zayn to takeover. Sami works Big E over while he's down and talks some trash. They run the ropes and Big E levels Sami with a big back elbow for a 2 count. Daniel Bryan tags in and drops Sami. Big E tags back in and double teams Sami with Bryan. Big E covers Sami for a 2 count. Big E keeps control and in comes Bryan again. Bryan comes off the top with a double ax handle as Big E holds Sami.
Sami ends up turning it around on Bryan, then taking out his knee with a chop block. AJ Styles tags in and pulls Bryan over, slamming his leg into the ring post a few times. Bryan clutches his knee as AJ stands tall and fans boo. Back to commercial.
Back from the break and Cesaro hits the Cesaro Swing on Bryan, into the half Crab submission. Cesaro drags Bryan over and tags in AJ, who stomps Bryan in the hold. AJ drops an elbow, focusing on Bryan's hurt left leg. AJ keeps working on the leg while Bryan is down. Sami tags back in and mounts Bryan with punches to the face. Sami mocks Big E and Nakamura now as fans boo. Sami sends Bryan face-first into the top turnbuckle.
Sami takes Bryan to the top but stops to argue with the referee. Sami climbs up for a superplex but Bryan resists. Bryan fights back and headbutts Sami to the mat. Bryan stands up and nails the missile dropkick from the top. Bryan goes to the mat selling his hurt leg as the referee counts. Cesaro tags in as does Big E. Big E with a big throw. AJ flies in but Big E catches him with another big throw. Big E nails the belly-to-belly suplex on Cesaro. Big E goes for the splash but Cesaro gets up and hits the corkscrew uppercut from the middle rope. Big E kicks out at 2.
Big E blocks the Neutralizer but Cesaro lands on his feet. He charges and Big E hits the Uranage for a close 2 count. Big E tries to rally the crowd now. The music interrupts and out comes The Miz and John Morrison. Big E stares them down and invites them into the ring for a fight. Nakamura meets them at ringside and they attack him, taking him out. Miz and Morrison enter the ring and attack Big E for the disqualification as Sami helps them.
Winners- Big E, Daniel Bryan and Cesaro(via DQ)
After the bell, Big E briefly fights but Miz and Morrison take him out with a double team. The music hits and out comes Otis. He hits the ring and levels both Miz and Morrison with clotheslines. Otis tosses Miz over his head, then does the same to Morrison. Otis with another big clothesline to Morrison. Otis hits a double splash in the corner now. Otis with the Caterpillar to Miz and Morrison at the same time as we go back to commercial.
Otis, Cesaro, Big E and Daniel Bryan vs. The Miz, John Morrison, Shinsuke Nakamura, Sami Zayn and AJ Styles
Back from the break and the nine-man match is underway as Daniel Bryan and The Miz go at it. The teams are not even for some reason, which is acknowledged by Graves and Cole. Cole says Sonya Deville just made the match. Bryan unloads but they end up on the floor. Miz drives Bryan's bad knee into the announce table for boos.
Miz brings it back into the ring and applies the Figure Four. Sami Zayn comes back in and ends up hitting the Blue Thunderbomb to Bryan for a close 2 count. Cesaro tags in and levels Bryan for a 2 count. Cesaro with a long vertical suplex to Bryan for another 2 count.
John Morrison tags in and kicks away at Bryan while he's down. Morrison mounts Bryan with elbow strikes now. Morrison with the running kick. Miz tags back in and kicks Bryan while Morrison holds him. AJ Styles tags back in and takes over on Bryan from Miz. Bryan fights back from his knees but AJ takes him to the corner. Bryan runs the ropes and ducks a clothesline but they both leap for crossbody attempts and collide in mid-air. They both go down and the referee counts.
The heels run over and pull the babyfaces off the apron. Cesaro drives WWE Intercontinental Champion Big E into the barrier. Miz and Morrison take out Otis and Shinsuke Nakamura. Bryan has no one to tag. Sami comes in and stalks Bryan to put him away. The music interrupts and out comes Sheamus from RAW. Sheamus hits the apron and waits on the tag, making it a ten-man.
Sheamus quickly tags in and unloads. Sheamus runs wild on Sami as the crowd pops. Sheamus with a big knee and a clothesline to send Miz back to the floor. Sheamus with the 10 Beats of The Bodhrán to Morrison. Sami rolls Sheamus from behind for a close 2 count. Sheamus with the Irish Curse backbreaker to Sami in the middle of the ring. Sheamus applies the Cloverleaf submission to Sami but Morrison makes the save from behind.
Otis comes in and nails a big slam to Morrison. Cesaro runs in with a big double stomp to Otis. Big E with the Big Ending to Cesaro. Miz with a Skull Crushing Finale to Big E. Nakamura takes Miz out with a Kinshasa. Sami with a Blue Thunderbomb to Nakamura.
Sami waits on Sheamus to get up for a Helluva Kick now. Sheamus charges and levels him with a Brogue Kick instead for the pin to win.
Winners- Sheamus, Daniel Bryan, Otis, Shinsuke Nakamura and Big E
After the bell, Miz and Morrison immediately beat Sheamus down. AJ joins in from the floor. The music interrupts and out comes Braun Strowman making his return from the post-Survivor Series suspension. Braun levels bodies at ringside, then hits the ring and takes out Sami and Cesaro. Braun with the running powerslam to Sami, then to Cesaro. Braun yells out as the crowd pops. A shocked Miz and Morrison watch from the stage now. Braun tosses Cesaro across the ring and then hits him with another powerslam. Braun's music hits again as he stands tall in the middle of the ring, yelling out to the crowd. We see other Superstars recovering at ringside now. Braun stands tall as the final SmackDown before the Royal Rumble off air.