WWE SmackDown 1 January 2021: Live Results, Updates, Grades, Winners
Welcome to ITN's Live blog for WWE Friday Night SmackDown episode of 1 January 2021(1/1/2021) as we bring you the Live Results, Updates and Grades from the show.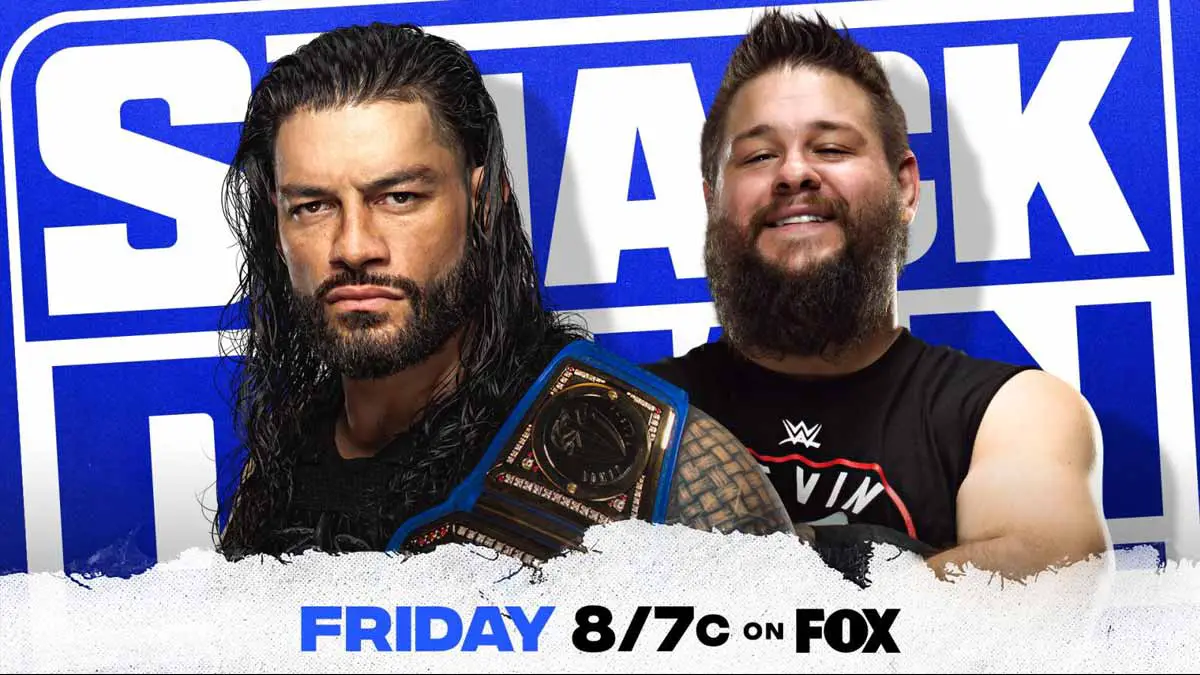 Advertised for the show is the revelation regarding Roman Reigns' special request; Big E vs King Corbin non-title match, and a tag team match featuring Sasha Banks. You can check the preview for the show here. More buildup is expected as WWE moves towards WWE Royal Rumble 2021.
The show opens with a graphic in memory of Jon Huber/Luke Harper/Brodie Lee. We get a recap of Roman Reigns retaining the Universal title over Kevin Owens in a steel cage match last week.
Roman Reigns & Kevin Owens
Roman Reigns comes out with Jey Uso and Paul Heyman. Roman wishes a happy new year to everyone. He says 2020 was a rough year but when you are the Tribal Chief, you have to make it work. He asks Jey why he wears Gold, because everything he touches turns great. He cites the example of Paul Heyman whom he picked from obscurity and made his special counsel.
Roman turns to Jey Uso and tells him how 2020 has been the best year of his career, with main event after main event, great matches and all. And that happened because JEy listened to him. Kevin Owens' music hits as he comes out. Roman runs him down on the mic and tells him get out of there. He says tonight is about Jey and Owens should quit being selfish.
Owens says him standing there should be embarrassing for Roman because he is still standing there; Roman should be embarrassed because Jey had to interfere in their matches again and again. Owens says tonight is for Jey, and he is there to fight Jey tonight, and when he is done with Jey, Roman's family will not have anything to celebrate.
Intercontinental Champion Big E vs King Baron Corbin
King Baron Corbin is with The Knights of The Lone Wolf – Wesley Blake and Steve Cutler. Sami Zayn joins the commentary. The match starts and they start with a bit of back and forth. Corbin applies a headlock but Big E gets out and no-sells a shoulder tackle. They run the ropes again and Big E drops Corbin with an elbow for a quick pin attempt.
Big E takes Corbin down for a two-count. Corbin comes back with a clothesline. Corbin with more strikes as he keeps Big E grounded. Big E is sent shoulder-first into the ring post. Corbin unloads in the corner again. Big E sends Corbin to the apron but then runs into a knee as he charges. Big E ducks a clothesline and hits the Big Ending. He goes to cover Corbin but Sami Zayn comes in and starts unloading on him to cause a DQ.
Winner – Big E(by DQ)
After the bell, Zayn is joined by Wesley Blake and Steve Culter in beating up Big E. Apollo Crews comes out to make the save. He sends all three of them out as we go to the break.
Grade- C. Too short of a match to be graded but good thing was that they reached the end point pretty quickly, which was Sami causing a DQ and Crews coming out to make the save.
Big E & Apollo Crews vs Sami Zayn & King Baron Corbin
Apollo Crews takes down Sami with a dropkick. Sami slaps Crews and tags in Corbin. A big knee from Corbin when Crews was on the apron. Sami takes the blind tag and unloads on Crews. Corbin is a bit miffed with Zayn but continues with the match. Zayn and Corbin get the quick tags going and send Crews out multiple times for Wesley Blake and Steve Cutler to attack him at the ringside.
Apollo counters with a powerslam. Big E comes in with a hot tag and hits a few German suplexes. He gets a two-count after a standing splash. Corbin avoids the Big Ending. Sami gets into an argument with Blake and Cutler at the ringside. Corbin shouts at him and calls him back into the match. Zayn keeps Crews grounded for a while before Corbin and Sami gets into an argument now. Corbin leaves the match and goes to the back along with Cutler and Blake. Sami gets hit with a spin-out powerbomb from Apollo for the win.
Winners – Big E & Apollo Crews
Grade- B-. Another run of the mill tag team match. The end goal was for Corbin to leave Sami stranded and Apollo getting some rub by pinning Sami, which they achieved in a proper manner.
Kevin Owens catches Adam Pearce backstage and tells him that he wants to fight Jey Uso. Pearce gives some excuses to not sanction the match and asks Owens to fight anyone else on the roster. Owens gives a passionate speech and manages to convince Pearce to sanction the match.
Apollo Crews and Big E are walking backstage. Kayla Braxton congratulates them for their win and asks Big E what to expect from him as champion in 2021. Big E says he will be a fighting champion and issues an open challenge for next week's SmackDown. Crews accepts the challenge right away. Crews jokes that Big E might not be so lucky when Crews won't have his back next week. They laugh together but Big E looks annoyed.
The Riott Squad vs Natalya and Tamina Snuka
Liv Morgan and Ruby Riott are waiting in the ring. Billie Kay comes out first and wait on the ramp for Tamina Snuka and Natalya who will fight for her team it seems. They all head to the ring.
Natalya drops Morgan with a shoulder to start. Liv rolls her for a two-count. Natalya drops Morgin but gets distracted by Kay who is yelling at ringside. Ruby tags in and nails Natalya with a dropkick. Tamina tags in and Riott ducks her strikes. Tamina nails an uppercut to take control. Riott fights out of a corner, taking shots at Tamina and Natalya. Natalya gets knocked to the floor.
Morgan tags in and knocks Natalya off the apron before taking on Tamina. Kay has started cheering for the Riott Squad now. Riott Squad double team on Snuka. Tamina fights off another double team attack and superkicks Riott to the floor. Liv blocks a slam attempt by Snuka and rolls her up for the pin to win.
Winners- The Riott Squad
Sasha Banks & Bianca Belair vs Bayley & Carmella
Bianca starts against Carmella who ducks a clothesline and goes behind. Belair drops her anyway. Biance lifts Carmella by her arm but Carmella gets free to tag. Bayley eats a dropkick from Belair as she comes in. Both Bayley and Carmella are sent to the floor and Sasha take them out with a moonsault from the apron. We go to the break.
Bayley drops Belair for a 2 count. Banks and Bayley start arguing. Bayley uses the ropes to work on Beliar's arm. Carmella tags in and keeps focusing on the arm. This continues for a while. Belair counters the suplex with one of her own. Carmella stops the tag and knocks Banks off the apron.
Belair rolls up Carmella for a pin attempt before Carmella superkicks her. Belair powers up and Banks tags in. Banks runs Carmella's face into the ring post and continue with more offense. She hits a running knee and Bayley had to break up the pin. Beliar takes Bayley out to the floor again. Belair with a snap suplex on the floor.
Carmella hits a superkick on Banks. Banks dodges the Bronco Buster and rolls Carmella into the Bank Statement. Reginald pulls Carmella out to safety. Reginald enters the ring to taunt Banks. He backs off and jumps out again. Carmella comes from behind with a kick attempt but Banks was aware to counter. Reginald comes back to the apron and gets punched by Banks. Carmella comes back and drops Banks with a Mellabuster for the pin to win.
Winners – Carmella & Bayley
Kevin Owens vs Jey Uso is confirmed for tonight. Roman Reigns is backstage with Paul Heyman and Jey Uso. Reigns isn't happy the match feeling that the company doesn't appreciate him. He tells Heyman to find out who doesn't appreciate him(who sanctioned the match).
Sonya Deville is back on SmackDown as we watch her walking at the backstage. We see some SmackDown stars looking at her surprised. Corey Graves on commentary confirms that Sonya has been reinstated to SmackDown.
The Street Profits' New Year's Day Smoke-Tacular
The Street Profits are out for their New Year's Day Smoke-Tacular segment. They do their usual comedy bits. They say 2020 wasn't all bad because they won tag titles and Slammy Awards. They reveal a set of drums in the ring and Dawkins plays some as Ford starts making some of his predictions for 2021. He predicts their Intercontinental Title t-shirt given to Sami Zayn will be a top seller on WWE Shop.
Ford goes on to make fun of Dolph Ziggler. Ziggler and Robert Roode attack The Profits. Dawkins is smacked on the back with chair shots and gets tossed over the barricade. Ziggler and Roode attack Ford's leg and hit it with chair against the ringpost. Roode and Ziggler go back celebrating their assault.
Kayla Braxton catches up with Roode and Ziggler in the back. They go on about how The Profits have something they want and deserve. They go on and Ziggler demands a rematch for the titles, and says they won't stop the attacks until they get what they want.
Cesaro & Shinsuke Nakamura vs Otis & Daniel Bryan
Winners- Otis & Daniel Bryan
Kevin Owens vs Jey Uso
Winner- Kevin Owens