The Rock Joins Becky Lynch to Take Down Corbin on SmackDown's Fox Premiere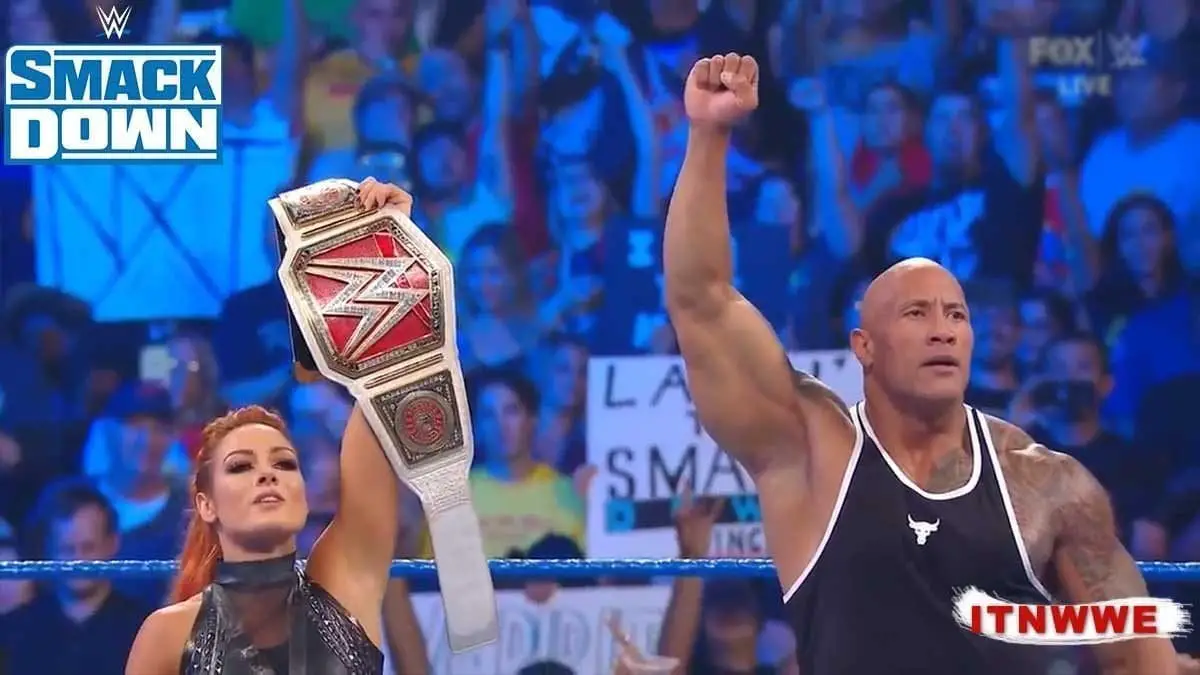 The Rock appeared at SmackDown's Fox premiere episode and joined Becky Lynch to demolish Baron Corbin- verbally and physically.
The Rock was announced to appear on SmackDown's big episode this week by WWE last week. Over the week, there have been speculations that the Rock will start a program with Roman Reigns for a match at next year's WrestleMania. Also, Randy Orton fiddled with the fans when he tweeted to challenge the Rock for WrestleMania match. However, it was all a ruse.
After Vince and Stephaine McMahon's welcome to Fox and Smackdown's new theme song, Becky Lynch came out to open SmackDown this week. Becky reminded that it was the blue brand where broke the glass ceiling and became the Man, and therefore it is a big thing for her to kick off the new era for WWE. She was soon interrupted by Baron Corbin who claimed that nobody wanted to listen to Becky.
Then, the Rock entered to shut up Corbin to a huge pop. After taking in all the adulation from the crowd, he recollected how he uttered the phrase "smackdown" years ago and how it has become an institution now. And then started the demolition of Corbin, calling him a "broke-ass Burger King on crack," referencing to Corbin's King of the Ring attire.
After that, Rock went on to his catchphrase of "finally The Rock has come back home" but was interrupted by Corbin. Corbin said that Rock is no longer the Great One and called himself, the King as the most electrifying man in sports entertainment now. As Corbin was asking for it, Rock went on to insult him more, calling him "a 35-year-old virgin hanging around Comic-Con."
Dwyane Johnson then noted that just because Lynch is "The Man" she doesn't walk around carrying testicles. Lynch piped in that if she did "they'd be bigger" than Corbin's. Rock then talked about being familiar with Corbin's work and his career and called him a "super tough dude," which eventually started an "STD" from the crowd.
Rock then pointed out to Corbin that this is his punishment for insulting the Man, the people, and him. This lead to a fight breaking out, where Becky and the Rock rained in some punches on Corbin, followed by a people's elbow, a lass kick from Becky, leading to the Rock Bottom.