Rhea Ripley Become NXT Women's Champion, End Baszler's Reign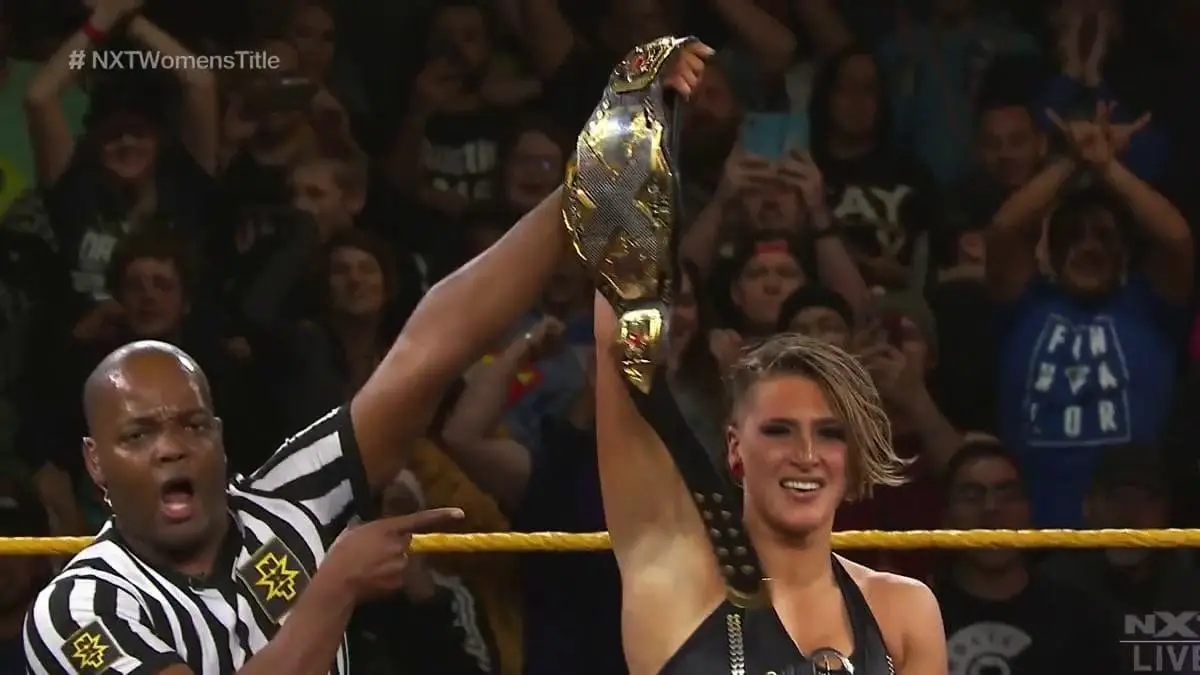 Rhea Ripley defeated Shayna Baszler to end her NXT Women's Championship reign of 416 days at NXT episode of 18 December 2019.
After months of pursuit, Rhea Ripley got her title shot against Shayna Baszler this week at NXT. The hard-hitting match started quickly with both women unleashing on each other. After Ripley seems to be taking over, Baszler's allies tried to interrupt. But Ripley was able to keep them at bay and knock Baszler on the ring apron.
Baszler slammed Ripley's arm to the ring post and kept the advantage for a long time. Jessamyn Duke and Marina Shafir kept trying to ambush Ripley but were eventually kicked out after the referee saw them attack Ripley. Later Ripley would hit Baszler with the riptide and pin her. But the referee was out and didn't see the pin.
Baszler would grab a chair and drive Ripley into it with a DDT. The referee came to consciousness but Ripley kicked out at two-count. Baszler was able to lock in her submission hold, but Ripley stayed somehow stayed alive in the match. Baszler would take her to the middle of the ring and put on the hold once again.
Ripley fought back and even used the referee to get up. She broke the hold and stomped Baszler and locked in the Prism. Baszler kicked her towards the turnbuckle and hoisted her up on the top rope. Ripley headbutted Baszler and delivered an avalanche riptide to get the pin and the win.
Shayna Baszler won her NXT Women's Championship at WWE Evolution PPV on 28 October 2018 defeating Kairi Sane. Her title reign ended at 416 days. Her first title reign ended at 133 days.
Rhea Ripley has been a hot commodity ever since returning to NXT after the brand moved to USA Network. Apart from being the front runner against Shayna Baszler, Rhea Ripley also won the Women's WarGames match and Women's Survivor Series match last month.