WWE RAW Live Results and Updates- 29 April 2019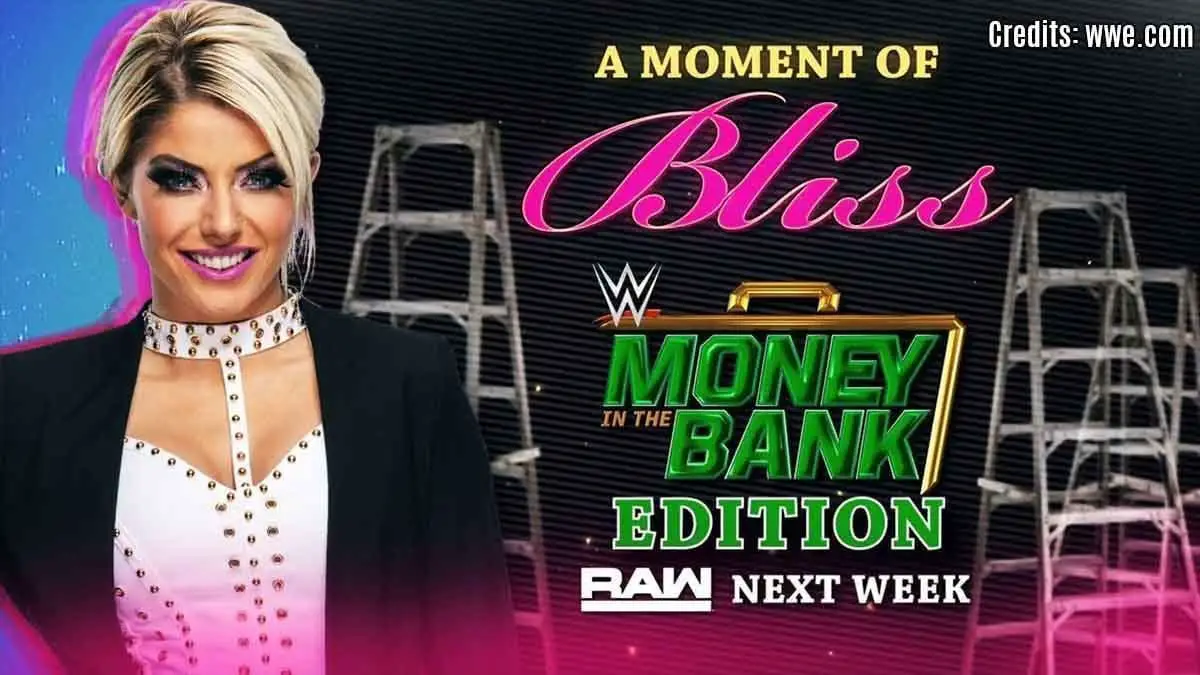 RAW will be live from Wells Fargo Arena in Rupp Arena in Lexington, KY on 29 April 2019. Catch the preview of the episode here. Please keep refreshing the page for the latest updates.
Money in the Bank Ladder Match RAW Participants
Alexa Bliss opens the show. She is going to reveal RAW side of participants for the Money in the Bank Ladder matches. She straight up announces Braun Strowman, Ricochet, Drew McIntyre and Baron Corbin in order. Each one comes into the ring as the war of the words starts. Ricochet takes a shot at Corbin for wasting the MITB briefcase last time he won. McIntyre agrees and adds that Corbin also blew up last week against Styles. Ricochet also says that he did not come to RAW to see only. They keep bickering until Strowman shouts at them and tells them that nobody has it to stop him. He then fixes the match between him and Ricochet against Corbin and McIntyre.
Braun Strowman and Ricochet vs Drew McIntyre and Baron Corbin – Tag Team Match
Corbin unloads on Strowman to start the match. Strowman quickly recovers to send him outside. He eats a big boot but again sends Corbin out with a clothesline. Ricochet is tagged in and hits a springboard moonsault at the ringside. McIntyre is tagged in to start the period of domination for the heels. The ring is cut in half and Ricochet is isolated in the opposite half. Corbin has put him chin lock-arm stretch combo. Ricochet fights out of it, hits a hurricanrana and a dropkick. He also punches McIntyre at the apron but runs into an uppercut by Corbin as he goes for the springboard moonsault again.
McIntyre has hit a back body drop on Ricochet during the break. As we return, Corbin is tagged in. Ricochet hits a big boot in the corner but is unable to follow it up with anything. As Ricochet is taken outside, Strowman tries to go and help him. Corbin baits him into running after him which leads to McIntyre hitting the Claymore kick on him. Back into the ring, McIntyre puts Ricochet in the arms stretch. McIntyre hits a backbreaker to get a near fall before tagging in Corbin again.
Ricochet finally hits a dropkick and Strowman gets the hot tag. He comes in the ring and clears the ring with his usual body slams, clotheslines and running splashes. Ricochet gets the tag again buts eats a Glasgow Kiss from McIntyre. McIntyre gets ready for the Claymore but Corbin tags himself in to finish off the things. Ricochet ducks him to tag in Strowman while McIntyre also hits a huge uppercut on his own partner. Strowman with a body slam and Ricochet's 630 splash finishes off the things.
Winner- Braun Strowman and Ricochet with a pinfall
The Usos vs Luke Gallows and Carl Anderson
The Good Brothers are back on RAW as the long superstar shakeup continues. Anderson and Jimmy start the match for their respective teams. Jimmy drops Anderson with a big clothesline. Jey tags in for a double team combo. Anderson hits a kick to Jey's face, slams Jey's head into the turnbuckle a few times and tags in Gallows. Gallows hits a punch on Jey's back but eats an uppercut. He also decks Jimmy at the apron but is sent outside by Jey by a clothesline. Jey's suicide dive attempt is intercepted and Gallows sends Jimmy into the turnbuckle. He keeps the control as we head to break.
Jimmy is in shoulder stretch and gets slammed into the mat as he tries to fight out. Gallows and Anderson exchange the tag to keep things under control. They also hit a double team move before Jimmy finally hits a forearm strike. Jey gets the tag to hit several quick moves. Anderson avoids a corner splash and drops him with a spinebuster for a two-count. The Usos use double team offense which ends with them hitting the double superkick on Gallows. Jey takes out Anderson with a suicide diveon the floor. Jimmy hits the splash from the top rope to get the pin.
Winner- The Usos with a pinfall
The Usos show a video they took, where Dash Wilder is shaving Scott Dawson's back. The Revival duo comes out and takes offense over the invasion of their privacy. They go back and forth with words before Revival tells them that they want to get ready for their match against the RAW Tag team Champions later.
Miz TV with Bobby Lashley
Miz comes out for the MIZ TV segment with Bobby Lashley. Miz tells us that he is rejuvenated since the Superstar Shakeup and is ready for new opponents and new guests on Miz TV. He announces Lashley who comes out without Lio Rush. Lashley tells him that he only replies to the questions that he likes. Miz mocks him for addressing himself in the third person and asks him what does he have to say to the speculations that he is not reaching his full potential.
Lashley replies to him that people do not realize that he has already become 2-time Intercontinental Champion since returning to WWE last year. In return, Miz lists his accomplishments but is reminded of his WrestleMania loss by Lashley. At this point, Miz reaches the tipping point when Lashley mentions his father getting hauled over by Shane McMahon. He starts unloading on Lashley who moves out of the ring. The Miz throws the chairs on Lashley as we are cut for the commercials.
The Miz vs Bobby Lashley
The match is already started when we return from the break. Lashley has Miz in a shoulder stretch and hits a vertical suplex. Miz replies with some sidekicks in the corner before hitting running knees. Shane McMahon's music hits as he comes out. Miz avoids Lashley and sends him out of the ring with a clothesline. Miz plants Lashley with a DDT for a two-count. Shane shows a picture of Miz's dad on the screen and Lashley takes advantage with a spear to get the pin.
Winner- Bobby Lashley with a pinfall
Post-match, Shane starts assaulting the Miz. Lashley plants The Mz down on the mat before Shane puts him in the triangle choke for him to pass out.
The Viking Raiders vs Lucha House Party
Lucha House Party attacks Erik and Ivar during their entrance while Kalisto just watches them. The bell rings and Ivar and Kalisto start the match. Ivar no-sells a dropkick. He drops Kalista with a cartwheel clothesline. Erik tags in and keep working on Metalik. Kalisto gets the tag and Erik counters his springboard move by slamming him to the mat. Erik and Ivar take down each of LHP member one by one. They hit The Viking Experience on Kalista to get the win.
Winners- The Viking Raiders with a pinfall
A Moment of Bliss for Women's MITB Ladder Match
Alexa Bliss starts announcing the participating for Women's Money in the Bank match. She announces Natalya first and then Dana Brooke. Brooke and Natalya get into the argument- a throwback to the earlier tension between them. Bliss asks them to stop bickering on her show and announces Naomi as the next participant. Now, these three starts arguing over opportunities until Bliss again asks them to stop as she has to announce the next participants for the match. And that is none other than herself. Naomi is not happy about Alexa's inclusion and challenges her to a match. Alexa Bliss gets provoked into giving her a match right away.
Bray Wyatt's Firefly Fun House Episode 2
Wyatt is painting and says that it is a good way for him to express his feelings. A new character is introduced which is named The Ramblin Rabbit. We see that Wyatt's painting was of a burning house which could be a possible reference to The Wyatt Family house burning down a few years ago. Abby the Witch wakes up and scolds Wyatt for playing in the funhouse. Wyatt apologizes and promises to keep it down while Abby gets her beauty rest. Wyatt walks off and says Abby is a bit of a sociopath. Rabbit suggests sociopath should be the word of the way and Wyatt agrees. Wyatt end the segment by saying he will light the way and all we have to do is let him in.
Naomi vs Alexa Bliss
Alexa Bliss isn't even in ring gear but she's going at it anyway. Naomi takes advantage as Alexa goes to tie her shoelaces. Naomi continues with a low clothesline and a leg drop. Bliss puts Naomi in a headlock before slamming her head in the corner. Bliss sends Naomi to the floor to get some time to tie her shoelaces. Naomi comes back and Alexa slams her head into the mat again. Naomi counters with a sunset flip and a jawbreaker. Alexa's shoes slip off as Naomi nails her with a leg drop. Bliss sends her into the corner. Bliss tries to get her shoes back, Naomi hits Rear View and a split-legged moonsault for the pin.
Winner- Naomi with a pinfall
Rey Mysterio is with her son Dominic alongside him backstage. In the interview, he vows to get retribution against Samoa Joe after the hardest stretch of his in recent memory.
Becky addresses the MITB Double Trouble
Charly Caruso questions Becky Lynch for having to defend both titles at MITB. Becky replies that if she thinks she would get here if she cared for the odds. She recounts her journey for the last year. From becoming the SD Champ, winning Royal Rumble to beating the unbeaten Ronda Rousey. She only knows how to fight, so that is what she is going to do. Caruso takes us to the replay of Lacey Evans decking Becky with the Woman's Right which leads to Becky calling out Evans. She comes out and tells Becky that she has not learned the lesson from last week, so, they should fight it out and starts brawling. Some refs come down to break up the fight but when did that stop a brawl ever. It goes on for sometime before they are eventually separated.
Curt Hawkins and Zack Ryder vs the Revival
Hawkins and Wilder start the match. Hawkins tags in Ryder quickly for a double team move. Dawson gets a two-count on Ryder with a cheat shot. While The Revival keep him cornered with quick tags, Ryder takes a lot of punishment. Ryder is able to counter a suplex and hits Dawson with a neckbreaker. Dawson still manages to blocks the tag. However, Ryder rolls him up the pin and the win.
Winner- Curt Hawkins and Zack Ryder with a pinfall
Backstage, the Miz is asked to respond to Shane McMahon's attack on him. And he responds by challenging Shane for a Steel Cage match at Money in the Bank.
Sami Zayn's rant continues!
Sami Zayn is out and on about how the last 9 months weren't just about a couple of trips. He talks about studying and learning subjects such as sociology and psychology and the human condition. He continues on and on about people thinking themselves as entitled to things and blah blah blah when I lost interest in it. In the end, he says he will keep on holding each and every one of us responsible.
Samoa Joe vs Rey Mysterio
Before the match, Joe cuts a promo telling Rey that his son looks like he's ashamed of him. He also claimed that Styles used Mysterio to take away his chance for the Universal title opportunity before telling Rey that he will be his reckoning of sorts. Rey enters and the match starts with Joe kicking Mysterio. He hits a few blows before sending Mysterio out of the ring. Joe misses a suicide dive on the floor and Rey hits him with a seated senton. Joe counters a sliding splash with a knee strike to take us to a break.
Mysterio tries to mount a comeback but gets planted on the mat. Joe puts him in a headlock but Rey kicks him on the face. Then, Mysterio hits a seated senton and a dropkick. Joe catches him to hit the body slam but Rey counters it to the tornado DDT. Rey puts him on the ropes and hits a 619 in the midsection. Joe blocks another 619 from Rey. Rey avoids the Coquina Clutch but Joe nails him with an Urinagi. Rey counters the Muscle Buster with a sunset flip roll-up to get the pin.
Winner- Rey Mysterio with a pinfall
The Universal Championship MITB Contract Signing
Michael Cole is in the ring and announces AJ Styles and Seth Rollins as the made their way to the ring. Cole asks Styles what would it mean to him to win the Universal Championship. AJ replies that he came to RAW for that reason itself. Also, he tells Rollins that he always liked him but he has the Universal Championship that he wants. And when you want something, you do unexpected things. AJ says that he has known Rollins for many years and he has listened from many people that Rollins will be the new AJ Styles. AJ says Rollins will never become the Phenomenal though. Seth replies to him that he never wanted to be the next AJ Styles but to be the first Seth Rollins. Also, Seth reminds AJ that this in Monday Night Seth and not SmackDown.
AJ asks Rollins how he is holding up after the Shield is not here anymore. Rollins went through hell at WrestleMania but AJ does not think that he has much left in him. AJ is justing starting and refers to the slogan on his vest- 'Never Rest, Never Rust.' He gets up and signs the contract. Replying to that, Seth says he does not build things up but he likes to burn them down. However much similar to their stories are, AJ has never done one thing that Seth has done. That is to beat Brock Lesnar. Seth puts down the Title on the table and signs the contract. AJ picks up the Title and has a good look at it. Seth takes the title from him and holds it up while getting into his face.
He starts talking trash which provokes AJ to start unloading on him with the forearms. Seth sends him outside the ring and hits a suicide dive. He gets back to the ring and AJ goes on to hit the phenomenal forearm which sent Seth through the table to end the show.