WWE RAW 19 April 2021 Live Result, Updates, Winners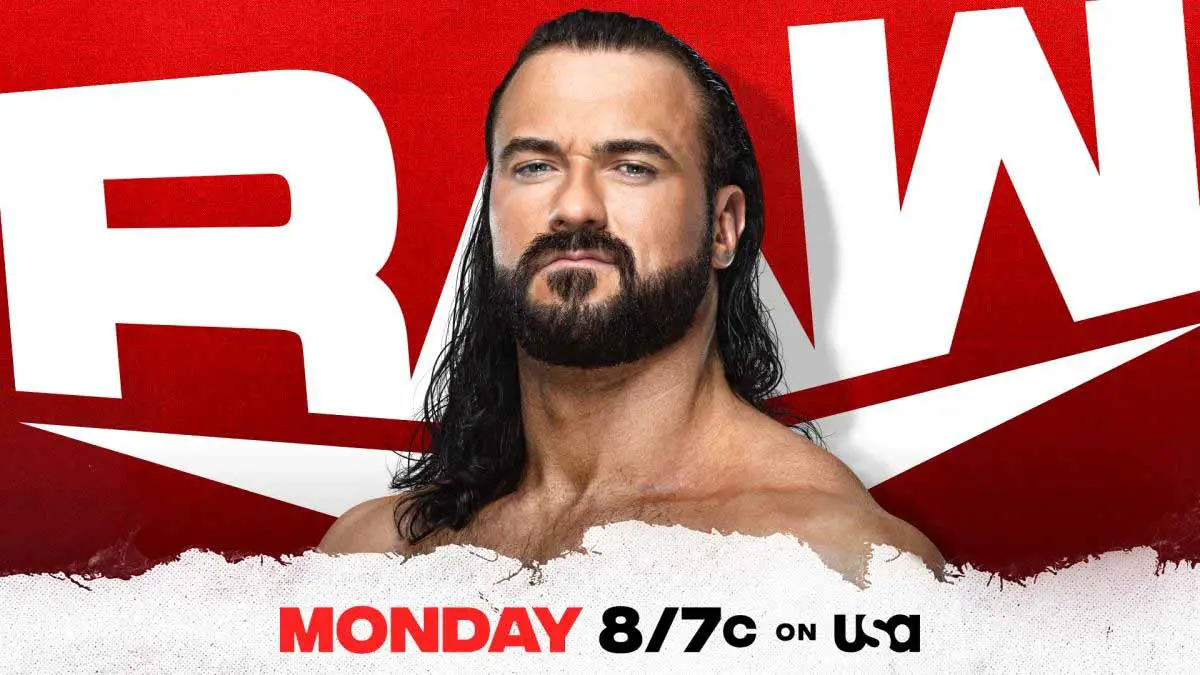 Check out the results and updates from WWE Monday Night RAW episode of 19 April 2021 with the list of winners, highlights and videos.
Show – WWE Monday Night RAW
Date – 19 April 2021
Location- Yuengling Center, Tampa, FL, US
Time- 8 PM EST(20 April 2021 12 AM GMT/5:30 AM IST)
Last week's episode ended with T-Bar and Mace jumping on Drew McIntyre. This week's story is more or less going to be surrounding around that point itself. WWE has announced two matches till now apart from this. More storyline angles are expected to proceed further as WWE would look You can check more our preview for more information.
WWE RAW Quick Results 19 April 2021
The Viking Raiders(Erik & Ivar) defeated Shelton Benjamin & Cedric Alexander in a tag team match via pinfall.
Riddle defeated Randy Orton in a singles match via pinfall.
Lana & Naomi defeated Shayna Baszler & Nia Jax in a tag team match via pinfall.
Elias defeated Kofi Kingston in a singles match via pinfall.
Drew McIntyre defeated T-Bar & Mace in a 2-on-1 handicapped match via DQ.
T-Bar & Mace defeated Braun Strowman and Drew McIntyre in a tag team match via DQ.
Damina Priest defeated The Miz in a singles match via pinfall.
Asuka defeated Charlotte Flair in a singles match via pinfall.
Drew McIntyre Wants Answers
Drew McIntyre comes out to open the show. He is in his ring gear. Drew says after working hard, sometimes opportunity falls in our lap. He recalls how last week Strowman and Orton wanted a title shot and he beat them to become the #1 contender. He goes to talk about T-Bar & Mace and says MVP is the mastermind behind this. He takes shots on their masks. McIntyre's rant is interrupted by MVP's entrance.
MVP starts his promo but McIntyre cuts him off asking if he is saying that he has nothing to do about T-Bar and Mace. MVP says why would Lashley send T-Bar & Mace after him when he has beaten Drew himself. MVP says T-Bar & Mace has no tries with Hurt Business. Drew gets on the apron and says it might be huge coincident that he came out last week when T-Bar & Mace attacked.
Drew gets to the floor to talk to MVP when T-Bar and Mace attack him once again. They take him to the ring and hits a chokeslam once again. T-Bar and Mace leave as MVP smiles from the floor. Mace and T-BAR are interviewed at Gorilla position now. They name a variety of animals before settling on the sabretooth tiger and say they are going to make Drew extinct just like that.
Drew McIntyre finds Adam Pearce and demands a handicap match against Mace and T-BAR. Pearce tries to calm him down and asks him to go find a tag partner. Drew does not agree and tells him to make the match before he takes matters into his own hands.
The Viking Raiders vs Shelton Benjamin & Cedric Alexander
Erik & Shelton start. Benjamin takes Erik to the corner and Erik comes out of there with strikes. Shelton stops the charge by going for the waistlock and tags in Cedric Alexander to hit a dropkick. They keep Erik in their corner with quick tags. Erik comes with a big strike and tags in Ivar. Ivar hits a big slam. He goes to drop Shelton but he goes to the floor. Ivar misses a standing splash and Cedric hits a big knee. Shelton tags in and keep the control. The ring is cut in half once again by the heels.
Ivar with a bronco buster and somehow tags in Erik. Shelton hits Erik with a suplex now. Cedric tags in. Shelton goes to take care of Ivar on the floor but Ivar sends him into the barricade and hits a diving splash. Erik catches Cedric from a springboard for a German suplex and a big knee. He tags in Ivar for the Viking Experience to get the win.
Winner – The Viking Raiders
Randy Orton is backstage with Kevin Patrick. He says the Fiend will not be seen in WWE as long as he is here. Orton talks about turning his focus on WWE Championship. Riddle comes in and starts to talk again while roaming around. Riddle pitches a tag team named RK-Bro. Orton leaves without talking to him.
After the break, Randy Orton goes to Adam Pearce and talks about lack of respect backstage. He demands a match against Riddle as he wants to beat some respect into him. Pearce says he will see what he can do.
Charlotte, Asuka & Ripley Promos
Charlotte Flair makes her entrance as we see what happens last week with Flair attacking Asuka & Rhea Ripley. It is announced that the winner of Asuka vs Charlotte match will get a RAW Women's title opportunity.
After the break, Charlotte talks about women's locker room bitching about her. Asuka comes out to the ring. Rhea also comes out to the stage now and says Asuka will beat Charlotte tonight. Charlotte cuts on Asuka multiple times until Asuka gets frustrated and shouts at her that she will beat her tonight.
Randy Orton vs Riddle
They circle to start and lock up. Riddle goes to waistlock but Orton geos to the ropes. Orton with a takedown from the headlock. Riddle gets to his feet and avoids a suplex. Riddle with a sleeper and wraps his arms as Randy looks to go to the ropes. Randy powers out and throws Riddle. Riddle catches him the sleeper once again and Orton slams him in the corner. Riddle with a sleeper again and Orton had to slam him to the mat.
Riddle catches him in the body lock at the mat and Orton slips out to the floor. Riddle goes for the penalty kick from the apron but Orton catches his leg and trips him on the apron. Riddle tries to attack Orton again but gets dropped on the announce table. We go to the commercials.
Orton is stomping on Riddle's naked feed as we return. Riddle tries to fight back with forearms and chops but Orton hits a powerslam. A vertical suplex is next before an uppercut. Orton rakes Riddle's eyes when he tries to fight back. Riddle gets hyped up when Orton hits some chops on him in the corner. Riddle gets whipped into the turnbuckle though. Orton puts on a chinlock now. Riddle gets ot hi feet as the crowd cheers him on.
Orton misses a tackle and he gets into the ring post. Riddle with quick strikes and a pump big kick. Riddle with running forearms and elbows in the corner. Leg sweep and a standing senton to get a two-count. Riddle goes to the top and Orton comes to catch him. They fight at the top for a while before Orton hits a superplex for another two-count.
Riddle catches him an armbar at the ropes. Orton hits a drapping DDT and get ready for the the RKO. Riddle turns RKO into a crucifix pin to get the win.
Winner – Riddle
Riddle runs away to the stage and celebrates his win. Orton is in the ring frustrated over the loss.
Sheamus is backstage with Adam Pearce. Pearce tries to sell US open challenge to Sheamus and brings up John Cena. Sheamus gets angry and says he doesn't care about the past, but he'll do open challenges.
Shayna Baszler & Nia Jax vs Lana & Naomi
Naomi and Jax start the match. Lana and Noami with co-ordinated attacks to keep Nia down. They were fine until they made the mistake of trying to double suplex her. Nia counters the double suplex. Nia with a leg drop for a two-count. Baszler tags in and work over Lana over.
Dana Brooke & Mandy Rose comes out to the stage. They have something they want Nia Jax to see. It's the footage from last week. Jax is pissed and storms off the apron. Dana & Mandy run away and Nia chases them. Shayna had Lana in an armbar all this time. She slips out and tags in Naomi. Naomi and Lana with X-Factor to get the pin and the win.
Winners- Lana & Naomi