Complete AEW Dynamite TV Ratings & Viewership(US)
Check out the complete AEW ratings for its weekly show 'Dynamite' and its TV viewership, 18-49 demographic ratings year by year and week by week.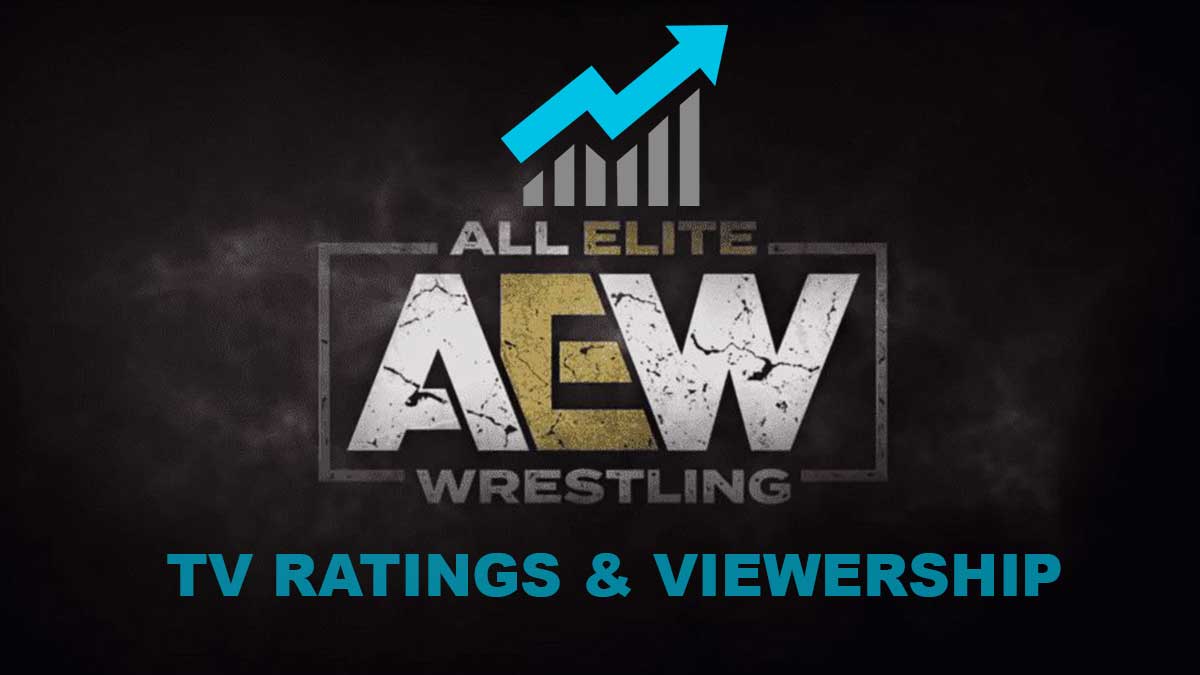 AEW Dynamite is AEW's weekly TV show which airs on TNT Network at 8 PM EST. The show goes head to head with WWE NXT on USA Network in the same time slot. Dynamite debuted on 2 October 2019 and got 1.4 million viewership with 0.68 rating in 18-49 demographic. This remains the highest viewership for the show till date.
The show continued to get 1 million plus viewers for the next two weeks but has slipped to under a million viewers since then. Despite that, Dynamite has been winning the race against NXT almost every week. The highest viewership for 2020 was for 1 January episode with 967,000 viewers and 0.36 rating for 18-49 demo.
AEW Dynamite TV Ratings & Viewership 2021
| DATE | VIEWERSHIP | vs PREVIOUS WEEK | 18-49 DEMOGRAPHIC RATING |
| --- | --- | --- | --- |
| 11 June | 487000 | +25000 | 0.19 |
| 4 June | 462000 | -64000 | 0.19 |
| 28 May | 526000 | -295000 | 0.20 |
| 20 May | 821000 | -115000 | 0.28 |
| 13 May | 936000 | -154000 | 0.31 |
| 5 May | 1090000 | +201000 | 0.42 |
| 28 April | 889000 | -215000 | 0.33 |
| 21 April | 1104000 | -115000 | 0.37 |
| 14 April | 1219000 | +531000 | 0.44 |
| 07 April | 688000 | -12000 | 0.28 |
| 31 March | 700000 | -57000 | 0.26 |
| 24 March | 757000 | -11000 | 0.30 |
| 17 March | 768000 | +25000 | 0.28 |
| 10 March | 743000 | -200000 | 0.32 |
| 03 March | 934000 | +103000 | 0.33 |
| 24 Febuary | 831000 | +84000 | 0.35 |
| 17 Febuary | 747000 | +6000 | 0.31 |
| 10 Febuary | 741000  | -103000 | 0.29 |
| 03 Febuary | 844000 | +110000 | 0.32 |
| 27 January | 734000 | -120000 | 0.29 |
| 20 January | 854000 | +92000 | 0.36 |
| 13 January | 762000 | +100000 | 0.30 |
| 06 January | 662000 | -315000 | 0.25 |
AEW Dynamite TV Ratings & Viewership 2020
---
| DATE | VIEWERSHIP | vs PREVIOUS WEEK | 18-49 DEMOGRAPHIC RATING |
| --- | --- | --- | --- |
| 30-Dec | 977000 | -202000 | 0.40 |
| 23-Dec | 775000 | -31000 | 0.32 |
| 16-Dec | 806000 | -189000 | 0.32 |
| 09-Dec | 995000 | +82000 | 0.45 |
| 02-Dec | 913000 | +201000 | 0.42 |
| 25-Nov | 712000 | -138000 | 0.26 |
| 18-Nov | 850000 | +86000 | 0.37  |
| 11-Nov | 764000 | +47000 | 0.30 |
| 04-Nov | 717000 | -64000 | 0.30 |
| 28-Oct | 781000 | +28000 | 0.32 |
| 21-Oct | 753000 | -73000 | 0.30 |
| 14-Oct | 826000 | +73000 | 0.30 |
| 07-Oct | 753000 | -113000 | 0.31 |
| 30-Sep | 866000 | +31000 | 0.33 |
| 23-Sep | 835000 | -51000 | 0.32 |
| 16-Sep | 886000 | -130000 | 0.34 |
| 09-Sep | 1016000 | +88000 | 0.37 |
| 02-Sep | 928000 | +115000 | 0.36 |
| 27-Aug | 813000 | +58000 | 0.29 |
| 22-Aug | 755000 | -37000 | 0.31 |
| 12-Aug | 792000 | -109000 | 0.32 |
| 05-Aug | 901000 | +128000 | 0.36 |
| 29-Jul | 773000 | -72000 | 0.30 |
| 22-Jul | 845000 | +57000 | 0.32 |
| 15-Jul | 788000 | +73000 | 0.29 |
| 08-Jul | 715000 | -33000 | 0.28 |
| 01-Jul | 748000 | +115000 | 0.29 |
| 24-Jun | 633000 | -139000 | 0.22 |
| 17-Jun | 772000 | +95000 | 0.28 |
| 10-Jun | 677000 | -53000 | 0.23  |
| 03-Jun | 730000 | -97000 | 0.29 |
| 27-May | 827000 | +126000 | 0.32 |
| 20-May | 701000 | +47000 | 0.26 |
| 13-May | 654000 | -78000 | 0.23 |
| 06-May | 732000 | +39000 | 0.28 |
| 29-Apr | 693000 | -38000 | 0.27 |
| 22-Apr | 731000 | +48000 | 0.25 |
| 15-Apr | 683000 | -9000 | 0.25 |
| 08-Apr | 692000 | +7000 | 0.26 |
| 01-Apr | 685000 | -134000 | 0.25 |
| 25-Mar | 819000 | -113000 | 0.34 |
| 18-Mar | 932000 | +166000 | 0.35 |
| 11-Mar | 766000 | -140000 | 0.26 |
| 04-Mar | 906000 | +41000 | 0.35 |
| 26-Feb | 865000 | -28000 | 0.30 |
| 19-Feb | 893000 | +76000 | 0.31 |
| 12-Feb | 817000 | -111000 | 0.30 |
| 05-Feb | 928000 | +100000 | 0.36 |
| 29-Jan | 828000 | -43000 | 0.34 |
| 22-Jan | 871000 | -69000 | 0.35 |
| 15-Jan | 940000 | -7000 | 0.38 |
| 08-Jan | 947000 | -20000 | 0.36 |
| 01-Jan | 967000 | +284000 | 0.36 |
AEW Dynamite TV Ratings & Viewership 2019
| DATE | VIEWERSHIP | vs PREVIOUS WEEK | 18-49 DEMOGRAPHIC RATINGS |
| --- | --- | --- | --- |
| 18-Dec | 683,000 | -95,000 | 0.25 |
| 11-Dec | 778,000 | -73,000 | 0.28 |
| 04-Dec | 851,000 | +188,000 | 0.32 |
| 27-Nov | 663,000 | -230,000 | 0.26 |
| 20-Nov | 893,000 | -64,000 | 0.39 |
| 13-Nov | 957,000 | +135,000 | 0.43  |
| 06-Nov | 822,000 | 33,000 | 0.35 |
| 30-Oct | 789,000 | -174,000 | 0.33 |
| 23-Oct | 963,000 | -51,000 | 0.45 |
| 16-Oct | 1,014,000 | -4,000 | 0.44 |
| 09-Oct | 1,018,000 | -391,000 | 0.46 |
| 02-Oct | 1,409,000 |  – | 0.68 |