Complete AEW Dynamite TV Ratings & Viewership(US)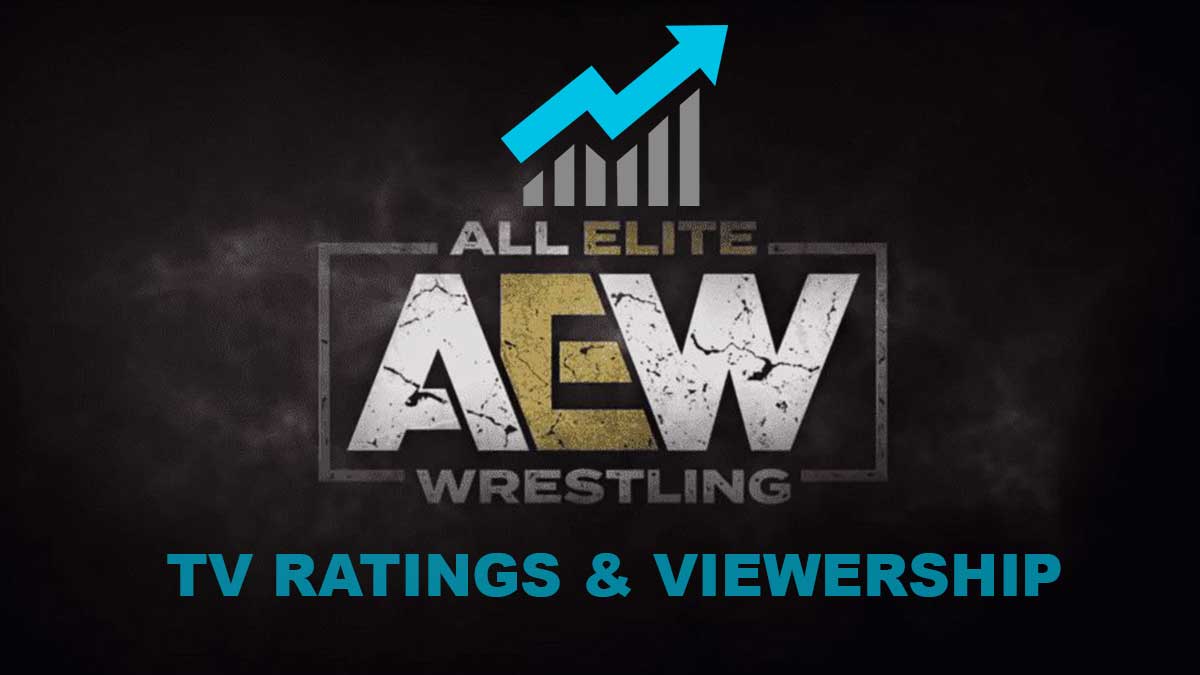 AEW Dynamite is AEW's weekly TV show which airs on TNT Network at 8 PM EST in the United States.
The show went head to head with WWE NXT on USA Network in the same time slot for the first 18 months since its debut on 2 October 2019. The debut episode of the show got 1.4 million viewership with 0.68 rating in 18-49 demographic. This remains the highest viewership for the show to date.
The show continued to get 1 million-plus viewers for the next two weeks but has slipped to under a million viewers since then. Despite that, Dynamite has been winning the race against NXT almost every week. The highest viewership for 2020 was for the 9 September episode with 1.016 million viewers and 0.37 ratings for 18-49 demo. The Wednesday night war ended in April 2021 after NXT was moved to Tuesday.
Check out the complete AEW ratings for its weekly show 'Dynamite' and its TV viewership, 18-49 demographic ratings year by year and week by week.
AEW Dynamite June 07, 2023 TV Ratings & Viewership
Viewership – 903,000
Rating – 0.33
Also Check
AEW Dynamite TV Ratings & Viewership 2023
| DATE | VIEWERSHIP | vs PREVIOUS WEEK | 18-49 DEMOGRAPHIC RATING |
| --- | --- | --- | --- |
| 07 June | 903000 | -20000 | 0.33 |
| 31 May | 923000 | +85000 | 0.29 |
| 24 May | 846000 | +32000 | 0.32 |
| 17 May | 814000 | -63000 | 0.28 |
| 10 May | 877000 | +101000 | 0.32 |
| 03 May | 776000 | -87000 | 0.28 |
| 26 April | 863000 | +33000 | 0.28 |
| 19 April | 830000 | -36000 | 0.28 |
| 12 April | 866000 | -11000 | 0.28 |
| 05 April | 877000 | +44000 | 0.30 |
| 29 March | 833000 | -121000 | 0.28 |
| 22 March | 954000 | +102000 | 0.33 |
| 15 March | 852000 | -6000 | 0.27 |
| 08 March | 858000 | +25000 | 0.29 |
| 01 March | 833000 | -195000 | 0.27 |
| 22 February | 1028000 | +204000 | 0.35 |
| 15 February | 824000 | -75000 | 0.27 |
| 08 February | 899000 | -2000 | 0.30 |
| 01 February | 901000 | -102000 | 0.31 |
| 25 January | 1003000 | +34000 | 0.32 |
| 18 January | 969000 | +2000 | 0.31 |
| 11 January | 967000 | +103000 | 0.33 |
| 4 January | 864000 | -12000 | 0.26 |
AEW Dynamite TV Ratings & Viewership 2022
DATE
VIEWERSHIP
vs PREVIOUS WEEK
18-49 DEMOGRAPHIC RATINGS
28 December
876000
-81000
0.28
21 December
957000
+7000
0.30
14 December
950000
+110000
0.33
07 December
840000
-30000
0.29
30 November
870000
-10000
0.26
23 November
880000
+62000
0.32
16 November
818000
-112000
0.28
09 November
930000
+21000
0.32
02 November
911000
-86000
0.29
26 October
997000
+245000
0.32
19 October
752000
-231000
0.26
12 October
983000
-55000
0.32
05 October
1038000
+48000
0.33
28 September
990000
-49000
0.34
21 September
1039000
-136000
0.35
14 September
1175000
+140000
0.39
7 September
1035000
+15000
0.38
31 August
1020000
-47000
0.35
24 August
1049000
+92000
0.34
17 August
957000
+15000
0.30
10 August
972000
+34000
0.33
03 August
938000
-38000
0.32
27 July
976000
+67000
0.33
20 July
910000
-32000
0.32
13 July
942000
-37000
0.32
06 July
979000
-44000
0.36
29 June
1023000
+145000
0.36
22 June
878000
+117000
0.31
15 June
761000
-178000
0.28
08 June
939000
-30000
0.34
01 June
969000
+4000
0.40
25 May
929000
+7000
0.35
18 May
922000
+82000
0.33
11 May
840000
+7000
0.33
04 May
833000
-88000
0.32
27 April
921000
-9000
0.33
20 April
930000
-40000
0.37
13 April
977000
-12000
0.37
06 April
989000
+10000
0.38
30 March
979000
-67000
0.38
23 March
1046000
+53000
0.41
16 March
993000
+38000
0.38
09 March
945000
-21000
0.40
02 March
966000
-46000
0.36
23 February
1010000
+141000
0.40
16 February
869000
-260000
0.31
09 February
1129000
+175000
0.41
02 February
954000
-146000
0.35
26 January
1100000
+68000
0.41
19 January
1032000
+63000
0.44
12 January
969000
-41000
0.39
05 January
1010000
+35000
0.43
AEW Dynamite TV Ratings & Viewership 2021
DATE
VIEWERSHIP
vs PREVIOUS WEEK
18-49 DEMOGRAPHIC RATING
29 Dec
975000
-45000
0.37
22 Dec
1020000
+54000
0.37
15 Dec
948000
+76000
0.31
08 Dec
872000
+11000
0.33
01 Dec
861000
-37000
0.31
24 Nov
898000
-86000
0.31
17 Nov
984000
+72000
0.37
10 Nov
912,000
+34000
0.34
3 Nov
878,000
-63,000
0.33
27 Oct
 941,000
+366000
0.40
23 Oct
575000
-152000
0.22
16 Oct
727,000
-326000
0.28
06 Oct
1053000
-99000
0.37
29 Sept
1152000
-121000
0.45
22 Sept
1273000
+98000
0.48
15 Sept
1175000
-144000
0.44
8 Sept
1319000
+272000
0.53
1 Sept
1047000
-125000
0.37
25 Aug
1172000
+197000
0.48
18 Aug
975000
-4000
0.35
11 Aug
979000
-123000
0.35
4 Aug
1102000
-6000
0.46
28 July
1108000
-40000
0.45
21 July
1148000
+123000
0.44
14 July
1025000
+154000
0.40
07 July
871000
-12000
0.33
30 June
883000
+234000
0.35
26 June
649000
+97000
0.21
18 June
552000
+65000
0.20
11 June
487000
+25000
0.19
4 June
462000
-64000
0.19
28 May
526000
-295000
0.20
20 May
821000
-115000
0.28
13 May
936000
-154000
0.31
5 May
1090000
+201000
0.42
28 April
889000
-215000
0.33
21 April
1104000
-115000
0.37
14 April
1219000
+531000
0.44
07 April
688000
-12000
0.28
31 March
700000
-57000
0.26
24 March
757000
-11000
0.30
17 March
768000
+25000
0.28
10 March
743000
-200000
0.32
03 March
934000
+103000
0.33
24 February
831000
+84000
0.35
17 February
747000
+6000
0.31
10 February
741000 
-103000
0.29
03 February
844000
+110000
0.32
27 January
734000
-120000
0.29
20 January
854000
+92000
0.36
13 January
762000
+100000
0.30
06 January
662000
-315000
0.25
AEW Dynamite TV Ratings & Viewership 2020
---
| DATE | VIEWERSHIP | vs PREVIOUS WEEK | 18-49 DEMOGRAPHIC RATING |
| --- | --- | --- | --- |
| 30-Dec | 977000 | -202000 | 0.40 |
| 23-Dec | 775000 | -31000 | 0.32 |
| 16-Dec | 806000 | -189000 | 0.32 |
| 09-Dec | 995000 | +82000 | 0.45 |
| 02-Dec | 913000 | +201000 | 0.42 |
| 25-Nov | 712000 | -138000 | 0.26 |
| 18-Nov | 850000 | +86000 | 0.37  |
| 11-Nov | 764000 | +47000 | 0.30 |
| 04-Nov | 717000 | -64000 | 0.30 |
| 28-Oct | 781000 | +28000 | 0.32 |
| 21-Oct | 753000 | -73000 | 0.30 |
| 14-Oct | 826000 | +73000 | 0.30 |
| 07-Oct | 753000 | -113000 | 0.31 |
| 30-Sep | 866000 | +31000 | 0.33 |
| 23-Sep | 835000 | -51000 | 0.32 |
| 16-Sep | 886000 | -130000 | 0.34 |
| 09-Sep | 1016000 | +88000 | 0.37 |
| 02-Sep | 928000 | +115000 | 0.36 |
| 27-Aug | 813000 | +58000 | 0.29 |
| 22-Aug | 755000 | -37000 | 0.31 |
| 12-Aug | 792000 | -109000 | 0.32 |
| 05-Aug | 901000 | +128000 | 0.36 |
| 29-Jul | 773000 | -72000 | 0.30 |
| 22-Jul | 845000 | +57000 | 0.32 |
| 15-Jul | 788000 | +73000 | 0.29 |
| 08-Jul | 715000 | -33000 | 0.28 |
| 01-Jul | 748000 | +115000 | 0.29 |
| 24-Jun | 633000 | -139000 | 0.22 |
| 17-Jun | 772000 | +95000 | 0.28 |
| 10-Jun | 677000 | -53000 | 0.23  |
| 03-Jun | 730000 | -97000 | 0.29 |
| 27-May | 827000 | +126000 | 0.32 |
| 20-May | 701000 | +47000 | 0.26 |
| 13-May | 654000 | -78000 | 0.23 |
| 06-May | 732000 | +39000 | 0.28 |
| 29-Apr | 693000 | -38000 | 0.27 |
| 22-Apr | 731000 | +48000 | 0.25 |
| 15-Apr | 683000 | -9000 | 0.25 |
| 08-Apr | 692000 | +7000 | 0.26 |
| 01-Apr | 685000 | -134000 | 0.25 |
| 25-Mar | 819000 | -113000 | 0.34 |
| 18-Mar | 932000 | +166000 | 0.35 |
| 11-Mar | 766000 | -140000 | 0.26 |
| 04-Mar | 906000 | +41000 | 0.35 |
| 26-Feb | 865000 | -28000 | 0.30 |
| 19-Feb | 893000 | +76000 | 0.31 |
| 12-Feb | 817000 | -111000 | 0.30 |
| 05-Feb | 928000 | +100000 | 0.36 |
| 29-Jan | 828000 | -43000 | 0.34 |
| 22-Jan | 871000 | -69000 | 0.35 |
| 15-Jan | 940000 | -7000 | 0.38 |
| 08-Jan | 947000 | -20000 | 0.36 |
| 01-Jan | 967000 | +284000 | 0.36 |
AEW Dynamite TV Ratings & Viewership 2019
| DATE | VIEWERSHIP | vs PREVIOUS WEEK | 18-49 DEMOGRAPHIC RATINGS |
| --- | --- | --- | --- |
| 18-Dec | 683,000 | -95,000 | 0.25 |
| 11-Dec | 778,000 | -73,000 | 0.28 |
| 04-Dec | 851,000 | +188,000 | 0.32 |
| 27-Nov | 663,000 | -230,000 | 0.26 |
| 20-Nov | 893,000 | -64,000 | 0.39 |
| 13-Nov | 957,000 | +135,000 | 0.43  |
| 06-Nov | 822,000 | 33,000 | 0.35 |
| 30-Oct | 789,000 | -174,000 | 0.33 |
| 23-Oct | 963,000 | -51,000 | 0.45 |
| 16-Oct | 1,014,000 | -4,000 | 0.44 |
| 09-Oct | 1,018,000 | -391,000 | 0.46 |
| 02-Oct | 1,409,000 |  – | 0.68 |