Complete WWE NXT TV Rating & Viewership (US)
Check out the complete WWE NXT ratings for its weekly show and its TV viewership and 18-49 demographics data, year by year and week by week.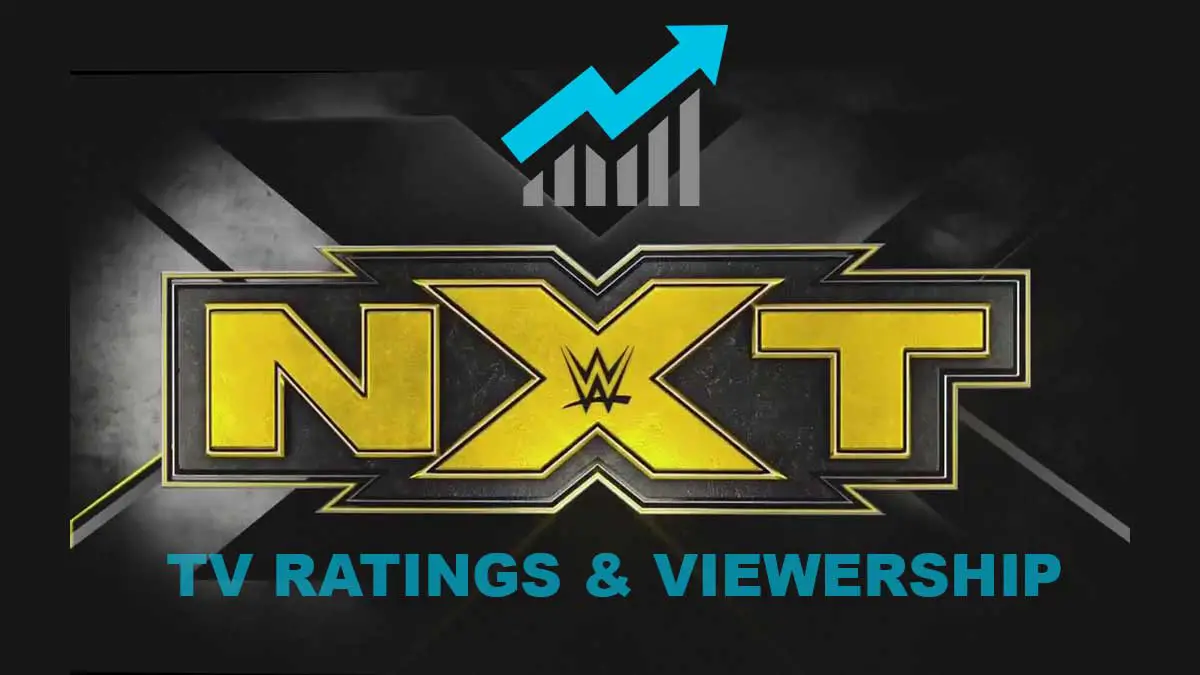 NXT started airing live on USA Network from 18 September 2019 with a one-hour episode. Prior to that, the show use to air on WWE's streaming service WWE Network. The show go head to head with AEW Dynamite which airs in the same time slot of 8-10 PM EST on TNT Network.
NXT garnered 1.17 million viewers on its debut episode with 0.56 ratings in 18-49 demographics. 25 September 2019 episode also crossed 1 million mark but has not crossed that number again since it started to compete against AEW Dynamite.
WWE NXT June 21, 2022 TV Ratings & Viewership
Viewership – 673,000
Rating – 0.18
WWE NXT TV Ratings & Viewership 2022
| DATE | VIEWERSHIP | vs PREVIOUS WEEK | 18-49 DEMOGRAPHIC RATING |
| --- | --- | --- | --- |
| 21 June | 673000 | +61000 | 0.18 |
| 14 June | 612000 | -63000 | 0.12 |
| 07 June | 675000 | +141000 | 0.14 |
| 31 May | 534000 | -17000 | 0.12 |
| 24 May | 551000 | -50000 | 0.13 |
| 17 May | 601000 | +68000 | 0.14 |
| 10 May | 533000 | -128000 | 0.10 |
| 03 May | 661000 | +84000 | 0.13 |
| 26 Apr | 577000 | +8000 | 0.14 |
| 19 Apr | 569000 | -41000 | 0.12 |
| 12 Apr | 610000 | -21000 | 0.12 |
| 05 Apr | 631000 | +5000 | 0.14 |
| 29 Mar | 626000 | -2000 | 0.14 |
| 22 Mar | 628000 | +4000 | 0.14 |
| 15 Mar | 624000 | +11000 | 0.14 |
| 08 Mar | 613000 | +62000 | 0.13 |
| 01 Mar | 551000 | -71000 | 0.13 |
| 22 Feb | 621000 | +96000 | 0.12 |
| 15 Feb | 525000 | +125000 | 0.11 |
| 08 Feb | 400000 | -219000 | 0.07 |
| 01 Feb | 619000 | +26000 | 0.13 |
| 25 Jan | 593000 | +6000 | 0.14 |
| 18 Jan | 587000 | -60000 | 0.11 |
| 11 Jan | 647000 | -38000 | 0.14 |
| 4 Jan | 685000 | +23000 | 0.16 |
WWE NXT TV Ratings & Viewership 2021
| DATE | VIEWERSHIP | vs PREVIOUS WEEK | 18-49 DEMOGRAPHIC RATING |
| --- | --- | --- | --- |
| 28 Dec | 662000 | +71000 | 0.16 |
| 21 Dec | 591000 | +30000 | 0.11 |
| 14 Dec | 561000 | -29000 | 0.14 |
| 07 Dec | 590000 | -47000 | 0.11 |
| 30 Nov | 637000 | +12000 | 0.15 |
| 23 Nov | 625000 | +51000 | 0.14 |
| 16 Nov | 574000 | -29000 | 0.11 |
| 09 Nov | 603000 | -28000 | 0.15 |
| 02 Nov | 631000 | -115000 | 0.15 |
| 26 Oct | 746,000 | +140000 | 0.18 |
| 19 Oct | 606,000 | -26000 | 0.14 |
| 12 Oct | 632000 | 0 | 0.15 |
| 05 Oct | 632000 | -23000 | 0.13 |
| 28 Sept | 655000 | -91000 | 0.14 |
| 21 Sep | 746000 | -24000 | 0.20 |
| 14 Sep | 770000 | +169000 | 0.21 |
| 7 Sep | 601,000 | -116000 | 0.14 |
| 31 Aug | 717000 | +32000 | 0.17 |
| 24 Aug | 685000 | +31000 | 0.16 |
| 17 Aug |  654000 | -97000 | 0.15 |
| 10 Aug | 751000 | +231000 | 0.19 |
| 03 Aug | 520000 | 0 | 0.10 |
| 27 July | 520000 | -189000 | 0.12 |
| 20 July | 709000 | +4000 | 0.20 |
| 13 July | 705000 | +51000 | 0.19 |
| 6 July | 654000 | +18000 | 0.18 |
| 29 June | 636000 | -29000 | 0.13 |
| 22 June | 665000 | -30000 | 0.17 |
| 15 June | 695000 | +26000 | 0.19 |
| 8 June | 669000 | +1000 | 0.19 |
| 1 June | 668000 | -30000 | 0.19 |
| 25 May | 698000 | -2000 | 0.13 |
| 18 May | 700000 | -3000 | 0.15 |
| 11 May | 697000 | -64000 | 0.17 |
| 4 May | 761000 | +17000 | 0.18 |
| 27 April | 744000 | -97000 | 0.22 |
| 20 April | 841000 | +36000 | 0.23 |
| 13 April | 805000 | +37000 | 0.22 |
| 07 April | 768000 | 114000 | 0.22 |
| 31 March | 654000 | -24000 | 0.21 |
| 24 March | 678000 | +81000 | 0.14 |
| 17 March | 597000 | -94000 | 0.13 |
| 10 March | 691000 | -1000 | 0.18 |
| 03 March | 692000 | -42000 | 0.20 |
| 24 Febuary | 734000 | +21000 | 0.18 |
| 17 Febuary | 713000 | +155000 | 0.16 |
| 10 Febuary | 558000 | -52000 | 0.12 |
| 03 Febuary | 610000 | -110000 | 0.15 |
| 27 January | 720000 | -61000 | 0.21 |
| 20 January | 659000 | +108000 | 0.15 |
| 13 January | 551000 | -90000 | 0.14 |
| 06 January | 641000 | +55,000 | 0.16 |
WWE NXT TV Ratings & Viewership 2020
| DATE | VIEWERSHIP | vs PREVIOUS WEEK | 18-49 DEMOGRAPHIC RATING |
| --- | --- | --- | --- |
| 30-Dec | 586000 | -112000 | 0.12 |
| 23-Dec | 698000 | -68000 | 0.19 |
| 16-Dec | 766000 | +107000 | 0.19 |
| 09-Dec | 659000 | +1000 | 0.17 |
| 02-Dec | 658000 | -54000 | 0.16 |
| 25-Nov | 712000 | +74000 | 0.20 |
| 18-Nov | 638000 | +6000 | 0.14 |
| 11-Nov | 632000 | +22000 | 0.16 |
| 04- Nov | 610000 | -266000 | 0.14 |
| 28-Oct | 876000 | +232000 | 0.25 |
| 21-Oct | 644000 | -7000 | 0.16 |
| 14-Oct | 651000 | +12000 | 0.17 |
| 07-Oct | 639000 | -93000 | 0.16 |
| 30-Sep | 732000 | +36000 | 0.19 |
| 23-Sep | 696000  | +7000 | 0.18 |
| 16-Sep | 689000 | -139000 | 0.18 |
| 08-Sep | 828000 | -21000 | 0.22 |
| 01-Sep | 849000 | +36000 | 0.26 |
| 26-Aug | 824000 | +58000 | 0.29 |
| 19-Aug | 853000 | -37000 | 0.31 |
| 12-Aug | 619000 | +39000 | 0.32 |
| 05-Aug | 753000 | +46000 | 0.20 |
| 29-Jul | 707000 | +92000 | 0.18 |
| 22-Jul | 615000 | -16000 | 0.17 |
| 15-Jul | 631000 | -128000 | 0.14 |
| 08-Jul | 759000 | -33000 | 0.20 |
| 01-Jul | 792000 | +6000 | 0.22 |
| 24-Jun | 786000 | +40000 | 0.19 |
| 17-Jun | 746000 | +73000 | 0.20 |
| 10-Jun | 673000 | -73000 | 0.16 |
| 03-Jun | 715000 | -42000 | 0.20 |
| 27-May | 731000 | +139000 | 0.19 |
| 20-May | 592000 | -12000 | 0.13 |
| 13-May | 604000 | -59000 | 0.15 |
| 06-May | 663000 | +26000 | 0.18 |
| 29-Apr | 637000 | -28000 | 0.16 |
| 22-Apr | 665000 | -27000 | 0.18 |
| 15-Apr | 692000 | -1000 | 0.17 |
| 08-Apr | 693000 | +103000 | 0.19 |
| 01-Apr | 590000 | -79000 | 0.15 |
| 25-Mar | 669000 | +127000 | 0.20 |
| 18-Mar | 542000 | -155000 | 0.16 |
| 11-Mar | 697000 | -21000 | 0.21 |
| 04-Mar | 718000 | +1000 | 0.23 |
| 26-Feb | 717000 | -77000 | 0.23 |
| 19-Feb | 794000 | +37000 | 0.25 |
| 12-Feb | 757000 | -13000 | 0.24 |
| 05-Feb | 770000 | +58000 | 0.22 |
| 29-Jan | 712000 | -57000 | 0.22 |
| 22-Jan | 769000 | +69000 | 0.24 |
| 15-Jan | 700000 | -21000 | 0.21 |
| 08-Jan | 721000 | +173000 | 0.19 |
| 01-Jan | 548000 | -283000 | 0.15 |
WWE NXT TV Ratings & Viewership 2019
| DATE | VIEWERSHIP | vs PREVIOUS WEEK | 18-49 DEMOGRAPHIC RATING |
| --- | --- | --- | --- |
| 25-Dec | 831000 | +36000 | 0.22 |
| 18-Dec | 795000 | +17000 | 0.27 |
| 11-Dec | 778000 | -67000 | 0.24 |
| 04-Dec | 845000 | +35000 | 0.29 |
| 27-Nov | 810000 | -106000 | 0.24 |
| 20-Nov | 916000 | +166000 | 0.30 |
| 13-Nov | 750000 | -63000 | 0.25 |
| 06-Nov | 813000 | +233000 | 0.30 |
| 30-Oct | 580000 | -118000 | 0.18 |
| 23-Oct | 698000 | -14000 | 0.21 |
| 16-Oct | 712000 | -78000 | 0.20 |
| 09-Oct | 790000 | -101000 | 0.22 |
| 02-Oct | 891000 | -115000 | 0.32 |
| 25-Sep | 1006000 | -173000 | 0.40 |
| 18-Sep | 1179000 | –  | 0.56 |
---
SEE ALSO:
---