WWE NXT Latest & All-Time TV Viewerships & Ratings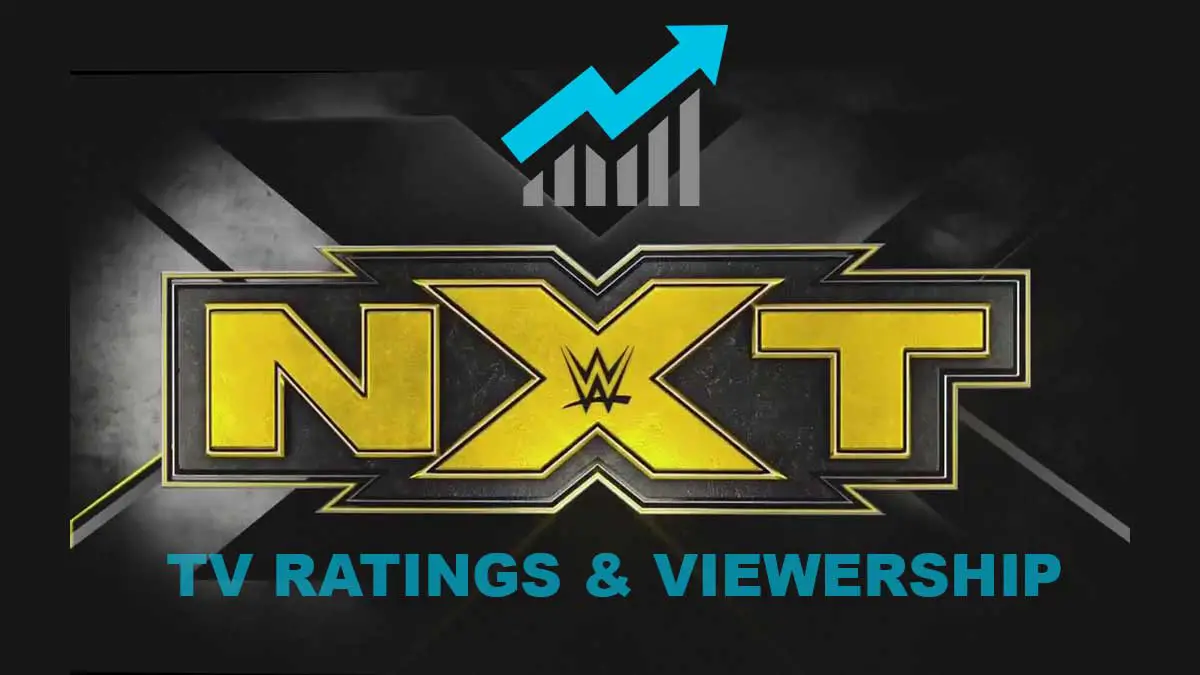 After being on WWE Network for almost 5 years, NXT started airing on TV from October 2019. The show has presented more than 150 episodes on USA Network, initially on Wednesday night before shiting to Tuesdays. The viewership has mostly ranged between 600,000 to 800,000 while the 18-49 demographic rating has been mostly between 0.11 to 0.2.
WWE NXT episode of December 05, 2023, garnered an average viewership of 626,000, along with the 18-49 demographic rating of 0.19. The viewership decrease by 33,000 viewers(5.0 %) while demographic rating was Up by 0.1 points(5.6 %).
2023
| DATE | VIEWERSHIP | vs PREVIOUS WEEK | 18-49 DEMOGRAPHIC RATING |
| --- | --- | --- | --- |
| December 05 | 626000 | -33000 | 0.19 |
| November 28 | 659000 | +37000 | 0.18 |
| November 21 | 622000 | -81000 | 0.19 |
| November 14 | 703000 | -91000 | 0.21 |
| November 07 | 794000 | +120000 | 0.26 |
| October 31 | 674000 | -113000 | 0.20 |
| October 24 | 787000 | +12000 | 0.21 |
| October 17 | 798000 | -123000 | 0.23 |
| October 10 | 921000 | +34000 | 0.30 |
| October 03 | 887000 | +251000 | 0.22 |
| September 26 | 636,000 | 188000 | 0.18 |
| September 19 | 824,000 | -26000 | 0.24 |
| September 12 | 850,000 | +177000 | 0.26 |
| September 05 | 673000 | +59000 | 0.18 |
| August 29 | 614000 | -106000 | 0.16 |
| August 22 | 720000 | +40000 | 0.19 |
| August 15 | 680000 | -980000 | 0.19 |
| August 08 | 778000 | +61000 | 0.23 |
| August 01 | 717000 | +14000 | 0.23 |
| 25 July | 703000 | -43000 | 0.23 |
| 18 July | 746000 | +75000 | 0.21 |
| 11 July | 671000 | +163000 | 0.20 |
| 04 July | 508000 | -114000 | 0.13 |
| 27 June | 622000 | -151000 | 0.17 |
| 20 June | 773000 | +192000 | 0.23 |
| 13 June | 581000 | -34000 | 0.16 |
| 06 June | 615000 | +8000 | 0.17 |
| 30 May | 607000 | +29000 | 0.17 |
| 23 May | 578000 | +12000 | 0.16 |
| 16 May | 564000 | -37000 | 0.14 |
| 09 May | 601000 | -33000 | 0.17 |
| 02 May | 568000 | -79000 | 0.14 |
| 25 April | 647000 | +82000 | 0.18 |
| 18 April | 565000 | +37000 | 0.14 |
| 11 April | 528000 | -27000 | 0.13 |
| 04 April | 555000 | -73000 | 0.13 |
| 28 March | 628000 | +78000 | 0.16 |
| 21 March | 550000 | -40000 | 0.12 |
| 14 March | 590000 | -34000 | 0.15 |
| 7 March | 624000 | +69000 | 0.17 |
| 28 February | 555000 | -34000 | 0.13 |
| 21 February | 589000 | -51000 | 0.14 |
| 14 February | 640000 | +78000 | 0.15 |
| 07 February | 562,000 | -25000 | 0.11 |
| 31 January | 587,000 | -20000 | 0.13 |
| 24 January | 607,000 | +7000 | 0.12 |
| 17 January | 600,000 | -100000 | 0.14 |
| 10 January | 700,000 | +47,000 | 0.15 |
| 3 January | 653,000 | +65000 | 0.16 |
2022
| DATE | VIEWERSHIP | vs PREVIOUS WEEK | 18-49 DEMOGRAPHIC RATING |
| --- | --- | --- | --- |
| 27 December | 588000 | -117000 | 0.12 |
| 20 December | 705000 | +39000 | 0.14 |
| 13 December | 666000 | +132000 | 0.17 |
| 6 December | 534000 | -110000 | 0.13 |
| 29 November | 644000 | +20000 | 0.13 |
| 22 November | 624000 | -39000 | 0.12 |
| 15 November | 663000 | -1000 | 0.17 |
| 08 November | 664000 | -6000 | 0.15 |
| 01 November | 670000 | -46000 | 0.13 |
| 24 October | 716000 | +40000 | 0.15 |
| 17 October | 676000 | -61000 | 0.18 |
| 10 October | 737000 | +112000 | 0.15 |
| 03 October | 625000 | -35000 | 0.13 |
| 27 September | 660000 | -28000 | 0.16 |
| 20 September | 688000 | -38000 | 0.15 |
| 13 September | 728000 | +42000 | 0.15 |
| 6 September | 684000 | +8000 | 0.16 |
| 30 August | 676000 | -2000 | 0.15 |
| 23 August | 678000 | -45000 | 0.14 |
| 16 August | 723000 | +126000 | 0.18 |
| 09 August | 597000 | -52000 | 0.13 |
| 02 August | 649000 | +49000 | 0.15 |
| 26 July | 600000 | +12000 | 0.13 |
| 19 July | 588000 | +6000 | 0.13 |
| 12 July | 582000 | -11000 | 0.14 |
| 05 July | 593000 | +23000 | 0.12 |
| 28 June | 570000 | 103000 | 0.11 |
| 21 June | 673000 | +61000 | 0.18 |
| 14 June | 612000 | -63000 | 0.12 |
| 07 June | 675000 | +141000 | 0.14 |
| 31 May | 534000 | -17000 | 0.12 |
| 24 May | 551000 | -50000 | 0.13 |
| 17 May | 601000 | +68000 | 0.14 |
| 10 May | 533000 | -128000 | 0.10 |
| 03 May | 661000 | +84000 | 0.13 |
| 26 Apr | 577000 | +8000 | 0.14 |
| 19 Apr | 569000 | -41000 | 0.12 |
| 12 Apr | 610000 | -21000 | 0.12 |
| 05 Apr | 631000 | +5000 | 0.14 |
| 29 Mar | 626000 | -2000 | 0.14 |
| 22 Mar | 628000 | +4000 | 0.14 |
| 15 Mar | 624000 | +11000 | 0.14 |
| 08 Mar | 613000 | +62000 | 0.13 |
| 01 Mar | 551000 | -71000 | 0.13 |
| 22 Feb | 621000 | +96000 | 0.12 |
| 15 Feb | 525000 | +125000 | 0.11 |
| 08 Feb | 400000 | -219000 | 0.07 |
| 01 Feb | 619000 | +26000 | 0.13 |
| 25 Jan | 593000 | +6000 | 0.14 |
| 18 Jan | 587000 | -60000 | 0.11 |
| 11 Jan | 647000 | -38000 | 0.14 |
| 4 Jan | 685000 | +23000 | 0.16 |
2021
| DATE | VIEWERSHIP | vs PREVIOUS WEEK | 18-49 DEMOGRAPHIC RATING |
| --- | --- | --- | --- |
| 28 Dec | 662000 | +71000 | 0.16 |
| 21 Dec | 591000 | +30000 | 0.11 |
| 14 Dec | 561000 | -29000 | 0.14 |
| 07 Dec | 590000 | -47000 | 0.11 |
| 30 Nov | 637000 | +12000 | 0.15 |
| 23 Nov | 625000 | +51000 | 0.14 |
| 16 Nov | 574000 | -29000 | 0.11 |
| 09 Nov | 603000 | -28000 | 0.15 |
| 02 Nov | 631000 | -115000 | 0.15 |
| 26 Oct | 746,000 | +140000 | 0.18 |
| 19 Oct | 606,000 | -26000 | 0.14 |
| 12 Oct | 632000 | 0 | 0.15 |
| 05 Oct | 632000 | -23000 | 0.13 |
| 28 Sept | 655000 | -91000 | 0.14 |
| 21 Sep | 746000 | -24000 | 0.20 |
| 14 Sep | 770000 | +169000 | 0.21 |
| 7 Sep | 601,000 | -116000 | 0.14 |
| 31 Aug | 717000 | +32000 | 0.17 |
| 24 Aug | 685000 | +31000 | 0.16 |
| 17 Aug |  654000 | -97000 | 0.15 |
| 10 Aug | 751000 | +231000 | 0.19 |
| 03 Aug | 520000 | 0 | 0.10 |
| 27 July | 520000 | -189000 | 0.12 |
| 20 July | 709000 | +4000 | 0.20 |
| 13 July | 705000 | +51000 | 0.19 |
| 6 July | 654000 | +18000 | 0.18 |
| 29 June | 636000 | -29000 | 0.13 |
| 22 June | 665000 | -30000 | 0.17 |
| 15 June | 695000 | +26000 | 0.19 |
| 8 June | 669000 | +1000 | 0.19 |
| 1 June | 668000 | -30000 | 0.19 |
| 25 May | 698000 | -2000 | 0.13 |
| 18 May | 700000 | -3000 | 0.15 |
| 11 May | 697000 | -64000 | 0.17 |
| 4 May | 761000 | +17000 | 0.18 |
| 27 April | 744000 | -97000 | 0.22 |
| 20 April | 841000 | +36000 | 0.23 |
| 13 April | 805000 | +37000 | 0.22 |
| 07 April | 768000 | 114000 | 0.22 |
| 31 March | 654000 | -24000 | 0.21 |
| 24 March | 678000 | +81000 | 0.14 |
| 17 March | 597000 | -94000 | 0.13 |
| 10 March | 691000 | -1000 | 0.18 |
| 03 March | 692000 | -42000 | 0.20 |
| 24 Febuary | 734000 | +21000 | 0.18 |
| 17 Febuary | 713000 | +155000 | 0.16 |
| 10 Febuary | 558000 | -52000 | 0.12 |
| 03 Febuary | 610000 | -110000 | 0.15 |
| 27 January | 720000 | -61000 | 0.21 |
| 20 January | 659000 | +108000 | 0.15 |
| 13 January | 551000 | -90000 | 0.14 |
| 06 January | 641000 | +55,000 | 0.16 |
2020
| DATE | VIEWERSHIP | vs PREVIOUS WEEK | 18-49 DEMOGRAPHIC RATING |
| --- | --- | --- | --- |
| 30-Dec | 586000 | -112000 | 0.12 |
| 23-Dec | 698000 | -68000 | 0.19 |
| 16-Dec | 766000 | +107000 | 0.19 |
| 09-Dec | 659000 | +1000 | 0.17 |
| 02-Dec | 658000 | -54000 | 0.16 |
| 25-Nov | 712000 | +74000 | 0.20 |
| 18-Nov | 638000 | +6000 | 0.14 |
| 11-Nov | 632000 | +22000 | 0.16 |
| 04- Nov | 610000 | -266000 | 0.14 |
| 28-Oct | 876000 | +232000 | 0.25 |
| 21-Oct | 644000 | -7000 | 0.16 |
| 14-Oct | 651000 | +12000 | 0.17 |
| 07-Oct | 639000 | -93000 | 0.16 |
| 30-Sep | 732000 | +36000 | 0.19 |
| 23-Sep | 696000  | +7000 | 0.18 |
| 16-Sep | 689000 | -139000 | 0.18 |
| 08-Sep | 828000 | -21000 | 0.22 |
| 01-Sep | 849000 | +36000 | 0.26 |
| 26-Aug | 824000 | +58000 | 0.29 |
| 19-Aug | 853000 | -37000 | 0.31 |
| 12-Aug | 619000 | +39000 | 0.32 |
| 05-Aug | 753000 | +46000 | 0.20 |
| 29-Jul | 707000 | +92000 | 0.18 |
| 22-Jul | 615000 | -16000 | 0.17 |
| 15-Jul | 631000 | -128000 | 0.14 |
| 08-Jul | 759000 | -33000 | 0.20 |
| 01-Jul | 792000 | +6000 | 0.22 |
| 24-Jun | 786000 | +40000 | 0.19 |
| 17-Jun | 746000 | +73000 | 0.20 |
| 10-Jun | 673000 | -73000 | 0.16 |
| 03-Jun | 715000 | -42000 | 0.20 |
| 27-May | 731000 | +139000 | 0.19 |
| 20-May | 592000 | -12000 | 0.13 |
| 13-May | 604000 | -59000 | 0.15 |
| 06-May | 663000 | +26000 | 0.18 |
| 29-Apr | 637000 | -28000 | 0.16 |
| 22-Apr | 665000 | -27000 | 0.18 |
| 15-Apr | 692000 | -1000 | 0.17 |
| 08-Apr | 693000 | +103000 | 0.19 |
| 01-Apr | 590000 | -79000 | 0.15 |
| 25-Mar | 669000 | +127000 | 0.20 |
| 18-Mar | 542000 | -155000 | 0.16 |
| 11-Mar | 697000 | -21000 | 0.21 |
| 04-Mar | 718000 | +1000 | 0.23 |
| 26-Feb | 717000 | -77000 | 0.23 |
| 19-Feb | 794000 | +37000 | 0.25 |
| 12-Feb | 757000 | -13000 | 0.24 |
| 05-Feb | 770000 | +58000 | 0.22 |
| 29-Jan | 712000 | -57000 | 0.22 |
| 22-Jan | 769000 | +69000 | 0.24 |
| 15-Jan | 700000 | -21000 | 0.21 |
| 08-Jan | 721000 | +173000 | 0.19 |
| 01-Jan | 548000 | -283000 | 0.15 |
2019
| DATE | VIEWERSHIP | vs PREVIOUS WEEK | 18-49 DEMOGRAPHIC RATING |
| --- | --- | --- | --- |
| 25-Dec | 831000 | +36000 | 0.22 |
| 18-Dec | 795000 | +17000 | 0.27 |
| 11-Dec | 778000 | -67000 | 0.24 |
| 04-Dec | 845000 | +35000 | 0.29 |
| 27-Nov | 810000 | -106000 | 0.24 |
| 20-Nov | 916000 | +166000 | 0.30 |
| 13-Nov | 750000 | -63000 | 0.25 |
| 06-Nov | 813000 | +233000 | 0.30 |
| 30-Oct | 580000 | -118000 | 0.18 |
| 23-Oct | 698000 | -14000 | 0.21 |
| 16-Oct | 712000 | -78000 | 0.20 |
| 09-Oct | 790000 | -101000 | 0.22 |
| 02-Oct | 891000 | -115000 | 0.32 |
| 25-Sep | 1006000 | -173000 | 0.40 |
| 18-Sep | 1179000 | –  | 0.56 |
---
SEE ALSO:
---