AEW Rankings 31 August 2022 & All-Time Rankings Compilation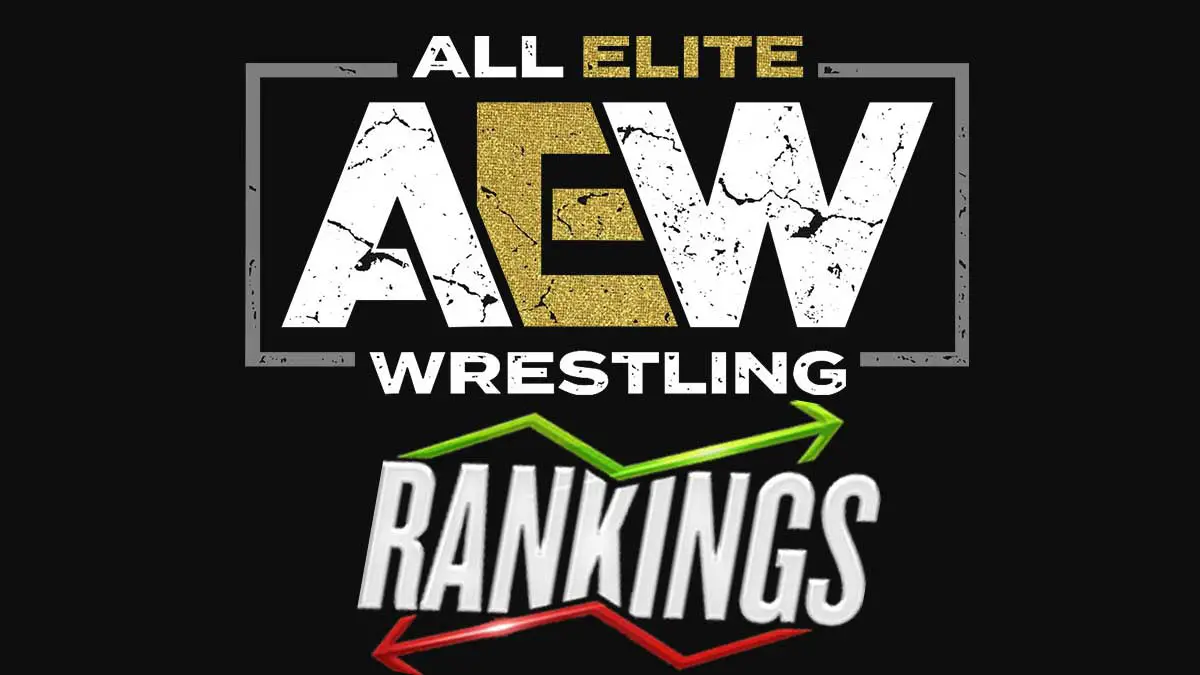 AEW Rankings are the standing of top 5 wrestlers in the men's singles, men's tag team, and women's singles divisions. Wrestlers with the best win-loss record and wins in significant matches for the running year are considered for the rankings. The top contenders are usually considered when booking title matches or the top 2/4 contenders take part in Eliminator tournaments to become the #1 contender.
Check out the latest AEW Rankings and rankings from each week they were published in 2019 to 2022.
AEW Rankings of 31 August 2022
Men's
CM Punk
Adam Page
Powerhouse Hobbs
Jay Lethal
Darby Allin
Women's
Toni Strom
Dr. Britt Baker
Athena
Hikaru Shida
Jamie Hayter
Tag Teams
Dax Harwood & Cash Wheeler
Anthony Bowens & Max Caster
Matt Jackson & Nick Jackson
#10 & Evil Uno
Colten Gunn & Austin Gunn
2022
Event Date
Men's
Women's
Tag Team
10 August 2022
1. Adam Page
2. Powerhouse Hobbs
3. Chris Jericho
4. Daniel Garcia
5. Jay Lethal
1. Toni Strom
2. Dr. Britt Baker
3. Athena
4.Anna Jay
5. Nyla Rose
1. Dax Harwood & Cash Wheeler
2. Matt Jackson & Nick Jackson
3. #10 & Evil Uno
4. Anthony Bowens & Max Caster
5. Trent & Chuck Taylor
03 August 2022
1. Adam Page
2. Jay Lethal
3. Powerhouse Hobbs
4. Chris Jericho
5. Daniel Garcia
1. Toni Strom
2. Kris Statlander
3. Dr. Britt Baker
4. Jamie Hayter
5. Athena
1. Dax Harwood & Cash Wheeler
2. Matt Jackson & Nick Jackson
3. #10 & Evil Uno
4. Anthony Bowens & Max Caster
5. Matt Menard & Angelo Parker
27 July 2022
1. Scorpio Sky
2. Adam Page
3. Jay Lethal
4. Powerhouse Hobbs
5. Chris Jericho
1. Miyu Yamashita
2. Toni Strom
3. Kris Statlander
4. Serena Deeb
5. Nyla Rose
1.Dax Harwood & Cash Wheeler
2. Matt Jackson & Nick Jackson
3. Powerhouse Hobbs & Ricky Starks
4. #10 & Evil Uno
5. Matt Menard & Angelo Parker
20 July 2022
1. Scorpio Sky
2. Adam Page
3. Jay Lethal
4. Eddie Kingston
5. Powerhouse Hobbs
1. Miyu Yamashita
2. Toni Strom
3. Kris Statlander
4. Serena Deeb
5. Nyla Rose
1.Dax Harwood & Cash Wheeler
2. Matt Jackson & Nick Jackson
3. Powerhouse Hobbs & Ricky Starks
4. #10 & Evil Uno
5. Griff Garrison & Brian Pillman Jr.
13 July 2022
1.Scorpio Sky
2. Adam Page
3. Jay Lethal
4.Orange Cassidy
5. Powerhouse Hobbs
1.Miyu Yamashita
2. Toni Strom
3.Kris Statlander
4.Nyla Rose
5.Serena Deeb
1. Dax Harwood & Cash Wheeler
2. Powerhouse Hobbs & Ricky Starks
3. Keith Lee & Swevre Strickland
4. Alex Reynolds & John Silver
5. Marq Quen & Isiah Kassidy
06 July 2022
1.Wardlow
2. Adam Page
3. Jay Lethal
4. Lance Archer
5. Powerhouse Hobbs
1.Toni Strom
2. Kris Statlander
3. Nyla Rose
4. Serena Deeb
5. Dr Britt Baker
1. Dax Harwood & Cash Wheeler
2. Powerhouse Hobbs & Ricky Starks
3. Keith Lee & Swevre Strickland
4. The butcher & The Blade
5. Alex Reynolds & John Silver
29 June 2022
1.Wardlow
2. Adam Page
3. Jay Lethal
4. Lance Archer
5. Powerhouse Hobbs
1.Nyla Rose
2. Kris Statlander
3. Toni Strom
4. Serena Deeb
5. Dr Britt Baker
1. Dax Harwood & Cash Wheeler
2. Powerhouse Hobbs & Ricky Starks
3. Keith Lee & Swevre Strickland
4. Alex Reynolds & John Silver
5. Colten Gunn & Austin Gunn
22 June 2022
1. Jon Moxley
2. Wardlow
3. Adam Page
4. Adam Cole
5. Jay Lethal
1. Toni Strom
2. Nyla Rose
3. Kris Statlander
4. Serena Deeb
5. Dr Britt Baker
1. Dax Harwood & Cash Wheeler
2. Bryan Danielson & Jon Moxley
3. Jungle Boy & Luchasaurus
4. Powerhouse Hobbs & Ricky Starks
5. Keith Lee & Swevre Strickland
15 June 2022
1. Jon Moxley
2. Wardlow
3. Adam Page
4. Adam Cole
5. Jay Lethal
1. Nyla Rose
2. Dr. Britt Baker
3. Kris Statlander
4. Toni Strom
5. Serena Deeb
1. Dax Harwood & Cash Wheeler
2. Bryan Danielson & Jon Moxley
3. Matt Jackson & Nick Jackson
4. Powerhouse Hobbs & Ricky Starks
5. Keith Lee & Swevre Strickland
08 June 2022
1. Jon Moxley
2. Wardlow
3. Adam Cole
4. Adam Page
5. Jay Lethal
1. Nyla Rose
2. Dr. Britt Baker
3. Serena Deeb
4. Toni Strom
5. Marina Shafir
1. Dax Harwood & Cash Wheeler
2. Bryan Danielson & Jon Moxley
3. Jeff Hardy & Matt Hardy
4. Powerhouse Hobbs & Ricky Starks
5. Matt Jackson & Nick Jackson
03 June 2022
1. Jon Moxley
2. Wardlow
3. Adam Page
4. Adam Cole
5. Jay Lethal
1. Nyla Rose
2. Dr. Britt Baker
3. Serena Deeb
4. Toni Strom
5. Kris Statlander
1. Dax Harwood & Cash Wheeler
2. Bryan Danielson & Jon Moxley
3. Jeff Hardy & Matt Hardy
4. Powerhouse Hobbs & Ricky Starks
5. Matt Jackson & Nick Jackson
01 June 2022
1. Wardlow
2. Adam Cole
3. Adam Page
4. Jon Moxley
5.Jay Lethal
1. Nyla Rose
2. Dr Britt Baker
3. Serena Deeb
4. Toni Strom
5. Kris Statlander
1. Dax Harwood & Cash Wheeler
2. Bryan Danielson & Jon Moxley
3. Jeff Hardy & Matt Hardy
4. Powerhouse Hobbs & Ricky Starks
5. Keith Lee & Swerve Strickland
25 May 2022
1. CM Punk
2. Frankie Kazarian
3. Adam Cole
4. Jay Lethal
5. Tony Nese
1. Serena Deeb
2. Nyla Rose
3. Anna jay
4. Toni Strom
5. Kris Statlander
1. Dax Harwood & Cash Wheeler
2. Powerhouse Hobbs & Ricky Starks
3. Keith Lee & Swerve Strickland
4. Bryan Danielson & Jon Moxley
5. Beretta & Rocky Romero
18 May 2022
1. CM Punk
2. Jon Moxley
3. Jay Lethal
4. Adam Cole
5. Tony Nese
1. Serena Deeb
2. Nyla Rose
3. Anna jay
4. Toni Strom
5. Red Velvet
1. Dax Harwood & Cash Wheeler
2. Powerhouse Hobbs & Ricky Starks
3. Austin Gunn & Coltenn Gunn
4. John Silver & Alex Reynolds
5. Keith Lee & Swerve Strickland
11 May 2022
1. CM Punk
2. Frankie Kazarian
3. Jon Moxley
4. Jay Lethal
5. Adam Cole
1. Serena Deeb
2. Nyla Rose
3. Anna jay
4. Jamie Hayter
5. Red Velvet
1. Dax Harwood & Cash Wheeler
2. Powerhouse Hobbs & Ricky Starks
3. Austin Gunn & Coltenn Gunn
4. John Silver & Alex Reynolds
5. Jon Moxley & Bryan Danielson
04 May 2022
1. CM Punk
2. Frankie Kazarian
3. Jon Moxley
4. Sammy Guevara
5. Adam Cole
1. Serena Deeb
2. Nyla Rose
3. Anna jay
4. Jamie Hayter
5. Red Velvet
1. Dax Harwood & Cash Wheeler
2. Powerhouse Hobbs & Ricky Starks
3. John Silver & Alex Reynolds
4. Jon Moxley & Bryan Danielson
5. Isiah Kassidy & Marq Quen
27 April 2022
1. CM Punk
2. Scorpio Sky
3. Jon Moxley
4. Frankie kazarian
5. Adam Cole
1. Serena Deeb
2. Nyla Rose
3. Anna jay
4. Jamie Hayter
5. Red Velvet
1. Dax Harwood & Cash Wheeler
2. John Silver & Alex Reynolds
3. Powerhouse Hobbs & Ricky Starks
4. Jon Moxley & Bryan Danielson
5. Isiah Kassidy & Marq Quen
20 April 2022
1. Jon Moxley
2. Scorpio Sky
3. CM Punk
4. Frankie kazarian
5. Adam Cole
1. Serena Deeb
2. Marina Shafir
3. Anna jay
4. Jamie Hayter
5. Nyla Rose
1. Dax Harwood & Cash Wheeler
2. John Silver & Alex Reynolds
3. Powerhouse Hobbs & Ricky Starks
4. Jon Moxley & Bryan Danielson
5. Isiah Kassidy & Marq Quen
13 April 2022
1. Adam Cole
2. Sammy Guevara
3. Frankie Kazarian
4. Penta Oscuro
5. CM Punk
1. Nyla Rose
2. Serena Deeb
3. Anna jay
4. Jamie Hayter
5. Marina Shafir
1. Dax Harwood & Cash Wheeler
2. Dante Martin & Darius Martin
3. John Silver & Alex Reynolds
4. Austin Gunn & Coltenn Gunn
5. Anthony Bowens & Max Caster
06 April 2022
1. Sammy Guevara
2. Adam Cole
3. Lance Archer
4. Frankie Kazarian
5. CM Punk
1. Nyla Rose
2. Serena Deeb
3. Leyla Hirsch
4. Jamie Hayter
5. Marina Shafir
1. John Silver & Alex Reynolds
2. Austin Gunn & Coltenn Gunn
3. Dante Martin & Darius Martin
4. Anthony Bowens & Max Caster
5. Dax Harwood & Cash Wheeler
30 March 2022
1. Sammy Guevara
2. Adam Cole
3. Lance Archer
4. Powerhouse Hobbs
5. Ricky Starks
1. Nyla Rose
2. Serena Deeb
3. Leyla Hirsch
4. Dr. Britt Baker
5. Red Velvet
1. Austin Gunn & Coltenn Gunn
2. Dante Martin & Darius Martin
3. John Silver & Alex Reynolds
4. Anthony Bowens & Max Caster
5. Dax Harwood & Cash Wheeler
23 March 2022
1. Lance Archer
2. Sammy Guevara
3. Jay Lethal
4. Adam Cole
5. Powerhouse Hobbs
1. Serena Deeb
2. Nyla Rose
3. Red Velvet
4. Dr. Britt Baker
5. Leyla Hirsch
1. John Silver & Alex Reynolds
2. Austin Gunn & Coltenn Gunn
3. Dante Martin & Darius Martin
4. Anthony Bowens & Max Caster
5. Dax Harwood & Cash Wheeler
16 March 2022
1. Wardlow
2. Lance Archer
3. Sammy Guevara
4. Adam Cole
5. Dante Martin
1. Thunder Rosa
2. Serena Deeb
3. Leyla Hirsch
4. Anna Jay
5. Red Velvet
1. John Silver & Alex Reynolds
2. Austin Gunn & Coltenn Gunn
3. Isiah Kassidy & Marq Quen
4. Anthony Bowens & Max Caster
5. Dax Harwood & Cash Wheeler
09 March 2022
1. Wardlow
2. Dante Martin
3. Adam Cole
4. Lance Archer
5. Powerhouse Hobbs
1. Thunder Rosa
2. Leyla Hirsch
3. Serena Deeb
4. Anna Jay
5. Red Velvet
1. Anthony Bowens & Max Caster
2. Malakai Black & Brody King
3. Isiah Kassidy & Marq Quen
4. Austin Gunn & Coltenn Gunn
5. Dax Harwood & Cash Wheeler
23 February 2022
1. Adam Cole
2. Powerhouse Hobbs
3. Lance Archer
4. Wardlow
5. Dante Martin
1. Thunder Rosa
2. Leyla Hirsch
3. Serena Deeb
4. Anna Jay
5. Red Velvet
1. Anthony Bowens & Max Caster
2. Malakai Black & Brody King
3. Isiah Kassidy & Marq Quen
4. Austin Gunn & Coltenn Gunn
5. Dax Harwood & Cash Wheeler
16 February 2022
1. Adam Cole
2. Dante Martin
3. Powerhouse Hobbs
4. Lance Archer
5. Wardlow
1. Thunder Rosa
2. Leyla Hirsch
3. Serena Deeb
4. Anna Jay
5. Red Velvet
1. Anthony Bowens & Max Caster
2. Malakai Black & Brody King
3. Isiah Kassidy & Marq Quen
4. Austin Gunn & Coltenn Gunn
5. Dax Harwood & Cash Wheeler
09 February 2022
1. Lance Archer
2. Adam Cole
3. Dante Martin
4. Andrade El Idolo
5. Powerhouse Hobbs
1. Leyla Hirsch
2. Thunder Rosa
3. Serena Deeb
4.Anna Jay
5. Red Velvet
1. Austin Gunn & Coltenn Gunn
2. Anthony Bowens & Max Caster
3. Dax Harwood & Cash Wheeler
4. Malakai Black & Brody King
5. Isiah Kassidy & Marq Quen
26 January 2022
1. Adam Cole
2. Dante Martin
3. Lance Archer
4. Andrade El Idolo
5. Powerhouse Hobbs
1. Red Velvet
2. Leyla Hirsch
3. Serena Deeb
4. Thunder Rosa
5. Anna Jay
1. Isiah Kassidy & Marq Quen
2. Austin Gunn & Coltenn Gunn
3. Anthony Bowens & Max Caster
4. Dax Harwood & Cash Wheeler
5. Malakai Black & Brody King
19 January 2022
1. Adam Cole
2. Dante Martin
3. Andrade El Idolo
4. Orange Cassidy
5. Powerhouse Hobbs
1. Thunder Rosa
2. Anna Jay
3. Red Velvet
4. Tay Conti
5. Leyla Hirsch
1 Anthony Bowens & Max Caster
2. Austin Gunn & Coltenn Gunn
3. Dax Harwood & Cash Wheeler
4. GriffGarison & Brian Pillman Jr.
5. Isiah Kassidy & Marq Quen
12 January 2022
1. Adam Cole
2. Powerhouses Hobbs
3. Dante Martin
4. Wardlow
5. Daniel Garcia
1. Thunder Rosa
2. Kris Statlander
3. Riho
4. Tay Conti
5. Red Velvet
1 Anthony Bowens & Max Caster
2. John Silver & Alex Reynolds
3. Dax Harwood & Cash Wheeler
4. Matt Jackson & Nick Jackson
5. Santana & Ortiz
07 January 2022
1. Adam Cole
2. Wardlow
3. Bryan Danielson
4. Scorpio Sky
5. Powerhouses Hobbs
1. Riho
2. Kris Statlander
3. Thunder Rosa
4. Tay Conti
5. Ruby Soho
1 Anthony Bowens & Max Caster
2. Matt Jackson & Nick Jackson
3. Santana & Ortiz
4. Dax Harwood & Cash Wheeler
5. John Silver & Alex Reynolds
05 January 2022
1. Bryan Danielson
2. Adam Cole
3. Wardlow
4. Scorpio Sky
5. Powerhouses Hobbs
1. Riho
2. Jade Cargill
3. Ruby Soho
4. Kris Statlander
5. Thunder Rosa
1. Jungle Boy & Luchasarus
2. Anthony Bowens & Max Caster
3. Matt Jackson & Nick Jackson
4. Santana & Ortiz
5. Dax Harwood & Cash Wheeler
2021
Event Date
Men's
WoMen's
Tag Teams
31 December
1. Bryan Danielson
2. Adam Cole
3. Wardlow
4. Jungle Boy
5. Scorpio Sky
1. Riho
2. Jade Cargill
3. Ruby Soho
4. Kris Statlander
5. Thunder Rosa
1. Jungle Boy & Luchasarus
2. Anthony Bowens & Max Caster
3. Matt Jackson & Nick Jackson
4. Santana & Ortiz
5. Dax Harwood & Cash Wheeler
17 December
1. Bryan Danielson
2. Kenny Omega
3. Scorpio Sky
4. Jungle Boy
5. Wardlow
1. Riho
2. Jade Cargill
3. Thunder Rosa
4. Nyla Rose
5. Ruby Soho
1. Jungle Boy & Luchasarus
2. Anthony Bowens & Max Caster
3. Matt Jackson & Nick Jackson
4. Santana & Ortiz
5. Dax Harwood & Cash Wheeler
15 December
1. Bryan Danielson
2. Kenny Omega
3. Scorpio Sky
4. Jungle Boy
5. Miro
1. Riho
2. Jade Cargill
3. Thunder Rosa
4. Nyla Rose
5. Ruby Soho
1. Jungle Boy & Luchasarus
2. Anthony Bowens & Max Caster
3. Matt Jackson & Nick Jackson
4. Santana & Ortiz
5. Dax Harwood & Cash Wheeler
10 December
1. Bryan Danielson
2. Kenny Omega
3. Scorpio Sky
4. Jungle Boy
5. Miro
1. Riho
2. Jade Cargill
3. Thunder Rosa
4. Nyla Rose
5. Ruby Soho
1. Dax Harwood & Cash Wheeler
2. Jungle Boy & Luchasarus
3. Anthony Bowens & Max Caster
4. Matt Jackson & Nick Jackson
5. Santana & Ortiz
08 December
1. Bryan Danielson
2. Kenny Omega
3. Scorpio Sky
4. Jungle Boy
5. Miro
1. Riho
2. Jade Cargill
3. Thunder Rosa
4. Nyla Rose
5. Ruby Soho
1. Dax Harwood & Cash Wheeler
2. Jungle Boy & Luchasarus
3. Anthony Bowens & Max Caster
4. Santana & Ortiz
5. Matt Jackson & Nick Jackson
03 December
1. Bryan Danielson
2. Kenny Omega
3. Scorpio Sky
4. Jungle Boy
5. Miro
1. Riho
2. Jade Cargill
3. Thunder Rosa
4. Nyla Rose
5. Kris Statlander
1. Jungle Boy & Luchasarus
2. Dax Harwood & Cash Wheeler
3. Santana & Ortiz
4. Matt Jackson & Nick Jackson
5. Anthony Bowens & Max Caster
01 December
1. Bryan Danielson
2. Kenny Omega
3. Scorpio Sky
4. Jungle Boy
5. Miro
1. Riho
2. Jade Cargill
3. Thunder Rosa
4. Nyla Rose
5. Kris Statlander
1. Jungle Boy & Luchasarus
2. Dax Harwood & Cash Wheeler
3. Billy Gunn & Colten Gunn
4. Santana & Ortiz
5. Matt Jackson & Nick Jackson
26 November
1. Bryan Danielson
2. Kenny Omega
3. Scorpio Sky
4. Jungle Boy
5. Miro
1. Jade Cargill
2. Thunder Rosa
3. Nyla Rose
4. Riho
5. Kris Statlander
1. Jungle Boy & Luchasarus
2. Matt Jackson & Nick Jackson
3.Dax Harwood & Cash Wheeler
4. Santana & Ortiz
5. Billy Gunn & Colten Gunn
24 November
1. Bryan Danielson
2. Kenny Omega
3. Scorpio Sky
4. Jungle Boy
5. Miro
1. Jade Cargill
2. Thunder Rosa
3. Nyla Rose
4. Riho
5. Kris Statlander
1. Jungle Boy & Luchasarus
2. Matt Jackson & Nick Jackson
3.Dax Harwood & Cash Wheeler
4. Santana & Ortiz
5. Billy Gunn & Colten Gunn
19 November
1. Bryan Danielson
2. Kenny Omega
3. Scorpio Sky
4. Jungle Boy
5. Miro
1. Jade Cargill
2. Thunder Rosa
3. Nyla Rose
4. Tay Conti
5. Kris Statlander
1. Matt Jackson & Nick Jackson
2. Jungle Boy & Luchasarus
3.Dax Harwood & Cash Wheeler
4. Santana & Ortiz
5. Billy Gunn & Colten Gunn
17 November
1. Bryan Danielson
2. Kenny Omega
3. Scorpio Sky
4. Jungle Boy
5. Miro
1. Jade Cargill
2. Thunder Rosa
3. Tay Conti
4. Nyla Rose
5. Kris Statlander
1. Matt Jackson & Nick Jackson
2. Jungle Boy & Luchasarus
3.Dax Harwood & Cash Wheeler
4. Anthony Bowens & Max Caster
5. Santana & Ortiz
12 November
1. Adam Page
2. Miro
3. Bryan Danielson
4. Scorpio Sky
5. Orange Cassidy
1. Tay Conti
2. Jade Cargill
3. Thunder Rosa
4. Nyla Rose
5. Kris Statlander
1. Dax Harwood & Cash Wheeler
2. Matt Jackson & Nick Jackson
3. Jungle Boy & Luchasarus
4. Anthony Bowens & Max Caster
5. Isiah Kassidy & Marq Quen
10 November
1. Adam Page
2. Miro
3. Bryan Danielson
4. Scorpio Sky
5. Orange Cassidy
1. Tay Conti
2. Jade Cargill
3. Thunder Rosa
4. Nyla Rose
5. Kris Statlander
1. Dax Harwood & Cash Wheeler
2. Matt Jackson & Nick Jackson
3. Jungle Boy & Luchasarus
4. Anthony Bowens & Max Caster
5. Isiah Kassidy & Marq Quen
05 November
1. Adam Page
2. Miro
3. Bryan Danielson
4. Scorpio Sky
5. Orange Cassidy
1. Tay Conti
2. Jade Cargill
3. Thunder Rosa
4. Nyla Rose
5. Kris Statlander
1. Dax Harwood & Cash Wheeler
2. Matt Jackson & Nick Jackson
3. Jungle Boy & Luchasarus
4. Anthony Bowens & Max Caster
5. Isiah Kassidy & Marq Quen
03 November
1. Adam Page
2. Orange Cassidy
3. Miro
4. Bryan Danielson
5.Scorpio Sky
1. Tay Conti
2. Jade Cargill
3. Thunder Rosa
4. Nyla Rose
5. Kris Statlander
1. Dax Harwood & Cash Wheeler
2. Matt Jackson & Nick Jackson
3. Jungle Boy & Luchasarus
4. Anthony Bowens & Max Caster
5. Isiah Kassidy & Marq Quen
29 October
1. Adam Page
2. Orange Cassidy
3. Jon Moxley
4. Miro
5. Eddie Kingston
1. Tay Conti
2. Jade Cargill
3. Kris Statlander
4. Thunder Rosa
5. Nyla Rose
1. Dax Harwood & Cash Wheeler
2. Matt Jackson & Nick Jackson
3. Jungle Boy & Luchasarus
4. Isiah Kassidy & Marq Quen
5. Anthony Bowens & Max Caster
27 October
1. Adam Page
2. Orange Cassidy
3. Jon Moxley
4. Lance Archer
5. 10
1. Tay Conti
2. Jade Cargill
3. Kris Statlander
4. Thunder Rosa
5. Nyla Rose
1. Dax Harwood & Cash Wheeler
2. Matt Jackson & Nick Jackson
3. Jungle Boy & Luchasarus
4. Isiah Kassidy & Marq Quen
5. Anthony Bowens & Max Caster
22 October
1. Adam Page
2. Orange Cassidy
3. Jon Moxley
4. Lance Archer
5. Miro
1. Tay Conti
2. Jade Cargill
3. Kris Statlander
4. Thunder Rosa
5. Nyla Rose
1. Dax Harwood & Cash Wheeler
2. Matt Jackson & Nick Jackson
3. Jungle Boy & Luchasarus
4. Isiah Kassidy & Marq Quen
5. Anthony Bowens & Max Caster
15 October
1. Adam Page
2. Orange Cassidy
3. Jon Moxley
4. Lance Archer
5. Miro
1. Jade Cargill
2.Tay Conti
3. Kris Statlander
4. Thunder Rosa
5. Hikaru Shida
1. Matt Jackson & Nick Jackson
2. Jungle Boy & Luchasarus
3. Dax Harwood & Cash Wheeler
4. Isiah Kassidy & Marq Quen
5. Anthony Bowens & Max Caster
08 October
1. Adam Page
2. Orange Cassidy
3. Jon Moxley
4. Lance Archer
5. Miro
1. Jade Cargill
2.Tay Conti
3. Kris Statlander
4. Thunder Rosa
5. Hikaru Shida
1. Anthony Bowens & Max Caster
2. Matt Jackson & Nick Jackson
3. Jungle Boy & Luchasarus
4. Dax Harwood & Cash Wheeler
5. Isiah Kassidy & Marq Quen
06 October
1. Orange Cassidy
2. Jon Moxley
3. Lance Archer
4. Miro
5. Christian Cage
1. Jade Cargill
2.Hikaru Shida
3. Tay Conti
4. Kris Statlander
5. Thunder Rosa
1. Matt Jackson & Nick Jackson
2. Jungle Boy & Luchasarus
3. Billy Gunn & Colten Gunn
4. Isiah Kassidy & Marq Quen
5. Dax Harwood & Cash Wheeler
01 October
1. Orange Cassidy
2. Jon Moxley
3. Christian Cage
4. Jungle Boy
5. Powerhouse Hobbs
1. Thunder Rosa
2.Jade Cargill
3. Hikaru Shida
4. Tay Conti
5. Kris Statlander
1. Matt Jackson & Nick Jackson
2. Jungle Boy & Luchasarus
3. Billy Gunn & Colten Gunn
4. Isiah Kassidy & Marq Quen
5. Dax Harwood & Cash Wheeler
29 Sept 2021
1. Orange Cassidy
2. Jon Moxley
3. Christian Cage
4. Jungle Boy
5. Powerhouse Hobbs
1. Thunder Rosa
2.Jade Cargill
3. Hikaru Shida
4. Tay Conti
5. Kris Statlander
1. Matt Jackson & Nick Jackson
2. Jungle Boy & Luchasarus
3. Billy Gunn & Colten Gunn
4. Isiah Kassidy & Marq Quen
5. Dax Harwood & Cash Wheeler
24 Sept 2021
1. Orange Cassidy
2. Powerhouse Hobbs
3. Jon Moxley
4. Christian Cage
5. Jungle Boy
1. Thunder Rosa
2.Jade Cargill
3. Hikaru Shida
4. Tay Conti
5. Kris Statlander
1. Matt Jackson & Nick Jackson
2. Jungle Boy & Luchasarus
3. Billy Gunn & Colten Gunn
4. Isiah Kassidy & Marq Quen
5. Dax Harwood & Cash Wheeler
22 Sept 2021
1. Orange Cassidy
2. Powerhouse Hobbs
3. Jon Moxley
4. Christian Cage
5. Jungle Boy
1. Ruby Soho
2.Thunder Rosa
3. Jade Cargill
4. Hikaru Shida
5. Kris Statlander
1. Matt Jackson & Nick Jackson
2. Jungle Boy & Luchasarus
3. Dax Harwood & Cash Wheeler
4. Billy Gunn & Colten Gunn
5. Isiah Kassidy & Marq Quen
17 Sept 2021
1. Orange Cassidy
2. Powerhouse Hobbs
3. Jon Moxley
4. Christian Cage
5. Jungle Boy
1. Ruby Soho
2.Thunder Rosa
3. Jad Cargill
4. Hikaru Shida
5. Kris Statlander
1. The Butcher & The Blade
2. Matt Jackson & Nick Jackson
3. Jungle Boy & Luchasarus
4. Billy Gunn & Colten Gunn
5. Dax Harwood & Cash Wheeler
15 Sept 2021
1. Orange Cassidy
2. Powerhouse Hobbs
3. Jon Moxley
4. Christian Cage
5. Jungle Boy
1. Ruby Soho
2.Thunder Rosa
3. Jad Cargill
4. Hikaru Shida
5. Kris Statlander
1. The Butcher & The Blade
2. Matt Jackson & Nick Jackson
3. Jungle Boy & Luchasarus
4. Santana & Ortiz
5. Dax Harwood & Cash Wheeler
10 Sept 2021
1. Orange Cassidy
2. Powerhouse Hobbs
3. Jon Moxley
4. Christian Cage
5. Jungle Boy
1. Ruby Soho
2.Thunder Rosa
3.Hikaru Shida
4. Kris Statlander
5.Jade Cargill
1. Matt Jackson & Nick Jackson
2. Jungle Boy & Luchasarus
3. The Butcher & The Blade
4. Santana & Ortiz
5. Dax Harwood & Cash Wheeler
08 Sept 2021
1. Orange Cassidy
2. Powerhouse Hobbs
3. Jungle Boy
4. Christian Cage
5. Jon Moxley
1. Ruby Soho
2.Thunder Rosa
3.Hikaru Shida
4. Kris Statlander
5.Jade Cargill
1. Matt Jackson & Nick Jackson
2. Jungle Boy & Luchasarus
3. The Butcher & The Blade
4. Santana & Ortiz
5. Griff Garrison & Brain Pillman Jr.
03 Sept 2021
1. Christian Cage
2. Orange Cassidy
3. Darby Allin
4. Powerhouse Hobbs
5. Brain Cage
1. Kris Statlander
2.Thunder Rosa
3.Hikaru Shida
4.Tay Conti
5. Jade Cargill
1. Penta El Zero M & Rey Fenix
2. Jungle Boy & Luchasarus
3. Santana & Ortiz
4. Griff Garrison & Brain Pillman Jr.
5. Dax Harwood & Cash Wheeler
01 Sept 2021
1. Christian Cage
2. Orange Cassidy
3. Darby Allin
4. Powerhouse Hobbs
5. Brain Cage
1. Kris Statlander
2.Thunder Rosa
3.Hikaru Shida
4.Tay Conti
5.Jade Cargill
1. Penta El Zero M & Rey Fenix
2. Jungle Boy & Luchasarus
3. Dax Harwood & Cash Wheeler
4. Santana & Ortiz
5. Griff Garrison & Brain Pillman Jr.
25 August 2021
1. Christian Cage
2. Darby Allin
3. Orange Cassidy
4. Powerhouse Hobbs
5. Jungle Boy
1. Thunder Rosa
2. Kris Statlander
3. Tay Conti
4. Hikaru Shida
5. Nyla Rose
1. Griff Garrison & Brain Pillman Jr.
2. Jungle Boy vs Luchasarus
3. Penta El Zero M & Rey Fenix
4. Dax harwood & Cash Wheeler
5. Isiah Kassidy & Marq Quen
18 August 2021
1. Christian Cage
2. Darby Allin
3. Orange Cassidy
4. Jungle Boy
5. Powerhouse Hobbs
1. Thunder Rosa
2. Kris Statlander
3. Tay Conti
4. Hikaru Shida
5. Penelope Ford
1. Jungle Boy vs Luchasarus
2. Griff Garrison & Brain Pillman Jr.
3. Penta El Zero M & Rey Fenix
4. Isiah Kassidy & Marq Quen
5. Dax harwood & Cash Wheeler
11 August 2021
1. Christian Cage
2. Darby Allin
3. Orange Cassidy
4. Jungle Boy
5. Powerhouse Hobbs
1. Kris Statlander
2. Thunder Rosa
3. Red Velvet
4.Tay Conti
5.Hikaru Shida
1. Jungle Boy vs Luchasarus
2. Griff Garrison & Brain Pillman Jr.
3. Isiah Kassidy & Marq Quen
4. Penta El Zero M & Rey Fenix
5. Dax harwood & Cash Wheeler
04 August 2021
1. Jungle Boy
2. Chrisitian Cage
3. Darby Allin
4. Orange Cassidy
5. Powerhouse Hobbs
1. Thunder Rosa
2. Tay Conti
3. Red Velvet
4. Kris Statlandler
5. Hikaru Shida
1. Griff Garrison & Brain Pillman Jr.
2. Anthony Bowens & Max Caster
3. Dax harwood & Cash Wheeler
4. Jungle Boy vs Luchasarus
5. Isiah Kassidy & Marq Quen
28 July 2021
1. Adam Page
2. Jungle Boy
3. Christan Cage
4. Darby Allin
5. Orange Cassidy
1. Thunder Rosa
2. Tay Conti
3. Kris Statlander
4. Hikaru Shida
5. Red Velvet
1. Griff Garrison & Brain Pillman Jr.
2. Anthony Bowens & Max Caster
3. Isiah Kassidy & Marq Quen
4. Dax harwood & Cash Wheeler
5. Santana & Ortiz
21 July 2021
1. Adam Page
2. Jungle Boy
3. Christan Cage
4. Darby Allin
5. Orange Cassidy
1. Nyla Rose
2. Thunder Rosa
3. Tay Conti
4. Kris Statlander
5. Hikaru Shida
1. Griff Garrison & Brain Pillman Jr.
2. Anthony Bowens & Max Caster
3.Eddie Kingston & Penta EL Zero M
4. Isiah Kassidy & Marq Quen
5. Dax harwood & Cash Wheeler
14 July 2021
1. Adam Page
2. Orange Cassidy
3. Jungle Boy
4. Darby Allin
5. Ethan Page
1. Nyla Rose
2. Tay Conti
3. Thunder Rosa
4. Kris Statlander
5. Hikaru Shida
1. Griff Garrison & Brain Pillman Jr.
2. Anthony Bowens & Max Caster
3. Eddie Kingston & Penta EL Zero M
4. Isiah Kassidy & Marq Quen
5. Dax harwood & Cash Wheeler
07 July 2021
1. Adam Page
2. Orange Cassidy
3. Jungle Boy
4. Darby Allin
5. Matt Sydal
1. Nyla Rose
2. Tay Conti
3. Thunder Rosa
4. Kris Statlander
5. Hikaru Shida
1. Eddie Kingston & Penta EL Zero M
2. Anthony Bowens & Max Caster
3. Griff Garrison & Brain Pillman Jr.
4. Dax harwood & Cash Wheeler
5. Isiah Kassidy & Marq Quen
30 June 2021
1. Adam Page
2. Orange Cassidy
3. Darby Allin
4. Jungle Boy
5. Matt Sydal
1. Nyla Rose
2. Tay Conti
3. Thunder Rosa
4. Kris Statlander
5. Hikaru Shida
1. Griff Garrison & Brain Pillman Jr.
2. Anthony Bowens & Max Caster
3. Dax harwood & Cash Wheeler
4. Isiah Kassidy & Marq Quen
5. Santana & Ortiz
23 June 2021
1. Jungle Boy
2. Adam Page
3. Orange Cassidy
4. Powerhouse Hobbs
5. Darby Allin
1. Nyla Rose
2. Tay Conti
3. Thunder Rosa
4. Kris Statlander
5. Hikaru Shida
1. Griff Garrison & Brain Pillman Jr.
2. Anthony Bowens & Max Caster
3. Dax harwood & Cash Wheeler
4. Isiah Kassidy & Marq Quen
5. Santana & Ortiz
16 June 2021
1. Jungle Boy
2. Adam Page
3. Darby Allin
4. Orange Cassidy
5. Powerhouse Hobbs
1. Nyla Rose
2. Tay Conti
3. Thunder Rosa
4. Hikaru Shida
5. Kris Statlander
1. Griff Garrison & Brain Pillman Jr.
2. Anthony Bowens & Max Caster
3. Isiah Kassidy & Marq Quen
4. Dax harwood & Cash Wheeler
5. Santana & Ortiz
09 June 2021
1. Jungle Boy
2. Adam Page
3. Darby Allin
4. Jon Moxley
5. Orange Cassidy
1. Thunder Rosa
2. Tay Conti
3. Nyla Rose
4. Hikaru Shida
5. Leyla Hirsch
1. Griff Garrison & Brain Pillman Jr.
2. Anthony Bowens & Max Caster
3. Isiah Kassidy & Marq Quen
4. Dax harwood & Cash Wheeler
5. Santana & Ortiz
02 June 2021
1. Jungle Boy
2. Adam Page
3. Darby Allin
4. Jon Moxley
5. Orange Cassidy
1. Thunder Rosa
2. Tay Conti
3. Nyla Rose
4. Hikaru Shida
5. Leyla Hirsch
1. Griff Garrison & Brain Pillman Jr.
2. Anthony Bowens & Max Caster
3. Isiah Kassidy & Marq Quen
4. Dax harwood & Cash Wheeler
5. Jon Moxley & Eddie Kingston
19 May 2021
1. Orange Cassidy
2. Pac
3. Jon Moxley
4. Darby Allin
5. Brain Cage
1. Dr. Britt Baker
2. Thunder Rosa
3. Tay Conti
4. Nyla Rose
5. Red Velvet
1. Griff Garrison & Brain Pillman Jr.
2. Scropio Sky & Ethan Page
3. Anthony Bowens & Max Caster
4. Jon Moxley & Eddie Kingston
5. Dax h arwood & Cash Wheeler
12 May 2021
1. Orange Cassidy
2. Pac
3. Jon Moxley
4. Brain Cage
5. Adam Page
1. Dr. Britt Baker
2. Thunder Rosa
3. Tay Conti
4. Nyla Rose
5. Red Velvet
1. Christopher Daniels Frankie Kazarian
2. Griff Garrison & Brain Pillman Jr.
3. Scropio Sky & Ethan Page
4. Anthony Bowens & Max Caster
5. Dax h arwood & Cash Wheeler
05 May 2021
1. Orange Cassidy
2. Pac
3. Jon Moxley
4. Brain Cage
5. Adam Page
1. Dr. Britt Baker
2. Thunder Rosa
3. Tay Conti
4. Nyla Rose
5. Red Velvet
1. Christopher Daniels Frankie Kazarian
2. Jungle Boy & luchasarus
3. Griff Garrison & Brain Pillman Jr.
4. Anthony Bowens & Max Caster
5. Dax h arwood & Cash Wheeler
28 April 2021
1. Adam Page
2. Orange Cassidy
3. Jon Moxley
4. Pac
5. #10
1. Dr. Britt Baker
2. Thunder Rosa
3. Tay Conti
4. Nyla Rose
5. Red Velvet
1. Christopher Daniels Frankie Kazarian
2. Jungle Boy & luchasarus
3. Griff Garrison & Brain Pillman Jr.
4. Anthony Bowens & Max Caster
5. Dax h arwood & Cash Wheeler
21 April 2021
1. Adam Page
2. Jon Moxley
3. Jungle Boy
4. Powerhouse Hobbs
5. PAC
1. Tay Conti
2. Dr.Britt Baker
3. Thunder Rosa
4. Nyla Rose
5. Red Velvet
1. Christopher Daniels Frankie Kazarian
2. Jungle Boy & luchasarus
3. Griff Garrison & Brain Pillman Jr.
4. The Butcher & The Blade
5. Dax h arwood & Cash Wheeler
14 April 2021
1. Adam Page
2. Jon Moxley
3. Jungle Boy
4. Cody Rhodes
5. Powerhouse Hobbs
1. Tay Conti
2. Red Velvet
3. Dr. Britt Baker
4. Nyla Rose
5. Thunder Rosa
1. Christopher Daniels Frankie Kazarian
2. Jungle Boy & luchasarus
3. The Butcher & The Blade
4. Griff Garrison & Brain Pillman Jr.
5. Dax Harwood & Cash Wheeler
07 April 2021
1. Adam Page
2. Jon Moxley
3. Max Caster
4. Jungle Boy
5. Cody Rhodes
1. Tay Conti
2. Red Velvet
3. Ryo Mizunami
4. Dr.Britt Baker
5. Nyla Rose
1. Christopher Daniels Frankie Kazarian
2. Jungle Boy & luchasarus
3. The Butcher & The Blade
4. Bear Bronson & Bear Boulder
5. Dax Harwood & Cash Wheeler
31 March 2021
1. Adam Page
2. Jon Moxley
3. Jungle Boy
4. Pac
5. Cody Rhodes
1. Tay Conti
2. Red Velvet
3. Ryo Mizunami
4. Dr.Britt Baker
5. Nyla Rose
1. Christopher Daniels Frankie Kazarian
2. Jungle Boy & luchasarus
3. The Butcher & The Blade
4. Alex Reynolds & John Silver
5. Dax Harwood & Cash Wheeler
24 March 2021
1. Pac
2. Adam Page
3. Cody Rhodes
4. Jon Moxley
5. Rey Fenix
1. Tay Conti
2. Red Velvet
3. Nyla Rose
4. Ryo Mizunami
5. Dr.Britt Baker
1. Christopher Daniels Frankie Kazarian
2. Jungle Boy & luchasarus
3. Alex Reynolds & John Silver
4. Dax Harwood & Cash Wheeler
5. Pac & Rey Fenix
17 March 2021
1. Pac
2. Adam Page
3. Jon Moxley
4. Cody Rhodes
5. Miro
1. Red Velvet
2. Tay Conti
3. Nyla Rose
4. Dr.Britt Baker
5. Ryo Mizunami
1. Christopher Daniels Frankie Kazarian
2. Dax Harwood & Cash Wheeler
3. Jungle Boy & Luchasarus
4. Pac & Rey Fenix
5. Daruis Martin & Dante Martin
10 March 2021
1. Pac
2. Adam Page
3. Jon Moxley
4. Cody Rhodes
5. Miro
1. Red Velvet
2. Tay Conti
3. Nyla Rose
4. Dr.Britt Baker
5. Ryo Mizunami
1. Christopher Daniels Frankie Kazarian
2. Dax Harwood & Cash Wheeler
3. Jungle Boy & Luchasarus
4. Chris Jericho & MJF
5. PAC & Rey Fenix
03 March 2021
1. Jon Moxley
2. PAC
3. Rey Fenix
4. Cody Rhodes
5. Miro
1. Red Velvet
2. Dr. Britt Baker
3. Nyla Rose
4. Thunder Rosa
5. Serena Deeb
1. Chris Jericho & MJF
2. Jungle Boy Luchasarus
3. Dax Harwood & Cash Wheeler
4. Christopher Daniels Frankie Kazarian
5.Daruis Martin & Dante Martin
24 Febuary 2021
1. Jon Moxley
2. PAC
3. Rey Fenix
4. Cody Rhodes
5. Miro
1. Red Velvet
2. Dr. Britt Baker
3. Nyla Rose
4. Thunder Rosa
5. Serena Deeb
1. Chris Jericho & MJF
2. Jungle Boy Luchasarus
3. Dax Harwood & Cash Wheeler
4. Christopher Daniels Frankie Kazarian
5.Daruis Martin & Dante Martin
17 Febuary 2021
1. Jon Moxley
2. PAC
3. Cody Rhodes
4. Rey Fenix
5. Miro
1. Red Velvet
2. Dr. Britt Baker
3. Tay Conti
4. Serena Deeb
5. Thunder Rosa
1. Chris Jericho & MJF
2. Jungle Boy Luchasarus
3. Dax Harwood & Cash Wheeler
4. Santana & Ortiz
5. Anthony Bowens & Max Caster
10 Febuary 2021
1. Jon Moxley
2. Cody Rhodes
3. PAC
4. Rey Fenix
5. Miro
1. Red Velvet
2. Dr. Britt Baker
3. Serena Deeb
4. Tay Conti
5. Thunder Rosa
1. Chris Jericho & MJF
2. Dax Harwood & Cash Wheeler
3. Jungle Boy & Luchasarus
4. Anthony Bowens & Max Caster
5. Santana & Ortiz
03 Febuary 2021
1. Jon Moxley
2. Cody Rhodes
3. Rey Fenix
4. Miro
5. PAC
1. Serena Deeb
2. Red Velvet
3. Dr.Britt Baker
4. Thunder Rosa
5. Tay Conti
1. Chris Jericho & MJF
2. Dax Harwood & Cash Wheeler
3. Jungle Boy & Luchasarus
4. Anthony Bowens & Max Caster
5. Santana & Ortiz
27 January 2021
1. Jon Moxley
2. Cody Rhodes
3. MJF
4. Ricky Starks
5. PAC
1. Serena Deeb
2. Big Swole
3. Nyla Rose
4. Penelope Ford
5. Anna Jay
1. Dax Harwood & Cash Wheeler
2. Jungle Boy & Luchasarus
3. Anthony Bowens & Max Caster
4. Evil UNO & Stu Grayson
5. Chris Jericho & MJF
20 January 2021
1. Jon Moxley
2. MJF
3. Cody Rhodes
4. Ricky Starks
5. PAC
1. Serena Deeb
2. Big Swole
3. Nyla Rose
4. Penelope Ford
5. Anna Jay
1. Dax Harwood & Cash Wheeler
2. Jungle Boy & Luchasarus
3. Anthony Bowens & Max Caster
4. Evil UNO & Stu Grayson
5. Santana & Ortiz
13 January 2021
1. Jon Moxley
2. MJF
3. Cody Rhodes
4. Brian Cage
5. Ricky Starks
1. Big Swole
2. Serena Deeb
3. Nyla Rose
4. Penelope Ford
5. Abadon
1. Dax Harwood & Cash Wheeler
2. Jungle Boy & Luchasarus
3. Evil UNO & Stu Grayson
4. Anthony Bowens & Max Caster
5. Santana & Ortiz
06 January 2021
1. Jon Moxley
2. MJF
3. Cody Rhodes
4. Brian Cage
5. Ricky Starks
1. Big Swole
2. Nyla Rose
3. Abadon
4. Serena Deeb
5. Penelope Ford
1. Dax Harwood & Cash Wheeler
2. Trent & Chuck Taylor
3. Jungle Boy & Luchasarus
4. Evil UNO & Stu Grayson
5. Anthony Bowens & Max Caster
2020
Event Date
Men's
Women's
Tag Team
23 December 2020
1. Jon Moxley
2. MJF
3. Cody Rhodes
4. Brian Cage
5. Ricky Starks
1. Big Swole
2. Nyla Rose
3. Abadon
4. Serena Deeb
5. Penelope Ford
1. Dax Harwood & Cash Wheeler
2. Trent & Chuck Taylor
3. Jungle Boy & Luchasarus
4. Evil UNO & Stu Grayson
5. Anthony Bowens & Max Caster
16 December 2020
1. Jon Moxley
2. MJF
3. Cody Rhodes
4. Brian Cage
5. Ricky Starks
1. Big Swole
2. Nyla Rose
3. Abadon
4. Serena Deeb
5. Penelope Ford
1. Dax Harwood & Cash Wheeler
2. Trent & Chuck Taylor
3. Jungle Boy & Luchasarus
4. Evil UNO & Stu Grayson
5. Anthony Bowens & Max Caster
09 December 2020
1. Jon Moxley
2. MJF
3. Cody Rhodes
4. Brian Cage
5. Ricky Starks
1. Big Swole
2. Nyla Rose
3. Serena Deeb
4. Penelope Ford
5. Abadon
1. Dax Harwood & Cash Wheeler
2. Trent & Chuck Taylor
3. Jungle Boy & Luchasarus
4. QT Marshall & Dustin Rhodes
5. Evil UNO & Stu Grayson
02 Decmber 2020
1. Kenny Omega
2. MJF
3. Cody Rhodes
4. Brian Cage
5. Ricky Starks
1. Big Swole
2. Nyla Rose
3. Serena Deeb
4. Penelope Ford
5. Abadon
1. Dax Harwood & Cash Wheeler
2. Trent & Chuck Taylor
3. Jungle Boy & Luchasarus
4. QT Marshall & Dustin Rhodes
5. Evil UNO & Stu Grayson
25 November 2020
1. Kenny Omega
2. MJF
3. Cody Rhodes
4. Brian Cage
5. Ricky Starks
1. Big Swole
2. Nyla Rose
3. Serena Deeb
4. Penelope Ford
5. Anna Jay
1. Dax Harwood & Cash Wheeler
2. Trent & Chuck Taylor
3. QT Marshall & Dustin Rhodes
4. Jungle Boy & Luchasarus
5. Evil UNO & Stu Grayson
18 November 2020
1. Kenny Omega
2. MJF
3. Cody Rhodes
4. Brian Cage
5. Ricky Starks
1. Big Swole
2. Nyla Rose
3. Penelope Ford
4. Serena Deeb
5. Anna Jay
1. Dax Harwood & Cash Wheeler
2. Trent & Chuck Taylor
3. QT Marshall & Dustin Rhodes
4. Jungle Boy & Luchasarus
5. Evil UNO & Stu Grayson
11 November 2020
1. Kenny Omega
2. MJF
3. Cody Rhodes
4. Brian Cage
5. Ricky Starks
1. Big Swole
2. Nyla Rose
3. Penelope Ford
4. Serena Deeb
5. Dr.Britt Baker
1. Dax Harwood & Cash Wheeler
2. Trent & Chuck Taylor
3. QT Marshall & Dustin Rhodes
4. Jungle Boy & Luchasarus
5. The Butcher & The Blade
04 November 2020
1. Brain Cage
2. MJF
3. Lance Archer
4. Darby Allin
5. Shawn Spear
1. Nyla Rose
2. Penelope Ford
3. Abadon
4. Big Swole
5. Dr.Britt Baker
1. Matt Jackson & Nick Jackson
2. Trent & Chuck Taylor
3. QT Marshall & Dustin Rhodes
4. The Butcher & The Blade
5. Jungle Boy & Luchasarus
28 October 2020
1. Brain Cage
2. MJF
3. Lance Archer
4. Brodie Lee
5. Darby Allin
1. Nyla Rose
2. Penelope Ford
3. Abadon
4. Big Swole
5. Dr.Britt Baker
1. Matt Jackson & Nick Jackson
2. Trent & Chuck Taylor
3. QT Marshall & Dustin Rhodes
4. The Butcher & The Blade
5. Santana & Ortiz
21 October 2020
1. Brain Cage
2. MJF
3. Lance Archer
4. Brodie Lee
5. Shawn Spear
1. Nyla Rose
2. Penelope Ford
3. Abadon
4. Big Swole
5. Dr.Britt Baker
1. Matt Jackson & Nick Jackson
2. Trent & Chuck Taylor
3. QT Marshall & Dustin Rhodes
4. The Butcher & The Blade
5. Santana & Ortiz
14 October 2020
1. Brain Cage
2. MJF
3. Lance Archer
4. Brodie Lee
5. Shawn Spear
1. Nyla Rose
2. Penelope Ford
3. Abadon
4. Big Swole
5. Dr.Britt Baker
1. Matt Jackson & Nick Jackson
2. Trent & Chuck Taylor
3. QT Marshall & Dustin Rhodes
4. The Butcher & The Blade
5. Santana & Ortiz
07 October 2020
1. Lance Archer
2. Brain Cage
3. MJF
4. Cody
5. Scorpio Sky
1. Nyla Rose
2. Big Swole
3. Penelope Ford
4. Abadon
5. Dr.Britt Baker
1. Trent & Chuck Taylor
2. Matt Jackson & Nick Jackson
3. QT Marshall & Dustin Rhodes
4. The Butcher & The Blade
5. Santana & Ortiz
30 September 2020
1. Lance Archer
2. Brain Cage
3. MJF
4. Cody
5. Scorpio Sky
1. Nyla Rose
2. Big Swole
3. Penelope Ford
4. Abadon
5. Dr.Britt Baker
1. Trent & Chuck Taylor
2. Matt Jackson & Nick Jackson
3. QT Marshall & Dustin Rhodes
4. The Butcher & The Blade
5. Santana & Ortiz
23 September 2020
1. Lance Archer
2. Brain Cage
3. MJF
4. Cody
5. Scorpio Sky
1. Nyla Rose
2. Big Swole
3. Abadon
4. Penelope Ford
5. Dr.Britt Baker
1. Trent & Chuck Taylor
2. Matt Jackson & Nick Jackson
3. QT Marshall & Dustin Rhodes
4. The Butcher & The Blade
5. Santana & Ortiz
16 September 2020
1. Lance Archer
2. Brain Cage
3. MJF
4. Cody
5. Scorpio Sky
1. Nyla Rose
2. Big Swole
3. Abadon
4. Penelope Ford
5. Dr.Britt Baker
1. Trent & Chuck Taylor
2. Matt Jackson & Nick Jackson
3. QT Marshall & Dustin Rhodes
4. The Butcher & The Blade
5. Santana & Ortiz
09 September 2020
1. Lance Archer
2. Brain Cage
3. MJF
4. Cody
5. Scorpio Sky
1. Nyla Rose
2. Big Swole
3. Abadon
4. Penelope Ford
5. Dr.Britt Baker
1. Kenny Omega & Adam Page
2. Trent & Chuck Taylor
3. Matt Jackson & Nick Jackson
4. QT Marshall & Dustin Rhodes
5. Santana & Ortiz
02 September 2020
1. MJF
2. Lance Archer
3. Cody
4. Brain Cage
5. Scorpio Sky
1. Nyla Rose
2. Big Swole
3. Abadon
4. Penelope Ford
5. Dr.Britt Baker
1. Dax Harwood & Cash Wheeler
2. Trent & Chuck Taylor
3. Matt Jackson & Nick Jackson
4. QT Marshall & Dustin Rhodes
5. Jungle Boy & Luchasarus
26 August 2020
1. MJF
2. Lance Archer
3. Brain Cage
4. Brodie Lee
5. Scorpio Sky
1. Nyla Rose
2. Big Swole
3. Penelope Ford
4. Abadon
5. Dr.Britt Baker
1. Dax Harwood & Cash Wheeler
2. Trent & Chuck Taylor
3. Matt Jackson & Nick Jackson
4. QT Marshall & Dustin Rhodes
5. Evil Uno & Stu Grayson
19 August 2020
1. MJF
2. Lance Archer
3. Brain Cage
4. Brodie Lee
5. Scorpio Sky
1. Nyla Rose
2. Big Swole
3. Penelope Ford
4. Abadon
5. Dr.Britt Baker
1. Dax Harwood & Cash Wheeler
2. Trent & Chuck Taylor
3. Matt Jackson & Nick Jackson
4. QT Marshall & Dustin Rhodes
5. Evil Uno & Stu Grayson
12 August 2020
1. MJF
2. Lance Archer
3. Brain Cage
4. Brodie Lee
5. Scorpio Sky
1. Nyla Rose
2. Big Swole
3. Penelope Ford
4. Abadon
5. Dr.Britt Baker
1. Dax Harwood & Cash Wheeler
2. Trent & Chuck Taylor
3. Evil Uno & Stu Grayson
4. Matt Jackson & Nick Jackson
5. Jungle Boy & Luchasarus
05 August 2020
1. MJF
2. Lance Archer
3. Brain Cage
4. Brodie Lee
5. Darby Allin
1. Nyla Rose
2. Big Swole
3. Penelope Ford
4. Abadon
5. Dr.Britt Baker
1. Dax Harwood & Cash Wheeler
2. Trent & Chuck Taylor
3. Evil Uno & Stu Grayson
4. Matt Jackson & Nick Jackson
5. Jungle Boy & Luchasarus
29 July 2020
1. MJF
2. Lance Archer
3. Brain Cage
4. Brodie Lee
5. Darby Allin
1. Nyla Rose
2. Big Swole
3. Penelope Ford
4. Dr.Britt Baker
5. Abadon
1. Evil Uno & Stu Grayson
2. Trent & Chuck Taylor
3. Matt Jackson & Nick Jackson
4. Jungle Boy & Luchasarus
5. Isiah Kassidy & Marq Quen
22 July 2020
1. MJF
2. Lance Archer
3. Brain Cage
4. Brodie Lee
5. Darby Allin
1. Nyla Rose
2. Big Swole
3. Penelope Ford
4. Kris Stalander
5. Dr.Britt Baker
1. Evil Uno & Stu Grayson
2. Trent & Chuck Taylor
3. Jungle Boy & Luchasarus
4. Matt Jackson & Nick Jackson
5. Isiah Kassidy & Marq Quen
15 July 2020
1. Brain Cage
2. MJF
3. Lance Archer
4. Chris Jericho
5. Brodie Lee
1. Nyla Rose
2. Big Swole
3. Penelope Ford
4. Kris Stalander
5. Dr.Britt Baker
1. Evil Uno & Stu Grayson
2. Trent & Chuck Taylor
3. Jungle Boy & Luchasarus
4. Matt Jackson & Nick Jackson
5. Isiah Kassidy & Marq Quen
08 July 2020
1. MJF
2. Brain Cage
3. Lance Archer
4. Brodie Lee
5. Chris Jericho
1. Nyla Rose
2. Big Swole
3. Penelope Ford
4. Kris Stalander
5. Dr.Britt Baker
1. Evil Uno & Stu Grayson
2. Trent & Chuck Taylor
3. Isiah Kassidy & Marq Quen
4. Matt Jackson & Nick Jackson
5. Jungle Boy & Luchasarus
01 July 2020
1. MJF
2. Brain Cage
3. Lance Archer
4. Brodie Lee
5. Chris Jericho
1. Nyla Rose
2. Penelope Ford
3. Big Swole
4. Kris Stalander
5. Dr.Britt Baker
1. Trent & Chuck Taylor
2. Evil Uno & Stu Grayson
3. Matt Jackson & Nick Jackson
4. QT Marshall & Dustin Rhodes
5. Isiah Kassidy & Marq Quen
24 June 2020
1. MJF
2. Brain Cage
3. Lance Archer
4. Brodie Lee
5. Chris Jericho
1. Nyla Rose
2. Penelope Ford
3. Big Swole
4. Kris Stalander
5. Dr.Britt Baker
1. Trent & Chuck Taylor
2. Evil Uno & Stu Grayson
3.Matt Jackson & Nick Jackson
4. QT Marshall & Dustin Rhodes
5. Isiah Kassidy & Marq Quen
17 June 20220
1. MJF
2. Lance Archer
3. Brodie Lee
4. Kenny Omega
5. Chris Jericho
1. Nyla Rose
2. Kris Stalander
3. Penelope Ford
4. Dr.Britt Baker
5. Yuka Sakazaki
1. Trent & Chuck Taylor
2. QT Marshall & Dustin Rhodes
3. Isiah Kassidy & Marq Quen
4. Evil Uno & Stu Grayson
5. Matt Jackson & Nick Jackson
10 June 2020
1. MJF
2. Lance Archer
3. Brodie Lee
4. Kenny Omega
5. Chris Jericho
1. Nyla Rose
2. Kris Stalander
3. Penelope Ford
4. Dr.Britt Baker
5. Yuka Sakazaki
1. Trent & Chuck Taylor
2. QT Marshall & Dustin Rhodes
3. Isiah Kassidy & Marq Quen
4. Evil Uno & Stu Grayson
5. Matt Jackson & Nick Jackson
03 June 2020
1. MJF
2. Lance Archer
3. Brodie Lee
4. Kenny Omega
5. Darby Alllin
1. Nyla Rose
2. Kris Stalander
3. Dr. Britt Baker
4. Yuka Sakazaki
5. Penelope Ford
1. Trent & Chuck Taylor
2. QT Marshall & Dustin Rhodes
3. Isiah Kassidy & Marq Quen
4. Jimmy Havoc & Kip Sabian
5. Matt Jackson & Nick Jackson
27 May 2020
1. MJF
2. Lance Archer
3. Brodie Lee
4. Kenny Omega
5. Darby Alllin
1. Nyla Rose
2. Kris Stalander
3. Dr. Britt Baker
4. Yuka Sakazaki
5. Penelope Ford
1. Trent & Chuck Taylor
2. QT Marshall & Dustin Rhodes
3. Isiah Kassidy & Marq Quen
4. Evil Uno & Stu Grayson
5. Matt Jackson & Nick Jackson
20 May 2020
1. Cody
2. Lance Archer
3. Brodie Lee
4. Kenny Omega
5. Darby Alllin
1. Hikaru Shida
2. Kris Stalander
3. Dr. Britt Baker
4. Yuka Sakazaki
5. Riho
1. Trent & Chuck Taylor
2. Evil Uno & Stu Grayson
3. Isiah Kassidy & Marq Quen
4. Matt Jackson & Nick Jackson
5. Jungle Boy & Luchasarus
13 May 2020
1. Cody
2. Lance Archer
3. Brodie Lee
4. Kenny Omega
5. Darby Alllin
1. Hikaru Shida
2. Kris Stalander
3. Dr. Britt Baker
4. Yuka Sakazaki
5. Riho
1. Trent & Chuck Taylor
2. Evil Uno & Stu Grayson
3. Isiah Kassidy & Marq Quen
4. Matt Jackson & Nick Jackson
5. Jungle Boy & Luchasarus
06 May 2020
1. Cody
2. Lance Archer
3. Kenny Omega
4. Brodie Lee
5. Darby Alllin
1. Hikaru Shida
2. Kris Stalander
3. Yuka Sakazaki
4. Dr.Britt Baker
5. Riho
1. Evil Uno & Stu Grayson
2. Trent & Chuck Taylor
3. Matt Jackson & Nick Jackson
4. Frankie Kazarian & Scorpio sky
5. Pentagon Jr. & Rey Fenix
29 April 2020
1. Cody
2. Keny Omega
3. Darby Allin
4. Lance Archer
5. Jake Haker
1. Hikaru Shida
2. Kris Stalander
3. Yuka Sakazaki
4. Dr.Britt Baker
5. Riho
1. Evil Uno & Stu Grayson
2. Trent & Chuck Taylor
3. Matt Jackson & Nick Jackson
4. Frankie Kazarian & Scorpio sky
5. Pentagon Jr. & Rey Fenix
24 April 2020
1. Cody
2. Keny Omega
3. Darby Allin
4. Lance Archer
5. Jake Haker
1. Hikaru Shida
2. Kris Stalander
3. Yuka Sakazaki
4. Dr.Britt Baker
5. Riho
1. Evil Uno & Stu Grayson
2. Matt Jackson & Nick Jackson
3. Trent & Chuck Taylor
4. Frankie Kazarian & Scorpio sky
5. Pentagon Jr. & Rey Fenix
15 April 2020
1. Jake Haker
2. Cody
3. Chris Jericho
4. Kenny Omega
5. Darby Allin
1. Hikaru Shida
2. Kris Stalander
3. Yuka Sakazaki
4. Riho
5. Dr.Britt Baker
1. Evil Uno & Stu Grayson
2. Matt Jackson & Nick Jackson
3. Trent & Chuck Taylor
4. Frankie Kazarian & Scorpio sky
5. Pentagon Jr. & Rey Fenix
08 April 2020
1. Jake Haker
2. Chris Jericho
3. Cody
4. Kenny Omega
5. Darby Allin
1. Hikaru Shida
2. Kris Stalander
3. Yuka Sakazaki
4. Dr. Britt Baker
5. Riho
1. Evil Uno & Stu Grayson
2. Matt Jackson & Nick Jackson
3. Frankie Kazarian & Scorpio sky
4. Pentagon Jr. & Rey Fenix
5. Trent & Chuck Taylor
01 April 2020
1. Chris Jericho
2. Jake Haker
3. Cody
4. Kenny Omega
5. Darby Allin
1. Hikaru Shida
2. Kris Stalander
3. Yuka Sakazaki
4. Dr. Britt Baker
5. Riho
1. Evil Uno & Stu Grayson
2. Matt Jackson & Nick Jackson
3. Frankie Kazarian & Scorpio sky
4. Pentagon Jr. & Rey Fenix
5. Trent & Chuck Taylor
25 March 2020
1. Chris Jericho
2. MJF
3. Cody
4. Jake Hager
5. Kenny Omega
1. Hikaru Shida
2. Kris Stalander
3. Yuka Sakazaki
4. Dr. Britt Baker
5. Riho
1. Evil Uno & Stu Grayson
2. Matt Jackson & Nick Jackson
3. Frankie Kazarian & Scorpio sky
4. Pentagon Jr. & Rey Fenix
5. Trent & Chuck Taylor
18 March 2020
1. Chris Jericho
2. MJF
3. Kenny Omega
4. Cody
5. PAC
1. Hikaru Shida
2. Kris Stalander
3. Yuka Sakazaki
4. Dr. Britt Baker
5. Riho
1. Evil Uno & Stu Grayson
2. Matt Jackson & Nick Jackson
3. Frankie Kazarian & Scorpio sky
4.Trent & Chuck Taylor
5. Isiah Kassidy & Marq Quen
11 march 2020
1. Chris Jericho
2. MJF
3. Kenny Omega
4. PAC
5. Cody
1. Hikaru Shida
2. Riho
3. Kris Statlander
4. Yuka Sakazaki
5. Britt Baker
1. Evil Uno & Stu Grayson
2. Matt Jackson & Nick Jackson
3. Frankie Kazarian & Scorpio sky
4.Trent & Chuck Taylor
5. Chris Jericho & Sammy Guevara
04 March 2020
1. Chris Jericho
2. MJF
3. Kenny Omega
4. Cody
5. PAC
1. Hikaru Shida
2. Riho
3. Kris Statlander
4. Yuka Sakazaki
5. Britt Baker
1. Evil Uno & Stu Grayson
2. Matt Jackson & Nick Jackson
3. Frankie Kazarian & Scorpio sky
4.Trent & Chuck Taylor
5. Isiah Kassidy & Marq Quen
26 February 2020
1. Jon Moxley
2. Cody
3. PAC
4. Kenny Omega
5. MJF
1. Kris Statlander
2. Riho
3. Hikaru Shida
4. Yuka Sakazaki
5. Britt Baker
1. Matt Jackson & Nick Jackson
2. Frankie Kazarian & Scorpio sky
3. Evil Uno & Stu Grayson
4. Santana & Ortiz
5. Trent & Chuck Taylor
19 February 2020
1. Jon Moxley
2. Cody
3. PAC
4. Kenny Omega
5. MJF
1. Riho
2. Kris Statlander
3. Hikaru Shida
4. Yuka Sakazaki
5. Britt Baker
1. Matt Jackson & Nick Jackson
2. Frankie Kazarian & Scorpio sky
3. Evil Uno & Stu Grayson
4. Santana & Ortiz
5. Pentagon Jr. & Rey Fenix
12 February 2020
1. Jon Moxley
2. Cody
3. PAC
4. Kenny Omega
5. Kip Sabian
1. Nyla Rose
2. Hikaru Shida
3. Kris Statlander
4. Yuka Sakazaki
5. Britt Baker
1. Matt Jackson & Nick Jackson
2. Frankie Kazarian & Scorpio sky
3. Evil Uno & Stu Grayson
4. Santana & Ortiz
5. Pentagon Jr. & Rey Fenix
05 February 2020
1. Jon Moxley
2. Cody
3. PAC
4. Kenny Omega
5. Sammy Guevara
1. Nyla Rose
2. Hikaru Shida
3. Kris Statlander
4. Britt Baker
5. Awesome Kong
1. Frankie Kazarian & Scorpio sky
2. Matt Jackson & Nick Jackson
3. Santana & Ortiz
4. Evil Uno & Stu Grayson
5. Trent & Chuck Taylor
29 January 2020
1. Jon Moxley
2. PAC
3. Cody
4. Kenny Omega
5. Sammy Guevara
1. Nyla Rose
2. Hikaru Shida
3. Kris Statlander
4. Britt Baker
5. Awesome Kong
1. Frankie Kazarian & Scorpio sky
2. Santana & Ortiz
3. Matt Jackson & Nick Jackson
4. Evil Uno & Stu Grayson
5. Pentagon Jr. & Rey Fenix
22 January 2020
1. Jon Moxley
2. Cody
3. PAC
4. Kenny Omega
5. Sammy Guevara
1. Nyla Rose
2. Hikaru Shida
3. Kris Statlander
4. Aewsome Kong
5. Britt Baker
1. Kenny Omega & Adam Page
2. Santana & Ortiz
3. Matt Jackson & Nick Jackson
4. Evil Uno & Stu Grayson
5. Pentagon Jr. & Rey Fenix
15 January 2020
1. Jon Moxley
2. Cody
3. Kenny Omega
4. PAC
5. Sammy Guevara
1. Hikaru Shida
2. Nyla Rose
3. Kris Statlander
4. Aewsome Kong
5. Britt Baker
1. Santana & Ortiz
2. Matt Jackson & Nick Jackson
3. Trent & Chuck Taylor
4. Kenny Omega & Adam Page
5. Pentagon Jr. & Rey Fenix
08 January 2021
1. Jon Moxley
2. Cody
3. Kenny Omega
4. PAC
5. MJF
1. Kris Statlander
2.Hikaru Shida
3. Nyla rose
4. Aewsome Kong
5. Britt Baker
1. Santana & Ortiz
2. Matt Jackson & Nick Jackson
3. Pentagon Jr. & Rey Fenix
4. Trent & Chuck Taylor
5. Evil Uno & Stu Grayson
01 January 2021
1. Jon Moxley
2. Kenny Omega
3. PAC
4. Cody
5. MJF
1. Kris Statlander
2.Britt Baker
3. Hikaru Shida
4. Nyla Rose
5. Emi Sakura
1. Santana & Ortiz
2. Matt Jackson & Nick Jackson
3. Pentagon Jr. & Rey Fenix
4. Trent & Chuck Taylor
5. Evil Uno & Stu Grayson
2019
Event Date
Men's
Women's
Tag Team
25 December 2019
1. Jon Moxley
2. Kenny Omega
3. PAC
4. Cody
5. MJF
1. Kris Statlander
2.Britt Baker
3. Hikaru Shida
4. Nyla Rose
5. Emi Sakura
1. Santana & Ortiz
2. Matt Jackson & Nick Jackson
3. Pentagon Jr. & Rey Fenix
4. Trent & Chuck Taylor
5. Evil Uno & Stu Grayson
13 Decmeber 2019
1. Jon Moxley
2. Kenny Omega
3. PAC
4. Cody
5. MJF
1. Britt Baker
2. Kris Statlander
3. Hikaru Shida
4. Nyla Rose
5. Emi Sakura
1. Matt Jackson & Nick Jackson
2. Santana & Ortiz
3. Trent & Chuck Taylor
4. Pentagon Jr. & Rey Fenix
5. Evil Uno & Stu Grayson
06 December 2019
1. Jon Moxley
2. Kenny Omega
3. PAC
4. Cody
5. MJF
1. Hikaru Shida
2. Nyla Rose
3. Emi Sakura
4. Britt Baker
5. Kris Statlander
1. Santana & Ortiz
2. Matt Jackson & Nick Jackson
3. Trent & Chuck Taylor
4. Pentagon Jr. & Rey Fenix
5. Isiah Kassidy & Marq Quen
29 November 2019
1. Jon Moxley
2. PAC
3. Kenny Omega
4. Cody
5. MJF
1. Hikaru Shida
2. Emi Sakura
3. Britt Baker
4. Nyla Rose
5. Bea Priestley
1. Santana & Ortiz
2. Matt Jackson & Nick Jackson
3. Trent & Chuck Taylor
4. Pentagon Jr. & Rey Fenix
5. Isiah Kassidy & Marq Quen
22 November 2019
1. PAC
2. Jon Moxley
3. Cody
4. Adam Page
5. Kenny Omega
1. Hikaru Shida
2. Britt Baker
3. Emi Sakura
4. Nyla Rose
5. Allie
1. Pentagon Jr. & Rey Fenix
2. Isiah Kassidy & Marq Quen
3. Trent & Chuck Taylor
4. Santana & Ortiz
5. Evil Uno & Stu Grayson
15 November 2019
1. PAC
2. Cody
3. Adam Page
4. Jon Moxley
5. Darby Allin
1. Britt baker
2. Hikaru Shida
3. Emi Sakura
4. Nyla Rose
5. Allie
1. Pentagon Jr. & Rey Fenix
2. Santana & Ortiz
3. Matt Jackson & Nick Jackson
4. Trent & Chuck Taylor
5. Evil Uno & Stu Grayson
08 November 2019
1. Cody
2. PAC
3. Adam Page
4. Kenny Omega
5. Jon Moxley
1. Emi Sakura
2. Britt Baker
3. Hikaru Shida
4. Allie
5. Nyla Rose
1. Pentagon Jr. & Rey Fenix
2. Isiah Kassidy & Marq Quen
3. Matt Jackson & Nick Jackson
4. Evil Uno & Stu Grayson
5. Trent & Chuck Taylor