AEW Dynamite October 26, 2022 Live Results- Moxley vs Penta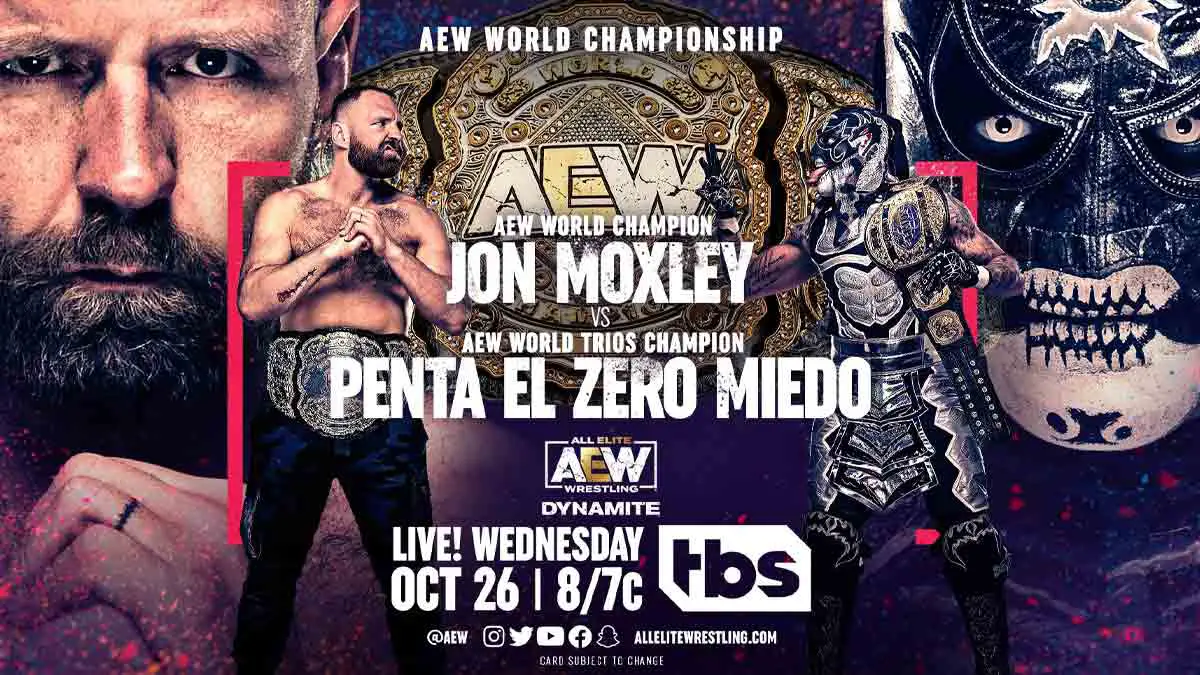 Welcome to the live results and updates blog for AEW Dynamite episode of October 26, 2022, which will feature Jon Moxley defending his AEW World Championship against Penta El Zero Miedo.
The show will also feature Riho taking on Jamie Hayter while Bryan Danielson will take on Sammy Guevara. Blackpool Combat Club's Claudio Castagnoli and Wheeler Yuta will take on Jericho Appreciation Society's Chris Jericho and Daniel Garcia.
FTR and Swerve in Our Glory will fight for the #1 contender for AEW World Tag Team Championship. Additionally, we will hear more from MJF as he changed his stance on Casino Poker Chip cash-in. More build-up is expected for Full Gear 2022 PPV.
Tune in as we post results and live updates from AEW Wednesday Night Dynamite October 26, 2022 episode with winner, highlights and videos.
Results
Blackpool Combat Club(Claudio Castagnoli & Wheeler Yuta) defeated Jericho Appreciation Society(Chris Jericho & Daniel Garcia) in a tag team match via pinfall.
Swerve in Our Glory(Keith Lee & Shane Strickland) defeated FTR(Dax Harwood & Cash Wheeler) in a tag team match via pinfall to become #1 contender for AEW World Tag Team Championship.
Bryan Danielson defeated Sammy Guevara in a singles match via the referee's stoppage.
Jamie Hayter defeated Riho in a singles match via pinfall.
Jon Moxley(c) defeated Penta El Zero Miedo in a singles match via pinfall to retain AEW World Championship.
Live Updates
Blackpool Combat Club(Claudio Castagnoli & Wheeler Yuta) vs Jericho Appreciation Society(Chris Jericho & Daniel Garcia)
Claudio starts against Jericho. Jericho gets in his face and Claudio answers with uppercuts and drops him with a clothesline. Garcia comes in and also gets dropped with uppercut. Yuta tags in and hits Garcia with a big boot with Claudio. Yuta hits a dropkick before putting on an arm wrench. Yuta takes Garcia to the corner and unloads. Garcia hits Yuta with a headbutt when the referee is separating them in the corner. Yuta hits a body slam and a senton to get a two-count.
Claudio drops Jericho and starts hitting elbows on neck while Yuta does the same to Garcia. Jake Hager runs a distraction for Matt Menard and Angelo Parker to pull out Jericho and Garcia. Claudio and Yuta fight them all and bring Jericho and Garcia. Yuta keeps control until Garcia hits upkicks and tags in Jericho. Claudio tags in and unloads on Jericho. Hager distracts Claudio and Jericho hits him with a springboard kick on the apron. We get to a break.
Garcia has put Claudio in a choke hold as we return. Claudio gets back to his feet and counters by hitting a powerslam. Jericho gets the tag and knocks off Yuta. Claudio blocks Codebreaker and ends up hitting Jericho with a pop-up uppercut. Yuta gets the tag and brings down Jericho. He clotheslines Garcia off the apron before hitting a Samoan Drop. Claudio and Yuta hit a double-team move on Jericho for a near fall.
Jericho hits Claudio with Codebreaker to get a near fall. Yuta hits a suicide dive on Garcia, Menard and Parker. Claudio counters Jericho by hitting him with a powerbomb. Claudio puts Jericho in a swing with Garcia on his shoulders. Claudio hits a big boot on Hager to knock him off the apron and runs over other JAS members with uppercuts. Claudio hits a dive-in uppercut and Neutralizer to get the pin on Jericho.
Winner – Blackpool Combat Club
Bryan Danielson gets interviewed by Renee Paquette and says he is frustrated by losing the title, by Yuta talking back to him in an interview last week, frustrated with Garcia. Yuta comes in and Bryan pushes him as Yuta riles him up. Claudio gets in between them and tells Bryan that they will sit down and talk after his match against Sammy.
---
A video package is aired where the Elites are getting deleted from the footage frame by frame.
---
All the members of Jericho Appreciation Society are getting interviewed backstage and are enraged by losing the match. Jericho says JAS will now win tag team title, TV title and every other ROH title. He is putting out an open challenge for any former ROH World Champion to come and face him next week.
FTR(Dax Harwood & Cash Wheeler) vs Swerve in Our Glory(Keith Lee & Shane Strickland) – #1 contender for AEW World Tag Team Championship
The Acclaimed come out and sit on the stage to watch this match. The Gunn Club are in front row. A bit of back and forth between Cash and Swerve. Cash puts on a side headlock. Swerve hits an armdrag and a headscissors takedown. Cash hits a quick fireman's carry slam. Dax hits a snap suplex as he tags in. Swerve hits a punch to ribs and tags in Lee. Lee blocks an armdrag from Dax. Cash tags in but Lee blocks Big Rig. Dax and Cash both hit punches. Lee leapfrogs them and hits them with a crossbody. Dax is knocked to the floor as we cut to a break.
Lee tags in against Cash as we return. Cash hits punches and a kick. Lee blocks a tag out and slams Cash to the corner. Lee misses a corner splash. Swerve tags in and Cash hits him with a back body drop. Dax tags in and tees-off on Swerve with punches and then with chops. Lee is also hit with chops when he tries to get involved. Dax throws Lee to the floor. Swerve rolls up Dax for a two-count. Dax does the same to Swerve. Dax counters a crossbody from Swerve with a roll-up after Swerve slips off the rope. Dax hits a German suplex and Cash hits a snap Dragon suplex to get a close two-count.
Cash hits uppercuts. Swerve starts to go toe to toe with Cash with uppercuts as well. Swerve tags in Lee and they hits Cash with roundhouse kick and rolling elbow combo. They hit a powerbomb and Swerve Stomp combo on Cash but Cash kicks out of the pin. Cash hits a hurricanrana on Lee. Dax catches Swerve. Swerve counters slingshot powerbomb but Dax hits the powerbomb in second attempt. Lee throws Dax to the floor and hits a headbutt on Cash, falling on him to get a two-count. Dax tags in after a pause in the match. He tries to hit a superplex on Lee but Lee blocks it. Cash tags in and jumps on Lee with a frog splash as Dax hits a superplex. Lee turned on his stomach on that Frog Splash which saved him.
Lee fights off Big Rig. Swerve pulls Cash out. Swerve gets into the ring and so does Cash. FTR hit Big Rig on Lee but Swerve pulls Dax out of the pin. Swerve sends Cash into the barricade. Lee ends up hitting an elbow on Swerve on the apron as Dax ducks him. Swerve hits a low blow on Dax behind the referee's back and Lee hits a powerbomb. The Gunn Club block Cash from getting into the ring and Lee covers Dax for the pin.
Winner – Swerve in Our Glory
MJF Speaks
MJF comes out to the stage to get interviewed by Jon Moxley. He gets huge cheers from the crowd. When asked about the title match at Full Gear, he mocks Moxley by mimicking him for a while. MJF says he got a bit carried away when he said that he will wrestle the whole match clean. That's not gonna happen as he is still MJF. He rants on William Regal. He goes on say that he will not use his Dynamite Diamond ring to win the match, but he will win the match and prove every doubter wrong. Stokely Hathaway comes out to the stage and infers that they are ready to take out Moxley before the match. MJF knocks him mic off and takes another one from Renee for himself. MJF tells Hathaway that they will not lay a hand on Moxley as he wants Moxley at 110% and wants no excuse from anyone about his win. MJF tells Hathaway that he will be fired if The Firm does anything to Moxley.
Bryan Danielson vs Sammy Guevara
Sammy charges in with a knee strike as the bell ring. Sammy hits a chop in the corner. He hits a headbutt and an enzuigiri. Sammy hits a springboard cutter to get a near fall. Sammy goes for a GTH but Bryan slips out and hits a dropkick. Bryan picks his ankle and puts on the Romero Special. Bryan unloads on Sammy with forearms before hitting knee strikes. Bryan hits uppercuts and chops in the corner. Sammy fires back with his chops before Bryan runs into Sammy's forearms.
Bryan hits him with a headbutt and body kicks. Bryan keeps the pressure on. He hits a double underhook suplex. He hits open palm strikes near the ropes. Sammy hits a jumping knee to knock Bryan off to the floor. He hits a moonsault on the floor to take us to a break.
Sammy is in control as we return. Bryan starts to fire back with chops before hitting body kicks. He keeps up with the momentum with a running knee strike. Sammy gets to the floor and gets hit with a suicide dive and a missile dropkick. Sammy hits a Spanish Fly to get a two-count. Bryan trips him on the top rope. A bit of back and forth before Sammy hits a Spanish Fly from the top to get a near fall. Bryan blocks GTH and hits a reverse hurricanrana. Bryan hits busaika knee. He hits stomps on Sammy's face before putting him in a triangle choke. Bryan continues to hit elbow to his head and Sammy fades out.
Winner – Bryan Danielson
Rey Fenix is getting interviewed backstage and says Penta will become a double champion. Fenix says every man in Death Triangle could become a double champion and he would like to challenge for All Atlantic Championship. Christian Cage comes in with Luchasaurus and says Luchasaurus is running through everyone left, right and center, and should be the one getting title shot. All Atlantic Champion Orange Cassidy comes in and asks if they are talking about him. Cassidy announces a triple threat match for next week.
Jamie Hayter vs Riho
Hayter pushes Riho to the corner as the bell rings. The referee breaks it. Hayter does the same again. Hayter pushes her to the mat before hitting her with a slam. A tackle drops Riho again. Riho bridges up to avoid a pin. Riho hits a headscissors takedown. Baker grabs Riho's boot. Riho uses a low bridget to send Hayter to the floor. Riho hits a crossbody on the floor on Hayter. Hayter drives Riho into the ring apron and then into the barricade. Hayter hits a side slam on the apron. Hayter hits a twisting snap suplex to get a close two-count. She hits another snap suplex before we cut to a break.
Riho hits a dropkick as we return. Hayter tries to block a sunset flip but Riho succeeds and follows it up with a double leg stomp. Riho knocks off Rebel off the apron. Riho drops Hayter on the ropes but Hayter blocks 619. Riho hits bridging Northern Lights suplex to get a two-count. Hayter hits a sheer drop brainbuster after countering a splash from the top. Riho turn a brainbuster into a crossbody. She hits a tijeras from the top rope. Baker grabs Riho's rope as Rebel distracts the referee. Hayter blocks the running knee. Riho hits Code Red to get a near fall. Hayter avoids the rising knee and hits a backbreaker. Riho hits a neck breaker but Hayter kicks out of the pin. Riho rolls Hayter through but Hayter kicks out. Hayter hits three back-to-back ripcord lariats to get the pin.
Winner – Jamie Hayter
Renee Paquette is interviewing Eddie Kingston. Renee asks Eddie what is going on with him right now about his anger issues. Eddie changes the topic to Moxley's title defense and asks everyone to leave him alone.
---
Darby Allin gets a pre-recorded promo where he talks about his match next week against Jay Lethal.
Jay Lethal and Sonjay Dutt cut a counter promo just after this.
Jon Moxley(c) vs Penta El Zero Miedo – AEW World Championship
Moxley tries to intimidate Penta, but Penta does not give him anything. They start by trading chops. They trade punches before they block each other's finisher. Penta does Zero Miedo and Mox replies by flipping him off. Penta hits a superkick to send Mox to the floor. Penta hits a tope suicida to take us to a break.
Penta hits a kick to ribs as we return. Moxley hits back with a kick before hitting a belly-to-belly suplex into the turnbuckle. Moxley hits corner clotheslines before unloading with the punches from the second rope. Penta hits a big boot and then hits a slingblade to get a two-count. Moxley hits a cutter and a piledriver to get a close two-count. Moxley puts on crossface for a while before turning to hammer elbows on the neck. Mox puts on the bulldog and Penta has unclasp his mask to come out of it. Mox hits stomps on his face. Penta snaps Mox's left arm.
They get to the apron. Penta is in control for a while. He goes for a kick on the steel steps but Mox counters with a DDT on the steps. Back to the ring, Moxley hits King Kong lariat to get a near fall. Moxley unloads from the second rope. Penta slips out and hits a kick to trip Moxley. Penta hits Fear Factor to get a near fall. Penta goes for a springboard move but Moxley counters with Paradigm Shift and Death Rider to get the pin.
Winner – Jon Moxley
After the match, The Firm attacks Moxley. Stokeley Hathaway also come out and is looking enrage. We are shown that Blackpool Combat Club's locker room is locked. Austin Gun was about to hit Moxley with a chair but Moxley fights back. Ethan Page drops Moxley with a lariat. MJF comes out to the stage but he is conflicted whether he should save Moxley or not. MJF runs in and separates The Firm from Moxley. He tells Hathaway that they are fired. MJF is nailed with a superkick as the Firm start to beat up MJF. Page hits Ego's Edge on MJF. They take MJF out of the ring. MJF tries to fight back but W Morrisey drops him with a big shot. Morrisey puts MJF through a table.