AEW Dynamite Results August 3, 2022, Live Updates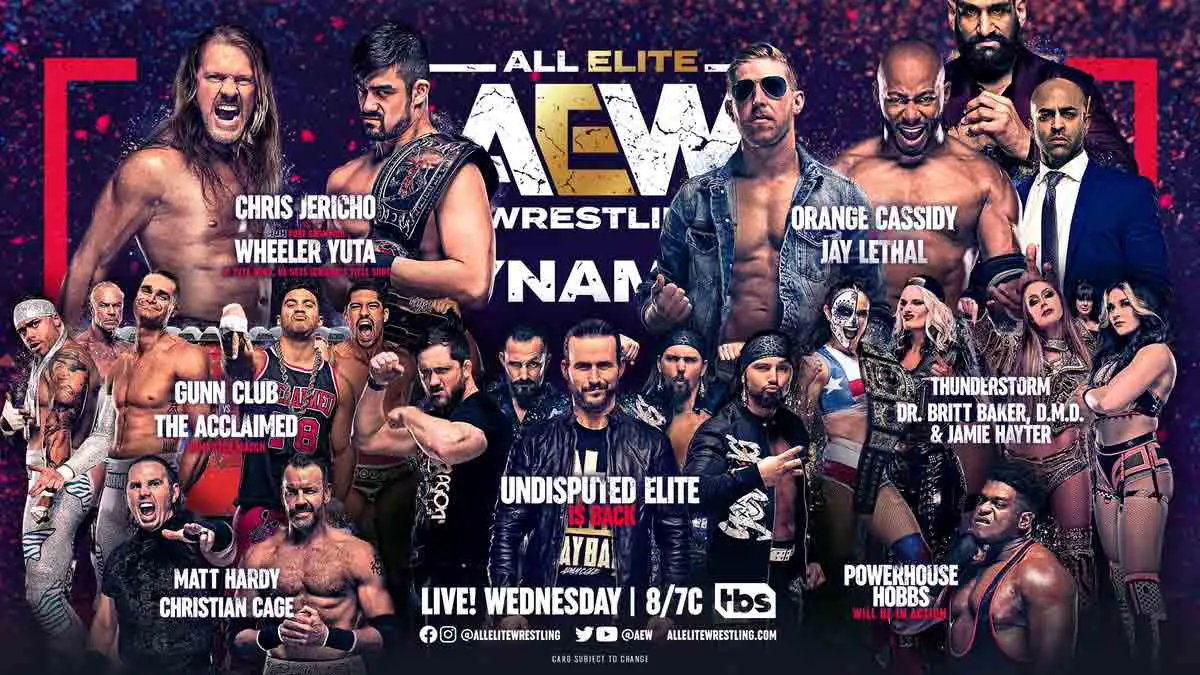 AEW Dynamite results from the August 3, 2022 episode will be available here which will feature Chris Jericho vs Wheeler Yuta match where Jericho's World title shot will be on the line.
Jon Moxley will be speaking to the fans. Thunderstorm will take on Britt Baker and Jamie Hayter in a tag team match. Christian Cage and Matt Hardy will be in a singles match after a long time. Orange Cassidy will take on Matt Hardy.
The Undisputed Elites will be back after recovering from injuries. Powerhouse Hobbs will also be in action in a singles match. Build-up for All Out 2022 event is expected to start.
Tune in as we bring you all the results from AEW Dynamite August 3, 2022 episode with live updates, winners, videos, highlights and more information.
Live Updates
Orange Cassidy vs Jay Lethal
OC starts with his hands in pocket bit. Lethal tries to rush him but OC rolls him up. OC puts on a headlock and hits a shoulder tackle. Another chinlock and Lethal hits back with shoulder tackle and armdrags. OC removes his hands from an armdrag. OC cuts off Lethal Injection with a dropkick to back and then hits a suicide dive. He hits lazy kicks as Lethal runs up the ramp. Satnam Singh comes to the stage and OC gets distracted. Lethal takes a shot in the midsection. Best Friends come out with Trent sitting on Taylor's shoulders, acting like a single person under a coat, taller than Satnam.
OC takes Lethal back to the ring while Sonjay Dutt takes Satnam back. OC hits a diving crossbody before Lethal hits him with a dragon screw leg. He kicks at OC's leg against the steel steps. Lethal traps the leg in between apron and steps and hits it with a dropkick. We cut to a break.
Cassidy kicks Lethal away as we return. Lethal misses in the corner and OC slams his face into the turnbuckle. Lethal decks OC on the top and brings him down with avalance dragon screw leg. Lethal puts on figure four leg lock. OC quickly grabs the ropes. OC counters a suplex with Stundog Millionaire. Lethal hits a DDT to get a two-count. Lethal goes to the top now but OC rolls to the other corner. OC sends Lethal into the turnbuckle. Lethal hits back with a chop before OC kicks him down from the top.
OC hits a Tornado DDT, and follows up with another DDT to get a close two-count. OC signals for the Orange punch, but his leg is injured. OC counters a powerbomb with a Beach Break to get a close two-count. Lethal tackles him as Cassidy goes for the Orange Punch. A kick to the injured leg sets up Lethal Injection and Lethal gets the pin.
Winner – Jay Lethal
Sonjay Dutt and Satnam Singh come out and talk trash to Orange Cassidy. He asks Lethal about Wardlow. The crowd cheers Wardlow's name. Lethal replies that Wardlow wanted to defend OC last week, and if want to protect him again, he should come out now. Lethal puts on figure four again. Best Friends run out. Wardlow also follow them to force Lethal and company to retreat. Dutt challenges Warldow to face Lethal at Battle of the Belts 3 event. Wardlow accepts the challenge.
---
The Undisputed Elites!!
The Undisputed Elites – Adam Cole, Kyle O'Reilly, Bobby Fish and The Young Bucks – come out to the ring. Cole says he is not still cleared to compete. He goes on to talk about leadership and what it means. He throws some big words, loyalty, and working together always. Cole says he came to AEW because of The Young Bucks, and he has toured across the globe with Kyle O'Reilly and Bobby Fish. Cole then tells The Young Bucks that if he and KOR do not get clear to compete and the Young Bucks do not choose Bobby Fish as their partner, they will not be allowed in the trios tournament.
Cole then corrects himself and says they won't be physically capable of competing. KOR and Fish choke The Bucks. Cole, KOR and Fish beat up the Bucks. Cole tries to jump on Matt's leg under a chair but Adam Page runs out to make the save. Cole, KOR and Fish run away from the ring. The Bucks recover as Page is staring down Cole and company. Matt Jackson offers Page a hand and Page shakes the hand. The crowd gives a loud cheer. Page leaves alone though.
---
Moxley says he does not care whether he faces Jericho or Yuta next week. And this is not just a statement in vain. He does not care who is his opponent after the bell ring. Moxley claims that BCC will make Hart Dungeon look like a Day Care. He says Jericho or Yuta should be ready for him.
---
Christian Cage is interviewed in the parking lot by Tony Schiavone earlier tonight. Christian says Jungle Boy was raised by terrible human beings. Christian is alarmed at a car trying to run him down. Jungle Boy comes out of the car and tries to attack him. Security takes Jungle Boy away.
Thunderstorm(Thunder Rosa & Toni Storm) vs Britt Baker & Jamie Hayter
Rosa starts with a double leg takedown and ground and pound. Hayter comes in to stop Rosa. Storm also comes in but Hayter throws her out and knocks off the apron. Baker goes for the Lockjaw before Rosa counters. Baker runs and tags in Hayter. Hayter is hit with a dropkick and then dropped on the ropes to be hit with more dropkicks on the back and to the face.
Storm and Rosa double team in the corner with some quick moves in the corner. A double vertical suplex from them on Hayter. Rosa hits a big shot at Hayter's jaw. A snapmare and a kick to the back follow. Baker grabs Rosa as Hayter distracts the referee. Hayter nails Rosa with an elbow as she turns around. Baker tags in and hits double knees in the corner. We cut to a break.
Rosa counters against Baker, but Hayter comes in quickly to block the tag. Rosa hits her with a stunner. Storm tags in and hits a diving crossbody. Baker takes her to the floor and Storm deals with both Baker and Rebel on the floor. Storm hits another crossbody from the top on Hayter before spinebuster. Rosa comes in for double team but Hayter reverses the double suplex. Baker tags in and nails Rosa with a big elbow. Rosa hits Baker with Death Valley Driver.
Distraction from Rebel and Baker rakes Rosa's eyes. She trips Storm on the top and then hits an avalanche Air Raid Crash. Hayter drops Storm and Baker hits her with the stomp. Rosa breaks the pin. Rosa and Baker trade shots. They blocks each other before Baker hits Air Raid Crash. Storm hits Baker with DDT. Hayter hits a backbreaker on Storm. All four women are down in the ring again. Storm and Rosa hits German suplexes on their opponents. Hip attacks and dropkicks in the corner. Storm hits more hip attacks. Baker trips Rosa and Hayter runs over Storm with a short arm clothesline to get the pin.
Winners – Britt Baker & Jamie Hayter
We get a video package from Sammy Guevara and Toni Storm where they announce that they are getting married this week. Eddie Kingston cuts off the package and takes offense on marraige package on a wrestling show. He tells Sammy that Tony Khan has approved a match between them.
---
We see a recap of Powerhouse Hobbs dropping Ricky Starks last week and turning on him. Taz announces on the commentary that Team Taz is no more and all three of Hook, Hobbs and Starks are going their separate ways. Hobbs makes his entrance.
Powerhouse Hobbs vs Ren Jones
Hobbs splashes Jones in the corner as the bell rings. Hobbs hits a running stampede into the corner and then hits a stampede in the middle of ring. Hobbs hits a big spinebuster and gets the pin.
Winner – Powerhouse Hobbs
After the match, Ricky Starks runs out to brawl with Hobbs. Hobbs drops him with a spinebuster and goes away.
---
Miro talks to God about Malakai Black and says everyone know what this Redeemer will do.
---
Darby Allin cuts a promo on Brody King, asking him to remember that he asks for this match. A coffin match is announced between Brody King and Allin.
Christian Cage vs Matt Hardy
Hardy starts with a double leg takedown and unloads. Cage nails him with an uppercut as he charges to the corner. Cage continues to attack in the corner. Hardy puts him on the top and drops him to the floor. Hardy hits a shot a midsection. Cage blocks Side Effect on the floor. Back to the ring, Hardy slams Cage's face into the turnbuckles. He hits a Powerbomb to get a quick two-count. Cage rolls to the floor. He pushes Matt into the steps. He hits a running knee strike to Matt's face against the step. We cut to a break.
Matt hits a superplex as we return. They trade shots before Hardy hits a back body drop. Hardy unloads from the second rope before he hits an elbow drop from the second rope. Twist of Fate is blocked before Hardy misses in the corner. Cage hits a pendulam kick. Hardy pushes him from the top and hits an elbow drop. Cage whiplash Hardy on the ropes and then hits a diving headbutt to get a close two-count. Hardy avoids a punch and hits Side Effect to get a close two-count.
They are on the apron now and Hardy hits another Side Effect. Hardy sets up a table on the floor. Hardy sets up Cage on the table. Hardy goes through the table as he misses an elbow drop from the apron. Cage takes him back to the ring and hits Kill Switch to get the pin.
Winner – Christian Cage
Cage brings out a couple of chairs for con-chair-to. Before he can hit it, Luchasaurus' music hits and he comes out. Jungle Boy runs in from behind, but Cage ducks him and runs away. The crowd starts cheering for JB as his music starts.
---
Daniel Garcia is getting interviewed backstage by Tony Schiavone. Garcia says this is the biggest win for anyone in AEW ever. He submitted Bryan and he is a Dragon Slayer. He claims that he will slay the dragon again when he return from his injuries.
---
Ethan Page is in the ring and he goes on a rant asking why he is not on live TV every week. He continues his rant as Stokeley Hathaway enters and makes his way to the ring. The crowd cheers and Page asks them why they are cheering now when they do not line up to buy his shirt. He then realizes that Stokeley is behind him. Hathaway asks him what he is doing. He whispers something in Page's ears and offers him his card. Page takes the card. Hathaway leaves and Page goes to join him on his way back.
---
Tony Schiavone is with Matt Menard, Anna Jay AS and Angelo Parker. Menard hypes up Jericho winning AEW World title next week. Tony says he has to first beat Yuta this week. Parker asks him if he is playing smart, and Parker goes on to mimic Jericho's List moment. Anna says she is the strongest and she proved it last week. Anna chokes out a crew member to show off.
---
The Gunn Club make their entrance. Anthony Bowens nails Billy Gunn with a trash can on the stage. He hits Colten and Austin with a can as they run to the ramp. Max Caster gets his music hit and he raps as they enter the ring.
The Acclaimed(Max Caster & Anthony Bowens) vs The Gunn Club(Austin Gunn & Colten Gunn) – Dumpster Match
Bowens nails Austin with big shots as the bell rings. Colten fires back with a shot of his own. Bowens is powerbombed into the dumpster by Colten. Austin slams the lid on Bowens. Caster is also dropped into the dumpster with some double team. Gunns go to close the lid but The Acclaimed duo block it. We cut to a break.
Austin and Caster are on the top of the dumpster. Austin drops Caster on a trash can on the floor. The Gunns take Caster to the stage and beat him down. They set up a table on the stage. Colten hits Caster with a suplex. Bowens kicks Austin but Colten attacks him and drops him on the stage. Bowens is setup on the table as Austin goes to the top of entrance tunnel. Bowens slams Colten with trash can.
Caster is behind Austin on top of the tunnel. Caster throws Austin into a dumpster on the stage. Caster hits Mic Drop on Colten through the table. Bowens throws Colten into the dumpster and locks it to win the match.
Winners – The Acclaimed
After the match, The Acclaimed pushes the dumpster off the stage and down the ramp.
Matches are being announced for Battle of the Belts 3, Rampage this week and Quake by the Lake next week.
Chris Jericho vs Wheeler Yuta – Winner Faces Jon Moxley for interim AEW World Championship
Chris Jericho has Matt Menard and Angelo Parker in his corner. Therefore Claudio Castagnoli comes out to even the odds. Yuta flicks Jericho's injured nose. Yuta unloads on the mat before some chops in the corner. Jericho rolls to the floor and sells his injured nose. Yuta follows him and unloads on the floor with more punches. Parker holds onto Yuta's legs as he was getting back to the ring. The referee Audrey Edwards boots him from ringside. They also ask Claudio to go back. Yuta kicks on Jericho's face as he tries to rush him. Yuta htis more punches and then hits another big boot from the corner. Jericho trips him in the top turnbuckle as we cut to a break.
Yuta hits punches, manhattan drop, enzuigiri, running elbow and a flying clothesline from the top. They collide after the running the ropes with a crossbody. They trade slaps as they get up. Yuta ducks a shot and hits a trio of German suplexes. He bridges another German suplex to get a two-count. Jericho counters with a roll-up and puts on Walls of Jericho. Yuta struggles for a minute but gets to the ropes. Jericho argues with the referee. Yuta low bridges him to the floor and htis him with a suicide dive. Yuta hits two more suicide dives. Yuta hits a diving crossbody to get a close two-count. Jericho counters with a double underhook backbreaker. He hits a clothesline before Yuta gets his knees up on the Lionsault. Jericho counters another crossbody with Codebreaker to get a near fall.
Jericho softens up Yuta with elbow shots. Yuta counters with William Regal's crossface. Jericho drags to the corner and catches his baseball bat. The referee goes to take it away and Jericho hits Yuta with a low blow. Yuta counters a pin attempt with another submission attempt. Jericho rolls over but Yuta gets a two-count with a backslide. Jericho counters by putting Yuta in the Lionsault. Yuta hangs on for a while, but has to tap out ultimately.
Winner – Chris Jericho
Jericho keeps the Lionsault on even after the bell. Crew members run out to break it but Jericho is holding on. Jon Moxley walks through the crowd and Jericho runs from the ring. Jericho takes the mic on the ramp and tells Moxley that he will get the Lionheart Jericho next week that he asked for. Moxley stares him down from the ring as the show goes off the air.