AEW Dynamite June 28, 2023 Results & Live Updates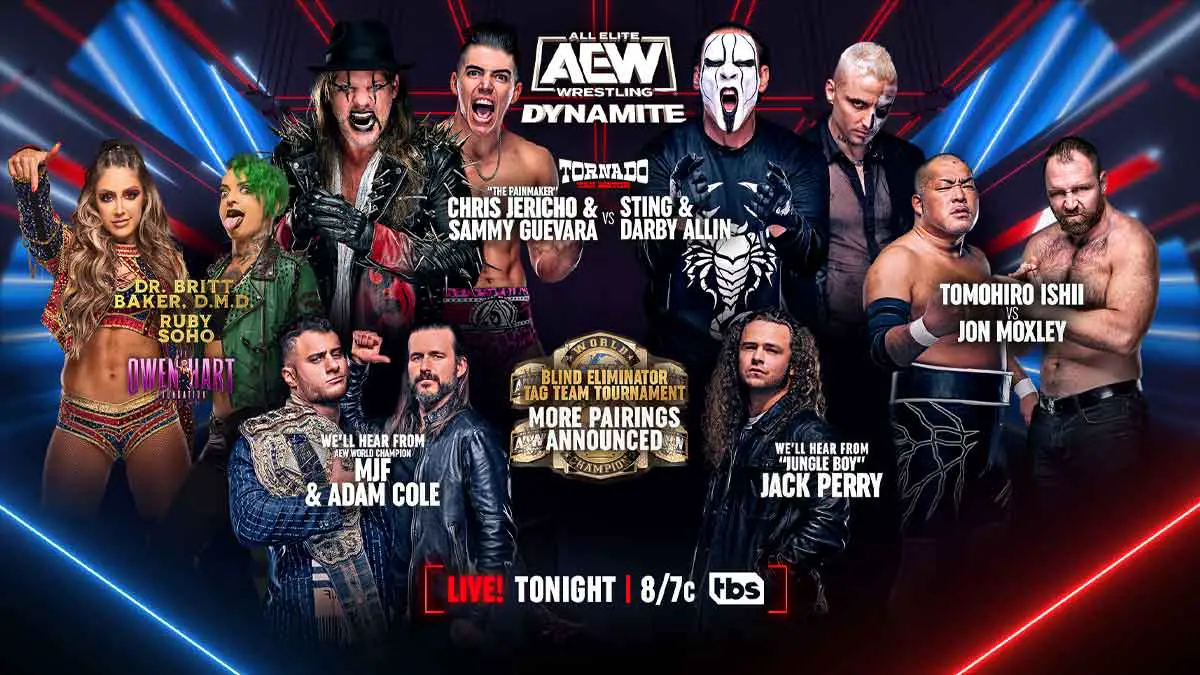 Welcome to the live results blog for AEW Dynamite June 28, 2023 episode, which was live from Hamilton, Canada.
Chris Jericho brought back Painmaker as he teamed up with Sammy Guevara to take on Sting and Darby Allin. This was a tornado tag team match. Jon Moxley and Tomohiro Ishii took the rivalry between Blackpool Combat Club and the Elite forward via singles match.
More teams were announced for the blind eliminator tag team tournament. AEW World Champion MJF and Adam Cole, featured on the show in a backstage segment. We also heard from Jungle Boy Jack Perry after he turned on Hook at Forbidden Door.
Check below for results from AEW Dynamite June 28, 2023 with live updates, winners, and highlights.
Quick Results
Jon Moxley defeated Tomohiro Ishii in a singles match via pinfall.
Orange Cassidy, El Heji Del Vikingo & Keith Lee defeated JAS(Daniel Garcia, Matt Menard & Angelo Parker) in a tag team match via pinfall.
The Elite(Hangman Adam Page, Matt Jackson & Nick Jackson) defeated Dark Order(Evil Uno, John Silver & Alex Reynolds) in a tag team match via pinfall.
Ruby Soho defeated Alexi Nicole in a singles match via pinfall.
Sting & Darby Allin defeated "Painmaker" Chris Jericho & Sammy Guevara in a Tornado Tag Team Match via submission.
Live Updates
Jon Moxley vs Tomohiro Ishii
They start with chops on each other like most of Ishii's matches. This continues for more than a minute and then they hit shoulder tackles on each other. Ishii is put down to the mat but he ducks a kick from Mox. They trade forearm shots next for a minute until Ishii nails a big shot and then hits a shoulder tackle to knock Mox off his feet. Mox chops of his face. Ishii also bites on Mox's face. Mox hits a shoulder tackle. Mox hits stomps to the face to get a two-count. Mox throws him to the floor.
Claudio and Yuta are near him but the referee is making sure that they don't interfere. Mox hits an elbow to drop Ishii off the apron and then hits a suicide dive. Eddie Kingston's music hits and he comes out. He picks up a chair and scares off Claudio and Yuta. Mox comes out to the floor and argues with Eddie to take us to a break.
Ishii hits back with a big forearm shot to drop Moxley as we return. He puts Mox to the top rope and hits a superplex to get a two-count. They start to trade elbow strikes again which continues for a long time. They seem to be fading once in between but Moxley fires a rolling elbow to drop Ishii. Mox hits a gotch piledriver to get a near fall. Mox hits hammer elbows but Ishii just gives him a middle finger. Mox puts on a choke. Ishii gets to his feet and hits a German suplex. Mox hits back with a German suplex himself. Mox hits a clothesline before Ishii gets up to hit a knee strike.
They drop each other with a clothesline. They butt heads when they get up and Mox is split open. Mox hits a DDT to get a near fall. Ishii blocks Death Rider and spins it around with a DDT. Ishii hits a clothesline. Mox hits a cutter but Ishii gets up quickly to hit a sliding lariat. Mox blocks a brainbuster and hits paradigm shift. It takes a bit of time for him to cover Ishii and he kicks out. Mox hits some quick shots before a curbstomp and Death Rider to get the pinfall.
Winner – Jon Moxley
After the match, Moxley pushes Eddie away on his way up the stage. Eddie claps back at him and Moxley goes back.
---
We see Adam Cole pulling into the parking lot. MJF also pulls in second later. MJF congratulates him for getting "sick" at Forbidden Door, and wishes he could have thought of that. MJF says there is no one at his level but Cole is very close to his level, and asks him to imagine what happens if they work together and should get to know each other. Cole says he will say hello to some people backstage and will be back to him in a while. MJF stops him and reveals a new collab merch for them – "Better Than You, Bay Bay". Cole is disappointed as he leaves.
---
Renee is arguing with his husband Moxley now and asks him what is happening with Eddie. Eddie comes in and starts arguing. Mox leaves and Renee tells Eddie that he should better fix this.
---
We see a recap of IWGP US title match between Kenny Omega and Will Ospreay.
Orange Cassidy, El Heji Del Vikingo & Keith Lee vs JAS(Daniel Garcia, Matt Menard & Angelo Parker)
We see in the inset how Cassidy just looked around and picked up his partners for tonight. Garcia ducks Vikingo's clothesline. Vikingo hits a spinning heel kick to midsection. Some quick counters from both before Vikingo hits an arm drag after jumping off the ropes. He hits snap powerslam next. Garcia tags in Parker while Cassidy comes in from the other side. Parker combs his hair before Cassidy takes him down and snatches the comb. Cassidy ducks Menard's clothesline and sends him into Parker. Cassidy sends them both to the corner to hit a cannonball.
Garcia tags in and hits punches. Cassidy hits an armdrag before setting up Garcia on his knees. Vikingo hits a diving double foot stomp. He lands on the floor, and Menard slams his face into the apron. JAS takes over control and keeps Vikingo in their corner with quick tags.
Vikingo is sent to the corner by Menard who then throws Parker into him. Menard hits a powerbomb next. Menard whips Garcia and Parker into Vikingo in the corner one by one. Cassidy is knocked off the apron. They also try to knock off Lee but that does not work. Vikingo skips past them and tags in Lee. Lee jumps off the top to take down Menard and Parker. He hits running shoulder tackles in quick succession. He gets triple-teamed but gets Garcia up on his shoulder before a double-shoulder tackle on the other two.
Vikingo tags in and hits gamengiri in the corner. Vikingo ends up hitting suicide dive on Lee by mistake on the floor. Lee swings him into Menard and Parker. Vikingo tags in Cassidy before hitting him a moonsault on the floor. Cassidy and Garcia go back and forth. Cassidy gets a two-count with a backslide. Garcia puts on sharpshooter. Vikingo breaks it with a dive off the top. Everyone starts to get involved one by one. Lee tags in and hits Supernova on Garcia to get the pinfall.
Winners – Orange Cassidy, El Heji Del Vikingo & Keith Lee
Hangman Page and The Young Bucks are backstage. Page is hyped up for The Elite's trios open challenge. Dark Order's John Silver, Alex Reynolds and Evil Uno come in and accepted the challenge. Page offers to team up instead. Dark Order say Moxley did not call them or talk to them for weeks. The Young Bucks leave Page to talk to them alone. Page replies that it was not about The Elite or Dark Order, but about fighting BCC. Dark Order are not listening.
---
Renee interviews Chris Jericho and Sammy Guevara backstage. Jericho says he and Sting were in the ring together for the first time in their careers. Jericho says Sting wanted more time with Jericho in the ring. So, he is giving him the painmaker. Let's get dirty.
The Elite(Hangman Adam Page, Matt Jackson & Nick Jackson) vs Dark Order(Evil Uno, John Silver & Alex Reynolds)
Page wants to start but Nick starts after some discussion. Reynolds puts Nick in a hammerlock. Quick counters from both men until Nick hits an armdrag. Nick hits an overhead chop before another quick exchange. Page and Silver tag in. Silver no-sells a shoulder tackle from Page. They lock up and Silver slips to a waistlock. Page switches it and Silver hits him with a big back elbow. Page decides to tag out.
Matt and Uno tag in. Uno knocks Matt down with a shoulder tackle. Uno knocks off Page with a cheap shot. The Young Bucks double team to hit moves on Dark Order trio before Uno runs them over with a double clothesline. Page argues with Uno and this allows the Bucks to hit Page with a double superkick. They hit dives on the floor. Page is tagged in but tags out quickly as he is still conflicted. We cut to a break.
Reynolds is fighting back against Page as we return. Page takes him into his corner and tags in Matt who keeps Reynolds grounded with quick shots. Nick tags in but Reynolds counters Matt with a hurricanrana to send him into Nick's hurricanrana. Uno tags in and hits quick clotheslines and tackles on The Bucks after knocking off Page. Uno hits a cutter and piledriver on Nick. Page breaks the pin. Uno nails him with a big forearm shot. Page tags in anger and starts trading shots with Uno. The Bucks come in and Uno sends them to the floor.
Page hits Uno with strikes before Silver hits a dropkick on him as he looks for a fall away slam. Dark Order work in tandem to take down The Bucks on the floor. Silver and Reynolds ping pong Page with an enzuigiri, cutter and double knees but Page kicks out of the pin. The Bucks pull out Reynolds and drop him on the floor. Page hesitates in hitting Silver with the Buckshot lariat and this allows Silver to counter him with a hurricanrana into a pin attempt. Page kicks out barely. Paget hits Dead Eyes on Silver. The Bucks come in and hit BTE Trigger. Page hits Buckshot lariat on Silver to get the pinfall.
Winners – The Elite
After the match, Page, Bucks and Dark Order check on Silver. BCC attack The Elite with steel chairs. Don Callis and Konosuke Takeshita is also with them. Dark Order walk away. Page is hit with a screwdriver. Eddie runs in and but is taken down with a chair shot. Page sees Dark Order walk away as he is split open. Moxley takes the mic and says they have put each other to the limit, and they will put each other beyond the limit now at TD Garden in Boston on July 19. He screams, "Blood & Guts".
---
Roderick Strong meets Adam Cole backstage and says he should be vary of MJF. Cole says he is just playing along for now. MJF comes in and takes a verbal shot at Strong before saying he is just kidding. MJF asks Cole why they need to be at the show when they do not have the match. They get into should get to somewhere outside.
Jungle Boys Explains!
Jungle Boy comes out and gets his music cut off. He trashes his song before taking shots at the crowd. Perry brags that he is young, cashing fat checks, and banging the hottest bitch in this entire place. He says after everything he has done and given to this place. But after being robbed of two world championships, did we expect him to sit and watch some entitled second generation prick show off his championship in his face?
Perry mocks that FTW is not even recognized by AEW and he also does not recognize Hook. He adds that he never needed Hook in JungleHook and the team was only worth anything because of him. He says FTW means something to his family, and so, he is going to take away the title from him. He brags that he will beat up Hook next time he sees him. Hook's music hits and he runs out. But Perry runs into the crowd and to the back.
Moments later, we cut to backstage to see Perry jumping into the car and running off.
Ruby Soho vs Alexi Nicole
Ruby starts with a Russian Leg Sweep and some ground and pound. Ruby takes Nicole to the corner for more shots. Nicole is thrown to the floor where Toni and Saraya hit her with some kicks. Ruby takes her back to the ring and hits No Future kick. She goes for the pinfall but breaks it herself. She brings out a rubber glove and puts on lockjaw. The referee calls the match.
Winner – Ruby Soho
Ruby talks trash against Britt Baker for a while.
"Painmaker" Chris Jericho & Sammy Guevara vs Sting & Darby Allin – Tornado Tag Team Match
Sammy and Darby fight to the floor. Jericho hits Sting in the arm with a bat before Sting picks up his own bat to start a bat fight. Sting backs Jericho in the corner to hit stinger splash. Guevara hits Allin out with a diving Ace Crusher on the floor. He attacks Sting from behind. Jericho and Sammy work on Sting and sends him into the barricade. Darby is dropped on the apron with a suplex. We cut to a break.
Sammy and Jericho are still in control. Sammy hits a cutter on Darby off the barricade. He throws Darby in the ring but Sting starts to beat him up. Darby hits a Coffin Drop on Sammy off the top rope. Sting hits a stinger splash on Jericho on the barricade. Darby and Sting set up some tables on the floor before setting up a ladder in the corner of the ring. Sammy is set up on the table now. Darby gets up on the ladder but Sting gets up and hits a splash on Sammy to put him through the table. Only one of the table breaks as Sting crashed in one corner.
Darby hits a suicide dive on Jericho before bringing him back to the ring. Jericho kicks out of the pin. Jericho sends Darby into the ladder as he came off the ropes. Jericho drops some ladders on Darby's back. He sets up a ladder in the corner but Darby counters a whip to send Jericho into it face first. Darby goes for the springboard Coffin splash but Jericho hits him with a skateboard. Jericho hits Judas Effect and Darby lands onto the floor.
Sting comes in and goes for scropion death drop but Jericho puts him in the Liontamer. Sting drags towards the corner and picks up the baseball bat. Sting hits Jericho with the baseball bat to break free. Sting hits stinger splash in the corner. Jericho then hits codebreaker but Sting kicks out. Sting ducks Judas Effect and hits scorpion death drop. Jericho kicks out. Sting then puts Jericho in scorpion death lock. Jericho taps out.
Winners – Sting & Darby Allin