AEW Dynamite July 12, 2023 Results & Live Updates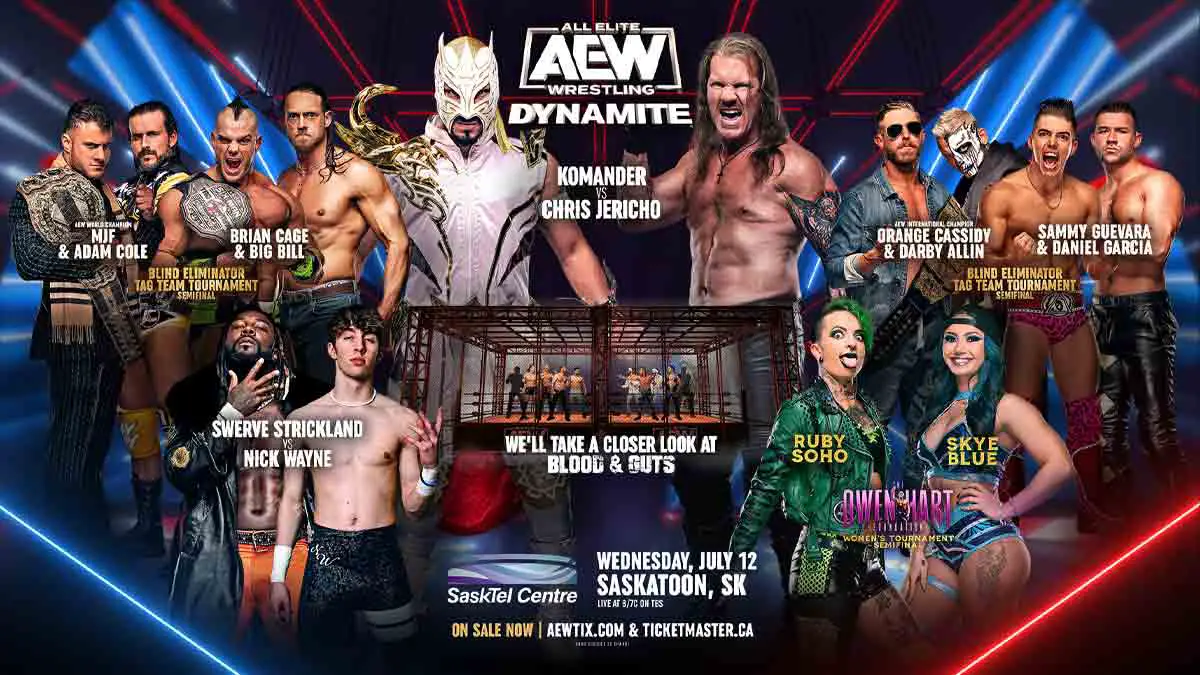 We will be live here with results from AEW Dynamite July 12, 2023 episode which was live from Saskatoon, Canada.
This was the penultimate Dynamite episode before Blood & Guts event and featured the announcement from both The Elite and Blackpool Combat Club for their fifth team members. Also set was the debut of Nick Wayne as he faces Swerve Strickland.
Blind Eliminator Tournament also continued with Adam Cole and MJF taking on Brian Cage and Big Bill, and Orange Cassidy and Darby Allin taking on Sammy Guevara and Daniel Garica in semifinals. Ruby Soho took on Skye Blue in the first semifinal of women's Owen Hart Tournament.
Tune in below as we post results from AEW Dynamite July 12, 2023, with live updates, winners, updates and highlights.
RESULTS
Chris Jericho defeated Komander in a singles match via pinfall.
Sammy Guevara & Daniel Garica defeated Orange Cassidy & Darby Allin in Blind Eliminator Tag Team Tournament Semifinal match via pinfall.
Adam Cole & MJF defeated Brian Cage & Big Bill in Blind Eliminator Tag Team Tournament Semifinal via pinfall.
Ruby Soho defeated Skye Blue in Women's Owen Hart Foundation Tournament Semifinal via pinfall.
Swerve Strickland defeated Nick Wayne in a singles match via pinfall.
LIVE UPDATES
Chris Jericho vs Komander
Jericho toys around with Komander which brings out punches from Komander. Jericho hits back with chops. Komander goes handstand on the ropes when Jericho hits a back body drop. Komander hits quick shots, corners Jericho to hit chops, jumps off the ropes to hit a senton. He hits a clothesline to send Jericho to the floor and hits a suicide dive. He sends Jericho into the steel steps. Jericho nails a forearm midair when Komander comes off the top. Jericho hits a big blow to his back. Big chops from Jericho followed by a suplex to get a two-count. Komander hits punches to midsection. He hits calf kicks and back heel kick. Jericho sends Komander to the floor with a hip toss. We cut to a break.
Jericho is in control as we return. Komander hits a tijeras. Jericho counters a hurricanrana with a powerbomb. He misses a lionsault and Komander gets a two-count with Mahi stroll. He uses a crucifix to get another two-count. Jericho shuts him down with a lariat. Chops in the corner from Jericho before Komander hits a boot and gets to the top. Jericho trips him on the top rope. Komander blocks superplex and headbutts Jericho back to the mat. He hits a ropewalk shooting star press to get a near fall.
Jericho sends him to the apron. Komander ducks a springboard move on the apron and Jericho lands on the floor. Komander hits a ropewalk dive on the outside. Komander hits a Pheonix splash back in the ring to get a near fall. Jericho counters a moonsault with codebreaker. Komander ducks Judas Effect and hits some punches. Jericho counters a diving hurricanrana to put on Liontamer to get the pinfall.
Winner – Chris Jericho
Don Callis comes out and compliments Jericho. He brings up TV ratings of their segment from last week. He shows us a video package of their work together in the early part of their career. Jericho recalls that their mentor telling him that he and Callis should be together. Callis says he might be very happy in heaven just thinking about the possibility of them being together. He asks Jericho to consider it.
---
We see how Jack Perry turned on Hook at Forbidden Door and how he has run away from Hook ever since. Alex Marvez is backstage and Jack Perry is refusing to come out of the car. Perry says it is not a safe work environment. Hook gets into the card from the other door. Perry gets out but gets in from the other side and exit the arena.
---
Renee Paquetta interviews Don Callis backstage and he says he will reveal the fifth member of BCC for Blood and Guts later tonight in the ring.
---
We cut to another team bonding session between MJF and Adam Cole. They take vodka shots before MJF complains to Cole about not putting on their team shirt. Cole says he will put on the shirt if MJF agrees to something. We cut to them playing AEW Fight Forever. MJF reveals he is having fun playing the game. Cole asks if he has never played multiplayer game. MJF says one needs friends to do that. Cole gets a emotional and says he was gonna blindside him when they were paired up together. MJF says the same thing, but now wants to win AEW Tag Team titles with Cole.
Orange Cassidy & Darby Allin vs Sammy Guevara & Daniel Garica – Blind Eliminator Tag Team Tournament Semifinal
Cassidy and Guevara start the match. Cassidy puts on headlock and trade armdrags. They engage in a pose-off before avoiding quick moves from each other. Garcia attacks Cassidy from behind. Darby tags in and hits a dropkick to send him to the floor. Guevara sends Darby to the ropes and Garcia hits him with a blow to the back. Darby hits a suicide dive on Garcia. Darby tries to use a springboard kick but Garcia trips him on the ropes. Cassidy tries to attack Garcia on the floor but Garcia drives him into the barricade. Darby tags in and tosses Darby from front chancery. We cut to a break.
Darby counters Sammy with a single leg crab as we return. Garcia breaks it. Sammy hits a corner tackle. Garcia gets a blind tag. Darby hits Sammy with sunset flip into a pin but the referee tells him Garcia is the legal man. Cassidy tags in for some quick and forth which ends a Michinoku drive to get a close two-count. Garcia ducks Orange punch and puts on dragontamer. He leaves it to deal with Darby. Cassidy hits stundog millionaire and Darby hits Code Red. Sammy breaks the pin. Sammy hits Darby with a knee strike. Cassidy hits Sammy with beach break.
Garcia and Cassidy trade pin covers. They knock each other with high boots. Tag to Darby and Sammy who engage in big punches. Their heads collide and both men are down. Garcia hits an Urinage on Cassidy on the apron. Darby hits a dropkick. Sammy hits a jumping knee. Prince Nana comes out and tells Garcia to hit Cassidy with a skateboard. Darby blocks it and the referee gets involved. Swerve Strickland hits Darby with Swerve stomp on the apron. Sammy hits GTH to get the pinfall.
Winner – Sammy Guevara & Daniel Garcia
Sammy is not happy with the way they got the win.
---
We see a video package in Nick Wayne's backyard that also has a wrestling ring. Nick reveals how he was told that his father had passed away. He trained on his own from 9 to 11. After being signed with the profession, he used to think if he was good enough.
---
Adam Cole is with Renee Paquette when Roderick Strong comes in and asks why is he buddies with MJF. Cole says MJF is not half bad, and recalls how they were also not the best buddies. MJF texts Cole to say that he got a flu after watching Big Bull.
Adam Cole & MJF vs Brian Cage & Big Bill – Blind Eliminator Tag Team Tournament Semifinal
MJF starts against Bill and says he will body slam him. MJF tries but fakes a back injury. MJF tags out and starts to leave. Cole catches him up on the ramp and says MJF needs to be with him. Cage tags in as they return to the ring. Cage does push-ups. Cole does more push-ups to outshine Cage. MJF tags in and Cage tags in Bill again. MJF tries body slam but fails again. Bill mocks MJF to attempt push up. Bill kicks at MJF when he goes to do push-ups. Bill knocks off Cole from the apron and kicks MJF to the floor. Bill does push up to send us to a break.
Bill tags in as we return from break. He rips off MJF's shirt and wipes his back with it. MJF hulks up and no-sells punches from Bill. He bites Bill's hand before hitting a body slam. Cage blocks the tag from MJF. MJF tries to slip away and has to resort eye poke. Cole tags in and hits a trio of pump kicks on Cage. MJF tags in to go for double clothesline on Cage, but Cage no-sells it. Bill runs them over with a double clothesline himself. Quick action as Cage and Bill throw around MJF and Cole. Cole hits superkicks to come back. MJF hits Heatsinker on Cage. Cole hits The Boom to get the pinfall.
Winner – Adam Cole & MJF
After the match, Cole says he did not think their team will work together so well, but they might win the tournament and tag titles after that.
---
Jake Hager goes to talk to Chris Jericho about joining Don Callis. Jericho says Callis was making good points and he needs time to think. Hager reminds how he saved Jericho's life 10 years ago and then left an undefeated MMA career because Jericho said so.
Ruby Soho vs Skye Blue – Owen Hart Foundation Semifinal
Some grappling to start the action. Blue hits a slap to take Ruby to the corner. Ruby sends her to the apron with a back body drop. Toni Storm runs an interference which allows Ruby to choke Skye on the ropes. Blue hits a kick to block her charge. Ruby comes out to fight on the apron. Blue hits a bulldog on the apron. Saraya distracts the referee and Storm throws Blue into the steel steps. The referee catches her and boots Storm and Saraya from the ringside. We cut to a break.
They are trading shots as we return. Blue lands hard on his knee after a jump from the top. Blue hits punches and kicks before a swinging neckbreaker to get a close two-count. She misses a running knee and Ruby hits a kick to her knee. Blue blocks No Future kick. Ruby blocks Code Blue and puts on a single leg Boston Crab. Blue manages to get to the ropes. Blue blocks back drop suplex and hits modified suplex herself. Blue gets to the top but Ruby disturbs the ropes to bring him down. Ruby hits No Future DDT to get the pinfall.
Winner – Ruby Soho
QTV are backstage for World Premiere of Rapclass by Harley Cameron. They take us to the rap video from Harley Cameron.
Nick Wayne vs Swerve Strickland
Swerve puts Nick to the corner after their lock up. Nick teases a big shot but stops. Quick back and forth action follows featuring several ducks and blocks. Swerve hits a big boot. Nick hits a dropkick and a hurricanrana. Swerve attacks him from behind when he is showboating. Prince Nana pulls his leg from outside. Nick sends Swerve to the apron with a back body drop. Nick fights out of a fireman's carry and hits a hurricanrana from the apron. We cut to a break.
Swerve has a chinlock on as we return. Swerve nails some shots after Nick comes out of it. Nick also fires punches before a shotgun dropkick and an enzuigiri. Swerve blocks a stunner but Nick hits a bulldog to counter. Swerve blocks Wayne World and hits a backbreaker to get a close two-count. Darby Allin comes out to the stage to encourage Nick as Swerve puts him to the top rope. Nick fires back with back elbows. Nick hits an avalanche reverse hurricanrana from the top and quickly follows up with Wayne World. Swerve gets his foot on the rope to break the pinfall. Nick goes for an avalanche hurricanrana but Swerve counters with a powerbomb. Swerve hits Swerve stomp but Nick kicks out of the pin. Swerve hits shoulder separating stomp on the arm and follows it up with JML Driver to get the pinfall.
Winner – Swerve Strickland
Fifth Members!
Don Callis comes out to announce the fifth member of Blood & Guts for BCC. Callis says this fifth member will slaughter The Elite by teaming with BCC. Kenny Omega comes out. Jon Moxley and Konosuke Takeshita attack him on the apron. He sends them into the barricade. PAC attacks Omega from behind with a chair. Moxley and company beat up Omega. Callis also kicks at Omega's head. PAC takes the mic and says he was waiting for this for a long time as Omega broke his nose and took his title. PAC goes to the top for Black Arrow with Omega down on the mat with a chair wrapped around the neck.
Moxley asks Omega if has any last words. Omega says they also have a fifth member. The lights go off and a video plays on the screen announcing the arrival of Kota Ibushi. The Young Bucks hit superkicks on everyone in the ring before Hangman Page hits a double Buckshot Lariat to drop Moxley and Takeshita. Callis runs away to the ramp. Omega says his opponents are consumed with anger and will never prosper. He warns Callis that he is coming after him after he is done with BCC.