AEW Dynamite August 9, 2023 Results, Live Updates, Highlights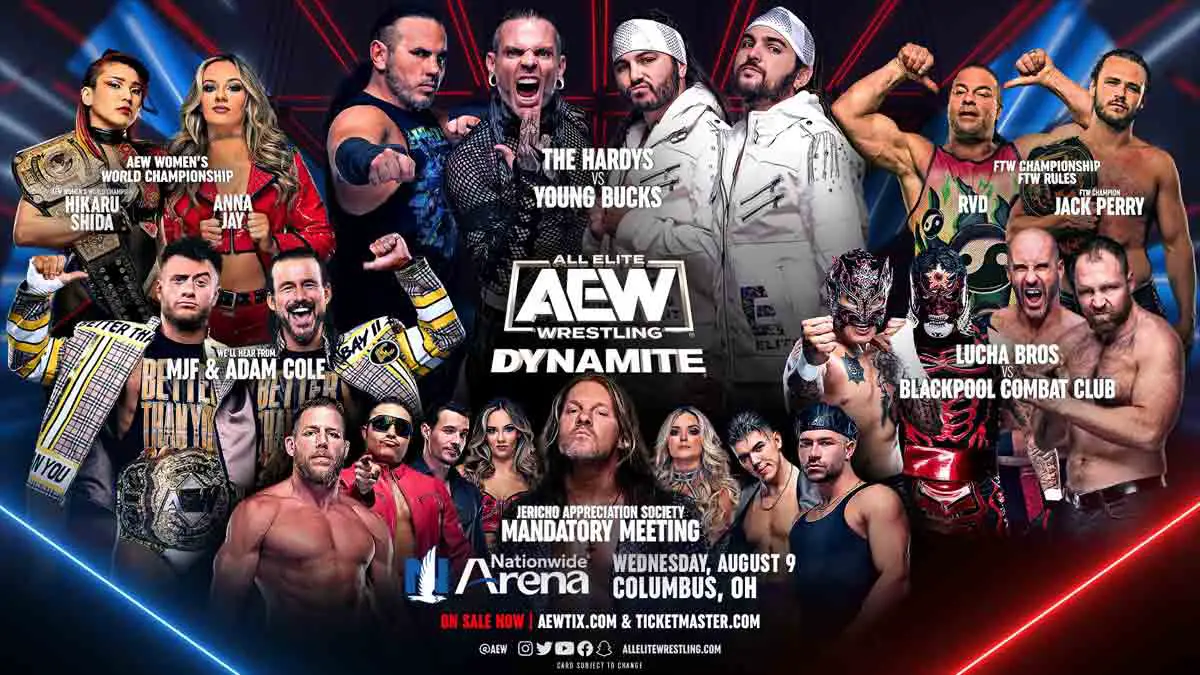 Welcome to the live results blog for WWE NXT August 9, 2023 episode which featured the build-up for All In 2023 and All Out 2023 events.
Two title matches were announced for the show. Hikaru Shida defended AEW Women's Championship against Anna Jay. Jack Perry faced Rob Van Dam to defend FTW title, who was also making his AEW in-ring debut.
Jon Moxley and Claudio Castagnoli faced Penta El Zero Meido in a tag team match as their rivalry continued. Another tag team match saw a clash of two sets of brothers in The Hardys and The Young Bucks.
Two major segments were also set for Dynamite. Adam Cole and AEW World Champion MJF addressed the crowd once again. Jericho Appreciation Society had called a mandatory meeting for the stable. Check below for results from AEW Dynamite August 9, 2023, with live updates, winners, highlights and complete action.
RESULTS
The Hardys(Matt Hardy & Jeff Hardy) defeated The Young Bucks(Matt Jackson & Nick Jackson) in a tag team match via pinfall.
Jack Perry(c) defeated Rob Van Dam in an FTR Rules match via pinfall to retain FTW Championship.
Blackpool Combat Club(Jon Moxley & Claudio Castagnoli) defeated Lucha Brothers(Penta El Zero Meido & Rey Fenix Jr.) in a tag team match via pinfall.
Hikaru Shida(c) defeated Anna Jay in a singles match via pinfall to retain AEW Women's Championship.
LIVE UPDATES
JAS Mandatory Meeting
All the members of JAS, except Chris Jericho, are in the ring as the show opens. Matt Menard announces Jericho as he comes out. Jericho accepts that there is some unrest and therefore he has come out as their friend. Daniel Garcia cuts him off and is clearly angry about being hit with his bat last week. Garcia says he chose Jericho over his friends but Jericho is not choosing them. So, he is done with Jericho. Garcia dances in front of Jericho and walks out. Jake Hager is the next to start talking. He says he used to like his hat, but he does not anymore. Hager also walks out. Jericho intervenes and says this is overreacting and all of their careers are in a better position due to him.
Tay Melo says she used to be proud about being in JAS, but now she is sick of Jericho. So, she will come back later and win the title by herself. She is out. Anna Jay says Jericho is being selfish, so, she will also be selfish and quits. Angelo Parker says he was honored when Jericho asked him to join JAS and he did everything that Jericho asked him, including bleeding out. But, he can't do it anymore. Matt Menard tells us how big of a Jericho fan he is and how Jericho brought him into AEW. But, he never understood why guys like Eddie Kingston and Kevin Steen hate his guts. He quits.
Sammy Guevara is the last one standing. He slaps away Jericho's mic and tells him to listen for once. He says he is Jericho's friend and did everything that Jericho asked him to do, including putting Sting through the table. But, he went from fighting for the World title to fight one of his battles. He is not done with Jericho and can come back if Jericho changes his mind. Sammy walks out into the crowd.
---
Jericho's interview backstage is interrupted by Don Callis. Jericho tells him that they will make his entry to the Family official next week.
The Hardys(Matt Hardy & Jeff Hardy) vs The Young Bucks(Matt Jackson & Nick Jackson)
Jeff and Matt J start the match. They trade arm wringers before Matt J hits an armdrag. Jeff brings in Matt H for double team work to drop The Bucks. They throw Nick out of the ring and hit a double suplex. Matt H slams Matt J's head into the turnbuckle a few times. He hits a powerbomb to get a two-count. Jeff helps him to get a double team cover and Nick has to break the pin. Matt J avoids a corner splash and Nick hits a gamengiri on him. The Bucks take over the control and throws Jeff to the floor. Nick hits a bulldog on Matt H into the mat before a moonsault on Jeff on the floor. We cut to a break.
Matt H hits side effect on Matt J and tags in Jeff. Jeff runs over Nick with quick moves. He hits a leg drop to get a two-count. He hits Whisper in the Wind on both opponents to get another two-count. The Young Bucks hit superkicks before hitting Jeff with Shatter Machine to get a near fall. Matt H stops Meltzer driver as The Hardys make a comeback. Jeff hits a Swanton bomb on Nick but Matt J breaks the pin. Nick is hit with Twist of Fate from both The Hardys. Matt J comes in and hits more superkicks on both the Hardys. The Young Bucks hit BTE Trigger to get the pinfall.
Winners – The Young Bucks
Both teams shake hands after the match. The Bucks take the mic to address FTR. FTR's music hits and they come out. The two sides face off in the middle of the ring briefly before Matt says, "All In" to accept the challenge.
---
We see Adam Cole and MJF join in after the announcement of their match last week. Cole took MJF to a trampoline park when MJF wanted to go to some other place. MJF is pissed about it while Cole is having fun. He starts to beat up kids with a dodgeball. Cole stops him. A girl comes to them and calls them nerds for being in the park. Cole tells her not to talk like that but the girl gives them a middle finger. Cole tells MJF to take that girl out with dodgeball. MJF gladly follows the instructions.
---
We see a graphic of AEW Women's Championship 4-way match at All In.
---
We see Blackpool Combat Club are backstage and says Best Friends must have learnt a lesson last week when they tried to take them on in a Parking Lot match. And now, it's Lucha Bros' turn. They talk about how PAC is paying for turning on BCC and will miss All In.
Jack Perry(c) vs Rob Van Dam – FTR Rules match for FTW Championship
Perry attacks RVD from behind during the announcements. RVD gets him down with bodyscissors to get a two-count. Perry wants to shake hands now. RVD swats it away. He hits a back heel kick before another one in the corner. Perry rolls to the floor. RVD gets to the floor and Perry rakes his eyes before slamming his face into the steel steps. RVD blocks a suplex and drops Perry on the barricade. He hits a spinning leg drop on Perry on the barricade by jumping from the apron. We cut to a break.
Quick back-and-forth action where they avoid each others' moves. RVD hits a monkey flip. He hits a dropkick in the corner with a steel chair. He hits a rolling thunder senton next on top of a chair to get a two-count. He misses split legged legdrop. Perry throws a chair at RVD, who ducks and the chair hits the referee. RVD hits a spinning back heel kick next. RVD gets to the top rope. Perry meets him there but RVD pushes him into a table set up on the floor.
Winner – Jack Perry
RVD hits a star frog splash but the referee is down. Audrey Edwards runs out but she is too late. RVD argues with Audrey which allows Perry to hit a low blow and push RVD into a chair set up in the corner. Perry rolls up RVD to get the pinfall.
---
Lucha Bros with Alex Abrahantes gets interviewed by Renee Paquette. They talk about BCC being cowards for attacking PAC.
Cole & MJF!
MJF says midwest is his favorite place. Cole brings up that they are set to fight in the main event of All In. MJF says Cole wants to do a promo battle, so, he starts to say nasty things about Cole. Cole shouts at him to stop. Cole then says that fans love them as tag team also. So, they should go after ROH tag team titles. Cole talk about winning several titles in ROH, but he did not win tag team titles in the promotion. It's time to show fans how good Better Than You Bay Bay! and they should challenge Aussie Open on the pre-show of All In.
MJF says what kind of sick pervert Cole is that he wants him to fight two times in one night. MJF then changes the mood quickly says he is a sucker for cheap pops. MJF agrees to challenge for the ROH tag team title match.
Roderick Strong comes out screaming. He can't believe that Cole wants to become ROH tag titles with MJF and not with an ROH legend and his friend. MJF tells Strong to go back home and start listening to Taylor Swift to shake it off. Strong asks Cole if he is gonna stand there to let MJF talk about him. He says The Kingdom were right about him. The Kingdom come out and take away Strong. Cole gets angry and pushes MJF for talking trash about Strong. MJF's expressions change. Cole then realizes what has he done and cools down. Cole walks out after MJF calms down.
Blackpool Combat Club(Jon Moxley & Claudio Castagnoli) vs Lucha Brothers(Penta El Zero Meido & Rey Fenix Jr.)
Lucha Bros attack BCC from behind. The bell rings and Rey hits Claudio with a suplex. Penta hits a diving leg stomp on him. Rey hits a tope suicida on Moxley on the floor. Penta hits Michinoku Driver on Claudio to get a near fall. Some double team from Lucha Bros before Claudio gets out of the way for them to clash. Claudio hits uppercuts before tagging in Moxley. Moxley hits quick shots and clotheslines before a double DDT. Penta blocks Paradigm shift but Claudio runs him over. Yuta hits Fenix with a title belt. Moxley rolls up Fenix but he kicks out of the pin. We cut to a break.
BCC keep control against Fenix as we return. Fenix ducks a Doomsday Device and hits a sunset flip on Claudio. Penta gets a hot tag for quick moves. Fenix misses a frog splash. Lucha Bros hit superkicks. Claudio hits uppercut on Penta. Fenix hits a back heel kick on Claudio. Moxley is dropped with an enzuigiri. All 4 men are down. Fenix and Claudio trade chops and forearms after getting to their knees. They get up and Claudio hits a headbutt. Fenix hits a superkick to drop Claudio.
A tag to Penta but he runs into an uppercut from Claudio. Moxley comes in to cover Penta but he kicks out. Penta and Moxley hit each other with chops for the next minute or so. Fenix helps Penta to hit a stalling piledriver. Yuta tries to interfere but Abrahantes pulls him down. Fenix hits Yuta with a moonsault. Claudio removes Penta's mask and tries to cover his face. Moxley rolls him up to get the pinfall.
Winners – Blackpool Combat Club
The beatdown from BCC continues after the match as Fenix is also brought into the ring.
---
Kenny Omega is interviewed backstage and is asked about his plans for Wembley. Omega says he will sit down with Jim Ross next week to talk about his future plans and other things.
---
The Mogul Embassy is out in the ring. Prince Nana tells the fans to shut up and listen to them. Swerve Strickland says they have their own law and justifies his beatdown on Nick Wayne. They call out Darby Allin. Darby comes out and rants against AR Fox giving a fake excuse against him and says how he tried to call him several times, but he did not listen. Mogul Embassy dare for him to get into the ring. The lights go off, and it means only one thing. Sting appears in the ring and starts beating up everyone. Strickland is the last one left in the ring. Stings points towards All In banner on a screen behind him.
Hikaru Shida(c) vs Anna Jay – AEW Women's Championship
Matt Menard and Angelo Parker are out in Jay's corner. Some toying around before Jay gets Shida down for a two-count. Shida hits jumping knee before setting up Jay in the corner and hitting another knee strike. Shida hits punches from the second rope. Jay slips out and trips Shida. She pushes Shida to the floor. Back to the ring, she rains down with more punches to take us to a break.
Shida is battering Jay with punches as we return. She hits a snap suplex and a running elbow to get a two-count. Shida slams Jay's face into the turnbuckle but Jay blocks a suplex. She hits a back heel kick to bring Shida to the apron. Shida hits an enzuigiri to drop Jay to the floor. She goes for a jump off a chair but Parker and Menard stop her. Jay slams her face into the steel steps to take advantage. Jay covers in the ring but Shida kicks out. Jay puts on the Queenslayer. Shida struggles but manages to get to the ropes after a while. Jay brings her back to the center and puts on the Queenslayer once again. Shida gets to the second rope and jumps on her back while Jay was hanging onto her. Shida hits a falcon arrow to get a near fall. Shida hits Katana kick to get the pinfall.
Winner – Hikaru Shida
Shida celebrates her win. She says she is going to All In as the show comes to a close.