AEW Battle of the Belts VII Results & Live Updates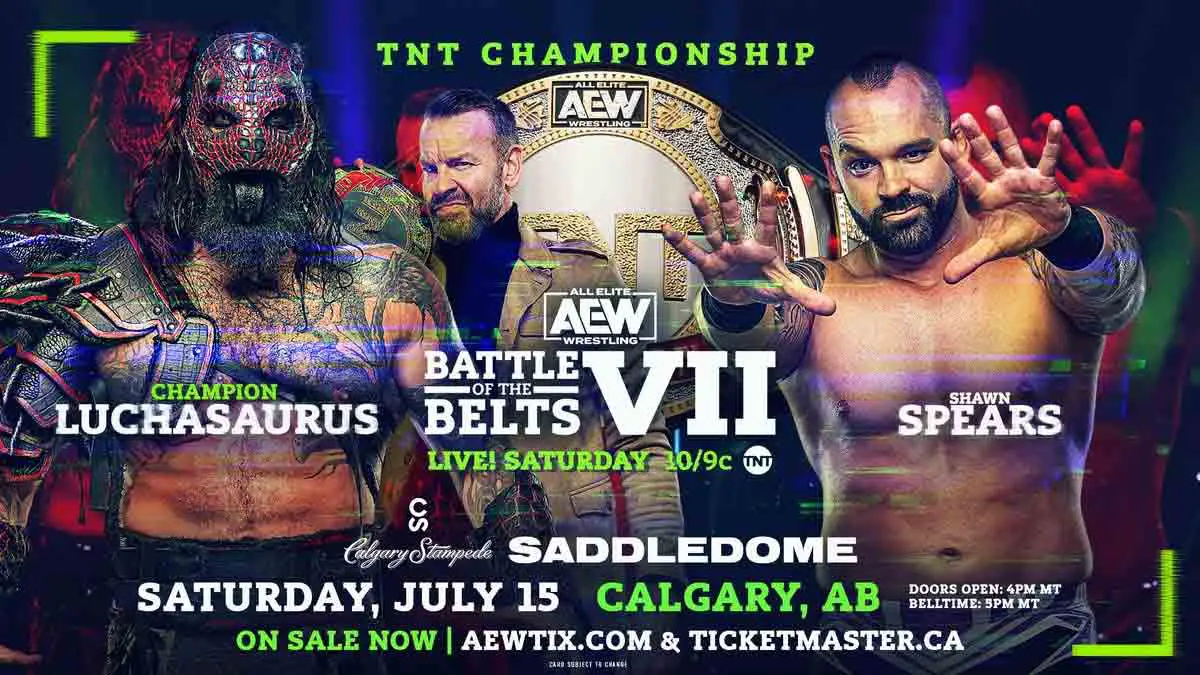 Welcome to the live results page for AEW Battle of the Belts VII event, which was live from Calagry, Canada, just after AEW Collision.
Orange Cassidy faced Lance Archer to defend AEW International Championship. Luchasaurus defended AEW TNT title against Shawn Spears. Toni Storm vs Taya Valkyrie match was for AEW Women's Championship.
Tune in below as we post results from AEW Battle of the Belts VII event with live updates, winners and updates.
RESULTS
Orange Cassidy(c) defeated Lance Archer in a singles match via countout to retain AEW International Championship.
Toni Storm(c) defeated Taya Valkyrie in a singles match to retain AEW Women's Championship.
Luchasaurus(c) defeated Shawn Spears in a singles match via pinfall to retain AEW TNT Championship.
LIVE UPDATES
Orange Cassidy(c) vs Lance Archer – AEW International Championship
Archer charges but Cassidy sidesteps to send him into the corner. Archer hits a punch. Cassidy slams his face into the turnbuckle. Archer hits a big punch after Cassidy gets to the top rope. Cassidy blocks Blackout and puts on a sleeper choke. Archer breaks free and hits a big shoulder tackle. Cassidy slips to the floor. Jake Roberts tries to engage but Archer comes in. Cassidy tries to hit a diving hurricanrana but Archer blocks it and slams him into the barricade. Cassidy counters and hits dropkicks against the barricade. He buries Archer under some security men. Archer pushes Cassidy into the steel steps. We cut to a break as both men return to the ring.
Archer hits a suplex as we return. Cassidy goes for Stundog Millionaire but Archer blocks it and hits a body block. Cassidy's DDT is also blocked and he has to resort to a chop block. Archer grabs his throat and Cassidy slips away. Cassidy's Orange punch is also blocked and Archer hits big shots. Archer hits the Helicopter Urinage to get a near fall. Cassidy slips to the floor. Jake Roberts tries to hit a DDT on Cassidy but Archer stop him. Cassidy sends Archer into the post and then hits a DDT. The referee has been counting down. Archer is back on his feet on the apron. Cassidy hits a big punch to drop Archer to the floor and returns to the ring. The referee counts down
Winner – Orange Cassidy
The medical team checks on Cassidy at ringside after the match.
---
The Acclaimed come out to the ring. They announce that they will be in Royal Rampage Battle Royal. They also announce that they will face House of Black for AEW trios titles next week at Collision.
Toni Storm(c) vs Taya Valkyrie – AEW Women's Championship
Toni rushes with kicks to take Taya to the corner. Taya fires back with a big chop. Toni goes to the floor to regroup. Taya hits kicks before she stomps on the face against the ropes. Taya hits Meteora against the ropes. Taya rolls to the floor once again. She hits a kick to midsection as she return. Toni takes Taya to the floor and tosses her around. Taya returns the favor seconds later. We cut to a break.
Taya hits a clothesline as we return. She hits a hip attack in the corner next. The screen turns black and we are back to commercials. The commentary team tells us later that Toni Storm won this match. The disturbance was due to a satellite outage in Calgary.
Winner – Toni Storm
---
The coverage only returned with Martha Hart giving a speech before Owen Hart Foundation Tournament trophy presentation.
Luchasaurus(c) vs Shawn Spears – AEW TNT Championship
Scorpio Sky is looking at the match from backstage. Spears takes Luchasaurus to the corner to hit punches. Luchasaurus fires a big shot. Spears rolls to the floor. Luchasaurus hits a big chop on the floor. Spears pushes him into the apron. He drops Luchasaurus' face into the ropes. Luchasaurus nails a big uppercut to take us to a break.
Spears is unloading in the corner as we return. He hits short clotheslines but Luchasaurus holds his ground. Spears hits one more clotheslines to drop Luchasaurus finally. Luchasaurus rolls to the floor. Spears hits a kick from the apron and then nails a kick against the ring post. Spears chases around Christian Cage. This allows Luchasaurus to recover and put Speat through the timekeeper's table. Luchasaurus takes Spears back into the ring. Christian tells him to finish Spears. Spears is not able to get to his feet.
Luchasaurus goes for a chokeslam but Spears counters with a victory roll to get a two-count. Luchasaurus hits a chokeslam but Spears kicks out of the pin. Luchasaurus sets up a chair in the corner. Spears counters his charge and sends him into the chair. Luchasaurus kicks out of the schoolboy pin attempt. Christian distracts Spears again which allows Luchasaurus to hit a lariat from behind to get the pinfall.
Winner – Luchasaurus