AEW Battle of The Belts V Live Results & Updates Jan 6, 2023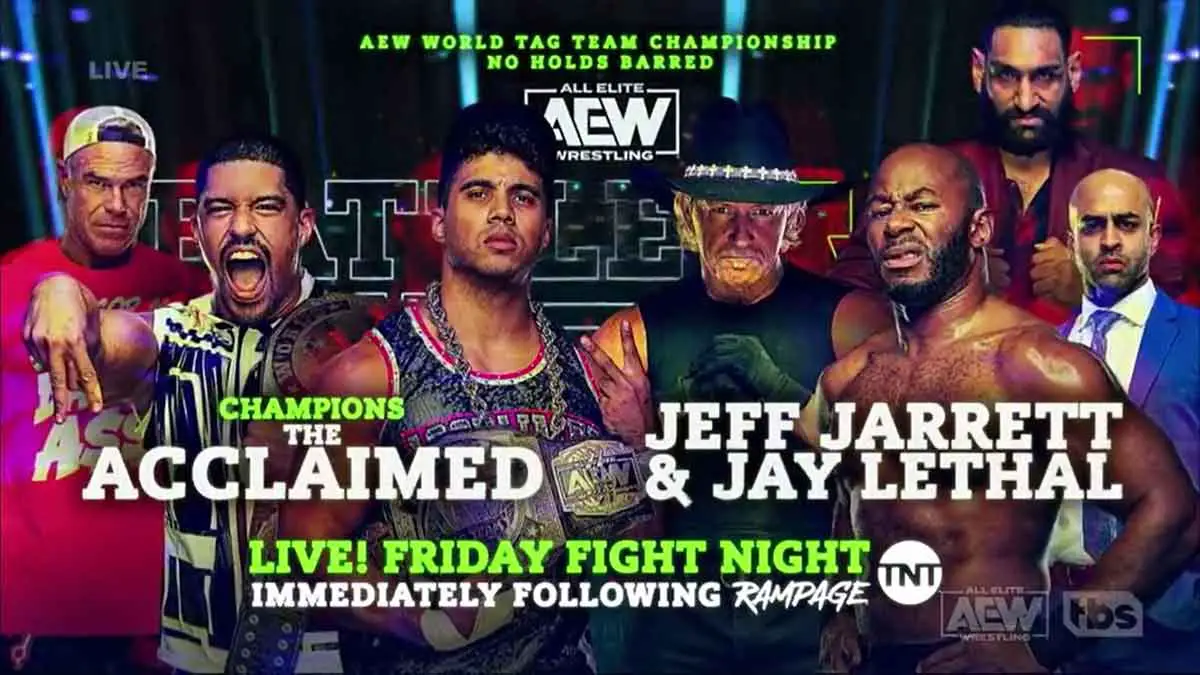 The quarterly AEW Battle of the Belts V event aired on January 6, 2023, and you can find all the live results and updates here.
3 titles were defended on the card with one match being a No Holds Barred match. The Acclaimed defended AEW Tag Team title against Jeff Jarrett and Jay Lethal. These teams clashed earlier in the week on Dynamite where it ended in a controversial manner with rope breaks involved. This has led to this rematch and a No Holds Barred stipulation being added to the match.
Orange Cassidy defended AEW All Atlantic Championship against Kip Sabian. Sabian had created some rift between Orange Cassidy and Best Friends. Would he be successful in winning the title also? Jade Cargill defended TBS Women's Championship against Skye Blue.
Get the complete results below from AEW Battle of The Belts V event with live updates, winners, highlights and more details.
RESULTS
The Acclaimed(Anthony Bowens & Max Caster)(c) defeated Jeff Jarrett & Jay Lethal in No Holds Barred Tag Team match via pinfall to retain AEW Tag Team Championship.
Jade Cargill(c) defeated Skye Blue in a singles match via pinfall to retain AEW TBS Women's Championship.
Orange Cassidy(c) defeated Kip Sabian in a singles match via pinfall to retain AEW All Atlantic Championship.
LIVE UPDATES
The Acclaimed(Anthony Bowens & Max Caster)(c) vs Jeff Jarrett & Jay Lethal – No Holds Barred match for AEW Tag Team Championship
Max Caster says Jeff Jarrett worse than Vince McMahon in his rap. Brawling starts the match. Jarrett beats up Caster on the floor. Lethal takes Bowens to the ramp and puts on figure four. Bowens rolls off the ramp to break it. Jarrett takes Bowens to the ring where Bowens hits a blockbuster. Jarrett tags Lethal. Bowens batters Lethal's head with elbows.
Acclaimed hit a double suplex on Lethal for a two-count. Caster rolls to the floor and takes a shot at Satnam Singh. Caster gets back quickly and hits a dropkick. Bowens work on Lethal and also drops Jarrett on the apron. Jarrett stops Scissor Me Timbers by attacking Bowens. Lethal hits a kick to Caster before hitting Bowens with a suicide dive.
Bowens hits a clothesline on Lethal as we return from the break. Caster tags in and hits quick kicks on Jarrett. He hits an Olympic slam before putting on the ankle lock on Jarrett. Jarrett struggles as Caster puts more pressure. Lethal takes out the referee with an elbow drop. Billy Gunn hits Lethal with a clothesline to take him to the floor. Satnam Singh pulls Caster out and throws him into the barricade.
Bowens hits Jarrett with a leg scissors, but there is no referee to count for the pin. A referee comes in but Jarrett kicks out. Jarrett picks up his guitar but Gunn stops him from using it. Bowens brings out his boom box but Sonjay Dutt trips him and sends him into the boom box. Gunn hits the guitar on Satnam. Jarrett hits Gunn with the Stroke. Satnam hits Acclaimed with a chokeslam. He hits the referee with a chokeslam.
Satnam removes the referee's shirt and gives it to Sonjay Dutt. Dutt wears the shirt. Lethal hits Lethal Injection on Bowens. Dutt goes to count the pin but Audrey Edwards comes out to stop the pinfall. Caster hits Mic Drop Elbow Drop on Lethal and Audrey counts the pinfall.
Winners – The Acclaimed
We hear from Powerhouse Hobbs who says everything that has happened to him in the Book of his Father will happen to others also.
Jade Cargill(c) vs Skye Blue – AEW TBS Women's Championship
Blue pushes Cargill before the bell. Cargill nails her with a big shot. They counter each other quickly before Blue puts her in a crucifix to get a two-count. Blue once again puts Cargill in roll-up for a two-count. Cargill leaves to the floor for a breather. Blue comes to the floor and Cargill hits her with a chokeslam on the ramp. The referee checks on Blue before bringing Cargill to the floor. The countdown starts. Blue breaks the countdown and we cut to a break.
Blue hits a jawbreaker as we return. Blue shows her athleticism to send her to the ropes before hitting a knee and a kick to the face. Jade blocks a submission and hits a pump kick. Red Velvet comes down the ramp to check on Blue. Keira Hogan comes down and asks Velvet what she is doing. Velvet slaps Hogan. Blue counters Jade with a sunset flip for a two-count. Blue hits a dropkick for another two-count.
Blue is sent to the apron. Blue kicks at Leila Gray when she tries to interfere. Blue jumps from the top but Cargill catches her and counters to hit the Jaded to get the pinfall.
Winner – Jade Cargill
Stokeley Hathaway is with Big Bill and Lee Moriarty. Hathaway says LA is the place where entertainers go to die and the same thing will happen to Jungle Boy and Hook.
Orange Cassidy(c) vs Kip Sabian – AEW All Atlantic Championship
Sabian ducks an Orange punch to start some back-and-forth action. Cassidy comes into the match with some anger and unloads with punches. Sabian slips to the floor and puts on Cassidy's glasses. Cassidy chases him down and Sabian gets back to the ring only to get out of the other side. The Bunny comes out and stands with Penelope Ford to gaurd Sabian. Sabian takes a shot from behind Cassidy.
Sabian hits an armdrag on Cassidy before throwing him to the floor. Sabian hits a suicide dive on Cassidy on the floor. Bunny and Ford do Best Friend Hug on Sabian. Danhausen comes in to curse Sabian but Sabian bites Danhausen's fingers. Cassidy hits Sabian with a suicide dive and brings him back. Cassidy counters a move to hit stundog millionaire. Sabian moves to the floor. He catches Cassidy's dive and hits a suplex on the floor. We cut to a break.
Sabian misses a cannonball in the corner as we return. Cassidy pulls him up on the second rope. Sabian hits him with blows. Cassidy tries to hit Beach Break but Sabian blocks it. Cassidy ends up hitting superplex. Cassidy goes for the Orange punch but Bunny picks his leg. The referee boots Bunn from the ringside. Cassidy drops Sabian with a clothesline. The Butcher and The Blade come out and attacks Danhausen.
Cassidy is angry as he sees The Butcher & the Blade sitting on the ramp on steel chairs. Cassidy and Sabian trade forearms in the middle. Sabian mocks Cassidy with lazy chops. Cassidy gets angry and unloads with stiff shots. Sabian mocks Cassidy some more and hits a headbutt. Sabian hits a krising knee and a ripcord knee to get a near fall.
Sabian hits Falcon Arrow to get another near fall. Sabian throws Cassidy to the floor. The Butcher and The Blade go to attack Cassidy but Best Friends run out to attack them. Sabian catches him and hits a corkscrew neckbreaker for a two-count. Sabian wears Cassidy's elbow pad which was misdirection for a running knee.
Cassidy recovers quickly to hit a tornado DDT, a penalty kick and Beach Break for a near fall. Cassidy stomps on Sabian in the corner. He ends up pushing the referee back. Sabian rolls him up for a two-count. Cassidy ducks him and hits Orange Punch to get the pinfall.
Winner – Orange Cassidy